Send 50 8th Grdrs to Washington DC!
We are going to Washington, DC from April 17-20! Please consider helping us get there.  This is a group of fifty very hardworking kids who have risen to every challenge that we've thrown at them so far this year.  Allow us to take you on a journey of the year so far.  After the story, there is information about the cost of the trip and the academic requirements we have put in place.
We knew we were in for a good year very early on.  On an early release day, we ate lunch in our classroom. This discussion about fracking organically started with students gathering around their science teacher, Mr. Bourne. Curiosity has become a driving force in our classrooms!
When presented with the idea of debates on the battles of the American Revolution, students didn't know what to think.  Through a lot of research, preparation, practice, and organization, they killed it!  Which was most important: Lexington and Concord, Bunker Hill, Saratoga, or Yorktown?
Students worked together and participated in a scavenger hunt around the school to solve algebraic equations.
To study the Constitution and Bill of Rights, students taught mini-lessons. This is one student thinking outside the box to teach about the 8th Amendment.
We took a field trip to Raleigh and Durham, NC!  We visited the NC History Museum and Science Museum in Raleigh, then were hosted by the classy Little Dipper fondue restaurant in Durham. Our students were responsible and respectful the whole time, showing us that they are trustworthy on field trips.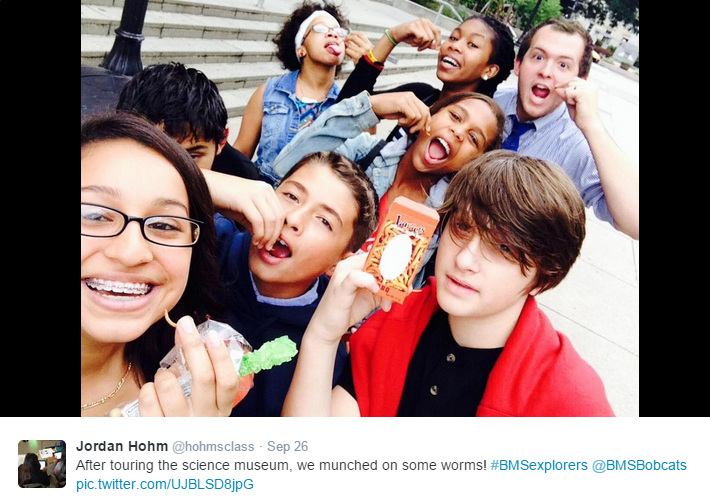 At the end of the day, though, these students are working their tails off.  They're taking 8th grade math and 9th grade math this year.  They're writing in-class essays.  They're collaborating on designing water quality measurement systems.  They're participating in high-level, rigorous discussion.
They wrote narrative essays that showed mastery of several writing standards.
After submitting their "final" drafts, they revised them and submitted another final draft.  We're learning that we can never stop improving.
They're individually partnered with sixth graders and work on reading skills with them every Friday for twenty minutes.  Both the sixth graders and the eighth graders anticipate this every week with great excitement.  The kids are showing leadership skills and enjoy the responsibility of helping their reading buddy.
Every Friday, for the last half hour of the day, we bring all fifty of our kids into one classroom and do a massive review game of the content learned throughout the week.  These kids are blowing our minds with what they're capable of and we can't wait to have them experience DC in a meaningful way!
Our itinerary for our trip to DC:
Memorials and monuments
College tour
Smithsonians
Holocaust Museum
Library of Congress
US Capitol
Supreme Court Building
White House
National Archives
...and more!
It is a three-night, four-day trip and the costs are as follows:
The total cost of the trip for fifty students and eight chaperones is $29,290.  Any extra funds raised will go to enhancing the trip, and we have lots of ideas!
Finally, because we are aiming to provide this trip at NO FINANCIAL COST to the students, we are setting an ACADEMIC cost.  Students have four months to complete these things, and there is no doubt in our minds that every student on the team can achieve this.
The Social Studies requirements are as follows: Master a political map of the United States, master a chronological list of the 44 presidents and major events for 22 of the 44, (re-)read and analyze the Constitution, and create a pamphlet on one of the historical topics that we will experience while in Washington, DC.
The Language Arts requirements are as follows: Demonstrate mastery of the following power standards on informational texts: RI8.1, RI8.2, RI8.3, RI8.5, and RI8.6 (this being measured by a battery of EOG-style readings through Mastery Connect, Released EOGs, etc.)
The Math requirements are as follows: at least a C on the 3rd Nine Weeks Progress Report and no missing assignments.
The Science requirements are as follows: Students should be proficient in the following chemistry concepts/skills: 1. Identifying and describing elements, mixtures, and compounds.  2. Using the Periodic Table of the Elements to describe individual and groups of elements.  3. Compare physical changes and chemical changes in elements, compounds, and mixtures.  4. Balancing chemical equations to support the law of conservation of mass.
THANK YOU!!!!
Ms. Lee, Mr. Bourne, and Mr. Hohm

Organizer
#1 fundraising platform

More people start fundraisers on GoFundMe than on any other platform. Learn more

GoFundMe Guarantee

In the rare case something isn't right, we will work with you to determine if misuse occurred. Learn more

Expert advice, 24/7

Contact us with your questions and we'll answer, day or night. Learn more