Silat Training Camp in Indonesia
Selamat and Hello!
Six of my hard-working students are going to Indonesia to participate in the Pencak Silat Mande Muda Summer Camp from August 5 - 15th.
To make this happen they need your help to have enough funds for airfare, training costs, lodging.
http://www.suwandaacademy.com/camp.html
Every year the for the past 5 years the masters of our martial arts system--Guru Besar Ibu Rita and her husband Guru Besar Pak Dadang--come to the United States from Indonesia and share their lifetime of Pencak Silat experience with us. This year, we have been invited to study and train with them in the city of Bandung on the island of Java in Indonesia.
The camp is focused around training Pencak Silat for six hours per day.  Also included is participation in the International Pencak Silat Festival from August 11-14. Our Indonesian hosts have streamlined the costs as much as possible. With our own fundraising and your help, we can make this amazing training opportunity a reality. We hope you will help out with whatever you are able and share this fundraising page with all your friends.
Guru Rennie Saunders
www.opencircleacademy.com
The StudentsMatt Edwards
Although unable to join the group on the trip this year, Guru Muda Matt is coordinating the trip along with Guru Muda Jeremy and helping prepare the students for the intensive travel and training. 
Jeremy Thweatt
Guru Muda Jeremy is the team leader for this trip. This is my second trip to Indonesia as I was able to participate in the Pendekar Pencak Silat Festival and a shorter training camp in 2015. I look forward to expanding my understanding of both Pencak Silat and Indonesian culture. Thanks for your support!
Ilana Silverstein
Ilana joined Pencak Silat Gerakan Suci in December 2016 and quickly fell in love with the practice.  Ilana came to martial arts at one of those pivotal life moments where she had to abandon the path she was on and set herself adrift, searching for a new focus. Initially, her goals entering martial arts were to gain fitness, flexibility, coordination, and self-defense.  But Silat stretches and trains the mind just as much as the body, and her appreciation for the depth of the practice has grown into fascination and awe.  She is excited and grateful for this opportunity to learn this art at its source, and particularly from the world-renowned female martial artist – Ibu Rita.  She looks forward to getting her butt kicked by this intensive training camp both physically and mentally! 
Ellen Avis
Ellen is a worldly woods wanderer who, after teaching abroad for years, attending graduate school at UC Berkeley, and touring and playing music all over the US with her partner and their young son, has finally settled in a self-built cabin in Southern Oregon, where she spends her time learning about wild plants, gardening, working on projects, and practicing Silat. She has studied martial arts throughout her life, including earning a first-degree black belt in Tae Kwon Do while living in South Korea, but has only recently discovered Pencak Silat. In the last year, she has become fascinated with Silat's diversity of styles and guerilla tactics, as well as the beauty of its dance forms. Ellen is excited to learn more of Indonesian culture and is especially looking forward to learning from Ibu Rita, one of the world's most renowned female martial arts masters.
Josh Schwartz
My name is Josh, and I have been a student of Pencak Silat Gerakan Suci for nearly 2 years now. For a while it has been a dream of mine to experience the authentic Silat training of Indonesia, and the time has finally come for my dream to be made a reality! Because of my passion for Silat, this experience is incredibly important for me to further my knowledge of the martial art as well as my understanding of the culture. In fact, I am so passionate about Silat (and this opportunity) that I am spending my entire nest egg just to do this! So, any donations to support our class on this excursion are greatly appreciated and profoundly respected. Thank you deeply.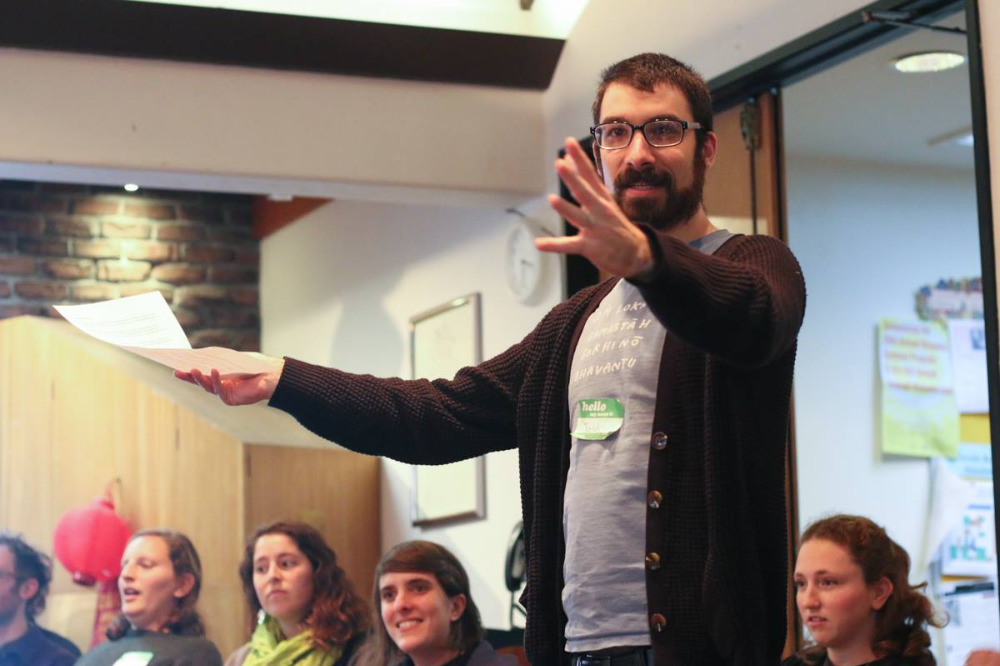 Stephen Schaupp

Two years ago, I decided that if I didn't want my body to feel terrible when I was older, I needed a lifestyle change. This would involve drinking less, eating better, and as much as I tried to find a way around it, exercising. Words can't express how lucky I am to have stumbled onto my Silat school while in search of a fitness regimen. More than self-defense and wellness down the road, I am now part of a great community of people that are all committed to collaborative self-growth (in addition to hitting each other!). This amazing community Guru Rennie has nurtured is a branch of an international Silat community, all stemming from his teachers in Indonesia. Now, after two years of training, I have an unprecedented opportunity to train with the people who have had such an amazing impact on my life and I couldn't be more excited. Going halfway around the world to do so is an exciting and nerve-wracking task, not to mention an expensive one! This GoFundMe will help offset the costs of this experience for me and my teammates, and we thank you for every dollar that helps us towards our goal.
Hae Min Cho

I have been fascinated with martial arts, health, and consciousness studies since I was a child. I have studied transcendental, Buddhist and chakra meditation, comparative religions, Tae Kwon Do, Ba Gua Zhang, Tai Chi Chuan, and Shastar Vidiya. This year I began studying Pencak Silat. For me the most beneficial thing I can do with my time is to help people move toward health, happiness and higher consciousness in my work as a Chinese medicine doctor and by studying and sharing martial arts with others. This year I have a chance to travel to Indonesia with my new community of Pencak Silat teachers and students. I am excited to learn the system, the spiritual practices, the language, and to just experience Pencak Silat in its place of origin. Every day that I train martial arts feels like a blessing. This GoFundMe will help get my classmates and me to Indonesia to train with our teacher's teachers.