Wheelchair Van for Independence

Let me tell you a story. There are millions of stories about people who struggled and failed, just as there are millions of people who struggled and overcame. This is Dalila's story and she has succeeded in the face of pain, addiction, and loss. She is our sister, family, and friend and the person that has motivated hundreds of people to be better than they think they can be.  
Her struggle with addiction since the age of 17 resulted in the loss of many things, first her youth and what comes with it, the prom, graduation, time with family. Second, her children, their experiences and their hugs. Third, she lost both her legs and became a double amputee. She struggled, in and out of rehab programs.  She fought to get her children back. We saw her cry, every time she lost something or someone. If you know someone who's been addicted you know the story.
It was a tragic accident that happens in 2001 as she went into a five-story building to buy drugs in the town we grew up in Elizabeth, New Jersey. As she's standing in the second floor the Janitor lets her know the police are in front of the building. At which point she panicked, already under the influence of drugs she wanted a way out the building.  She wanted to hide from the police.  She looked around, desperate or an escape, but the only way that she could see at the time was the buildings garbage shoot.  Her initial thought was to go in, head first.  However, like she has said numerous times, " It was like God whispered, go  in with your legs first."  Dalila says,  "I knew the garbage shoots no longer burned the garbage, but I didn't know that now they were designed to crush and chop up garbage."Unknowingly, the chute followed a path to the basement where a large trash compactor was set off as the motion of her body triggered a sensor. Her legs were crushed, the only thing that saved her that day was that her screams were heard by a girl who pulled the building's fire alarm.  At that point, everyone was trying to help as her screams got louder and louder. However, the two things that stuck out the most to her that day, was first, God and second Elvin Garcia. The Elizabeth, NJ Fireman from Engine #2 who rescued her and kept her calm through this ordeal, or as Dalila likes to call him, her guardian angel. 

This is not the end of her story, as anybody who knows Dalila can tell you this was just the beginning.
She turned her life around and decided that life is worth living. She got her children back and secured an apartment and was actively involved in their education. She was asked to become a speaker for an organization that helps recovering addicts and has spoken to thousands of individuals in recovery. She has also become a great advocate for people with disabilities and encourages people to become self-advocates. Like many people who have given up on drugs and addiction, she has also suffered a constant reminder of having used drugs; every time she's applied for a job, for an apartment or other program and is denied.  She has always been reminded that the past does not go away. This is heartbreaking to watch as a family member or friend. One believes that if an individual does what society expects that society will allow them to live like everyone else, that is not the reality. Again, if you know someone with addiction issues you know the story.
Even trough her daily struggles, she was able to accomplish one more thing, she got her driver's license. She trained for months at Kessler Institute and learned how to drive from her wheelchair. She said, "I finally felt free when I was driving. I opened the window and believed I could do anything and go anywhere."  We believe she can, we have seen her help one person after another, even though, she knew she wouldn't qualify for the services she was telling other people they could get.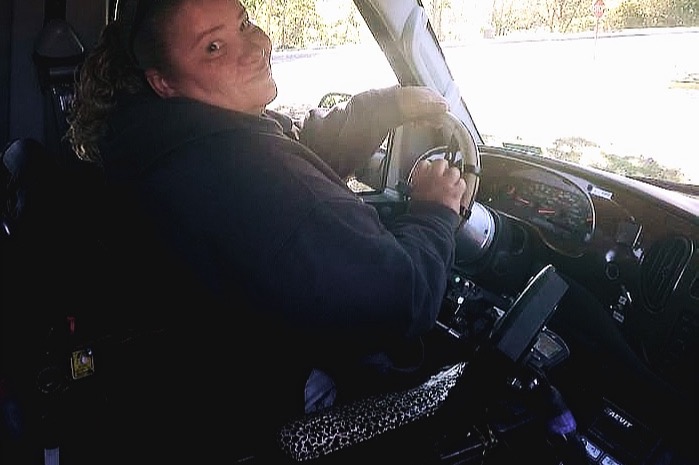 Regardless of her circumstances, she had always been able to laugh, her laugh is contagious. We want her to bring her to laugh anywhere she wants to go. That is why we are raising money on her behalf for a wheelchair accessible van. She has her driver's license, but like many other things in her life, she does everything she can to be independent, but there just seems to be one more step every time.
That is why we are asking for your help in getting Dalila on the road. A wheelchair accessible van set up for her to drive would open up many employment possibilities as well as housing options for her and her family. These vehicles as some of you may know are very expensive. We can make a difference to this one person who has made a difference in the lives of so many. Help us set "Dalila Free" by Summer.
Thank you for taking the time to read this her family and friends really appreciate it. Even if you are unable to help, please share this story with your family and friends.
Team Dalila
Become the first supporter
Your donation matters
Organizer
Javier Robles
Organizer
Elizabeth, NJ