*Miracles for Marlina*
Hello everyone! My name is Alice and I want to share with you an event that is unfolding even as you are currently reading my words. It is about my dear sweet friend, Marlina Davis. In July of 2017, she was diagnosed with Stage 4 Ovarian Cancer. At that very moment, her life as she knew it came to an abrupt halt.
In late October of 2016, she was diagnosed with pneumonia. She was prescribed the usual medications and it knocked it back but she found herself still quite exhausted. Thinking that she was just run down from her trying to keep up with every day activities as most Moms do, she just kept doing what Moms do. Then May of 2017 rolls around and she begins feeling like the pneumonia was back. Again, more medicine was taken as well as a steroid injection but she was not feeling any better. Marlina's back ribs were hurting and she was still experiencing severe exhaustion. After being awoken numerous times by the simultaneous gasping to breathe and the feeling of a knife in her back she headed to the emergency room. The medical staff determined she had fluid around her lungs and immediately admitted her to the hospital and began to drain the 1st half gallon of fluid off her lungs. Over the course of the next week, there was more fluid drained off her lungs, 3 CT scans with and without contrast, abdominal ultra sounds, X-Rays, and several EKG's. A mass was found on her ovary and the fluid, called a malignant pleural effusion, around her lungs confirmed the devastating diagnosis of Stage IV Ovarian Cancer. The doctors have told her this is incurable and she has about a 20% chance for the cancer to go into remission after her course of treatment.
The plan is 3 rounds of Chemo; once a week, every three weeks. Then surgery in 3-6 weeks. Then in 6-8 weeks another 3 rounds of Chemo at once a week, every three weeks. Currently, she is scheduled for her 3rd round of chemo on August 30th. If her blood cell counts are satisfactory, this schedule should remain and she will be able to go into surgery as planned.
Marlina is a single mother of two young men. One is 19 and the other one is 15 ½. Her boys are the absolute light of her world. Her love for them is unfaltering and fierce with passion. Her sacrifices for her children are nothing less than that of a servant's heart. She is a beautiful daughter and a loving sister. She is the kind of friend that makes you wish you were a better friend so you could be more like her. When you speak to her, she has a way of making you feel like you are the most important person in the world. Her days are filled with managing her work schedule load, shuffling her younger son to where he needs to go (who hopefully will be able to get a hardship license soon so he can help drive her to and from the doctor appointments), managing the household, spending time with her dog Beau, volunteering and everything else a Mother does in a day. As a huge TCU (Texas Christian University) alum and fan, she is a lover of anything purple and frogs. She is the most creative individual I have ever met. But to say she is creative would be the understatement of all time. Everything she touches turns into the most beautiful production you have ever seen.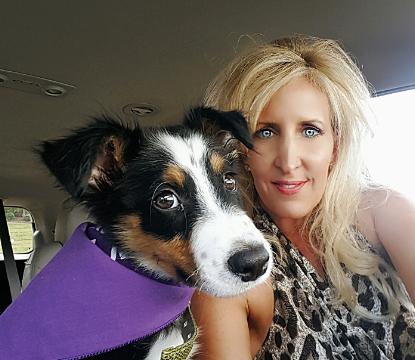 As Marlina moves forward to hit this awful diagnosis head on, she is going to be both physically and emotionally drained by the chemo and the surgery. I feel some of her stress could be alleviated if we could help to relieve her of the financial upset that is already upon her and give her some financial piece of mind so she can truly focus on her health and the quality of life that God blesses her with. She has already experienced loss of work from her hospital stay, as well as from the numerous doctor appointments and chemo setbacks. The medical bills are beginning to come in and then there are the medication costs on top of that. She has monthly living expenses that unfortunately don't just stop accumulating because you're sick. And she will need to take a medical leave when she has her surgery. Any donation to help ease the financial burden and give Marlina a sense of security in this area is most appreciated. Please help this precious Lady.
Please pray for Miracles for Marlina. Lift her high and ask our Lord to restore her health. Miracles are real and they happen every day. "Have faith in things unseen and do not allow your faith to be sifted like wheat." (summarized from Luke 22:31-32)
Thank you for reading!
Alice
(on behalf of Marlina & her family)
Organizer and beneficiary