HUDDLE UP! for James
James Bosco
is a 17 year-old from
De Pere, WI
. He is a bright, funny, athletic, and faith-filled young man. James is a fantastic swimmer and was a running back and linebacker on the
Notre Dame Academy
Tritons' 2016 Division 3 State Runner-up football team. 
In January of this year, James was severely injured while vacationing with his family. James was struck in his head by a misfired bullet. The horrific incident was critical and life-threatening. With the outcome uncertain, James underwent an 11 hour surgery that included five surgical teams. His postoperative course was tenuous and lengthy, spending one month in the intensive care unit. James's brain injury was slowly starting to heal. His vision, however, did not return. James lost one eye and has no sight in his other. Coming to grips with this new reality has been a great challenge for James, his family, fellow Tritons, and friends. 
     James and his sisters
Much like in the pool and on the football field, James is facing his injuries head-on. After months at Children's Hospital in Milwaukee, several surgeries, rehab sessions, a bit of laughter, a lot of tears and countless prayers, James was finally able to return home in March. James missed his friends and classmates at NDA and immediately started working toward his goal to return to "The Academy." He loves all that being a Triton means. 
In April, James enrolled in a transition program for the newly-blind. Once again, he had to leave home and friends to participate in the Minneapolis-based program, Blind, Inc. James has started to read Braille, been introduced to new assistive technology, become more comfortable with using a cane and started learning how to cope, live and thrive with blindness.
James is adapting a little more every day. He is working very hard to learn how to learn and live without sight. He is surrounded by an amazing family, medical and therapy teams, a tireless faith network, school community, trainers, friends and supporters. James's trust in God and Team James are giving him the confidence, strength, support and motivation to tackle the new challenges each day can bring. Through them, he knows he can…he knows he WILL succeed!
So many people have already helped in so many ways. The prayers, blessings, visits, and kind words have meant so much. James would not be doing as well as he is without this support. In fact, James has made so much progress that he will be ready to
return to Notre Dame Academy this fall.
To do this, he needs our help.
Notre Dame and the De Pere Public School District have done a great job getting things in place to welcome James back to NDA and to set him up for success. The next step toward this goal is to provide a para-professional for James. This person will continue the training that started in Minnesota and apply it to the remainder of his high school education. As you likely realize, there are significant costs that are associated with this need. Which brings us here.
We are asking for your generous support of James and his continuing education. Our goal is to cover the cost of this para-professional for the next two years.
Please give this consideration and, if you are able to, make an investment in James.
On behalf of James and his family, I would like to thank you in advance for considering, sharing and supporting James and his dream. 
Let's bring this Triton home!
May God bless you,
Team James
Due to financial and legal implications Mr. Ken Flaten, NDA's  Vice President for Business Operations, will administer the funds for this campaign.
Our Lady of the Bay - Pray for James
St. Norbert & St. Joseph - Pray for James
St. Lucy - Pray for James
at Our Lady of Good Help
with Relevant Radio's Father Rocky 
James and his sister
James and Coach Nowak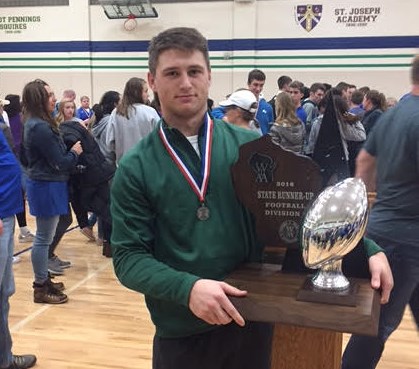 2016 State Runner-up!

Organizer and beneficiary