Greener Growth Kids' Corner Eco-Website
£70
of £10,000 goal
Raised by
4
people in 3 months
Hello All! Thanks for stopping by and visiting our new fundraising drive for the Kids' Corner Eco-Website.
Firstly, a bit about us and a video update from Jo Metcalfe
Greener Growth
was established in 2013 by
Joannah Metcalfe
 . 
It's an unusual community interest company in that we offer multiple ways to positively impact people and their local environment.
We work in schools, prisons and communities experiencing challenge throughout East Anglia and beyond. We teach conservation skills and the implementation of food-growing resources in a way that enhances biodiversity and wildlife regeneration.
The prison work and the way that we apply permaculture techniques generally makes our organisation both unique with real-world results.
Permaculture is all about earth care, people care and sharing resources. These systems inform all of the work we deliver as well as many of the wider environmental initiatives emerging on the international scene. As our work continues to develop and expand we hope to become a national organisation in the next five years.
An Eco-Website Resource
Greener Growth seeks to build extensive content on an
interactive eco-website
which will provide a resource-rich, activity-based portal for children aged eight upwards.
This new website will act as a sister site to
www.greenergrowth.co.uk
  which provides information on current and future projects, core aims and background to the company, all of which is linked to social media.  
Our project is an ambitious one which is why we'd love your help!
We recognize that
technology plays a huge part in the lives of children today.
If we are to capitalise on the opportunity to educate, involve and activate children's inclinations to enjoy and protect nature, then we must not lose the potential assistance that online technology can provide. Technology can act as a facilitator rather than an end in itself. 
The primary focus in the development of this website is to get children to question, discover and experience their local environment. Through this new website we seek to raise awareness of the countryside and its inestimable value to the well-being of us all. 
We intend Kids' Corner to be a fun, dynamic tool to awaken practical awareness of the natural world. There are many fun and engaging ways children can develop a better understanding of how animals, agriculture, food-production and land use interact with communities at the local and regional level.
Practical activities will be showcased on the site so that children (and their parents) can begin to see how they might employ this knowledge in their day-to-day lives and for their communities.
Permaculture
  forms the underlying philosophy behind the content and design of the website.
We hope it will act as an online "eco-system" of information promoting creative connections to the real world. In turn, we hope to contribute to the seeding of practical solutions.
Summary of project aims:
To act as an educational and inspirational resource portal to highlight environmental and ecological awareness
Develop practical knowledge of gardening and organic food production in the United Kingdom
Develop the children's interest and knowledge of British flora, fauna and food in a fun, engaging and dynamic way.
Instill the importance of biodiversity and ecology in both urban and rural environments
Educate children on the role of permaculture and the practical application of its principles
As a byproduct of using the website, it will encourage a balanced use of technology as an adjunct to nature-based activity and discovery
Act as a continuity portal to update, complement and connect ongoing projects from Greener Growth's sister site, thus encouraging volunteer work and active participation within local and regional communities  
Project description and work so far
We'd like to give you a flavour of Kids' Corner as it stands right now.  
There are six main sections which we are currently working on; adding content and refining usability and with an emphasis on creative links throughout the site as it develops.
The more content we have, the more potential for creative connections. In this way, the pathways from one section to another become an important part of the education process, being fun as well as informative. Again, the idea of this eco-system of learning.
The concept design is based around an
insect hotel
, the theme of which remains constant throughout the site.  You can see a screen shot from our home page in the above photo. It's exactly the type of insect hotel  we use in many of our projects. 
The main pages will act as a very visual resource complemented with suggested activities.
These main pages comprise:
Activities
>  Permaculture  and  Conservation
Games
>   Various game apps at different levels, linked to the aboe activities (number to be determined). 
Get Cooking!
>  
Biscuits & cookies
Cakes
Desserts
Drinks & Smoothies
Gluten-free
Main courses
Pies & Tarts
Preserves & Pickles
Salads
Soups & Broths
Starters
Sugar-free 
Permaculture 
>  What is Permaculture?  Permaculture principles
6 Themes and their 14 elements describing permaculture philosophy and practice
Trees & Plants
>   
Herbs
Flowers
Fungi
Trees 
Wildlife >
Birds
Crabs, Lobsters, Prawns & Shrimps
Earthworms
Fish
Frogs, Toads & Newts
Insects
Jellyfish & Anemones
Mammals
Marine Molluscs
Octopuses, Squid & Cuttlefish
Snails & Slugs
Snakes & Lizards
Spiders
Starfish & Sea Urchins
Reptiles
Worms 
The Wildlife and Trees & Plants pages will feature individual species listing: audio; distribution; habitat; description; when to see; interesting facts; threat status and video.
Here's some more screenshot pics to give you a flavour of where we're at so far: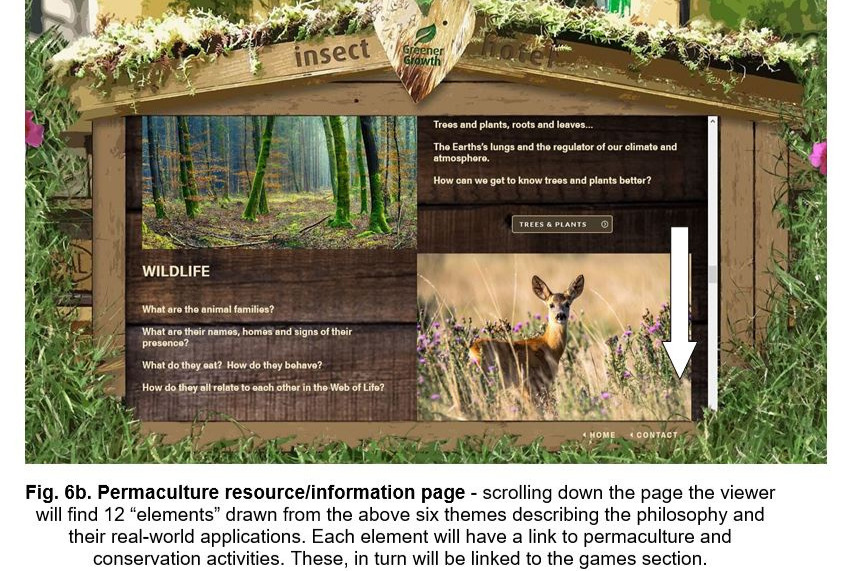 Why we need your help
There are three funding phases each needing £10,000 each.
Phase 1:
Support to pay for adding content and running costs and persons to carry out the work.
This is the phase we are in right now and why we are running this campaign. If we don't get help soon then Kids' Corner can't go live and will just collect dust which would be a terrible shame.
Phase 2:
Support to create an interactive games section designed to get children into nature.
The campaign for this would take place next year and is obviously dependent on whether we get support for phase 1.
Phase 3:
Final funding drive for site running costs which will probably be half of the listed total. This funding will act as a buffer between outgoings and the ability for our Greener Growth projects and online activities to provide income generating streams.
Thank you for reading.
We hugely appreciate whatever support you can give to help  this ambitious educational project get off the ground.
Feel free to contact us here or on our
facebook page
  if you need more information.
Many thanks again!
Greener Growth Team
+ Read More