#COLORTHEWATER - ANTI-RACISM THROUGH OCEAN EQUITY
UPDATE (July 4, 2022!)
Wow, what a time it has been. Somewhere around this time marks the 2 year anniversary of when this all started! We know we have been away from this page, but your continued donations have been so appreciated. It's not for a lack of need that we have been quiet here... actually the opposite! These days we have been beyond our capacity, and we are trying our best to find ways to build and grow at our own pace, so as to create longevity. Oh how badly we wish this could just be free without ever having to worry about money. How wonderful it would be to support each other in community with the diverse strengths, skills, and non monetary resources we all have. Alas, that is not the society or world we live in, and we continue to need support in order to keep this going. Here are some really notable things that have happened since the last time we updated:
WHAT'S HAPPENED
- We won a
50K grant
  by LA2050, held a 1st Annual
Wave a thon
 , received several small donations and mini grants, did a fundraiser for our surf therapy program, did two more 12 mile paddles in honor of
Nick Gabaldon
 , started a
Patreon
  page, and started sliding scale private lessons  last year that has kept us afloat to this point.
- Up to this point, somewhere around 1,345 people have signed up for lessons, volunteering, and community. We have taught less than half of them, and are working diligently but also slowly and thoroughly to make sure everyone who is committed has their needs met as we continue our mission to help surfers reach autonomy
- We've been on TV and stuff. We are not overly hyped about this as some achievement, but our story and message are spreading and that is something we are appreciative of! Soon, there will be something about us on
PBS
 , which David Malana (co-founder and creative leader) is hoping will reach his dad organically!)
- Many of our surfers are now experienced and have started to
teach
  with us! This is incredibly exciting because not only have they progressed so much as surfers, but we've also been able to really key in on decolonizing our surf lessons and making it so that people feel more excited about the act of riding waves than the measure of whether or not they've "actually surfed." That's colonizer thinking and we reject thaaaaaat!
- We started our Color the Water Surf Travel! Thanks to Lizelle, who has such skill and patience when it comes to organizing trips with intentionality and care, we went to
Costa Rica
  and had an amazing, love filled time! The surf and food and amenities were great, but when I tell you that we had these talks that were meant as check in's but had us crying and hugging each other and leaning into our whole selves... what a time.
- Ty, one of our beloved surfers has become a professional adaptive surfer and is currently 4th in the world! We are actually trying to raise money to see if he can live his dream out without having to sell out, and if you are interested in supporting that,
here
  is the link!
- We've started partnering with other groups and orgs of color like GoAdventureCrew, Black Surfers Collective, Ebony Beach Club, Paddle for Peace, Black like Water, and Sofly Surf School, lending the resources we've generated to make sure we are moving this whole thing along together!
- We also started working with youth from Watts, which is a HUGE deal for us, as working with youth is something we take seriously and wanted to arrive at organically. It's been wonderful to start this initiative!
- Phew what else! So many things have happened that have all been so revelatory and profound. The small, intimate moments matter so much to us, they are too bountiful to measure. Yesterday a woman cried tears of joy after catching her first green wave, and the chance to be present, have our needs met, have resources and knowledge built over time, and tools that made sure that the struggles toward that milestone were infused with intentions of safety and celebration rather than performance or grind... it's because of the support we've received that we get to be here for people this way, and a big part of that is this fundraiser and that initial faith by y'all, to help us learn to float and swim as an organization. THANK YOU!
WHAT'S COMING UP
- Well, right now we've come to realize that we need to slow down and get back to our core. The momentum of this work to liberate surfing has built and we've been trying to quietly continue our mission while supporting others, and that continuance of creating space for surfers to reach autonomy is super important to us. We will continue to honor our commitments to those we've given our word to, but more than anything we want those hopeful individuals who want to make surfing a part of their life... we want them to be able to receive support.
- We have this chance to tell our story in the ways we want. To control our narrative so that it's not a TV channel trying to diversify their programming or a company trying to sell some stuff. We have the chance to really do some amazing things with the stories that make our Color the Water adventure so grand, and those things are coming out soon.
Here
  are some looks at a documentary that is in the making as we speak!
- More travel. We want to tread lightly, but also tread bravely into the surf world. It's been jarring at times to travel to these countries and actually be even more thoroughly surrounded by white surfers, but that is the reality of surf travel as it exists, and it is something that we are hoping to address. 
- Surf Therapy. The ocean's healing powers and the mental health landscape are both incredibly exclusionary and not designed by or for POC. These two things are things that we hope to take a foundation of and eventually carry into the future with a bow back to our ancestors of color, who used healing practices and the ocean to care for their needs. Our very first surfer Ludine is leading this program and we could not be more grateful to her for the work she's done!
- Board shaping! We shaped a board recently, our very first, and Rahzizi, our artist renaissance human, adorned it with Sade. It's Calle Liberated Love Deluxe and it is just this beautiful work that we hope to add more to. 
There are many more things to mention, but as Lizelle is, so are we as an org - about that action. The point of it all though is that we are still here, actually thriving in so many ways, but still in need of so much support and really leaning on the faith that if we keep doing the things we believe are right and keep continuing to make sure they are done the right way, we will be provided for. Thank you for those who have gestured your resources to keep us going... it's something we can't thank you enough for!
UPDATE (2/5/2020)
We met our initial goal of 25K to get us through 2020! We have the chance to really make this something that lasts as a true institution of anti-racism, and we have anti'd up our personal funds to secure a location near the coast for Liz and me to really try and give this wings! Here are some things that will be able to continue if we can reach 100K!
- first, lessons will be able to remain free, which we are both passionate about. In the 7 months of instruction before we paused for COVID, we gave about $60,000 worth of lessons and rentals, not to mention the media. This is our core. Forever removing this barrier for BIPOC people to enter the ocean, forever helping Color the Water
- securing this money will allow us to really sink into developing this into something sustainable. We've been barely hanging on, to be honest, and we want instead to genuinely build. Ultimately our goal is to have our own space, imagine that! A CTW Surf House... land for us to enter the water from that is beautifully colorful and defined not by any other cultural paradigms than the joyous, communal, positive, inclusive, anti-racist that we are laying the foundation for now.
- representation: short form documentary, graphic design, ocean photography, magazines, vlogs... the kinds of things we've never seen of us. the kinds of things that have shown us that we aren't a part of the culture. That's fine for us, we want to make our own
- Community: CTW has become a community that inclusive of all anti-racist people, but we need more time and resources to continue to build it. Financial security would allow and enable us to keep up with the demand there is to help, join, and support. 
That's all for now, we hope you all are well and if you have landed here, that you can find ways to help us #colorthewater.
A Color the Water Origin Story
For a more detailed version of the CTW Origin story, please click here .

WHO ARE WE? 
We are #COLORTHEWATER (CTW), a small group of aspiring surfers of color offering free surf lessons and coaching for all BIPOC (Black, Indigenous, and People of Color) in the Greater Los Angeles Area, and creating more visibility for BIPOC surf culture.  We are creating a network of BIPOC surfers in the LA Area and around the world. 
I am David Malana, founder of CTW. I am a first generation Filipino American international educator/trainer, videographer/photographer, former ball player, and surfer. CTW has set a high bar for itself, and I am proud to say that we are getting there. We need your help take the next steps though.
WHY ARE WE DOING THIS? — Fighting Stereotypes • Creating BIPOC Spaces
At
LA's first paddle out honoring George Floyd
 , I realized that the ocean, one of my most prized sanctuaries, is almost entirely a white space. Surfing was invented by BIPOC, but it was then commodified by colonizers, pushing BIPOC inland while tokenizing a select few as "exotic" surfers. This racism creates stereotypes about a relationship with water and the ocean that many BIPOC have internalized as part of their ethnic identity ("oh, we don't swim"). This  obstacle makes ocean play seem too frivolous to invest hard-earned money in. I decided to change this, and so with the help of friends and family, I started Color The Water on social media with the hashtag #colorthewater. We have been able to do a lot in two short months!
WHAT WE HAVE DONE SO FAR — Coaching • Media • Surf Meetups
CTW has coached over 30 surfers to date, with over 20 more on the way. This amounts to nearly 125 private/semi-private lessons, each lasting about one to two hours (roughly $30,000 worth of coaching/rentals). Accompanying these lessons, surf coaches from Venice Beach to India have offered over fifty hours of remote and in-person video analysis like this
Wave Breakdown
. CTW has daily, often twice daily small surf meetups that create a safe, positive, and welcoming space for BIPOC. Our makeshift CTW HQ has helped people access the ocean with even greater ease, and we all hope one day we can have an HQ to call our own.
WHY DO WE NEED FUNDS? —  Access • 100% Free Lessons • Sustaining CTW 
Getting to the beach can be time consuming and expensive. Private surf lessons can cost $150 for 1.5 hours (without media), and gear rental costs around $50. It's just too much for most people. For BIPOC, those barriers have compounded due to generations of systemic racism. That is why I am passionate about making our lessons
100% free
for hopeful learners. CTW has grown such that we need help to keep the community moving forward.
Money raised through this GoFundMe will go towards the following categories: 
(1) Essential CTW HQ Surf Equipment (boards, +size suits, tents, etc)
(2) Surf Media Equipment (camera, lenses, action camera, water-housing)
(3) Surf Teacher & Videographer Compensation 
(4) CTW HQ (surf, beach equipment, HQ rent)
(5) CTW Surfer Kit (essential gear for progression)
For full budget documentation, including community contributions and stretch-goals, 
click
here
 .
Here are some of the things our surfers have had to share about what #colorthewater 
means
 to them.
"CTW has helped me get over the hump by taking my skill set from beginner to intermediate.  David has a skill for seeing what I was doing wrong and articulating how to make those correction on the fly.  I'm happy to be a part of the CTW community."
- Nate
"Color the Water has become the sacred, safe haven I always knew I needed but didn't have access to until now. I finally feel like I belong in the ocean, and this community has made me feel so welcomed."
- Ludine
"The CTW surfing community feels like a second family."
- Rahzizi
"CTW set us up with gear and made possible what felt impossible. David was crystal clear with his explanations, and great at quickly preparing beginners at varying skill levels. I'll always remember the serenity of finally making it out on the water — the setting sun painting the water orange and pink. Thank you, CTW!"
- Cruz and Lila
"I met David when I was struggling to keep up with more WAY more Advanced surfers than I. He asked if he could help me and I couldn't say " YES!" Fast enough. As a black woman who is new to surfing it can be very discouraging to go out on your own to learn esp when No one looks like you in the water. CTW offers all people of color a safe , friendly and comfortable environment to learn and grow as a surfer within the most  diverse surf community I've ever seen. I've improved in so many areas but most notably in my confidence . Definitely one of the best things to happen to me since moving to LA. "
- Erin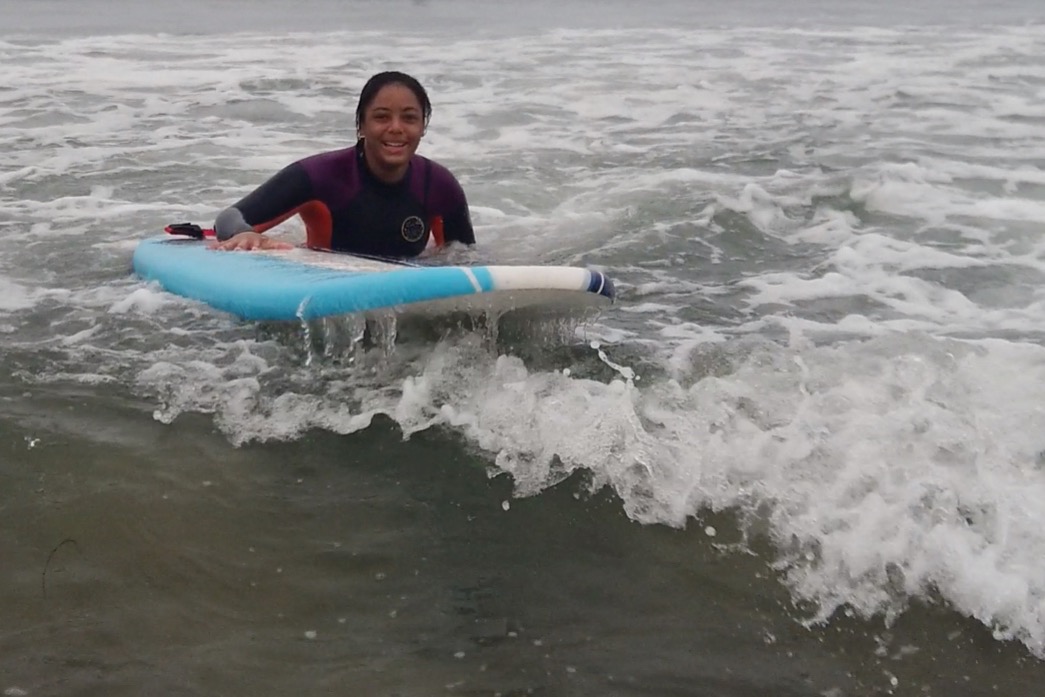 "In the sea, each wave washes away all my troubles as I float and the calm comes over me. The ocean is my therapy. When I see diversity in the water, it fuels my soul to get better and better. On land I am biracial but the sea is all of me."
- Noemie
"Surfing taught me how to surrender. Color the Water creates a space for me to feel safe to do so."
- Joi K. Madison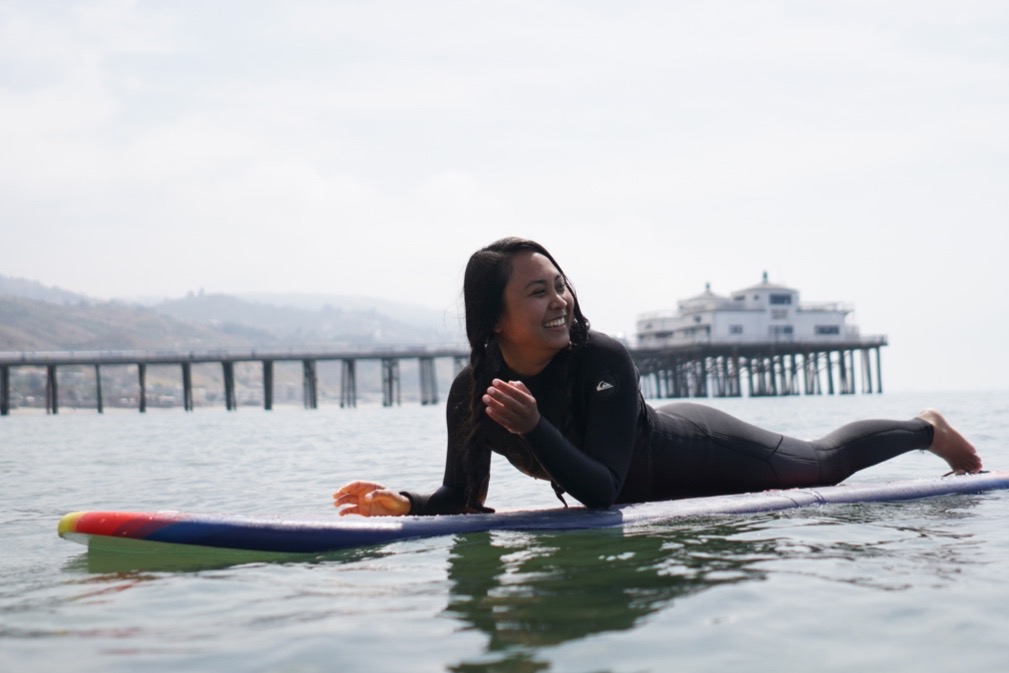 "Color the Water is not only a movement that acknowledges systemic racism by providing equity in the water for BIPOC, but provides sanctuary to cope with community trauma during this time."
- Faith
"I have no doubt you are making huge waves with Color the Water because it has been a long time coming."
- Nana, mother of Noemie, CTW Surfer
"If the ocean is truly for everyone, than it's about time we open these gates for those who have not been privileged in a way that makes surfing a genuine choice, and not just an unfulfilled fantasy. Please help us break down as many barriers of entry as we can, so that BIPOC can connect back to their ancient ancestors and shift surfing from a stoic, mostly white multi-billion dollar industry  to a shared celebration of the beauty and magic of the ocean we've been far too long kept from. Not anymore though, now it's time for us to color the water."
- David

Fundraising team: Color the Water Community (4)
David Malana
Organizer
Raised $14,765 from 94 donations
Los Angeles, CA
Lizelle Jackson
Team member
Raised $5,078 from 38 donations
Joi Madison
Team member
Raised $305 from 8 donations
Cruz AD
Team member
Raised $190 from 2 donations