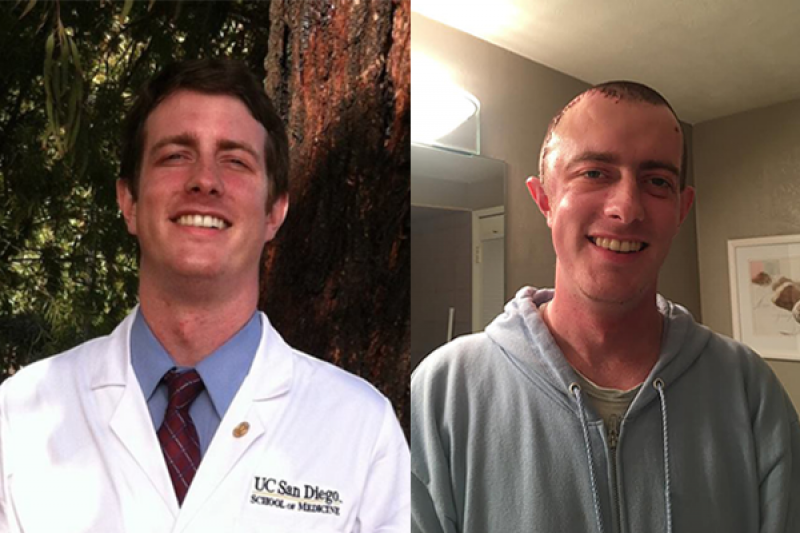 639
13
Help Dave fight a brain tumor!
$51,845
of $68,000 goal
Raised by
642
people in 10 months
My name is Vanessa and I am asking you to help save my brother's life. Dave is battling a massive, life-threatening, partially malignant, astrocytoma brain tumor.
Over two neurosurgeries last December and this January, 80% of the tumor was removed. The surgeries were followed by 6 weeks of combined proton therapy and chemo treatments. Dave will continue with monthly chemo and MRIs every other month for a year and then regular MRIs for years afterwards.
The tumor is the big, gray mass on the left.
I'm reaching out to ask for your help. Please consider a donation of any size to help Dave cover basic living expenses and his portion of current and future medical costs. Your donation will go to The David Carlson Special Needs Trust that was created specifically for Dave's medical care.
Dave is studying to be a neurologist or a neuropsychiatrist at the UC San Diego School of Medicine. He's halfway through his 3rd of 4 years of med school. Last Thanksgiving Dave told us he'd scheduled an eye exam because of his recurring headaches and vision problems. The exam showed swollen optic nerves. Dave was sent directly to the Emergency Department.
Everything changed for Dave and our family when an MRI revealed the huge tumor. Deep and dangerously close to Dave's brainstem, it had shifted the midline of his brain, infiltrated critical areas and damaged others. Immediately, Dave was hospitalized for surgery.
The surgical risks included incapacitating brain damage, paralysis, and complete vision loss.
Fortunately, most of the tumor was safely removed.
However, Dave has some permanent visual field loss. He can't drive and may never be able to again.
Dave after surgery and later at the Proton Radiation Center 
The good news and what makes us so very hopeful is that a recent MRI shows tumor shrinkage – very unusual, especially this early in treatment. There are ongoing medical advances too. Dave has a recently identified genetic marker that indicates a better prognosis. All this, along with his impressive progress and his resilience has us very encouraged that Dave can beat this.
Dave with friends shortly after his first surgery
 While Dave focuses his energies on getting better and on his studies, 
(Yes! he is already back in med school with a modified schedule)
, I've stepped in and created this campaign to help bring Dave some relief from the financial pressures he's facing from his two surgeries; proton radiation; chemo for a year; co-pays for meds, including those to prevent seizures; medical insurance premiums; a hospital sponsored driving rehab program if Dave's vision improves enough to make him eligible; and study aids.
If anyone can beat this and use his experience to help others, it's Dave! As a proud little sister, I must say his list of accomplishments is long: starting a business, designing and teaching a unique MCAT curriculum to help others realize their dream of becoming a doctor, co-authoring scientific research papers for peer reviewed journals, leading a Congressional District voter registration team in the 2008 election and attending a National Convention as an elected delegate, to name just a few! Dave's also a gifted artist and a great guitarist.
Dave with Mom ringing the bell after completing his proton treatment 
I've heard Dave say, more than once,
"I want to get better, I want to be a doctor, andI want to be an inspiration to people and help them."
Please help give Dave a second chance in life so he can pursue his dream and continue to serve. Your kindness and generosity will contribute to the success of an empathetic, compassionate, wise doctor who knows firsthand what it's like to be a patient needing life-saving treatment.
 Those of you who know my brother know he's a big boxing fan who draws inspiration from pro boxers who persist in spite of the odds. This quote from Rocky V is one of his favorites – and in my opinion so perfectly sums up Dave's philosophy and how he leads his life,
"Going in for one more round when you don't think you can. That's what makes all the difference in life."Thank you in advance for helping Dave continue to make a difference.  Please share his story with others who may be moved to help.
A selfie of our family I took on Mother's Day
On behalf of Dave and our family, I thank you from my heart.
- Vanessa
+ Read More
Update 2
9 months ago
Share
Dave and our family are grateful beyond words to each one of you! Daily, your support reaffirms that together we are far stronger than any of the personal or collective challenges confronting us.
Please keep in touch. Your actions and your thoughtful messages inspire, encourage and comfort Dave more than you know. You give him hope.
Dave passed his Surgery clerkship exam! He is now half way through third year. Monday, he starts a four-week inpatient Pediatrics clerkship at Rady Children's Hospital.
Helping to get Dave's story out is one of the best ways you can continue to support him. Donations of any size really help with his extra medical costs. Please continue to share our campaign.
For those who have asked how to make recurring donations, you can either 1. use the GoFundMe site (I will leave the campaign for Dave up) or 2. send a check made payable to the David M Carlson Special Needs Trust. To get the address, please contact me either by leaving a comment on the GoFundMe site, emailing me or my mom (please mention GoFundMe in the subject line), or sending me or mom a private Facebook message.
Thanks to your sharing, Dave was profiled on our local NBC affiliate by reporter Megan Tevrizian. We were surprised and very touched by the number of people who reached out after seeing the segment. Thanks again Megan and NBC! Here's the link:
http://www.nbcsandiego.com/news/local/UCSD-Medical-Student-Aspiring-Neurologist-Not-Letting-Brain-Tumor-Stop-Him-434170093.html
Again, thank you for your overwhelming generosity, for walking beside Dave as he navigates this life-threatening, life-affirming challenge.
+ Read More
Update 1
10 months ago
Share
Thanks for your incredible support and your outpouring of love! We're amazed by how many of you shared and donated to the campaign. Together, we got halfway to our goal in about a week. Dave also celebrated his birthday recently with family and a few friends. See photo below.
Dave was profiled on our local NBC affiliate by reporter Megan Tevrizian. We were surprised and touched by how many people were inspired and reached out to us. Thanks Megan and NBC! Here's the link:
http://www.nbcsandiego.com/news/local/UCSD-Medical-Student-Aspiring-Neurologist-Not-Letting-Brain-Tumor-Stop-Him-434170093.html
Dave finished his Radiology elective and is completing an independent study period. Last week, he had his first class session. On August 4, Dave will take his Surgery clerkship exam. Once he passes, he'll be halfway through third year!
After another chemo week, Dave will start his pediatrics/neuro rotation. He's very grateful to his classmate Jason, who has generously offered to drive. Although Dave isn't behind the wheel yet, he's optimistic that he'll drive again.
Thanks to you, we're more than halfway to our GoFundMe goal! However, Dave still needs our support. Please share this update to his inspiring story. Please continue to help this courageous future doctor get back on his feet and complete his MD. We all know Dave will use this experience throughout his career to help improve people's lives.
Again, we can't thank you enough for your outpouring of support and generosity. Dave and our family are so very grateful to you!
+ Read More
Read a Previous Update