BlaqspotTV
$18,325
of $25,000 goal
Raised by
451
people in 15 months
We are pushing quickly forward towards the launch of BlaqspotTV. We are developing a platform on par with sites like YouTube and Vimeo that is AfroFocused and AfroCentric; but we need your help to reach the finishline. We're 90% of the way there but we can't go on without YOU.
BlaqspotTV will offer features such as:
*Livestreaming - with chat and donations
*Video monetization via ad service.
*Channel access control.
*Pay-per-view Videos and Livestreams
*Restricted - Patron ONLY content
*iOS and Android apps
*And MUCH more!!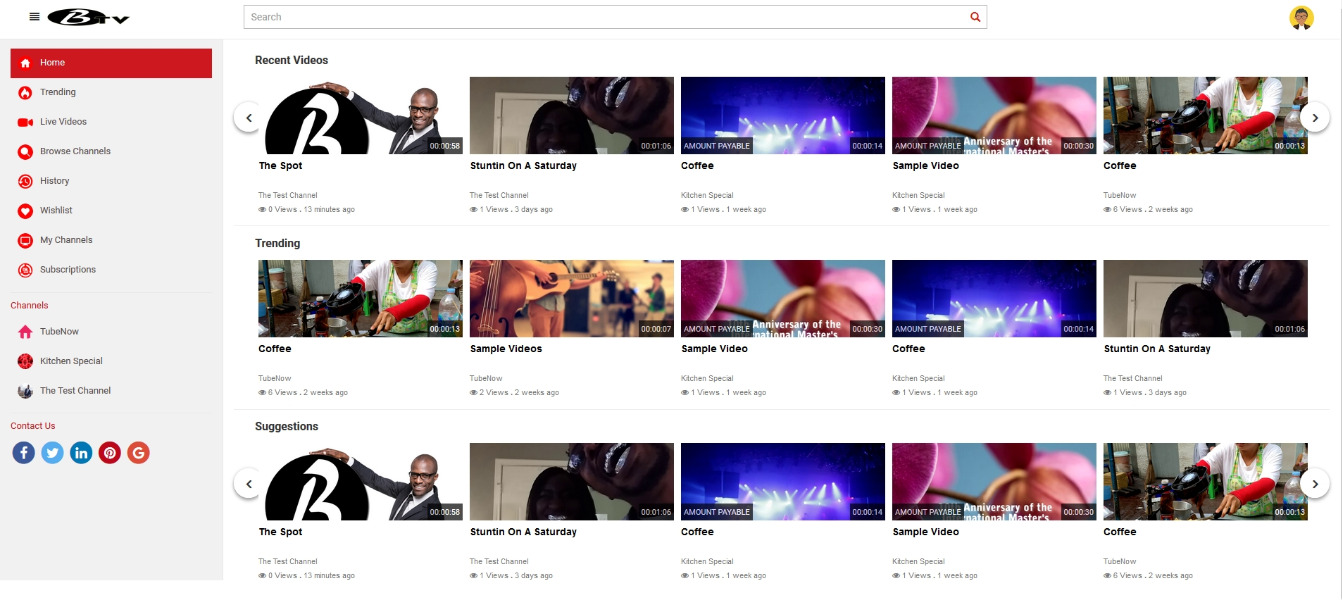 Also, BlaqspotTV will be fully integrated with the Blaqspot AfroSocial platform so you can build your following or find new content creators that provide the news, entertainment, or commentary that you're looking for.
BlaqspotTV is 90% finished. We absolutely need to finish out the GofundMe campaign as quickly as possible in order to launch this platform by January 1, 2018. The development is done; but new servers need to be configured, services for mass distribution need to be added, and the developers need to be paid. We are at the end of the development.
The finishline for this first-of-its-kind AFROCENTRIC direct-to-consumer safe-space video platform is fingertips away; but we are just a few thousand dollars away.  We need 270 people from WITHIN the community to contribute $100 to the BlaqspotTV crowdfunding. In return, here are the perks that you will receive:
*You will be listed on a special Thank You page on Blaqspot 3.0 and BlaqspotTV with the special designation of B300.
*You will receive a Limited Edition Blaqspot T-Shirt listing you as a builder and member of the B300.
*You will receive special early access to BlaqspotTV and future Blaqspot platform releases.
*You will receive special Invitation Only access to the Blaqspot Media Group Investment webinar to be held Q1 2018.
If you can't donate $100, that's ok. Your $5, $10, $20 or whatever you have adds a brick to the house. Don't hold back. Jump in and build with us.
BlaqspotTV will be the new home for urban content creators to showcase their never before seen content directly to their audience. BlaqspotTV's creators will build and expand their careers by bringing unique stories and news to the screen.
With this technology integrated into the Blaqspot community and apps,as well as being available across a myriad of other mobile and "smart TV" platforms, urban content creators from all over the world will have a monetized, solid foothold on their ability to reach the masses that are interested in their message of AfroEmpowerment and AfroEntertainment--without being subject to "ad boycotts".
For our Blaqspot members, you will be able to search and watch loads of free news, commentary, and enterainment content as you do now; but, you will also have the ability to rent movies and documentaries from amazing up-and-coming urban filmmakers.
This project is about creating an unapolgetically Afrocentric on-demand video distribution platform to reach the masses of our people throughout the diaspora; but we can't complete the project without your help.
And if you're NOT a Blaqspot member, JOIN NOW by visiting
https://Blaqspot.com
or get the Apps by clicking one of the links below.
Join the Blaqspot and download the app!!
www.Blaqspot.com
****BLAQSPOT MESSENGER****
Android -
https://play.google.com/store/apps/details?id=com.blaqspot.chat
iOS -
https://itunes.apple.com/us/app/blaqspot-messenger/id1216067956
+ Read More
Update 1
15 months ago
Share
Thanks so much for everyone who's contributed! Please keep sharing and spreading the word!!!!
+ Read More