Dunkirk Refugee Women's Centre
£13,166
of £8,000 goal
Raised by
130
people in 21 months
The Refugee Women's Centre is committed to supporting women, families and minors in and around Grande Synthe, Dunkirk and Calais. We support the specific needs of women, children and vulnerable people, of all ages and nationalities, who have left their homes and loved ones due to war, conflict and persecution.
Febuary 2018 Update
Refugee Womens Centre has been working hard through the winter to continue giving support. We are now now assisting 200 people sheltered in temporary winter accommodation in local gymnasiums and CAOs. We are also helping support those men left behind with no shelter in Grande Synthe, and continuing Women's Distributions in Calais. The team is doing its best to adapt to winter needs - but our vehicles are vital.
Two weeks ago the gear box of the Mobile Refugee Women's Centre van died leaving it temporarily out of action. We are relying now on a single car to attend to the needs of vulnerable men, women and children in Grande Synthe, Calais and spread around the region in temporary accommodation. For the Women's Centre, it is vital to maintain contact and support for families, thereby encouraging them not to return to the Jungle.
We need to raise funds to stay as mobile as possible so we can continue to support these vulnerable families.
This winter, petrol costs and other vital maintenance have become a real concern. If you are able, please donate via our website.
We also love it when people run fundraising events on our behalf! We rely 100% on donations and really need to get the Women's Centre van back on the road as soon as possible!!!
------
Mass Eviction as Hopes of Humanitarian Camp Dashed.
 September 21, 2017
Mass Police Eviction - Dunkirk. Urgent Supplies Needed:
 Sleeping bags
Tarp
Tents
Baby wipes
Phones & Smartphones with Chargers
SIM Cards 3G (with min 10€ credit)
On the 19th September, the day after a plans for a new humanitarian camp had been rejected by the French Interior Minster, a huge eviction took place in the Dunkirk Jungle. Madeleine, a volunteer on the ground, gives an account :
 It's hard to believe, but sadly it's true...  
The mayor had asked for permission to open a new humanitarian camp. He had already announced he would install some sanitation in the Jungle, while the State was still against the reopening of a camp. Today, we witnessed what the State sees as a solution for the situation.
Dear Mr Collomb, 
Here's a taste of what my day in the Dunkirk Jungle was like. Hope you'll enjoy! 
6h30: We get to the Jungle. On the parking lot next to the shopping mall near the entrance of the Jungle, we see 12 buses and about 20 police vans. It looks like a big eviction. 
In the Jungle, everything is dark and quiet. Nobody is awake. We go into the woods where the families are sleeping and try to wake them. We want to save some things before the police get to the Jungle. We begin to write the names of the families on the tarps and sleeping bags and put them in our van. 
We know the situation. The police come and destroy all the tents, sleeping bags, tarps and private belongings, and they force people to get on the buses. That's what happened today. But there has never been an eviction as big as the one today.
7h20: The police come into the Jungle and ask us to leave. We try to hide as much as we can in our van, but in the end we can't resist the police and leave the Jungle.
We try to negotiate with the police, asking to keep at least our donations, but no policeman is willing to hear what we are saying. The clean-up teams have already put pepper spray over all the donations and throw them in a big container. We explain to them what is happening. Some of them didn't know they had to clear a refugee camp. They had no idea there were families and children living here. I show them a picture of a little boy, sleeping on the ground, without a tent or a sleeping bag and ask them not to destroy these tents and sleeping bags. It's useless. All we get are derogatory looks and pejorative comments. I have to contain myself as my anger increases, along with the grief. In 1945, we had enough people claiming they had no idea what happened! Where did humanity go, where did reason get lost over the years?    
It all happens, as we had feared. Buses come out of the jungle taking the refugees to centres all over France. We had heard bad stories about these camps that are subsidised by the state. I had heard phrases like "We get one diaper for our baby per day and have to share one roll of toilet paper with six people over a week". A 4 year-old boy, staying in one of these centres with his parents, had had back issues. He couldn't properly walk because of them. He wasn't allowed to see a doctor for weeks. The list of violations of human rights grew bigger and bigger the longer I talked to people in the Jungle.
Today we would witness again how human rights were violated. As we were not allowed to go into the Jungle as long as the police were there (why so, if what was going on was legal and right?!), we stayed in contact with the refugees via phone calls.
"They smashed people down." "They are insulting us."
That doesn't sound like a peaceful way to take people to a safe shelter.
15h30: There are still buses coming out of the Jungle. Two girls wave at me from the bus. I know their family well and can't get a grip of my feelings anymore. Everything that kept me going all day has vanished. As I think of every family's story, I get so angry at the political situation and an unbelievable grief takes hold of me. I feel so helpless. There's not only this family, that has been looking for a new home for years and has been fleeing from country to country with their children, there are also pregnant women with small children, women suffering from cancer, blind minors and paralysed men. They are completely helpless. Is that how Europe works?
We already know the refugees will come back to the Jungle, preferring to sleep in the mud, than to sleep in centres under such conditions. The problem is: We have no sleeping bags, tarps or tents left. It gets colder and colder and I know many children will have to sleep in the cold, on the street.
Good night, Mr Collomb!
Is that really the solution you agreed on at the end of the meeting yesterday? 
UPDATE 28th JUNE
Three months on from the closure of the Dunkirk Camp and Around 300 men, women, children and babies now living without shelter in the woods and grasslands. There is no running water, no toilets, no cooking, heating or washing facilities.
Behind the bushes below are people homes some have tents, some have blankets, that is for today as there is constant threat that the camp will be broken up and blanket and shelters confiscated. It has happened many times alraedy.
Click here for artcle with update of condtions.
***Version française dessous!***
The
Refugee Women's Centre
is starting an urgent appeal for funds for a vehicle to go mobile following the closure of the refugee camp of La Linière, in Grande-Synthe, a suburb of Dunkirk about 30 minutes from Calais.
Thank you to all of you that sent kind messages, as promised, here is how we experienced the week and how we plan to go from here on.
THE FIRE & CAMP CLOSURE
A fire destroyed the camp on the 10th of April in the evening. In the testimonies from people who were in the camp at that time, there is quite a wide array of explanations as to why and how it happened. However, there is one thing that all agree on: the fire could have been contained and the destruction could have been hugely limited, had the police force intervened more consistently to prevent the fighting from escalating, and had the firefighters been allowed on site earlier whilst they were held at the entrance of the camp for more than two hours. Yes the fire was probably ignited by people living in the camp, but the scale of the destruction cannot be justified on the ground of "ethnic tensions". The camp had been checked for fire safety standards by a professional team mandated by the state (in December), and the Children's Centre had invited a professional firefighter to organise workshops around fire safety in the camp (in February). That 70-80% of the camp was destroyed has more to do with inapt response from the police force and the firefighters, who get their instructions from the Prefecture. This event was incredibly convenient for the French authorities, who wanted to close the camp anyway.
DISPLACED PEOPLE
Following the fire, most people have been placed in sports complexes and gymnasiums for a few nights before being placed in buses to CAOs (Centres d'Accueil et d'Orientation) from where people can apply for asylum in France. Although the living conditions in those centres vary hugely across the French territory, it is a good option for those seeking safety in contrast to the precarious living conditions in informal camps. Yet people staying around Dunkirk and Calais are there for a purpose: that of reaching the UK to apply for asylum there. Similarly to the dismantling of the Calais jungle six months ago, many chose to stay in the vicinities by living in informal camping areas, and others have intially gone to CAOs but are now making their way back to Dunkirk. This includes women, families, unaccompanied minors, people with disabilities and many others whom we consider to be particularly vulnerable. Therefore, our mission is not over.
THE WOMEN'S CENTRE
The Women's Centre structure, where we used to host activities, meals, and distributions, has not been burnt. Therefore, not to worry, the efforts in the rebuild of January this year are not in vain. Refugee Community Kitchen who built the centre have managed to salvage the most valuable elements of the structure that will be re-used in the future. We have also been able to salvage all the donated materials for future mobile distributions. Those are currently safety stored away in a warehouse, while we adapt to the new situation, to be able to host activities and to create a safe space once more.
GETTING MOBILE
At the moment, it is not possible to have a set location as we did before. People are currently scattered in camps around Dunkirk. For this reason, we are planning to go mobile. By having vehicles and by arranging a Women's Centre van, we plan to create a mobile safe space, with which we would be able to reach women around camping areas and addressing their needs.
This is the current situation. We welcome your questions and comments, as we seek to keep transparency, especially to our supporters who cannot come on site because of distance. We always welcome your messages, though please understand that the circumstances make our availability and access to internet difficult - so please accept our apology for all delay in the correspondence.
Le
Refugee Women's Centre
commence dès maintenant une campagne pour lever des fonds, afin de gagner en mobilité suite à la fermeture du camp de Grande Synthe.
Nous vous remercions chaleureusement pour vos messages de soutien. Comme promis, voici un résumé des dernières semaines pour le RWC, ainsi que nos plans pour aller de l'avant.
L'INCENDIE & FERMETURE DU CAMP
Un incendie a détruit le camp, le 10 avril au soir. Les témoignages de personnes présentes sur place à ce moment-là divergent beaucoup quant aux causes du feu. Cependant, il y a une chose sur laquelle tout le monde est d'accord : l'incendie aurait pu être mieux contrôlé et les dégâts auraient pu être largement limités, si la police avait intervenu de façon plus convaincante pour empêcher l'intensification des bagarres, et si les pompiers avaient eu accès au site plus tôt, alors qu'ils ont été tenus à l'entrée du camp pendant plus de deux heures. Oui le feu a probablement été démarré par des personnes vivant dans le camp, mais l'ampleur des dégâts ne peut pas être réduite à « des tensions ethniques », à en croire les autorités et media.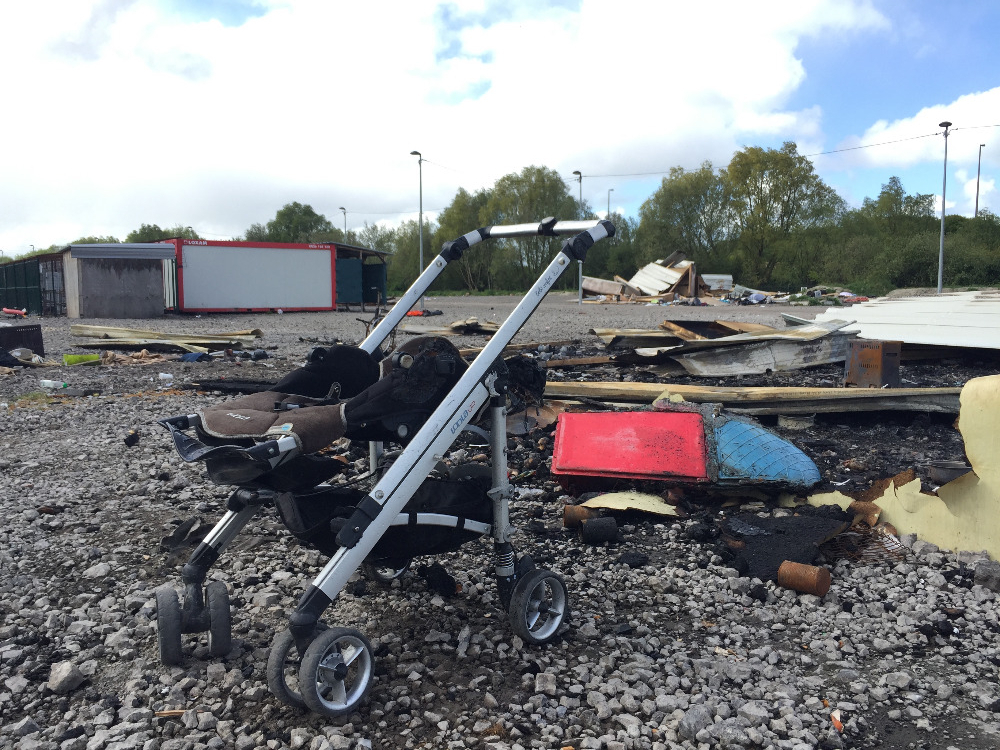 Le camp avait été soumis à un contrôle de sécurité par une équipe professionnelle invitée par l'état (en décembre), et le Children's Centre avait invité un pompier professionnel pour organiser des discussions autour de la sécurité et des incendies (en février). Si 70-80% du camp est parti en fumée, cela a plus à faire avec les réponses inaptes de la police et des pompiers ce soir-là, eux qui reçoivent les instructions du Préfet. Cet « accident » était, il faut le rappeler, particulièrement opportun pour les autorités françaises, qui voulaient de toute façon fermer le camp dans les prochains mois.
ENCORE PLUS VULNERABLES QU'AVANT
A la suite de l'incendie, la plupart des personnes vivant dans le camp ont été placées dans des complexes sportifs et gymnases pour quelques nuits, avant d'être emmenées en bus vers des Centres d'Accueil et d'Orientation (CAO) à partir desquels les personnes peuvent demander l'asile en France. Malgré les conditions de vie très différentes d'un CAO à un autre, nous considérons cela comme une bonne option pour toute personne cherchant de la sécurité, en contraste avec les conditions de vie précaires dans les camps informels. Pour cela, nous recommandons à toute personne, surtout les plus vulnérables, de se rendre en CAO.
Néanmoins, les personnes qui sont venues à Dunkerque et Calais sont ici pour une raison: celle d'atteindre le Royaume-Uni afin d'y demander le statut de réfugié. Comme pendant le démantèlement de la Jungle de Calais, il y a maintenant six mois, beaucoup ont choisi de rester dans les environs, vivant dans des campings informels aux alentours des villes, alors que d'autres qui sont initialement partis en CAO sont en train de revenir dans le Nord. Cela inclus des femmes, familles, mineurs non-accompagnés, personnes porteuses de handicap, et beaucoup d'autres que nous considérons comme étant particulièrement vulnérables. Pour cela, notre mission n'est pas terminée.
S'ADAPTER
La structure physique du Women's Centre, dans laquelle nous organisions des activités, repas, et distributions, n'a pas été brulé. En conséquent, pas d'inquiétude: les efforts pour la reconstruction en Janvier de cette année n'ont pas été en vain. Refugee Community Kitchen qui a construit la structure a gardé les éléments les plus précieux, qui pourront donc être réutilisés dans le futur. Nous avons aussi pu récupérer tous les dons matériels, qui pourront être distribués lors de maraudes. Ces affaires sont pour le moment stockées dans un hangar, en sécurité, en attendant que nous nous adaptions à la nouvelle situation, pour être à nouveau en mesure d'organiser des activités et d'avoir un espace d'accueil de jour.
GAGNER EN MOBILITE
Pour le moment, il n'est pas possible d'avoir un lieu d'accueil fixe, comme nous l'avions auparavant. Des personnes sont actuellement localisées tout autour de Dunkerque. Pour cela, nous devons gagner en mobilité. En ayant un véhicule et en aménageant un van pour le Women's Centre, nous souhaitons avoir un espace d'accueil de jour mobile, grâce auquel nous pourrions joindre les femmes vivant dans les camps pour répondre à leurs besoins.
Telle est la situation actuelle. Nous accueillons avec plaisir vos questions et commentaires, alors que nous essayons de maintenir une transparence auprès de nos partisans, surtout ceux qui ne peuvent pas se déplacer sur place du a la distance. Nous sommes toujours contents de recevoir vos messages, mais s'il vous plait soyez clément – les circonstances sont telles que nos disponibilités et accès à internet sont difficiles, donc merci d'accepter nos excuses par avance pour les délais dans toute correspondance.
+ Read More