Lindsay's Last Hope, HSCT in Russia
£54,453
of £57,000 goal
Raised by
696
people in 23 months
Hello, my name is Jill Young, I live in Northern Ireland, and I am asking for YOUR help to send my daughter to Russia for the treatment she desperately needs, HSCT (Haematopoietic Stem Cell Transplant).

Imagine, if you are able, what it would be like to awaken one morning and not be able to move, or what it would be like to experience the sight in one of your eyes disappear in a matter of minutes. And how would you cope, as a young woman, if your bowel no longer worked and you were required to use an irrigation system to empty your bowels or needed to catheterise yourself to empty your bladder? Combine this with unrelenting fatigue, chronic nerve pain, vertigo, widespread numbness and a variety of other symptoms and you will begin to get just a glimpse of what it is like to live with MS.

My daughter Lindsay, pictured above with one of her children, has lived with Rapidly Evolving, Severe Relapsing Remitting Multiple Sclerosis for many years. Thankfully, the paralysis and the blindness were temporary and she has, up to now, always regained her mobility and her sight, although not without residual damage to her optic nerve. Each relapse leaves some lasting damage.

From her late teens she sought a diagnosis for what appeared to be bowel/digestive problems and chronic fatigue. Although shunted back and forth between consultants no one was able to offer any explanation for her problems. After the birth of her first child she experienced further deterioration, but still no one could come up with a diagnosis.

It was only after the birth of her second child, pictured above, and when her symptoms became much more pronounced, that she, herself, began to consider MS as a possible cause. Eventually, at the age of 29, in December 2011, after brain scans and a lumbar puncture, a definitive diagnosis of MS was made. She was advised not to have any further children as, after a pregnancy, a major relapse frequently occurs.


Scans showing the type of lesions typically  found after an MS Relapse.
Lindsay immediately started disease modifying drugs in the form of self-administered injections. These drugs were not expected to cure the disease, there is no cure, but it was hoped that they would reduce the frequency of the relapses. Unfortunately this was not the case and Lindsay continued to have frequent relapses all of which have left some lasting damage.
Another treatment, Tysabri, only used for highly active MS was then prescribed but yet again, there was no significant improvement and the relapses continued. Lindsay then took a bad reaction to the Tysabri and was left with lung damage as a result.
The next, and only option left, was to have Lemtrada, which is a form of chemotherapy, normally administered for blood cancers. She has had it twice, the first time in 2015 and then again in 2016. Yet again it failed to halt the relentless relapses and she, once again, ended up in hospital, this time having to use a walking aid as her mobility was severely affected.


                                      Lemtrada Infusion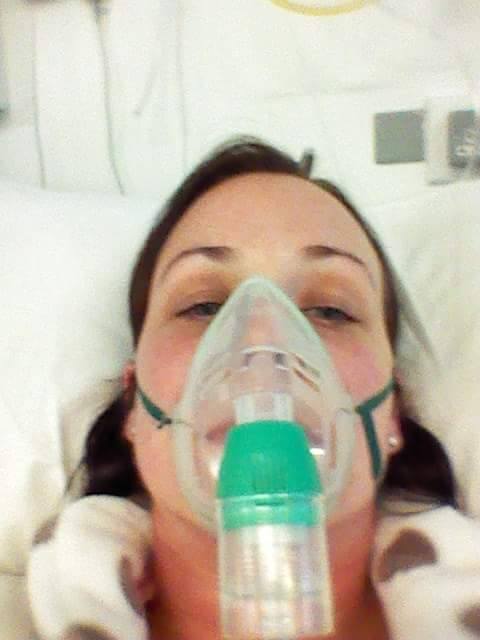 Lindsay experiencing breathing problems during treatment

The Lemtrada treatment has also caused her to develop Graves' Disease (hyperthyroidism), so she will be requiring treatment for that also. 

Lindsay's quality of life is poor and it is not just her that lives with the consequences of this illness. Her children miss out on spending time with her as she is in bed most nights before 7pm, sometimes as early as 4pm. Her husband is a marvellous support and gladly steps in to take over the housework and childcare the moment he returns from work but obviously, this is not how they imagined their life, as a family, would be.
To live with such uncertainty about the future is a tremendous strain on them all as there is no way to predict when, or how, the next relapse will present itself and what new disabilities will result. Any day could be the day that Lindsay becomes wheelchair bound, loses her ability to swallow or her sight. Currently Lindsay is awaiting surgery on her bowel and may need to have a colostomy bag fitted. (Since initially writing this page Lindsay has been told that she will defintely be facing surgery to fit a stoma bag). Many people think that the symptoms of MS are visible; this is not always the case!

Having exhausted all options for treatments available through the NHS in the UK, Lindsay has applied, with the backing of her MS care team, to go to the National Pirogov Medical Surgical Centre in Moscow, Russia to receive this groundbreaking stem cell transplant. 

The cost of the treatment is approximately £35,000 - £45,000 depending on the length of hospitalisation required. There is, of course, also the cost of flights and visa, accommodation after treatment (until permission to travel is granted) and other incidental expenses.

The treatment is aggressive and not without risks and involves being in Russia for up to two months, much of the time is spent in isolation. Lindsay hopes that the transplant will halt the relapses that have been relentless for so many years and give her back a much better quality of life. 
Please help by making a donation and give this young family the chance of some good quality time together. Your help will be greatly appreciated.
GOFUNDME only takes debit or credit card payments but if you wish to donate via PayPal you can do so through this link paypal.me/lindsayslasthopeHSCT  We can then manually add your donation to this page and it will be added to the total.

If you would like to follow Lindsay's progress we have a Facebook page:-   https://www.facebook.com/lindsayslasthope/

You can also contact us by email at lindsayslasthope@yahoo.com

What is Relapsing Remitting MS?
https://www.mssociety.org.uk/what-is-ms/types-of-ms/relapsing-remitting-rrms

If you would like to learn more about the transplant you can follow these links.
http://msclerosis.ru/eng.php

https://www.mssociety.org.uk/hsct

There is a long wait to receive the transplant in Russia; approx one year. Many things could change in that time period, it may be that Lindsay will be accepted for private treatment in the UK and the money will be used for treatment here instead (at the moment she does not fit the UK criteria and it is much more expensive).
In the event that part of the money donated is not required it will be passed on to others who are seeking to have this, or similar, treatments.
+ Read More