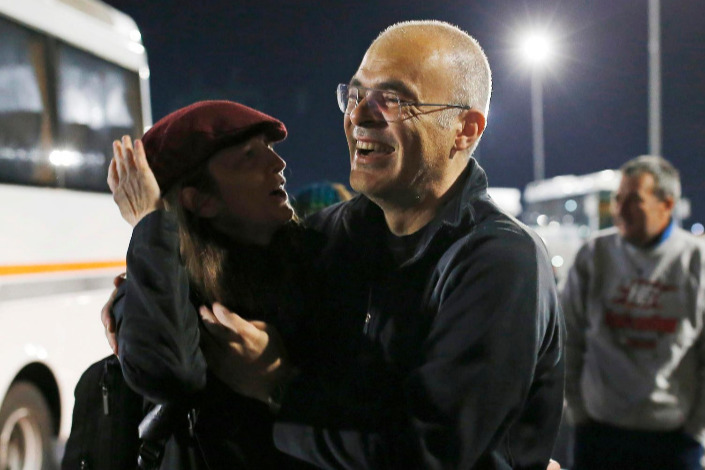 83
3
Friends of Ali
€33,862
of €70,000 goal
Raised by
94
people in 7 months
In October 2017, Ali Gharavi was finally released after a workshop he was facilitated was raided by secret police, and he and 9 others were held by security forces, detained, interrogated and imprisoned without charge for four months in Turkey.

The legal situation is ongoing, and so are the costs of living, recovery, and healing.  Ali and Laressa are unable to return to full-time work because of stress and the time it is taking to recover. They need time to heal, to continue to receive therapy, to make sense of these events that took over their lives in 2017.

We ask you to make a contribution, big or small, privately or through your organization, to support Ali and Laressa to get back on their feet.
+ Read More
Update 1
3 months ago
Share
"Wherever you are, however you did it, you got us out. Thank you very much!"

It was a year ago that I stepped out of a minibus onto the free, uncaged air of the visitors' parking lot of the Silivri Prison in Turkey, stepping out of the abyss of the unknown that took nearly four months in 'real time', and an eternity in surreal but harrowing, comical, tragic, frightening and dark times, into floodlight of cameras and the arms of Laressa and through her into all your arms.

In the past months, there hasn't been a day that I don't remember those dark days and nights, remembering the kindness of strangers who didn't know me and who themselves were suffering. There hasn't been a day that I don't also deeply appreciate the many of you who cared for me (or about me), who sent thoughts, prayers, wishes, cards, haiku, tweets, who marched, who worried, who raged, who paced, fretted, who bought books, who printed labels, who made deals and promises to gods and goddesses, who channelled their energy in whatever way possible to get me to realize and remember that I wasn't alone, I wasn't forgotten, I wasn't doomed.

It has been a year of gratitude and recovery through the unrelenting support of so many loved ones. And here we are, Laressa and I, along with our trauma and our healing, trundling forward, mending and breathing as we go.

Less rhapsodically and more practically, We are moving from Germany to Sweden, along with our 4 desks, 23 plants, 18 boxes of books, 9 duffles of clothes and 2 firm-as-titanium mattresses.

As for the Istanbul10 case, the saga continues and we search for closure, and await the next hearing of our trial, set for November 6th. Prognostications about our hearing are as accurate as guessing at lottery numbers, and so I am putting my concentration on manifesting the 6 specific ping pong balls of in the US PowerBall lottery for my nanoscopic chances at a galactic prize , instead of hazarding a guess on the outcome of our arbitrary trial.

Wishing you all the best in your life, and keeping you in the special crevices of my heart,

Ali
+ Read More