256
32
Support Karin Haaland /Weyand's Family
$43,275
of $45,000 goal
Raised by
256
people in 4 months
Dear family and friends of Karin Haaland Weyand,
As many of you know, Karin was diagnosed with stage four HER2 triple positive breast cancer in December of 2016.   Over the last 2+ years, she has been undergoing several different treatments including radiation and chemotherapy.  At first, things looked pretty positive.  In mid-2017, she received news from a scan that said that there were no detectable cancers.  However, in the fall of 2018, a PET scan showed that it had returned.
After some additional targeted treatments,  a PET scan in January 2019 showed that the cancer spread rapidly to her spine, pelvis, and liver.  This was a devastating blow to Karin's family and friends.  She was admitted to the hospital.  At first, the plan was to get her strong enough via additional Chemo, Physical Therapy, and rehab so that she could explore other treatment options, but that did not work out as planned.  She did not respond well to the last treatment cycle and her health has rapidly declined since then.   
Given the current prognosis, I am sorry to say that she has made the very tough decision to stop all treatment. Instead, she wants to live whatever days she has left in peace surrounded by the love of family and friends. Hospice arrangements are being made, and the hope is that she will be discharged home in a few days.
As we all know, medical costs can rise into the thousands of dollars in a hurry and insurances covers only so much, which is the reason for this fundraising campaign. Your donations will be used to help ease the financial burden on Karin's husband, Peter and their two little girls, Melia and Grace.  Monies will be used to offset the costs of large medical bills including those of extended hospital stays, hospice care, in-home nursing care, and lost wages.
I visited with Karin this weekend and she says she can feel the love, prayers, and support from coming in from all around and she is grateful beyond words.  Even with this crappy situation, she feels lucky to have such a great support system.  
Thank you to everyone who took the time to read this and donate. The donation goal is just a number I picked without really knowing how much is enough, so any and all donations are greatly appreciated.   
- Britt (Haaland) Teravainen (Karin's Niece)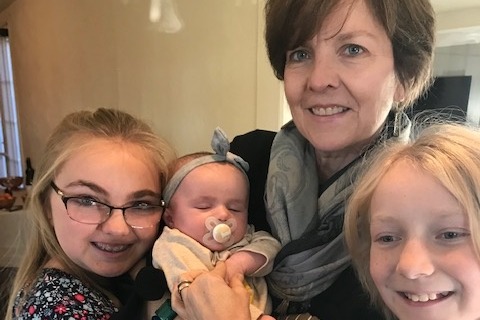 + Read More
Update 2
4 months ago
Share
+ Read More
Update 1
4 months ago
Share
It breaks my heart to post this update. Karin passed away peacefully at home on March 7th, surrounded by the love of family and friends just 2 days after her 52nd birthday. I don't have any information about services but I felt compelled to share the update to this page. Related to this fundraiser....We raised nearly $39K in less than a week. What an incredible outpouring of love for Karin, Pete and their girls. And what's great is that Karin got to read some of the comments and saw the shares and donations. What a relief it was for her to know that everyone was rallying to help them out. She was truly grateful. Pete and the girls need it now more than ever, so THANK YOU all so much. <3
+ Read More
Read a Previous Update