Regina Youth Poets prep for Toronto
What's goin' on?
The chance of a lifetime for four super deserving youth!
The Creative City Centre and Regina Word Up will send it's very first Regina Word Up Youth Poetry Slam team to compete in a national poetry festival in 2017. These inspirational youth poets head to compete at Voices of Today in Toronto, ON August 22-25th.
There are three nationally sanctioned Spoken Word Canada (SpoCan) festivals! And they're beyond believable!

Voices of Today
Voices of Today is a gathering of youth poets to learn from each other, community leaders, and themselves. It is  a poetry festival run by youth for youth, with workshops, open mics, and showcases, with the goal of bringing together youth poets from all across Canada.
Voices of Today is the newest addition to the festivals run by SpoCan. It is difficult for youth to go to the all ages poetry festival in October due to school, and all ages festivals are often not very supportive of all ages. Voices of Today was created to prioritize and to support youth voices.
So basically,  local poets compete in poetry slams at the Creative City Centre for their chance to be the Regina Word Up Poetry Slam Team, and then they travel and compete with their words in these fantastic competitions. Every Year. Against teams from all over Canada.
Photo Credit: Leo Keiser
Poetry Slam judges raise their scores to be read by the emcee.
What is a 'Poetry Slam?'
A poetry slam is a dialogue between audience and performer. It is a competitive event wherein spoken word artists share their work in a high-spirited, fast-paced environment to an often uproarious crowd.
Five judges will be chosen at random from the audience. Each judge will provide a score between 1-10 for each poem, of the five scores, the high and low will be dropped leaving a total score out of 30. The judges will judge the poem and performance but not the poet or appearance.
Slammers come prepared with original pieces of poetry less than 3 minutes and 10 seconds each. No props, no nudity, no hate speech.
What does this community look like?
The Regina spoken word community looks like groups of poets and people with passions that refuse to dim. It is a dedicated group of individuals with persistence and a pioneer spirit who dream the impossible to life. We survive because there are poets who have yet to find us. And we are determined to be here when they do.
Logo Design: Karli Jessup
 
 Let's go over a bit of history! It's a good example of what a small collective of passionate people can accomplish, and just how significant these experiences can be to community development and self-growth.
Regina Word Up launched as Word Up Wednesday in 2012 under the ambitious and compassionate direction of Shayna Stock. Word Up`s first five person team competed in Saskatoon, SK at the Canadian Festival of Spoken Word 2012. This began the dizzying odyssey that is the Regina Word Up Poetry Slam team and its National team competitions. Regina Word Up has sent teams to compete across Canada.
2012-Saskatoon, SK
2013-Montreal, QC
2014-Victoria, BC
2015-Saskatoon, SK
2016-Winnipeg, MB
2017-Peterborough, ON (Competing October 2017)
In 2013, Shayna formed the Regina Word Up Collective, a volunteer group of dedicated and passionate poetry enthusiasts and community members to help oversee the Regina Word Up series.
Photo Credit: Cat Abenstein
In 2015, Regina Word Up Youth was formed. It continues to grow and shape event to event while maintaining values of accountability, creativity and insightfulness.
There has been a consistent focus and emphasis for the last two years in developing the space to house the capable and compassionate youth who grace our stage. You should get to know them!
Daniella

Photo Credit: Kendra  Leier
Austin Ahenakew
Photo Credit: Oin Nicholson, Saskatchewan Writer's Guild
Austin reading at Words in the Park, July 2017
Josh
Photo Credit: Cat Abenstein
Josh competing at the Regina Word Up Youth team finals
Creed
Photo Credit: Cat Abenstein
Ultimately, we have big picture goals and small morsels of time.
But this is an exciting time for us; we are witness to the significant, positive effects within our burgeoning youth community. Our future success will always rely in upcoming generations. It's important to our community that we recognize this, and provide mentorship, opportunities, access to high quality programming, resources and artist representation.
Photo Credit: Cat Abenstein
Through opportunities like a national youth poetry festival where these young people can network amongst like-minded peers, we demonstrate the success through the reality of hard work.
➺We want to inspire our youth to be anything they think they can be, and everything they think they can't.
Photo Credit: Small Town Villain
➺We want to allow an opportunity for hardworking youth poets to connect, participate, and have equal access to artists, opportunities, and a youth national community that is eager to support them.
➺We want to help our youth to see the artists that look like them, or identify like them – that help the youth see a future in the arts because they recognize that there is a place for them, and that their voice's and experiences are valid and more importantly, represented.
Photo Credit: Cat Abenstein
Josh, Creed and Austin
➺We want to introduce our youth to important concepts and ideas that they may not be exposed to otherwise – ideas like accountability, truth and reconciliation, integrity, how to develop self-confidence, societal injustice, and to recognize and challenge their own limiting beliefs.
➺We want to normalize the conversations surrounding identity and social issues. We want to help youth gain confidence and education, and we want to be recognized as a space that launched the careers of talented youth artists.
Experiences like this one could very well change the trajectory of our youth's lifes. The opportunity to network and connect, as well as learning from some of the best Spoken Word poets in the industry, is valuable. Help us get them to Toronto. 
"Someone is sitting in the shade today because someone planted a tree a long time ago." -- Warren Buffett (if someone would forward this campaign to Mr. Buffett we would be eternally grateful!)
Photo Credit: Cat Abenstein
Josh and Creed working on team-edits.
Remarkably, the Creative City Centre has managed to maintain a high level of programming, quality content, and strong community spirit with a shoe string budget and very limited resources. Regina Word Up continues to be one of the CCC's longest running programs, due in large part to its dedicated people-base.
Without the volunteer organizing forces on the Regina Word Up volunteer collective, the team members, families, friends and community funders and supporters, online contributers, and everyone else, this would never be possible.
As effective as we can be with limited resources, we find ourselves a bit short to send our four youth team members and (mandatory supervisory) coach to Toronto from August 21-26. We are asking to cover the costs of return air-travel, budget accomodation, and a modest per diem to help cover communal food costs and incedentals. 
Photo Credit: Cat Abenstein
Austin and Creed
Cover photo: Sjlg photography





The integrity of our organization can be reflected in the people that work and play in our space: community-minded, future-thinking, local-supporting, arts-engaging citizens with an interest in making space so the next generation can do better things than we have.
We have a unique call-back for all new voices to our stage. Every voice in the audience, in unison, chimes a collective message to our new performers, by name:
"Friend, please come back. Please come back, Friend." And often, they do.
We hope you visit Regina Word Up during our regular poetry season from September-June. Follow us on facebook! There's often something for everyone and we would love to meet you!
-Thank you,
Creed, Austin, Josh, Daniella and Coach Cat
Photo Credit: Cat Abenstein
Photo Credit: Cat Abenstein
Creed, Josh and Austin
Photo credit: Cat Abenstein
Graffiti, Wascana Park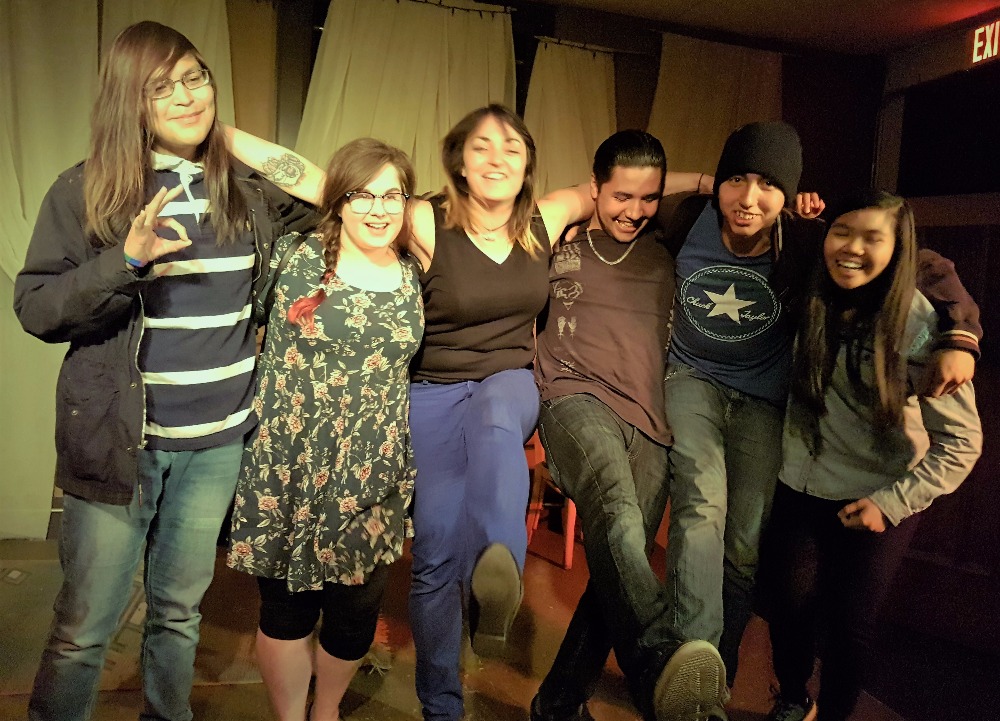 Photo Credit: Unknown (Please advise if you know)
Regina Word Up Youth Team Finals, winners!
Regina Word Up Youth Poetry Slam team is grateful to the Regina Word Up Collective, Creative City Centre and all of its sponsors and funders that make our regular season programming possible: Canada Council for the Arts, Department of Canadian Heritage, Canada Summer Works, Saskatchewan Arts Board, and ArtsVest.
Saskatchewan Joint Board RWDSU 
Organizer