#Refugeesrise Emergency Appeal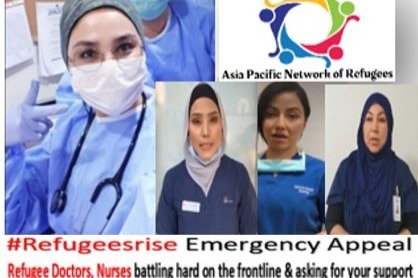 COVID-19 is a situation unlike anything we've faced before – and it threatens refugees,and asylum seekers.
In these emergency situations ;
refugee women doctors and nurses are battling hard on the front line ,18 hours a day saving lives by risking their own. 
We are all doing all we can to protect our families. But imagine going through this crisis with no access to soap or water.
No possible ways
of isolating yourself and your loved ones because you don't have a home to stay safely inside.That's the reality for millions of refugees. And that's why we need your help to act now.
APNOR is partnering with the following refugee-led initiatives. All programmes and projects are intended to mitigate the harsh circumstances in which refugees find themselves and to create opportunities to re-establish their lives. Special focus is given to the most vulnerable, especially women, children, older people and those living with disabilities. Your donation could go towards funding any of these vital activities.
For each initiative, we've shared their financial need and main activity. If the initiative has a website, we've also included that website.
 Often refugee-led initiatives are not registered because they are not able to under the law. Despite the lack of an established online presence, these initiatives are saving lives. At APNOR, we take partnership very seriously. We are recommending these initiatives because we know they are making a huge difference in the lives of their communities.   
·       Karen Refugee Committee organization is providing health lunch packs at the Thai-Burma Border to Kindergarten aged children and junior kids in 7 Karen Camps at Thai Burma Border. They are seeking an investment of $15,000.  
·       APNOR is directly distributing iPads to 8 refugee-led centres children across Indonesia & Malaysia. These learning centres are providing more than 500 children with support during shelter-in-place orders. We've set a goal of $40,000, which will help us provide each centre with 10 high-quality tablets to commence online education in response to COVID-19. Total of 80 Laptops. 
·       Afghan Returnees Support Group & Hazara Women Association is providing 360 food/sanitation packages to displaced people. COVID-19 represents a greater threat in Afghanistan where health system has been ravaged by war where people uprooted by conflict live in close proximity, and where life-saving resources like clean water, soap and medicine are in short supply. Additionally, health systems weakened by conflict have reduced. ($19,000) 
·       Australian National Committee On refugee women is targeting to provide 180 "Asylum seeker women empowerment packages that is mix of food/sanitation items such as Pasta, soap and etc. Without income or access to safety nets like Centrelink or Medicare, this pandemic is exposing women seeking asylum even further to illness, destitution and the very worst of a system that has all but forgotten they exist. ($19,000) 
·       APNOR #Refugeesrise Medical volunteer team is providing 10 online webinars via refugee doctors & Refugee Nurses to provide lifesaving information to families in diverse languages (2 sessions with each language) targeting elderly population specifically who are illiterate) $ 7000 
·       Your donation will also support APNOR, who is working hard to profile and raise funds for refugee-led initiatives across the region. With this Core mission support, we can continue to find and support those who are working tirelessly every day to ensure refugees have critical healthcare services during the COVID-19 crisis. (7% of any donation)
https://twitter.com/APNORefugees
https://twitter.com/APNORefugees/status/1244882623840653312?s=20
https://twitter.com/APNORefugees/status/1245628748419878913?s=20