Asking for an Ozzie Miracle
*** INTRODUCING OZZIE'S BOOK ***PLEASE do not donate to Ozzie's GoFundMe page, you can support this new project here: https://www.kickstarter.com/projects/ozziemiracle/ozzie-the-miracle-stray


Ozzie the Miracle Stray, an early learning children's book which will help raise money to treat some of the thousands of homeless dogs which remain on Ozzie's island.
A contribution from every sale of Ozzie the Miracle Stray, will go towards a program to microchip, spay/neuter and immunise homeless dogs on his island of Koh Chang. We need to pre-sell 1,000 books, which will guarantee the comprehensive treatment of at least 100 stray dogs.
Since rescuing Ozzie, we have committed ourselves to rescue work alongside poverty-stricken shelters in Thailand. We know it takes an army of Guardians to rescue a single animal and we need your help once again to publish a book which teaches children kindness is magic, whilst making a difference to the cause by providing hands on medical work.
The project has been launched on Kickstarter, with only 59 days to reach the target for the book to be successfully funded.
"If people support us, we won't stop. We will continue to publish children's books of extraordinary real-life rescues from around the world. My personal goal is ten books in the series, anything beyond that would be incredible. If we teach children through true stories that kindness is magic, I believe real change is possible" said Nicole. 
Thank you in advance for your kindness and support. Ozzie sends his love xx
*** END EDIT ***
We found sick and injured little Ozzie on October 16, whilst honeymooning on the island of Koh Chang in Thailand. 
A poor local woman by the name of Duen from Bang Bao, fed the homeless animals in her neighbourhood after work. We provided her with several bags of dog biscuits and trailed along one day to meet the animals.
On spotting a small puppy limping towards us, Duen told me he had been hit by a scooter over a week ago. He had not had any medical attention and looked in dire condition.
The tiny black mangy puppy had a high temperature, appeared to have stomach distension, a broken leg and would urinate and vomit in fear. Duen bundled him up, put him in my arms and said "you take" after I suggested urgent medical attention. She graciously offered us a towel to wrap him in and we set off to seek help on the island.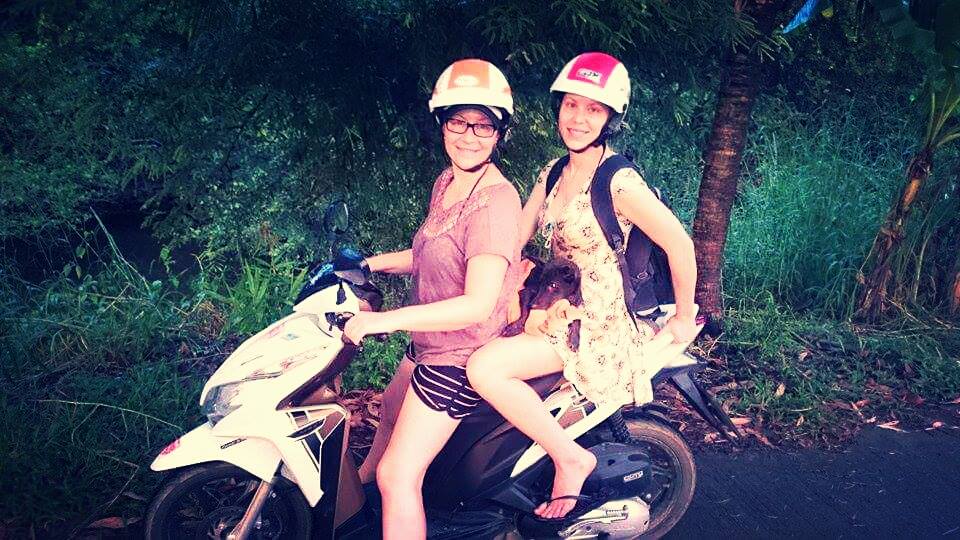 We took him back to our accommodation while we made enquiries about vets, bathed him, pulled 26 ticks from his little body and splinted his leg with ice-cream sticks (we ate 4 Magnums to improvise medical splints).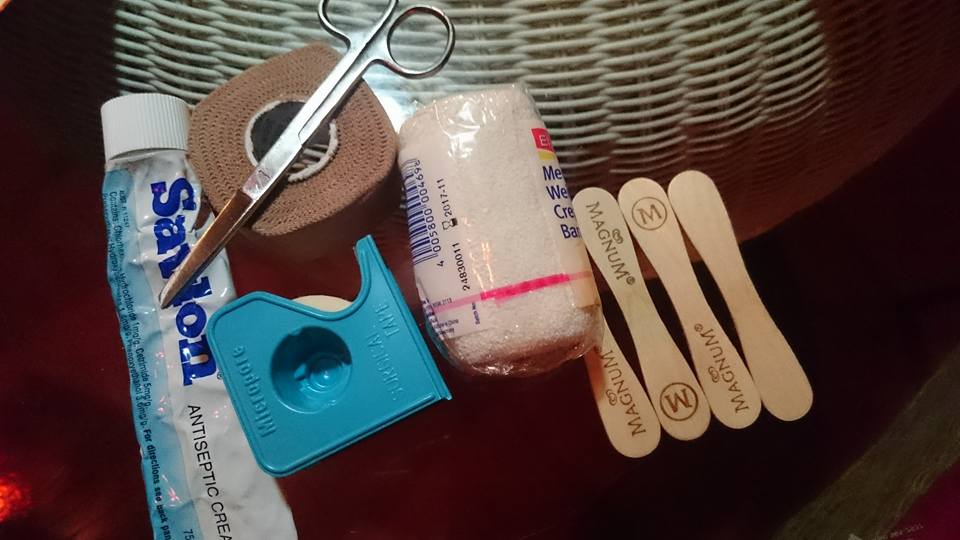 We named him Ozzie. He was roughly 3 months old and cute as a button, but extremely sick (he had E.Canis a tick blood disease potentially lethal to dogs).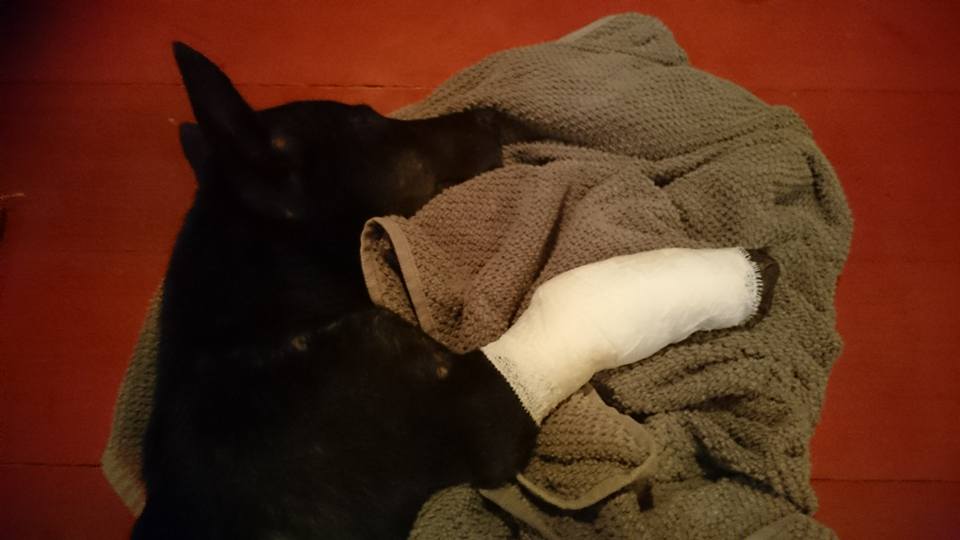 We discovered there was only one vet on the island of Koh Chang. Her name was Tookta. Unfortunately she had very little medical equipment, no blood work machine, no x-ray machine and no facilities to perform any major surgery.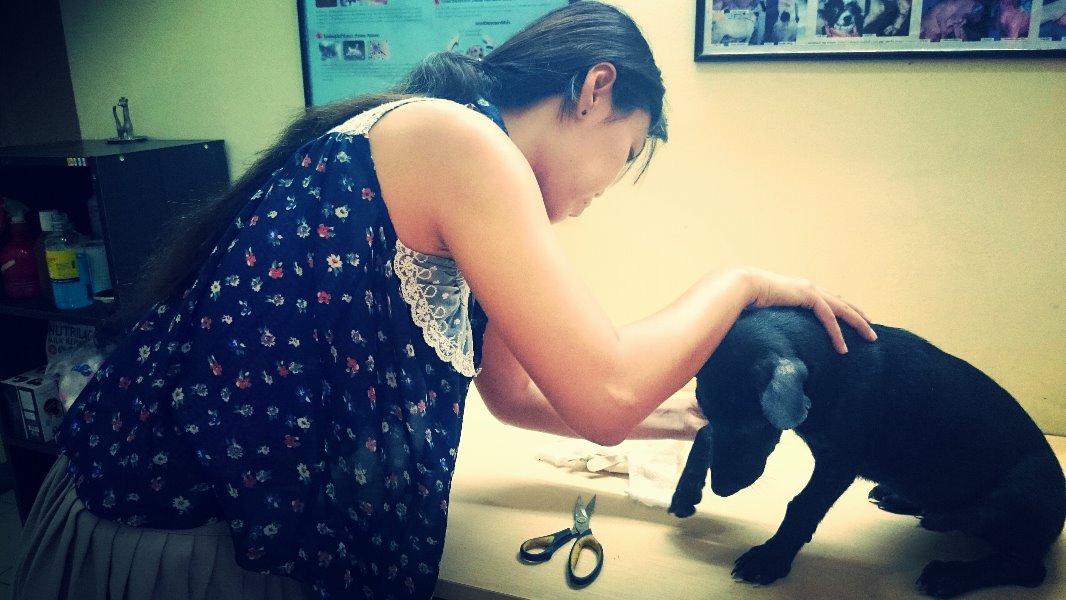 Tookta believed Ozzie had nerve damage, handed him back to me and said there was nothing she could do. "You take."
We walked out with heavy hearts and Ozzie in our hands.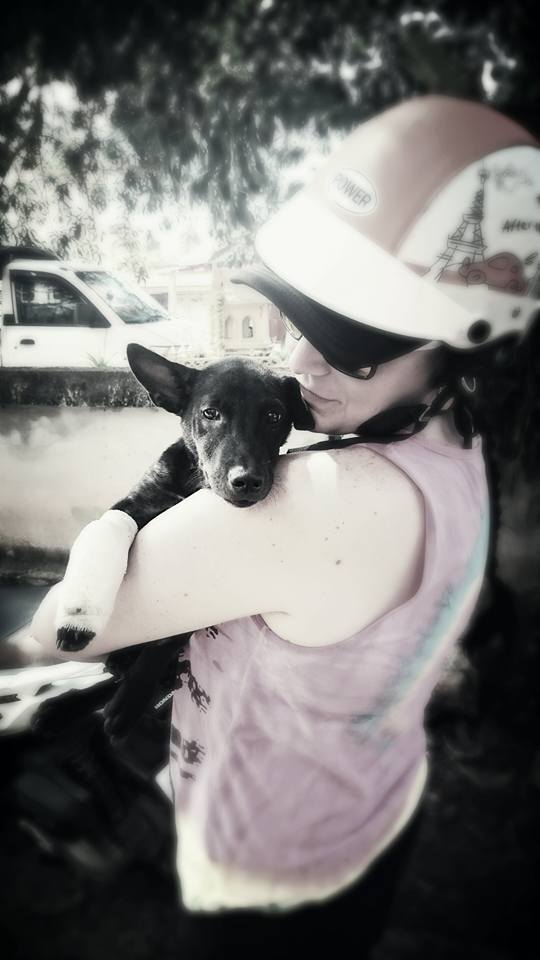 Ozzie stayed with us in our accommodation for the next 3 days and even learnt how to swim... it was pretty tough going with 3 legs so we did a lot of 'bobbing' instead.
In retrospect he hated it, but it was good to keep his temperature down. We discovered much later in the journey, that he was truly fighting to survive at this stage.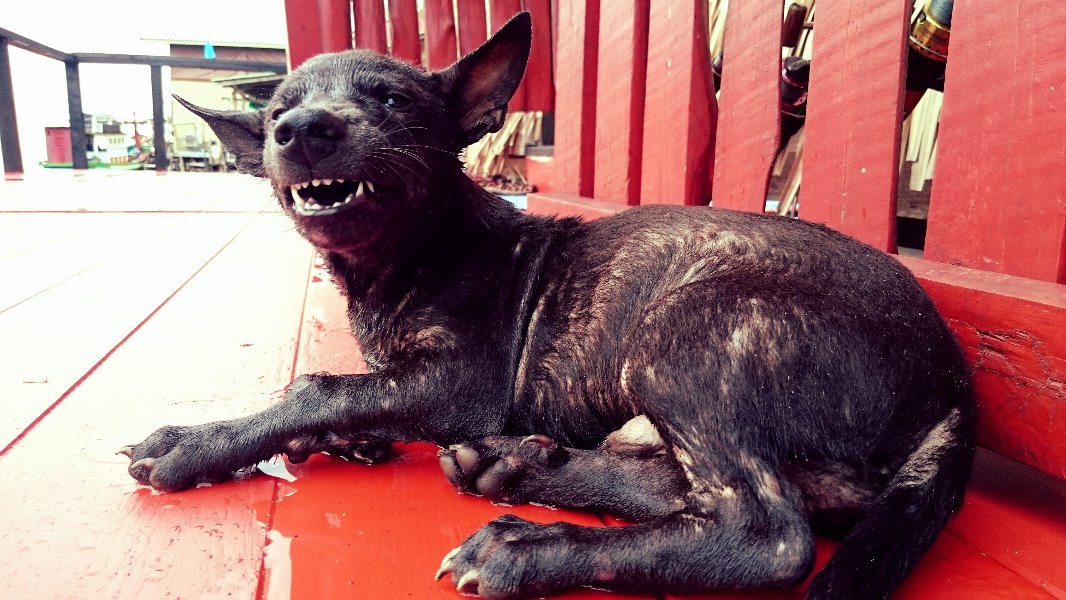 His first real bed...
His first collar and first toy...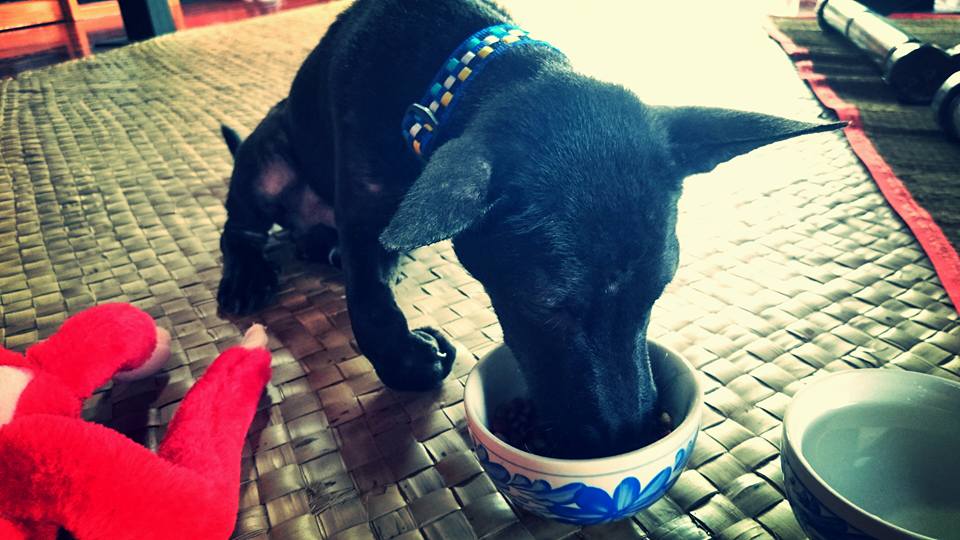 After a tonne of research, calls, Facebook networking and a few tears, it was determined the only way to save his life was to make the near 6 hour drive to Pattaya and find a surgeon.
So we cancelled our honeymoon plans, booked a taxi, left the island and set off to save Ozzie.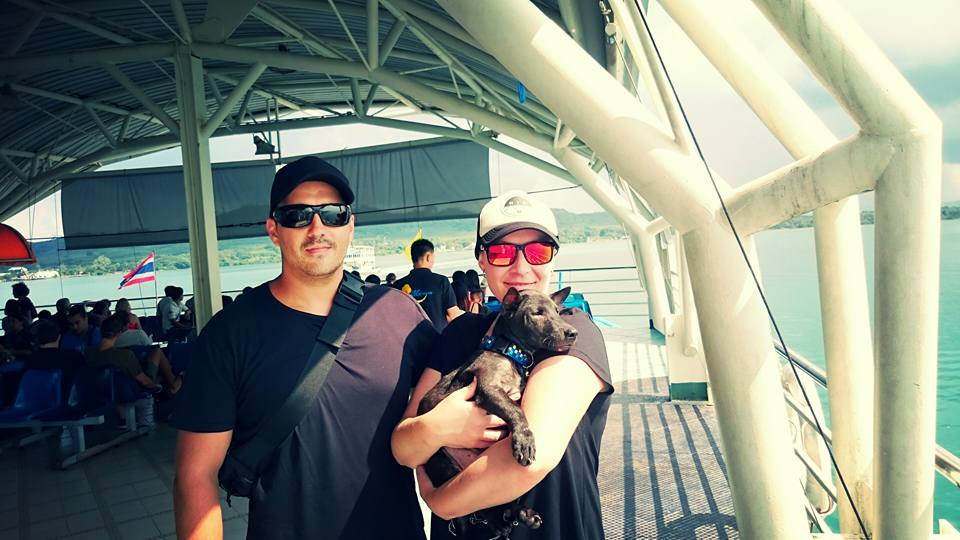 Ozzie waves goodbye to Koh Chang Island from the ferry.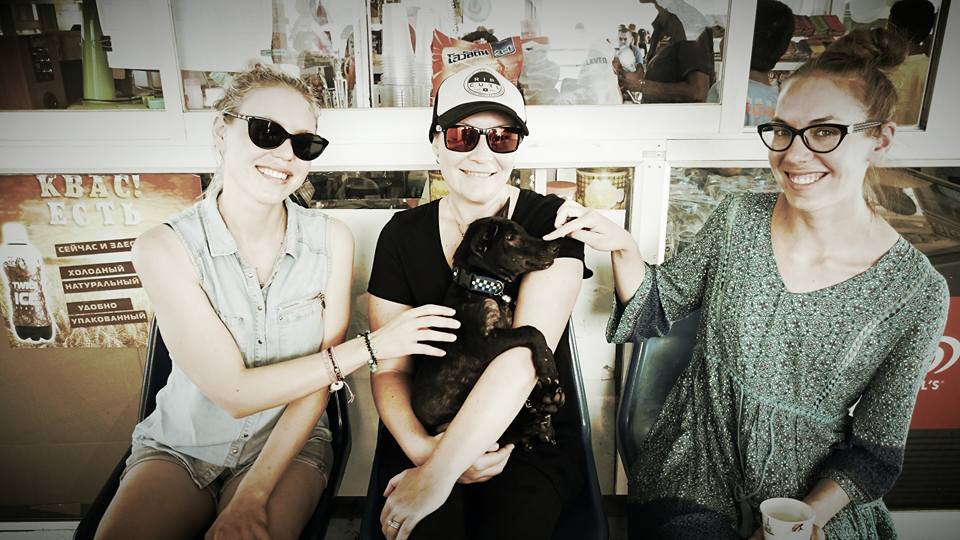 In the taxi for the long drive to Pattaya.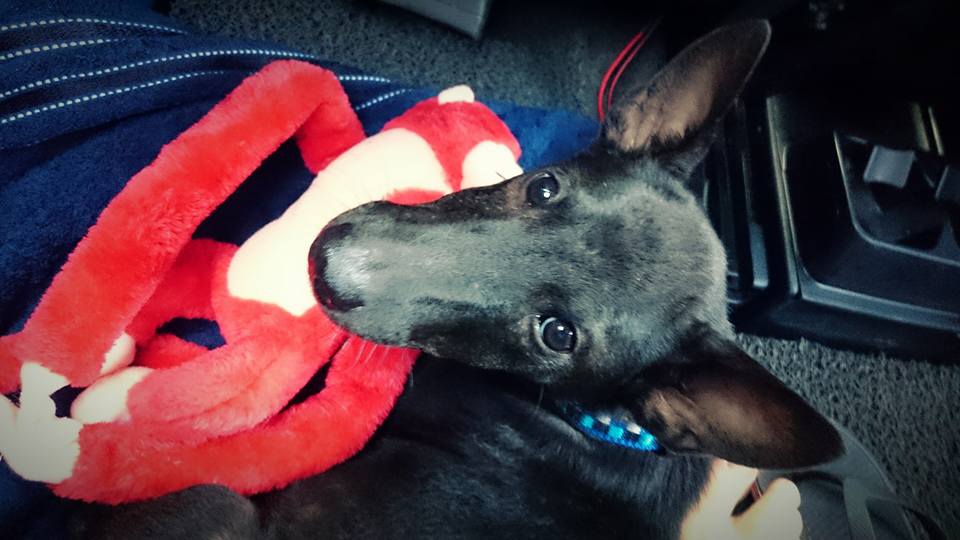 After arriving in Pattaya, our first stop was to meet Dr Kwanchai Chaiplum from Pattaya Animal Hospital who would treat Ozzie (over the next two very long months).
Dr KC inserted a metal rod into Ozzie's leg to permanently hold it straight in an attempt to prevent further damage to his limb.
(Sadly we have since discovered the bone is infected with MRSP and we are currently waiting to see if we can save the leg).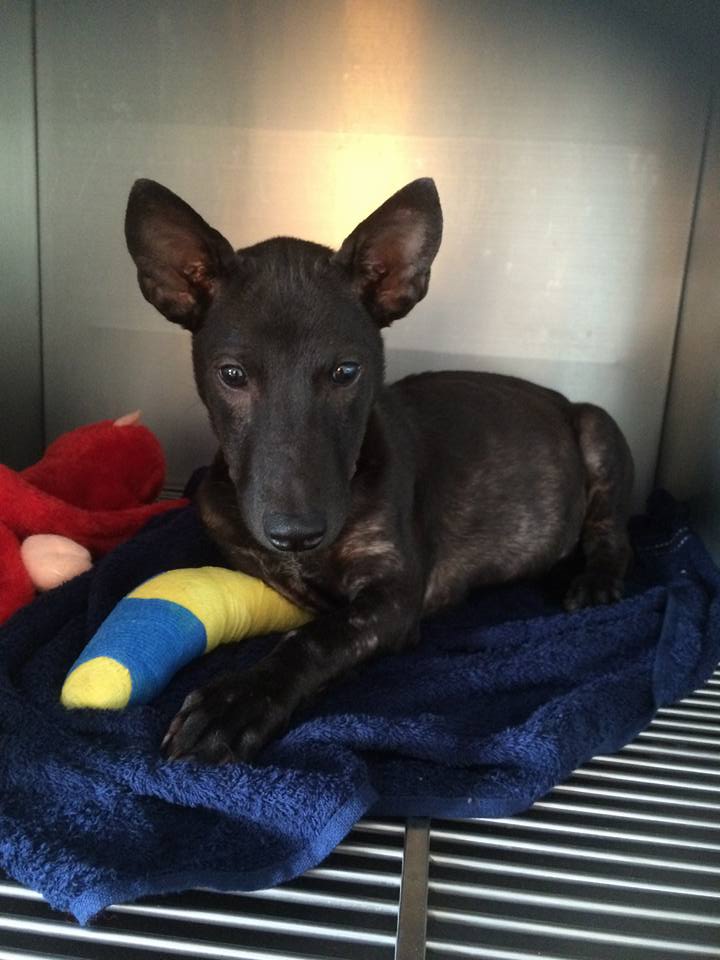 After surgery, we struggled to find Ozzie a home in Thailand. Considering his special needs and the mobility aids he may require as he ages, we decided he would need to be exported from Thailand to increase his chances of a permanent home outside shelter life.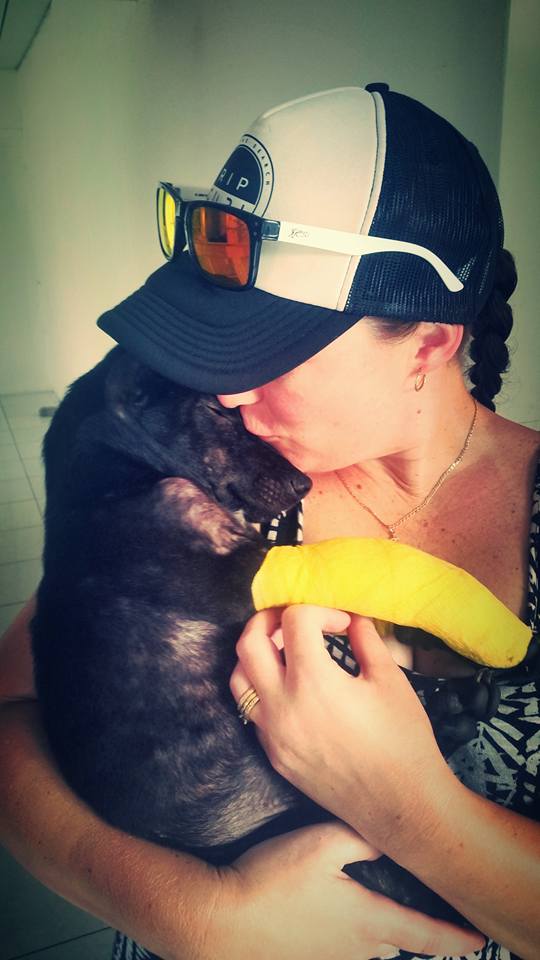 We hated leaving him behind.
That's when we found Geoff, Ozzie's flight hero.
USA based Geoff Masanet, heard of Ozzie's battle and volunteered to be his travel escort from Thailand to Chicago on 25th December 2015.
Geoff changed his itinerary, forfeited a significant number of travel points and made countless logistical airline enquiries to make it happen...
Meanwhile Ozzie had developed a severe case of mange and a secondary skin infection after 2 months in the clinic confined to a small cage.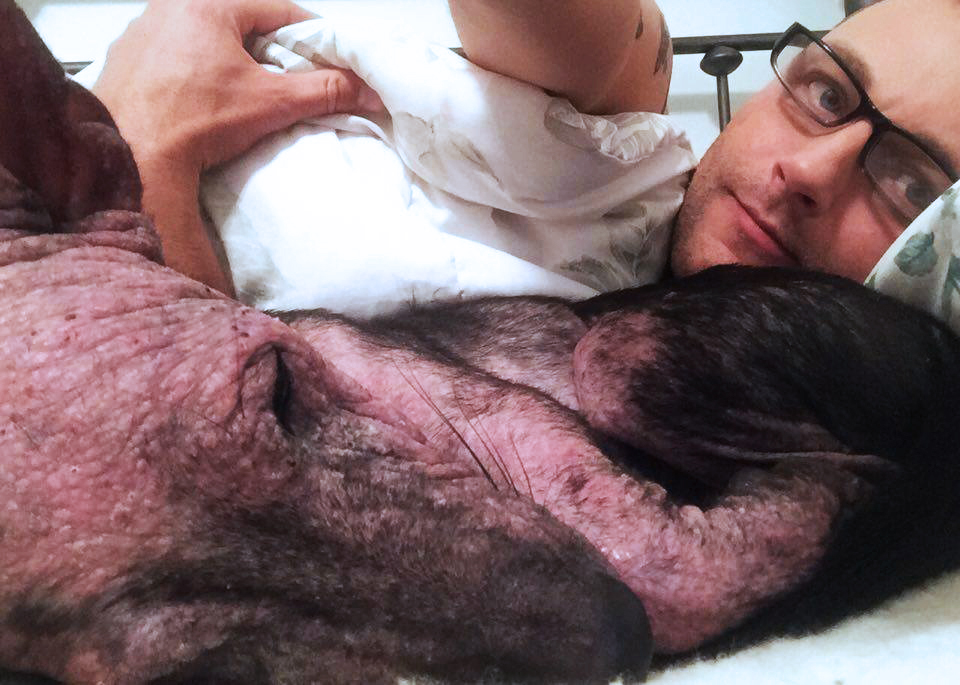 Geoff tried to combat the severe mange with a plethora of medicated shampoos and creams.
Worse still, Ozzie's blood tests showed he had contracted (and is curently fighting) MRSP – methicillin-resistant Staphylococcus pseudintermedius. A bacterium that causes infections in different parts of the body and is tougher to treat than most strains of staph because it's resistant to some commonly used antibiotics. He is trialling a new medication for the next 4-6 weeks as the previous TSM sulfa antibiotic medication was ineffective.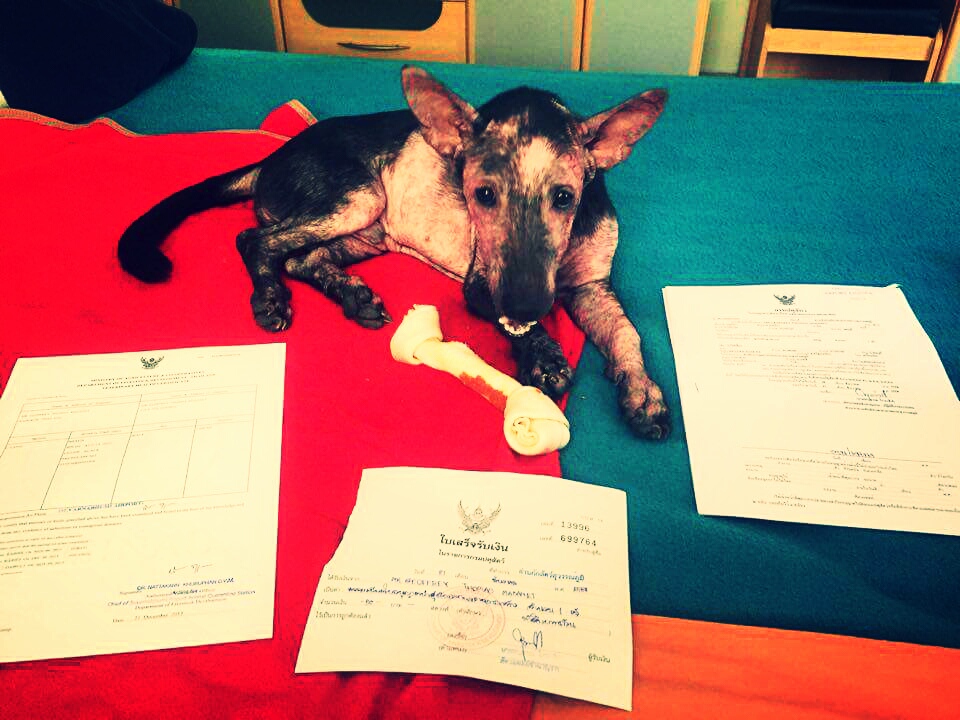 Ozzie with his paperwork to leave Thailand and his first "chewie"...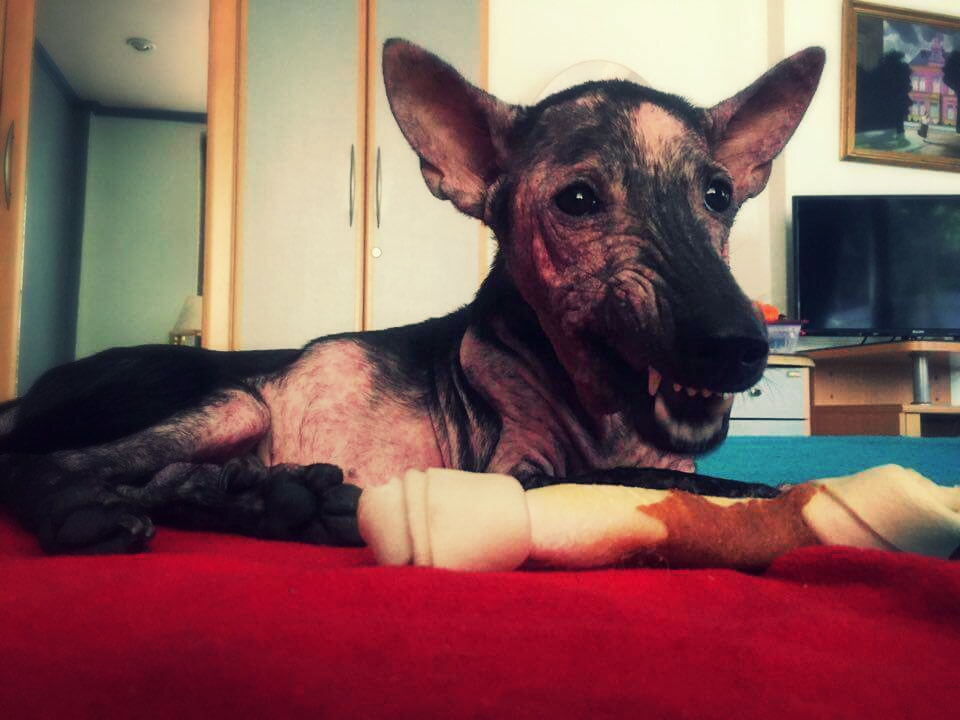 Geoff and Ozzie flew out of Thailand Christmas night bound for the USA. It was a priceless Christmas gift to Ozzie for his new life.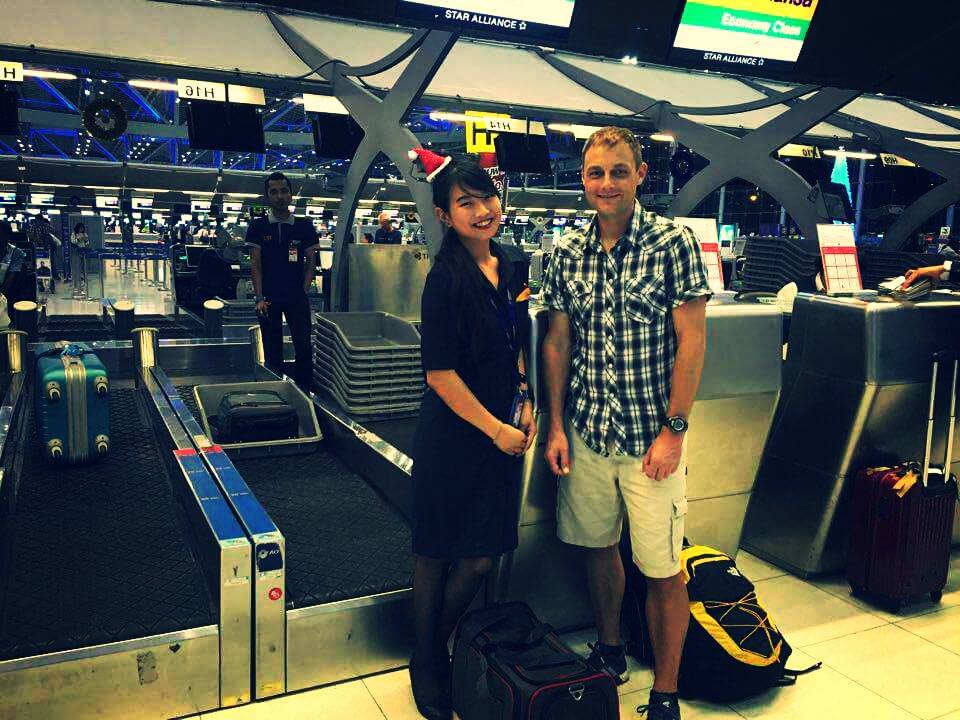 It was a long, long Christmas journey for them both but Ozzie handled it brilliantly...
Geoff and Ozzie made the 40 hour transition from Thailand to USA. Geoff arranged in cabin tickets for Ozzie, so he flew like royalty. On landing they found a snow storm on its way, so Ozzie quickly learnt how to make the climate transition from tropical jungle puppy, to hairless snow monkey.
Our dear friend Debbie Chase and her family in Wisconsin USA put their hand up to foster Ozzie for 6 months. Ozzie is now inbetween care, with the intention that he will fly to Australia and become part of our family after his mandatory quarantine period of 180 days in the USA.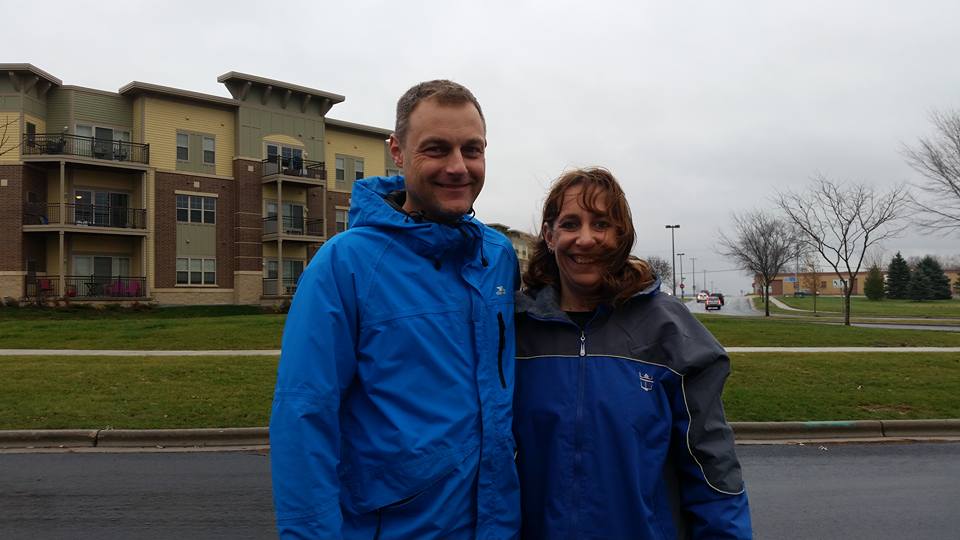 Photo: Strangers coming together for a common cause, Geoff Masanet and Debbie Chase in the USA.
WHY WE NEED YOUR HELP 

Ozzie's leg and health are still at high risk. Ozzie's leg is now deformed and twisted from the plate inserted in Thailand. We had the plate removed in the USA as the screws started to come out due to an MRSP bone infection. We are still fighting the bone infection and amputation is still on the cards if the medication does not erradicate the infection in the next 4-6 weeks. His leg bones are damaged and "soft" due to the MRSP and plate so he has a bad angular limb deformity with a curved radial. The metacarpal bone is really damaged and dissipated, but it may repair in time.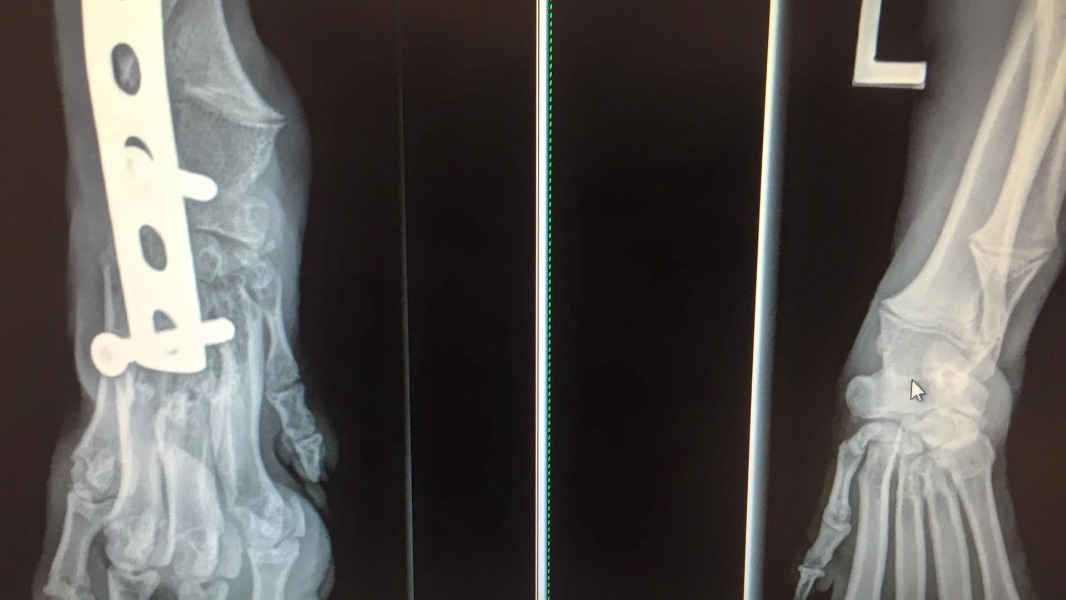 The x-ray above shows the MRSP infection, the stunted bones and the plate / screws coming lose in his right leg.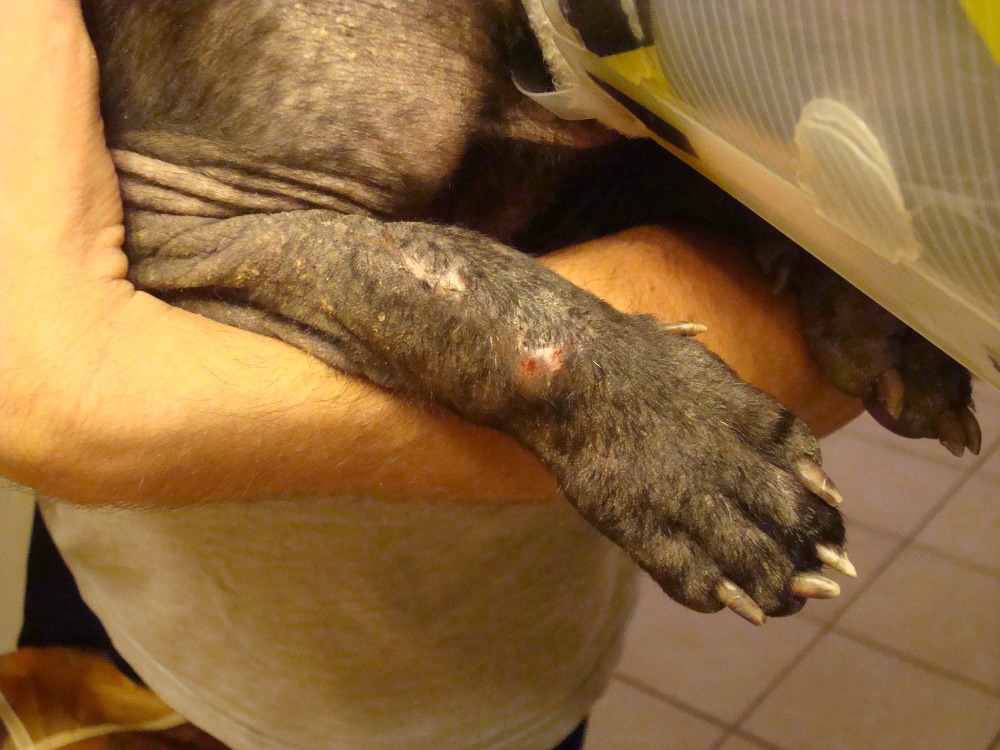 The mark from the screw coming out of his bone. He may still lose his leg.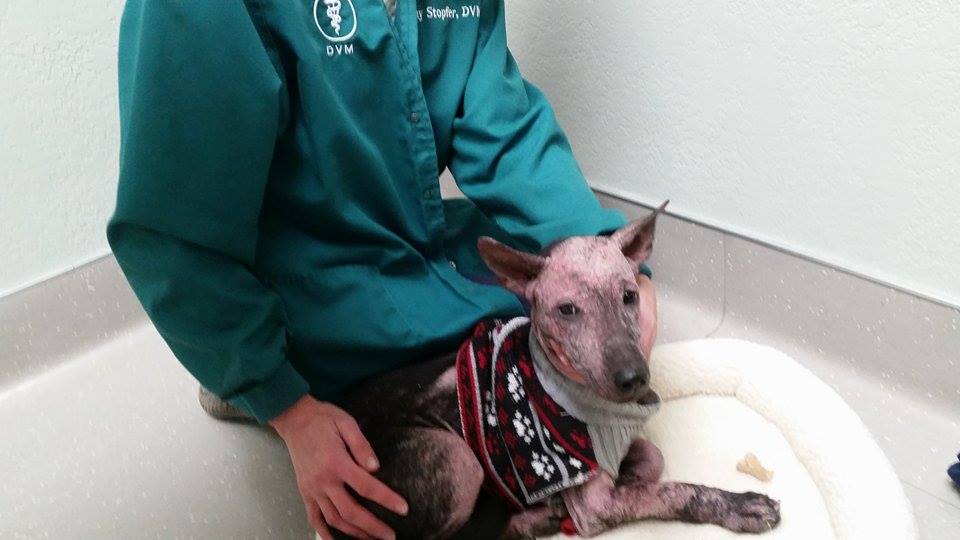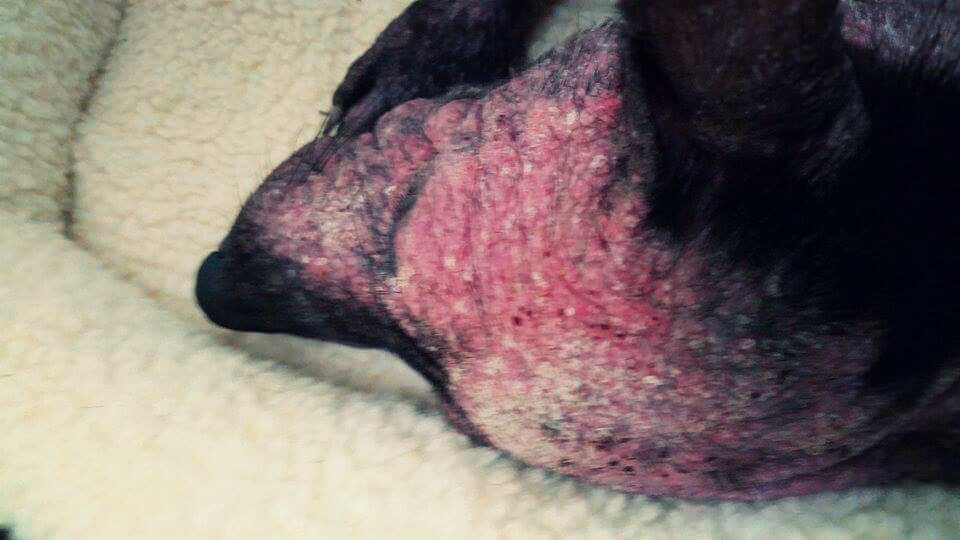 FUNDING
Your important donation today will help Ozzie with his new life. Big or small donations will help get him healthy, rehabilitated and eventually to his new home. 
We hope to raise WAY beyond what Ozzie needs as we plan to buy a bloodwork machine or xray machine for the island and an emergency vehicle to get injured or sick animals off the island to a facility with proper medical equipment. Our goal amount hopefully helps us do more for all of the Ozzie's on the island and surrounding areas.
Funds assist in paying for:
PHASE 1: THAILAND
- Surgery
- Mange treatment
- Car hire Pattaya to Bangkok
- Travel crate
- Bangkok Airport vet check
- Pet accommodation Bangkok 3 days pre-flight
- Flights Thailand to USA
*** PHASE 1 COMPLETE ***
PHASE 2: USA
- Post landing vet check
- Specialist appointments
- X-rays and blood tests
- Further leg surgery
- Rabies RNAT test
- E.Canis clearance test
- 4 weeks TSM medication
- 6 weeks medication for MRSP infection
- Other medication, boosters
- Flea, Tick and Heartworm for 180 days
- Boarding / day-care when required in USA
- Limb therapy and training
- Food x 180 days
Vet bill 05.01.16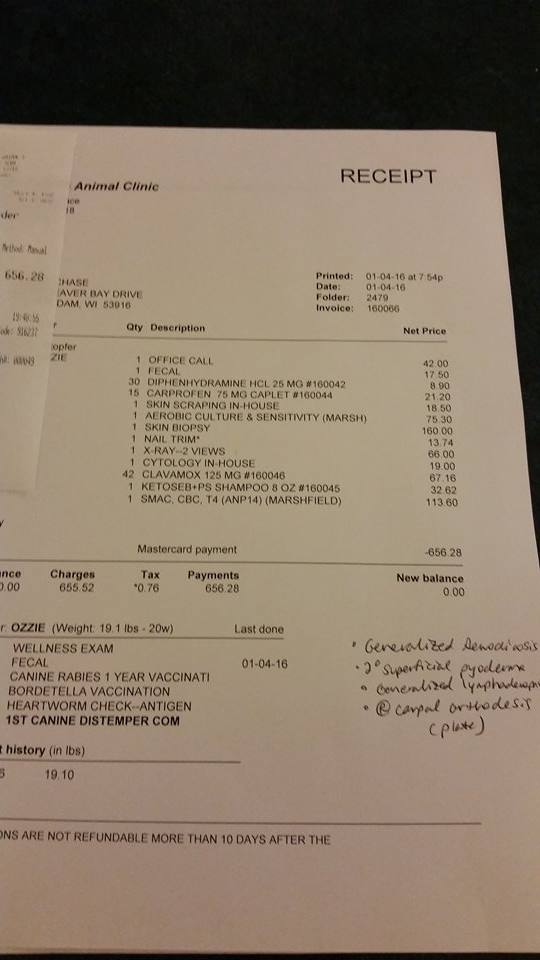 Vet bill 11.01.16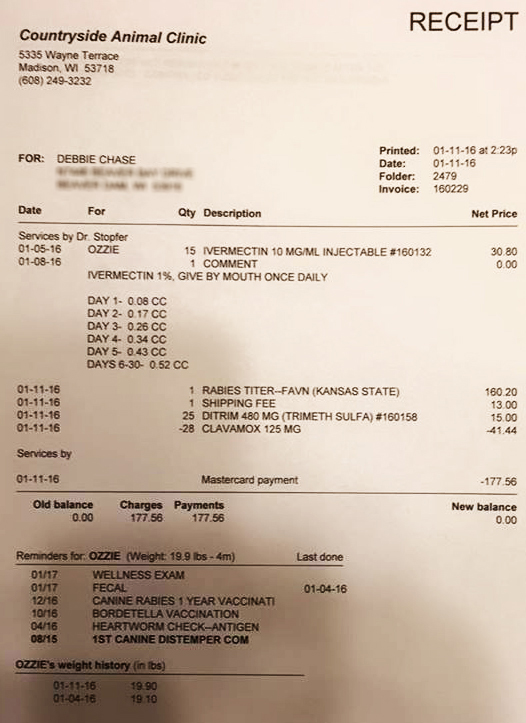 Vet bill 16.02.16
Vet bill 22.02.16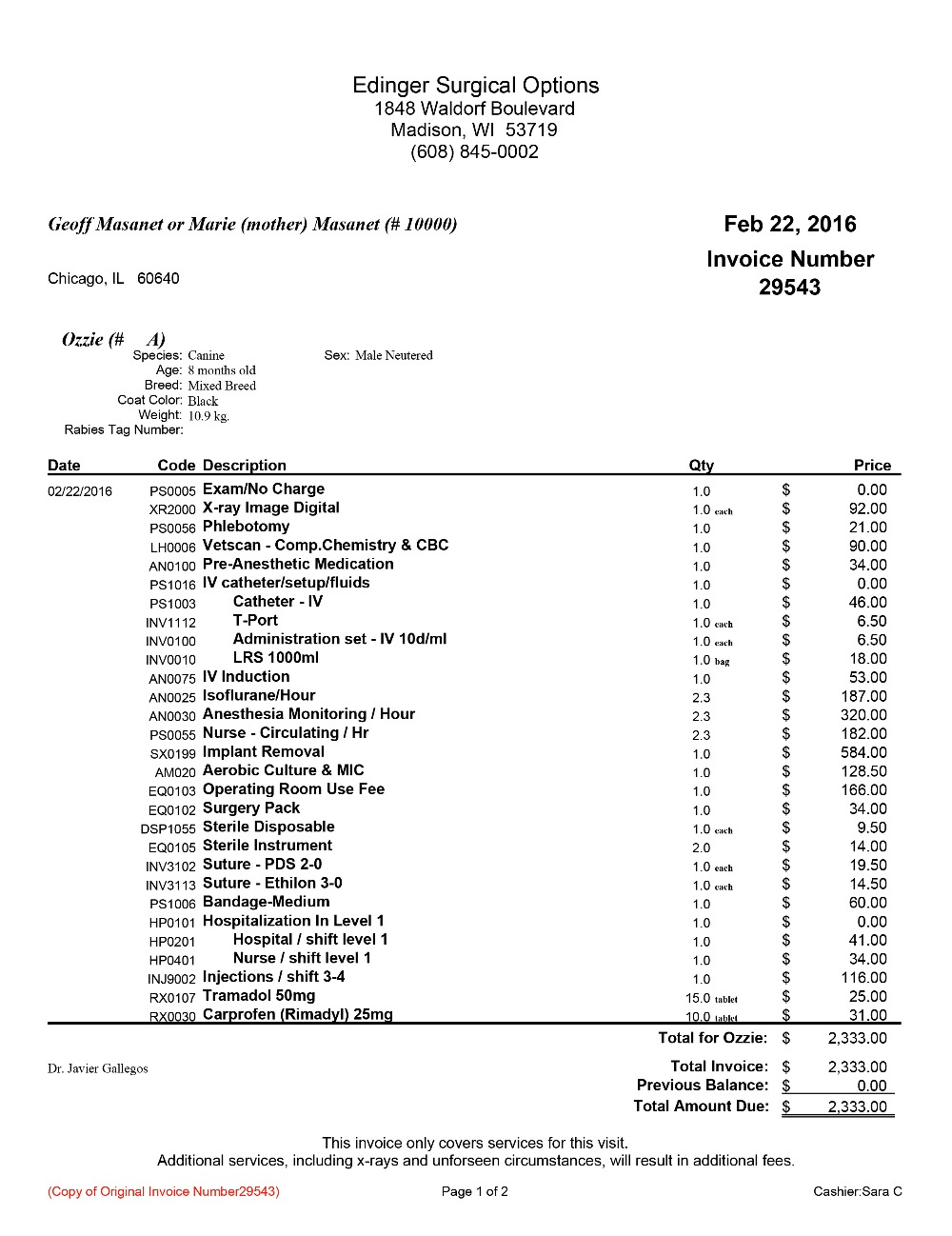 PHASE 3: AUSTRALIA
- Flights from USA to Australia
- Minimum 10 days Quarantine Australia
- Transport from Melbourne to Brisbane (new home)
If we cannot raise enough money to get Ozzie to Australia, we will certainly seek a home for him in the USA. For us, it was and still is only about saving his life and his quality of life. Right now, we are focused on his immediate care.
So thank you ALL for your continued love and support. We really didn't know what we were signing up for when we rescued him... but sometimes the best part of arriving at your destination, is actually the journey xx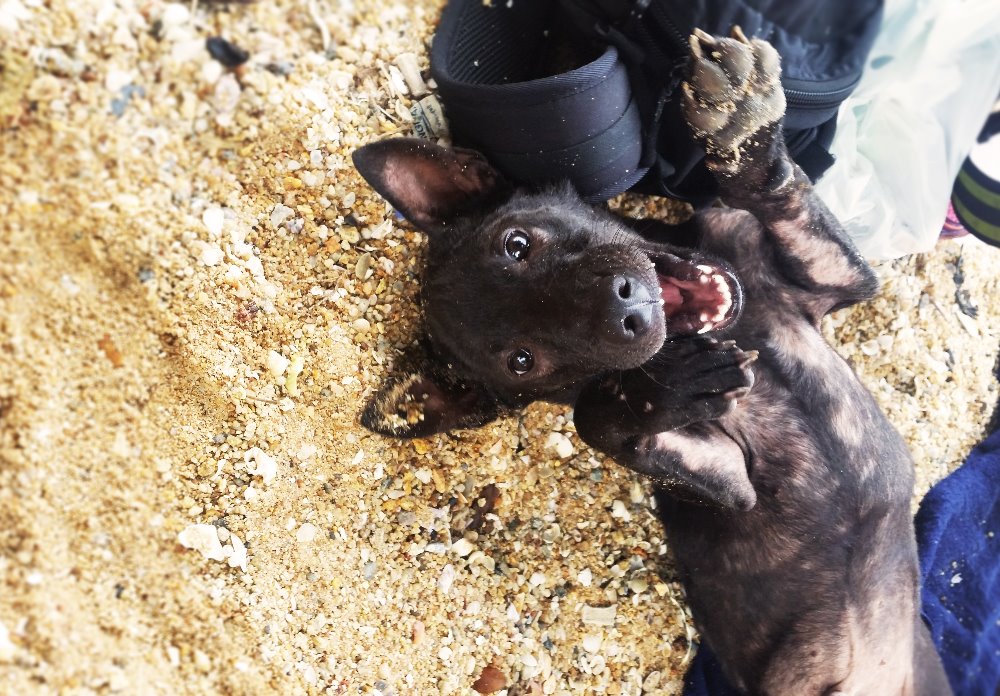 From the bottom of our hearts thank you for your support and donations!! Ozzie thanks you!!
He has a chance at a beautiful life xx
- Nic Nak

WHY AMERICA?


Australia has some of the strictest quarantine laws in the world, especially for dogs coming from countries with rabies, like Thailand. Dogs like Ozzie must stay a minimum 180 days in an "approved" country (like USA) before being allowed to enter Australia. This is because of the RNAT (rabies test) requirements etc.


WHY COULDN'T HE STAY IN THAILAND?


We pleaded on an animal shelter page with over 12,000 mostly Thai followers, and not a single person reached out to us. We asked our global shelter contacts to network on our behalf, and they really tried - but still nothing. Our Thai vet searched for us, we asked everyone we could reach out to on social media and we still didn't find Ozzie a home.
BUT we did have kind people reach out to help us get him to the USA. It was a HUGE decision to ask people to help us, to put Ozzie through the massive transitions, to commit to adding him to our family for the rest of his life - but we took on the challenge and have all the people who have supported us to thank.
All costs will be ours to cover once he lands in Australia. Ozzie will be part of our family. As a couple, just married who had changed their honeymoon itinerary to rescue him, we didn't have a whole lot of savings left to do this alone.
Please help us to help him if you can xx

Organizer