Official Andrew Jones Memorial Fund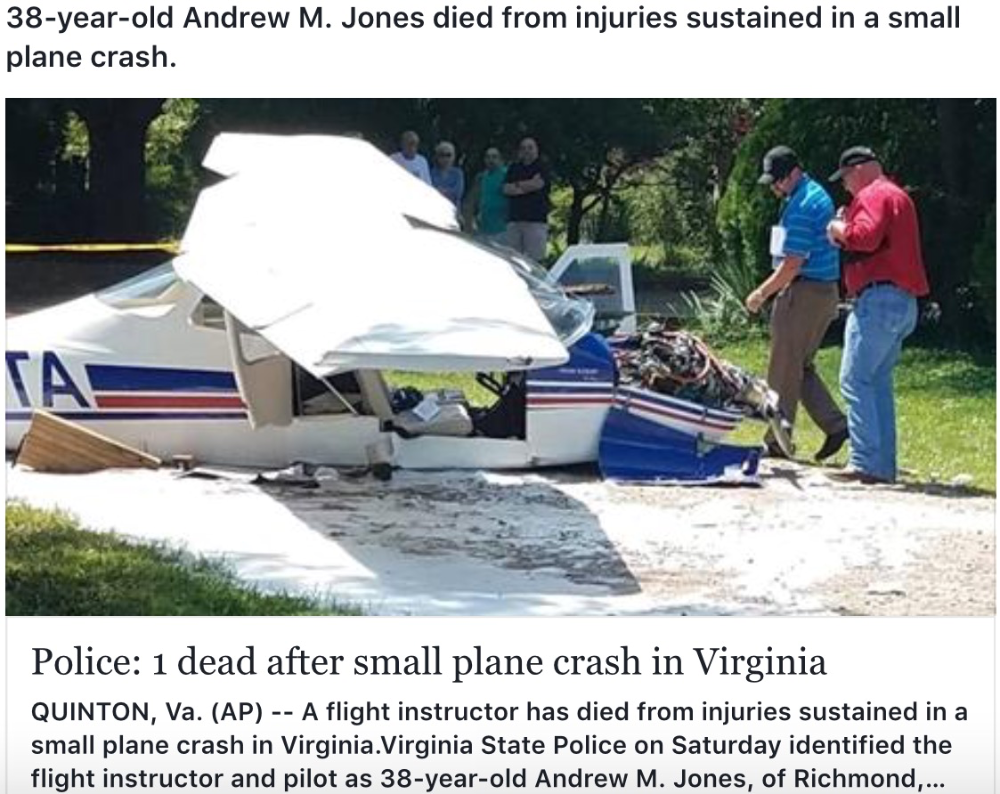 Link:


Flight instructor, 38, dies after small plane crashes into fence
On August 18th, my family's life changed forever when my 38-year old brother, Andrew M. Jones, lost his life in a tragic plane accident. Andrew was an experienced flight instructor and was flying with a 67-year old student when his engine failed and he had to make a forced landing. He was able to pilot the aircraft to a nearby field avoiding power lines and a home, and saved the life of his student who walked away with only minor injuries.  
 Andrew is leaving behind a loving and caring family, having been a wonderful husband to Sunny and an amazing father to 7-year-old Jacob and 2-year-old Rebecca. Those that had the pleasure of meeting my brother know that he was a kind and generous soul who touched the lives of so many with his positive spirit and big heart.
 There was nothing he loved more than spending quality time with his family and spoiling his children with hugs and kisses. He loved taking Jacob flying down the James River and taking baby Rebecca bike riding.  Andrew and Sunny created a life full of laughter and love no matter where they were as long as they were together. My brother always worked hard to help support his family and friends and would not hesitate to help them when in need.  He will be greatly missed by everyone that knew him and especially missed by the loved ones he has left behind.
 This memorial fund is going directly to Sunny, Jacob, and Rebecca to help pay for not only the unexpected final expenses and financial hardship the family is now facing during this tragic time but, also to help support the growth of the living legacy Andrew has left behind.
 Andrew has finished his final mission and is now with the Lord Jesus Christ in heaven.
 Our family deeply thanks you for your generosity and support of my brother's wife and children.  
Thank you and God Bless.







Organizer