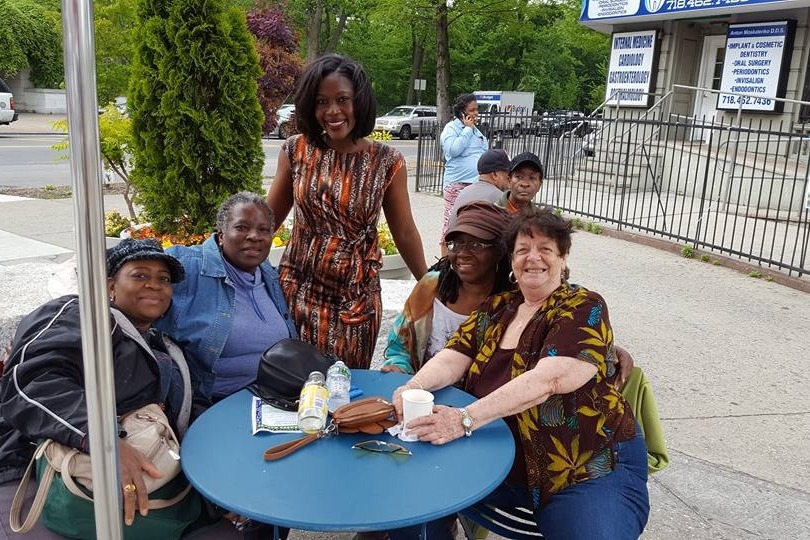 Sue Yellin has been a fixture in our Brooklyn neighborhood for many years. She's been a reliable and active volunteer for all of Prospect Lefferts Garden's neighborhood groups and events - promoting, petitioning, working the door, and helping our local candidates for elective office.
She also worked as a volunteer at the Visitors Center for the Borough President's office for many years.
Sue has led an interesting and productive life. Born and raised in Brooklyn, in the 1960s, she lived in Paris and traveled extensively through Africa and the former USSR.  She was a fixture on the NYC Jazz and political scenes. She owned a popular jazz club, The Needle's Eye, on Little West 12th Street which the NYT described as "a glamourless, secret hideaway."
Sue moved to Barbados in 1973, where she lived for almost 40 years before returning to Brooklyn.
Now Sue needs our help. She is in her late 70's and lives on a fixed income. She is in imminent danger of being evicted from her apartment and having to go into the City's shelter system. While NYC is in the
process of working on these issues that face the elderly and others on fixed incomes, there will be no relief from the City in time to save Sue from losing her apartment.
We have set up this page so that Sue's friends and neighbors can contribute to allow Sue to live with dignity in her apartment and continue to be an active and productive member of our neighborhood.
Please be generous. Thank you!