Brother's Love - My sister's battle is my battle
Hi! I am Elija!
I have a
beautiful sister
named
Myla,
and we would like to share our
story...

In 2012
, at an early age of
19
, Myla was diagnosed with
Hodgkin Lymphoma - not-so-typical cancer to hit a young woman.
The battle was not easy financially and emotionally.
Chemotherapy and radiation therapy took over 2 years
to finish the entire treatment. It was a success with the help of various people, and donations from charity institutions; different laboratory scans revealed Myla was
free of cancer in 2016.
However, many people say
"you can never beat cancer".
I guess it's true.
 September 2017
my sister felt a swollen mass/lump on her pelvic area, after some laboratory exams it was confirmed that there was a recurrence of cancer, our family chose
alternative medicine
as we can't afford the amount of money for the planned treatment given to her.

My sister, a spirited young woman with a passion for life, is determined to beat the odds. Despite her condition, she remained the vibrant, outgoing, extremely positive and uplifting person she has ever been.HOSPITALISATION:
Last March 27 of 2019, Myla is again diagnosed with recurrent cancer, this time it's
 Relapsed Hodgkin Lymphoma.
Myla's kidneys were blocked with
tumours
that made doctors decide to insert a stent to bypass the tumour to help Myla's kidneys function again. In addition, chemotherapy was advised to start
ASAP
. Also, the tumours compressing her spinal nerves, as a result of
severe pain
in her lower limbs and
inability to walk.
Also, her arms and legs were swollen and she started to deteriorate. I knew that she wanted to give up, almost everybody wanted to give up but
I trusted the Lord
almighty that she can surpass this challenge once more;
I am not giving up on my sister.
I lifted everything to God
that if Myla could not make it,  I knew He has better plans for us; but if Myla would recover, Myla's wish to become an
instrument of God's love
is indeed to share
her life's journey in people losing their hope,

Upon knowing her
sudden critical condition
, I decided to flew home to be with her, luckily my workmates bought me an airfare ticket going to the Philippines. It saddened me to see her in so much pain. Nevertheless, through her eyes, I know Myla wanted to live more and fight this battle once more
. She wanted to live and overcome this new battle.It brings back memories when she used to give talks to young children and their families who are sharing similar battles, she always emphasized that they have to be strong and not to lose hope because they are very well loved.Myla has inspired many hearts through her testimony. "Despite of everyday struggles, she still put a smile to her face.

TREATMENT PLAN
Currently, the treatment involves 16 rounds of targeted chemotherapy, a new technology that is newly introduced to the Philippines. Each treatment would cost Php 436,000.00 (GBP 6,500.00) excluding hospital bills and doctors' professional fees which will sum up Php 500,000 (GBP 7,460.00) every 21 days. The first 2 treatments were already administered, Myla's body is reacting positively to the treatment and there are 14 more sessions to go. There are 3 PET scans which will cost Php 70,000.00  (GBP 1,029.00) + expensive medicines and other surgical operations such as stent reinsertion due to the tumour. Her last treatment will be Bone marrow transplant by 2020 which doctors gave us a quotation of Php 1.5M (GBP 22,380.00).
Imagine for the whole treatment we were quoted for around Php 10,4000,000.00 (GBP 152,945.00). Doctors are satisfied with the result of post-2nd treatment and they said that the targeted chemotherapy is responding well on her. As of today, May 20, 2019, Myla can stand and walk with assistance, she used to be carried or bed-bound
I am trying my best to
reach out to you,
who can help us win this battle. Unfortunately,
I cannot fund the entire treatment for my sister.
My parents couldn't work due to Myla's condition; she needed 24-hour care at home being fully dependent on my parents' watch. I am
the sole breadwinner of the family who earns not even a quarter of one chemo medicine alone
. As I have asked friends, colleagues and charitable donations, the first couple of treatments were given in which I am very grateful. Unfortunately, she has 19 more sessions to take that
I have exhausted all my resources, asking friends, colleagues and donations from different institutions.

I am knocking on your doors
with
generous hearts and spirit in giving Myla the hope
,
encouragement and financial support
she needs to fight this cancer;
any amount of donation is greatly appreciated
. In addition, I need your
prayers to give us more courage, strength and love to overcome these times of desperation in an attempt to save my sister.
I only have one sister and I would do anything to help her saved and give another chance to live, another chance to survive, and another chance to see the beauty of life as how you are seeing it right now.

My sister's battle has become my battle. It is my greatest hope in life to give this absolutely beautiful young woman a chance to live out her dreams and to continue touching people with her warm spirit and luminous presence.
You may send me an
email
at
[email redacted]
or follow our journey on
facebook
, please click this link:
https://www.facebook.com/mysistersbattleismybattle/
or you may contact me at +447414924303.
You may also donate in different ways:
EVERY LITTLE HELPS!
PHILIPPINE BANK ACCOUNT:

BANK: METROBANK
BRANCH: DASMARINAS CAVITE
NAME: ELIJA  VILLANUEVA
ACCOUNT NUMBER: 235-3-23577814-0

UK BANK ACCOUNT:
BANK: MONZO
SORT CODE: 04-00-04
ACCOUNT: 08756384

OR
Any
UK bank account,
quick transfer:
CLICK HERE FOR DIRECT BANK TRANSFER: Elija's Account
If you have
PAYPAL
account:
PAYPAL: Click here to donate via Paypal
 
Note:
Please let us know if you wish to donate but do not know how to send it, please email us
[email redacted]
or send us
a message
via
viber
or
whatsapp
+447414924303
, also, please inform us if you gave your support to someone as we are sending something as a
token of appreciation.
Your
donation
is highly appreciated.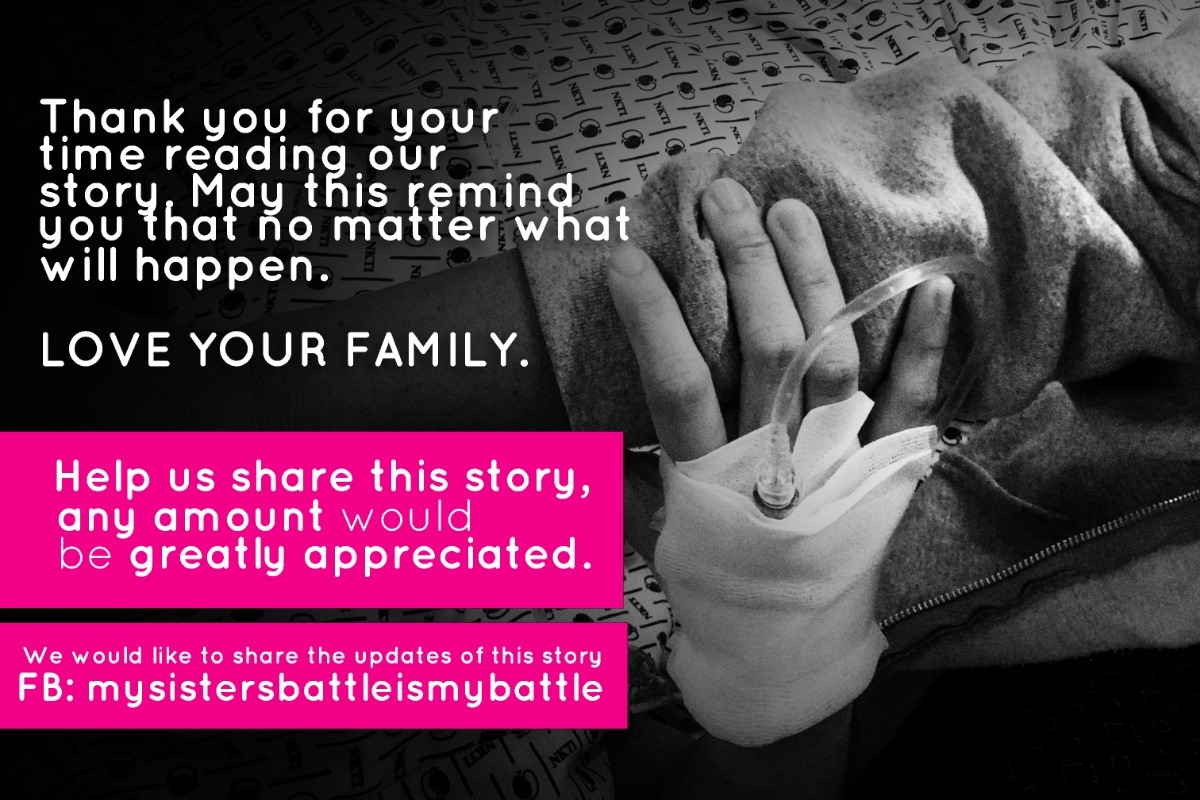 WATCH SOME OF OUR VIDEO PROJECTS TO INSPIRE OTHERS:





Stem Cell Registry
  and
Philippine Red Cross

Fundraising team: Elija (9)
Elija Paul Villanueva 
Organizer
London, Greater London, United Kingdom
See all