Racing for charity: How to set up your fundraiser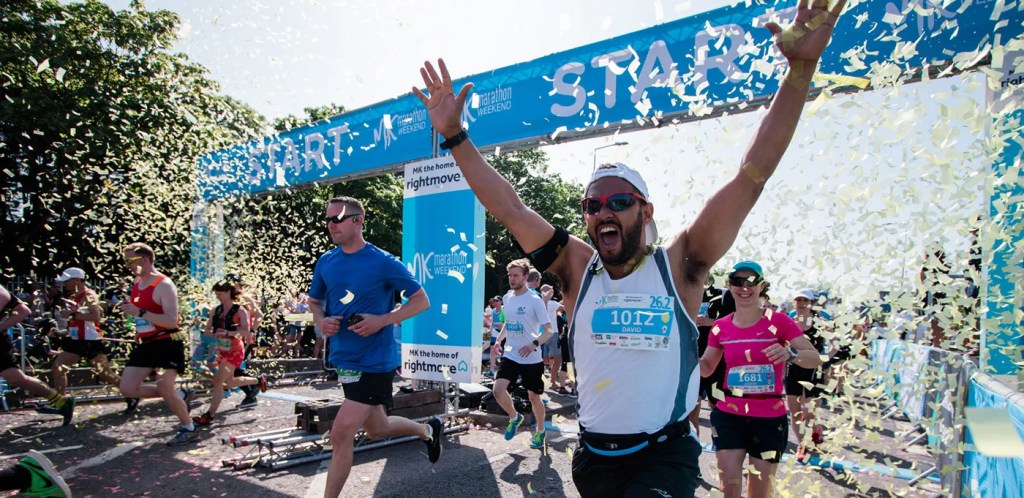 Taking part in a charity run  is an excellent way to raise money for your good cause – while setting yourself a challenge and a way to feel proud in the process. It's easy to set up a GoFundMe to see donations rolling in – and then get sharing on your social media and with pals.
Why are charity runs so popular?
Charity runs are a great way to fundraise for a multitude of reasons. There's always a variety of lengths and challenges to choose from – right from a 5k to a marathon. It means  you can challenge yourself accordingly, raise money for a good cause and, if you fancy, participate in multiple events.
There's also plenty of races for charity to choose from – a wealth of Race for Life events right up to things like the London Marathon.
How to fundraise for your charity run
Lacing up your trainers to do a charity run is a great way to raise money. It's easy to do it for a charity and people know what they are donating to. Starting a GoFundMe to fundraise also means you can easily spread the word (and the fundraising link) to show what you're up to.
1. Secure your place in the race
For some more high profile races – like the London Marathon – there's a lot of competition to get a place. You either have to enter a ballot, which is like a lottery where entries get picked randomly, or get a charity place. We've got a guide on London Marathon entries here.
2. Set a goal you want to achieve
When you're choosing to do a charity run, it's important that you choose an appropriate goal based on your fitness levels and the time you have to train. If you're not an experienced runner, start with shorter distances and build up. If you're a seasoned half marathon runner, try for the marathon. Set goals which are attainable but challenging.
3. Set up your fundraiser
Once you've chosen your challenge, it's time to set up the GoFundMe so people can donate to your good cause. When doing this it's important to set up a snappy title – tell people what you're fundraising for and why. Then tell your story -why is the charity you've chosen close to your heart? Is it something personal to you? And why will you find this run a challenge? Let people know how they can come and support you in person should they want to, too. You can look at our tips on setting up a donation page here.
4. Share updates on your training
When you're training for your race, keep your supporters informed with regular updates. Use a running tracker like Strava to track your distances and speed – this will keep you motivated as you make progress as well! Sharing the ups and downs of your journey will be cathartic for you along with keeping others in the loop.
5. Provide an update after the race
When you've finished the race, it's always good to share an update letting your supporters know it's finished! You can ask for final donations and thank everyone who was there giving you support. Post the GoFundMe on your social media and include a snap with your finishers medal.
The 10 best charity runs in the UK
We've got a plethora of charity runs in the UK to choose from that are a perfect challenge to fundraise for a cause of your choice. From the London Marathon to the Great North Run, there's a race for charity for everyone.
TCS London Marathon
The London Marathon is one of the most iconic events in the sporting calendar. The 26.2 mile race stretches past some of London's most famous sights – and racers always say you can't beat the atmosphere when you run it. We've got a guide to the London Marathon here.
London Landmarks Half Marathon
If you're racing for charity, the London Landmarks Half Marathon is a brilliant challenge and a great way to see some of the sights in London. It's organised by Tommy's, the largest UK charity researching the causes and prevention of pregnancy complications, miscarriage, still birth, premature birth and neonatal death.
Great North Run
The Great North Run takes place in Newcastle and is a half marathon length. It's the largest half marathon in the world, with racers travelling between Newcastle Upon Tyne and South Shields. It takes place in autumn each year and you can enter via ballot or charity entry.
Race for Life
There are more than 400 Race for Life events taking place across the UK – so plenty to choose your challenge from. Most Race For Life events centre around a 5k or 10k route, with the option to run or walk the course in return for sponsorship. You can have a look at more Race for Life fundraising ideas here.
Brighton Marathon
The Brighton Marathon has been held every April since 2010. It takes runners through Preston Park and along all the key bits of the seaside town, including along the coast front. The route is changing for 2023 and missing out Shoreham Port (so the hardest miles of the marathon are run in Hove for a more supportive atmosphere).
Cardiff Half Marathon
The 2023 Cardiff Half Marathon will mark the 20th anniversary of the iconic Welsh run. More than 27,500 runners register to do the course each year, which takes you along the roads of the city. And you're guaranteed to get support from the thousands of spectators who turn out to watch.
Edinburgh Marathon
The Edinburgh Marathon Festival includes, as you'd expect, a marathon – but also a half, a 10k and a 5k plus a range of junior events. So if you want to get involved in the brilliant atmosphere in a brilliant city, there's a distance to suit everyone.
Great Scottish Run
The Great Scottish Run is a weekend of running, encompassing a half marathon, 10k and junior events in glorious Glasgow. The Junior and Mini Great Scottish Runs are brilliant if your little ones want to get involved in running for a good cause, too.
Royal Parks Half Marathon
This gorgeous half marathon takes place in central London, taking in four of London's eight Royal parks – including Hyde Park, Green Park, St James's Park and Kensington Gardens. In the last 12 years it's been running, £55million has been raised for charity. If you're racing for charity, you can also take yourself on a tour of beautiful scenery with this one.
Great South Run
The Great South Run is a fast, flat 10 miler or 5k taking place across Portsmouth. It starts and finishes on the wonderful Portsmouth seafront – and as a bonus on the course you get to take in some of the beautiful views of the Isle of Wight.