Getting 4 Guys To Switzerland
$3,725
of $3,600 goal
Raised by
24
people in 37 months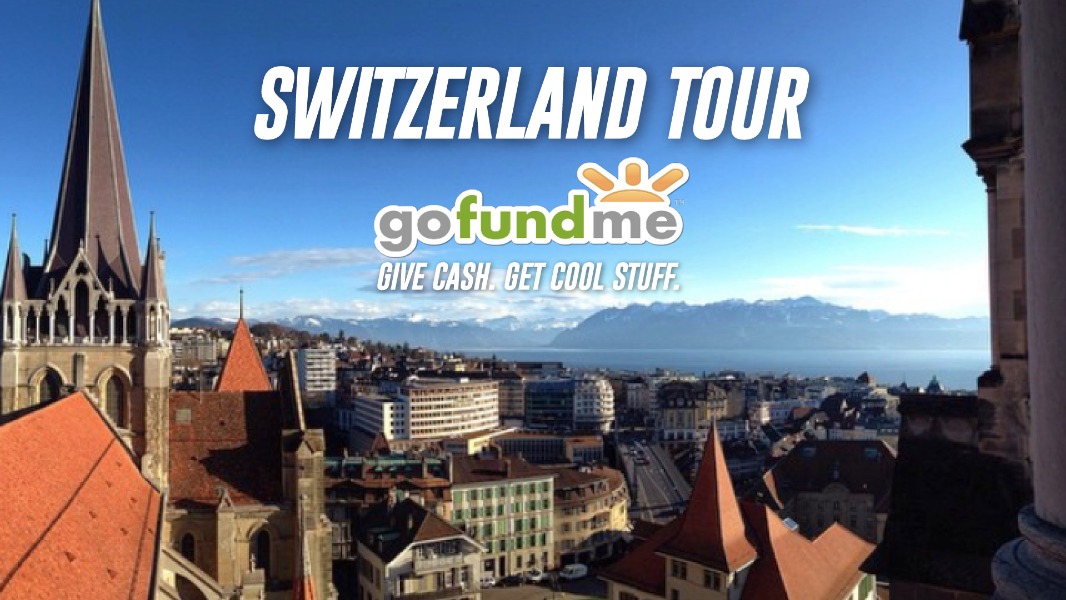 Hi,
Christopher here. Jennifer and I are prepping for a 10-day tour of Switzerland coming up in May in support of our new worship album "Awaken" being released in French (published by JEM). This year, we want to do something that we've never done before: take our touring band with us.
While our personal airplane tickets are already paid for, our musicians' are not. They're contributing their own funds, and we're helping out too, but we're still coming up short. We're looking for you to partner with us in exchange for what we think are some pretty fun rewards. 
WHY SWITZERLAND? (Shouldn't you be going to Haiti or something?)
Many people unfamiliar with Europe may wonder why we spend so much time ministering in first-world nations. The reality is that while a country like Switzerland has a rich heritage in proliferating the Christian faith in times past, the francophone nations of the world desperately need a revisitation of God's Spirit—in short, they need to reap what they've sown. 
We love being able to serve financially needy nations, but we also know that we have a voice for spiritually impoverished peoples particularly of affluent means. These people are equally important to the Lord regardless of their income, and therefore they must be equally important to us.
We've worked hard over the last decade to build meaningful partnerships with influential miniseries throughout francophone Europe. Since French is my second language, and both Jennifer and I sing in French, we have strategic opportunities in bringing joy and enthusiasm to areas of Switzerland that need an infusion of life.
Much of French-speaking Europe has been battling tremendous fear. From the Charlie Hedbo tragedy and the November Paris attacks, to the immigrant crisis and resulting political unrest, it's a key part of the world that's in need of God's love. As people who have both the heart for and the relationships with francophone Europe, we know we're uniquely positioned to work with indigenous Christian communities in bringing that love to hurting people.
French-speaking Switzerland has been instrumental in allowing us to translate, record and publish our music specifically for the francophone nations of the world, constituting more than
40% of the globe's countries
. All told, there is an immense need, and we have a deep burden.
WHY YOUR BAND? (Can't you go as a duet?)
Yes, and we've done so for over a decade. But the new music we've created is very much dependent on a band to perform it. How we present ourselves and this new vision of musical worship is critical in bringing people closer to the heart of God and giving Christians tools and opportunities to reach their unsaved friends with sounds not normally associated with "the holy church."
Traveling with some of our best friends and professional musicians is a luxury, to be sure. But since we view each of these trips as missionary endeavors, having key contributors alongside us allows better ministry to the people we're called to serve. While we love working with indigenous musicians when time permits, our professional touring band allows us to focus entirely on ministering to our audiences distraction-free. They know us and our music. 
HOW CAN I HELP? (Do you need a roadie?)
We'd like to raise
$3,600 USD
by
April 1st
in support of our four musicians, Jason Rodgers (guitar), Sam Widrick (drums), Jake Desormo (bass), and Jacob Widrick (keys). We'd love to meet this goal sooner, since the more time we have to purchase tickets, the better price point we'll get.
And we always are up for a good roadie. 
We simply ask that you pray about participating, review the rewards we're offering, and then do what you can. If nothing more, your prayers are deeply appreciated, and please pick up the new album when it comes out in June.
Blessings,
Christopher and Jennifer Hopper
Clayton, NY USA
February 2016
+ Read More
Be the first to leave a comment on this campaign.