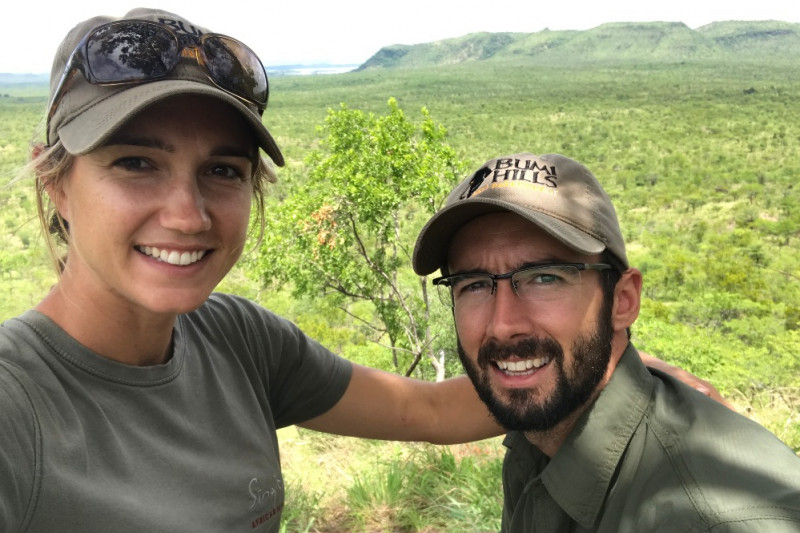 6
13
Protecting Wildlife in Africa
£4,500
of £4,500 goal
Raised by
7
people in 9 months
WILD WONDERFUL WORLD: A WILDLIFE CONSERVATION EXPEDITION
FUNDING APEAL "A lens into human-wildlife conflict in Africa"



Hi! We're Michelle and Grant, enthusiastic wildlife conservationists from South Africa. In November 2017 we resigned from our jobs as Safari Guides, sold our belongings to buy a 4x4 and moved into our car. Our plan? To overland across Africa, travelling off the beaten track to
find and volunteer for wildlife conservation projects
, contributing our time, efforts and skills to help stem the devastating decline of flora and fauna in Africa.
Poaching, human encroachment and a thriving global trade in endangered animals have pushed many species and wild spaces to the
brink of extinction
. Behind the scenes, NGO's, anti poaching units and passionate conservationists put their
lives on the line
to do everything they can to prevent that happening.
We have gone in search of the unsung heroes and projects in some of the most
remote areas
of Southern, Central and Eastern Africa to not only help them with their work on the ground, but to bring their stories to the global stage, with the hope of
raising support and donations
for their efforts. Such a journey has allowed us to share ideas, solutions and best practises in a bid to reduce human-wildlife conflict across Africa. With that, we can provide a
lens into the world of wildlife law enforcement
, educating local communities, our global population and spreading the word about conservation in Africa.
If you would like to read more about us and the projects we have helped so far (including Painted Dog Conservation, Bumi Hills Anti Poaching and Zambian Elephant Orphanage Project) you can visit our website at
www.wildwonderfulworld.com
.
How you can help
Our expedition to date has been entirely self-funded and thus far we have been living off our (rapidly depleting) savings. We are reaching out to the global community to ask for financial support to allow us to continue our expedition; to keep us on the road and
allow us to continue volunteering
for the projects we find.
If you would like to support our expedition (thank you!), you can help us in the following ways;
-        Make a contribution towards our expenses;
o   Food: $20 per day
o   Fuel: $0.12 per Kilometre ($1.2 average per litre, where 1 litre = 10km)
o   Medical Aid: $332 per month (combined.)
-        Help us buy food for a day, a week or a month!
o   We are budgeting on an average of $20/day for both of us.
o   Day: $20, Week: $140, month: $600
-        Fuel a leg of our journey
o   Zambia to Tanzania: +/- 1250km / $150
o   Tanzania to Kenya: +/- 1550km / $185
o   Kenya to Uganda: +/- 760km / $90
o   Uganda to Rwanda: +/- 630km / $75
o   Rwanda to Democratic Republic of Congo: +/- 790km / $95
-        Support a country exploration
(Estimated costs including fuel (to get there and in country travel), food and essential costs (border fee's, etc), based on 2 months per country.
o   Tanzania: $1560
o   Kenya: $1560
o   Uganda: $1380
o   Democratic Republic of Congo: $1560
-        Buy one of our wildlife photographs
, proceeds of which support our expedition.
THANK YOU SO MUCH FOR YOUR SUPPORT!
A huge and heartfelt thank you from the both of us for keeping our dream alive of making a meaningful impact in conservation.
If you want to follow our journey, you can live the moments with us through reading our
blog
and watching our
videos
and get inspired by the amazing people and projects we encounter along the way. All of our updates will be posted on our website and our social media pages;
Instagram
&
Facebook
.
+ Read More