#TogetherWithRefugees
€12,760
of €15,605 goal
Raised by
143
people in 39 months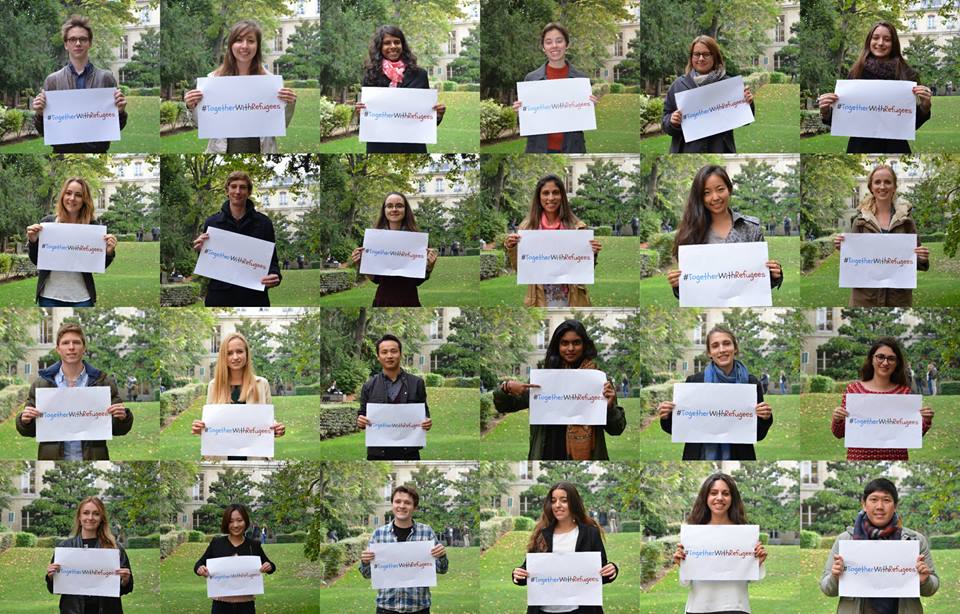 --------Pour la version française, voir ci-dessous--------
--------TO LOOK AT OUR DETAILED PUBLIC BUDGET CLICK HERE  --------


Who are we?

As the refugee crisis worsened, more and more Sciences Po students were searching of ways to help. However, many already established organisations were overwhelmed not only by the needs that had not been filled, but also the outpour of messages from private citizens wanting to help. Therefore, we founded the "Sciences Po Refugee Help" in order to bridge the gap between those in need and those willing to act. We want to take responsibility for our fellow human beings, who were forced out of their countries due to unbearable conditions. Soon after the founding, we were recognized as an official association at Sciences Po Paris. Since our creation, we have been working with several camps and centers in Paris while coordinating with other organisations. All of our members work for the association without any financial reimbursement for their time and yet are extremely committed due to the passion they have for equal human rights .



Who do we support?

We work with several refugee camps and centers in order to directly improve the situations of refugees and asylum seekers in Paris. Most of those we work with come from Syria, Sudan and Eritrea.Their journeys were long, dangerous and difficult as they have fled from civil war, humanitarian crises and human right abuses. Yet, even after painstakingly arriving to Paris, they live in precarious conditions where they struggle with the cold, lack of supplies, difficult living conditions and hygiene problems.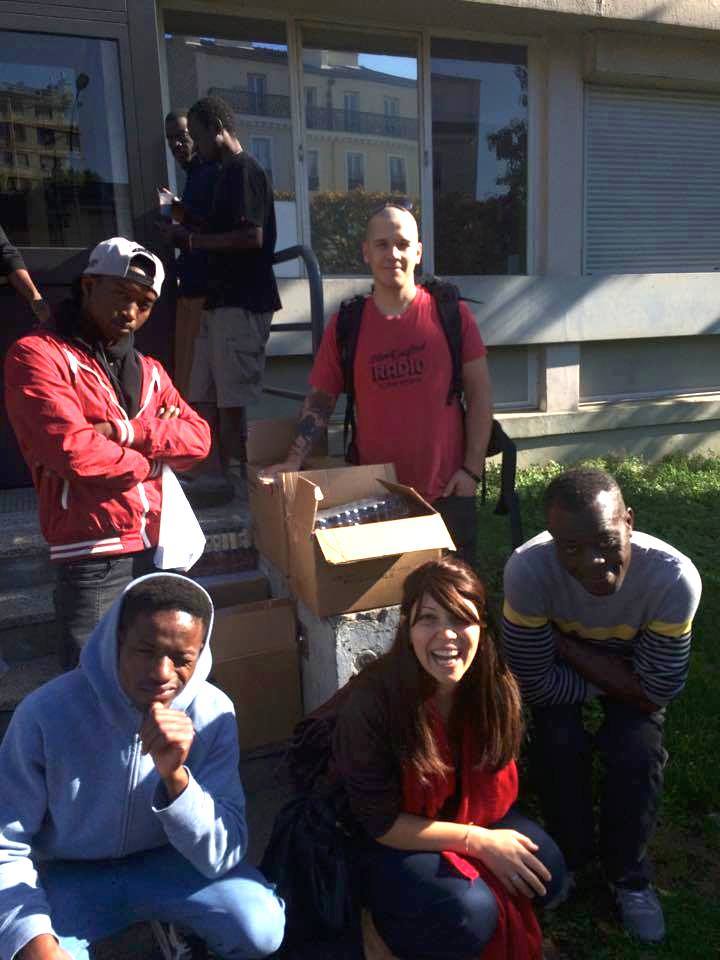 How do we work?

We are structured in different teams who help with material needs as well as services. Services include french language lessons, administrational help, social activities, family specific programs, higher educational opportunities as well as orientation programs after the refugee's first arrival. Our teams are constantly evolving and adapting as the situation changes with the asylum seekers we work with. Therefore, we are constantly on the ground, going in person to assess what they need most and ensure that what we are providing reflects that.

Where does the money go?

The donations will be used for the needs we have identified in the centers we are working with and therefore directly help the refugees. As a result of those talks, our teams have estimated that in the coming weeks we will need 15605€. We have calculated the needs in the camps in a sheet which we will constantly update. You can have a look at it here. GoFundMe charges us with 6,8% per donation which is already included in the amount of 15605€.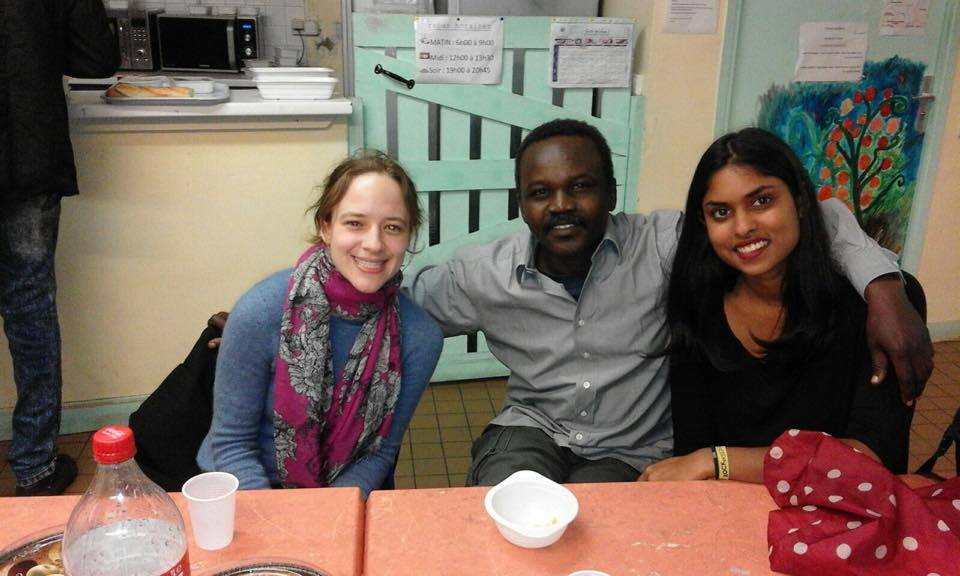 How can you be sure that your donation will help?

We are committed to being as transparent as possible. We appreciate your trust in our initiative and we want to ensure that you have no doubts about where your donation is going. After having supported us with a donation, you will receive regular updates through a newsletter on how we have used the donations and what we have achieved with your help. Feel free to reach out to us about any question, comments or concerns you have


VERSION FRANCAISE


Qui sommes-nous?
Avec l'aggravation de la crise des réfugiés, de nombreux étudiants de Sciences Po ont cherché à proposer leur aide aux migrants nouvellement arrivés en Europe. Dans ce contexte, les organisations déjà établies se sont trouvées rapidement dépassées, non seulement pour répondre au besoin humanitaire de la situation, mais aussi par le nombre de messages de citoyens proposant leur aide face à la crise. C'est dans ce but que Sciences Po Refugee Help a été fondé, pour créer le lien entre les gens dans le besoin et ceux prêts y répondre. Nous voulons prendre cette responsabilité pour ceux qui ont été forcés de quitter leur pays en raison de conditions humainement insupportables. Peu de temps après, Sciences Po Refugee Help était reconnu comme association officielle à Sciences Po. Depuis notre création, nous avons travaillé dans plusieurs camps et centres d'accueil à Paris, tout en collaborant avec d'autres organisations. Tous les membres de notre association travaillent bénévolement, sur leur temps libre, et restent extrêmement engagés grâce à leur foi pour les droits de l'Homme.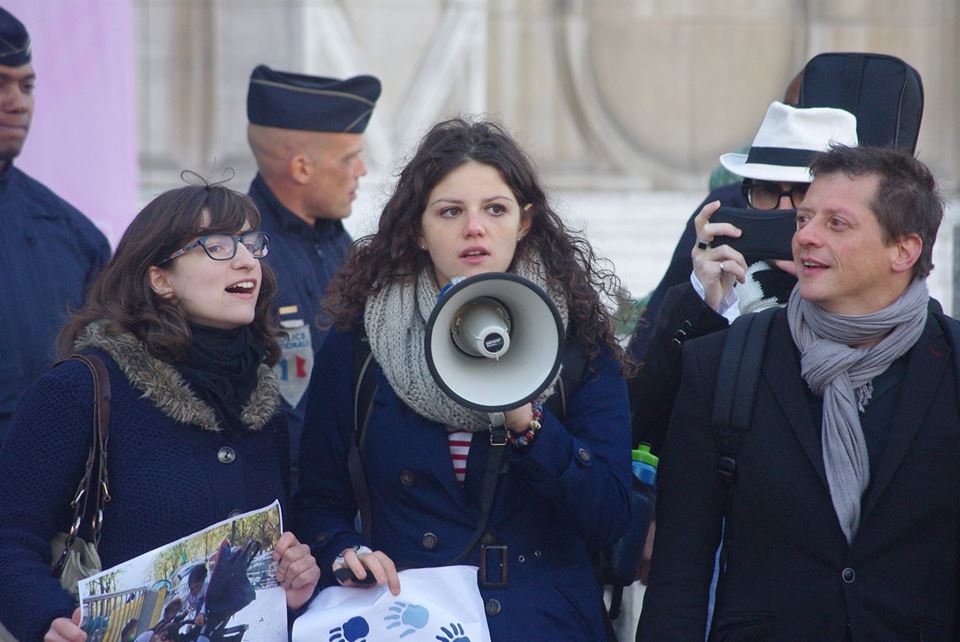 Qui est-ce que nous soutenons?

Nous travaillons avec plusieurs camps et centres de réfugiés afin d'améliorer directement la situation des réfugiés et des demandeurs d'asile à Paris. La plupart viennent de Syrie, du Soudan et d'Erythrée. Leurs voyages ont été longs, dangereux et difficiles, fuyant la guerre civile, les crises humanitaires et les violations des droits de l'Homme. Pourtant, même après leur arrivée à Paris, ils vivent dans des conditions précaires où ils souffrent du froid, du manque de provisions, de conditions de vie difficiles et de problèmes d'hygiène.

Comment travaillons-nous?

Nous sommes structurés en différentes équipes, qui répondent aux besoins matériels et proposent leur aide auprès des réfugiés. Les aides proposées incluent des cours de français, une aide administrative, des activités sociales, des programmes spécifiquement dédiées aux familles, l'opportunité de poursuivre des études supérieures ainsi que des programmes d'orientation après l'arrivée des réfugiés. Nos équipes sont en constante évolution et doivent s'adapter, alors que la situation des réfugiés elle-même évolue. Pour cette raison, nos équipes sont en permanence sur le terrain afin de s'assurer que l'aide fournie par l'association corresponde bien à la réalité des besoins.



Comment sera utilisé votre argent?

Chaque don sera utilisé dans sa totalité pour subvenir aux besoins identifiés dans les centres pour lesquels nous travaillons, et ce afin de fournir une aide directe aux réfugiés. Le travail de nos équipes dans les centres nous a permis d'évaluer le montant de nos besoin à un niveau de 15605€ pour les mois à venir. Ces besoins ont été calculés dans les camps sur un document de travail que nous mettrons régulièrement à jour. Vous pourrez le consulter ici . GoFundMe nous charge 6,8% par don ce qui est déjà inclu dans la somme total de 15605€.

Comment pouvez-vous vous assurer que vos dons vont réellement aider les réfugiés
 
Nous sommes engagés à être aussi transparents que possible. Nous apprécions la confiance que vous portez à notre initiative et voulons nous assurer qu'aucun doute n'existe sur l'utilisation qui sera faite de votre don. Si vous décidez de faire un don, vous recevrez un bulletin d'information sur l'emploi qui en a été fait et ce qui a été réalisé grâce à vous.

N'hésitez pas à nous contacter pour toute question, remarque ou interrogation!


+ Read More
Update 2
Posted by SciencesPo Refugee Help
38 months ago
Share
--------Pour la version française, voir ci-dessous--------

Hello everyone,

We are now more than a month into our fundraising campaign, and we would like to update you about what we have accomplished during the last three weeks. So far, we have received a grand total of €4982 in donations and needless to say that we are overwhelmed by and grateful for your support.

We found out about a camp of asylum seekers and refugees near Gare de l'Est a little over two weeks ago and have now been going there every other night. The people at the camp sleep on the street, many with just a jacket and cardboard as protection. Some of them have been here for 10 days, others for almost a year. Many of them told us about their long journeys from Afghanistan, Iran and Pakistan. The one thing they share in common is that they have not received any support whatsoever. They are all eager to start their new lives, learn a new language, get to know a new city and French culture. All they want is the opportunity to do so. We decided to tackle this big project and provide them with this long-sought opportunity; we want, as our mandate states, to fill the gap left by the overwhelming situation.

However, the situation gets more and more difficult with the temperature dropping: Winter is finally here, and the refugees are bearing the brunt of the harsh winds and harsher nights. While we are trying our best to find housing for them, we have in the meantime provided them with basic necessities, such as sleeping bags, hats, scarves and shoes. In the last two weeks we have purchased

120 pairs of socks
93 pairs of shoes
70 sleeping mats
60 pairs of gloves
60 winter hats
50 sleeping bags

We also provided printed 150 asylum aid booklets and 100 maps of soup kitchen and public showers in Farsi and Pashto for those living at Gare de l'Est.


As always, you find an overview of our spendings on our public budget.

These purchases have already been very helpful and we are currently looking for ways to bring in material donations or purchase blankets, skiing underwear, more socks and other warm clothing. If you do know someone who would be interested in donating, please share our crowdfunding page with them. As always, any donation, big or small, really makes a difference.

In order to collect warm clothes we have organised a collecte for winter clothes at Sciences Po and received many donations! We also used this as an opportunity to encourage students to write welcome letters to refugees.

Thanks to a very generous donation from École Jeannine Manuel, we received lots of school materials for our French lessons that we give in various centres across Paris.

In the centers we work with, French lessons are taught several times a week. Our teams have also been very active in organizing social activities and helping with Asylum processes. As a side note; Kiron University for refugees is growing and branching out in France and we are very excited to be a part of it.

We would like to thank you for the help and support we have received from every single one of you. None of this would have been possible without you.

Soon you will receive more information about our work. If you have any questions or comments regarding our work or would like to share something with us, you are more than welcome to contact us via email: refugeehelp@sciencespo.fr or via our Facebook page.

-------------------------------------------

Chers ami(e)s, soutiens et partenaires,

Cela fait maintenant plus d'un mois que nous avons lancé notre collecte de fonds, et nous aimerions vous informer de ce que nous avons accompli ces trois dernières semaines. Jusqu'ici, nous avons reçu un grand total de 4982 euros en dons : il va évidemment sans dire que nous sommes très ému par et reconnaissant pour votre aide.

Nous avons été informés de l'existence d'un camp de demandeurs d'asile et de réfugiés à Gare de l'Est il y a deux semaines et sommes allé là-bas chaque nuit depuis. Les habitants du camp dorment dans la rue, beaucoup avec juste un manteau et du carton comme protection. Certains sont ici depuis 10 jours, d'autres depuis presque un an. Beaucoup nous ont parlé de leur long voyage depuis l'Afghanistan, l'Iran ou le Pakistan. Ce qu'ils partagent tous est l'absence d'aide qu'ils ont reçus jusqu'ici. Ils sont tous motivés pour commencer leur nouvelles vies, apprendre une nouvelle langue, découvrir une nouvelle ville et la culture française. Tout ce qu'ils veulent est l'opportunité de le faire. Nous avons décidé de nous attaquer à ce projet et de leur donner cette opportunité qu'ils ont longtemps attendue ; nous voulons, comme précisé par nos statuts, remplir le vide laissé par cette terrible situation.

La situation s'empire chaque jour cependant avec la baisse des températures: l'hiver est bientôt là, et les réfugiés sont exposés aux vents et nuit glaciales. Bien que nous fassions de notre mieux pour leur trouver un logement, nous leur fournissons les produits de nécessité en attendant, tels que sacs de couchage, chapeaux, bonnets, écharpes et chaussures. Ces deux dernières semaines, nous avons acheté et distribué:

120 paires de chaussettes
93 paires de chaussures
70 tapis de sol
60 paires de gants
60 bonnets
50 sacs de couchage

Nous avons également imprimé et distribué 150 livrets d'aide à l'asile et 100 cartes de soupes populaires et douches publiques en Farsi et Pachtoun pour ceux vivant Gare de l'Est.

Comme toujours, vous trouverez un résumé de nos dépenses sur notre budget public.

Ces achats ont déjà été très utiles et nous étudions actuellement comment acheminer des dons matériels ou acheter des blanquettes, des dessous de ski, des chaussettes et encore plus de vêtements chauds. Si vous connaissez quelqu'un qui voudrait faire une donation, merci de partager notre page de collecte de fonds avec eux. Comme toujours, toute donation, petite ou grande, peut vraiment faire une différence.

Pour pouvoir collecter des vêtements chauds, nous avons organisé une collecte pour des habits d'hiver à Sciences Po et reçu beaucoup de donations! Nous avons également utilisé cette opportunité pour encourager les étudiants à écrire des lettres d'accueil aux réfugiés.

Grâce à un don très généreux de l'Ecole Jeannine Manuel, nous avons reçu beaucoup de fournitures scolaires pour nos leçons de français que nous prodiguons dans plusieurs centres de Paris.

Dans les centres dans lesquels nous travaillons, des leçons de français sont enseignés plusieurs fois par semaine. Nos équipes ont été très actives dans l'organisation d'activités sociales et l'aide aux procédures administratives d'asile. Parallèlement, l'université Kiron pour les réfugiés grandit et s'étend en France et nous sommes très excités de faire partie de ce nouveau projet.

Nous aimerions vous remercier pour toute l'aide et le soutien que nous avons reçu de chacun d'entre vous. Rien de tout cela n'aurait été possible sans vous.

Bientôt vous recevrez plus d'information sur notre travail. Si vous avez des questions ou des remarques sur ce que nous faisons ou aimeriez partager votre ressenti avec nous, nous vous encourageons à nous contacter par email : refugeehelp@sciencespo.fr ou sur notre page Facebook.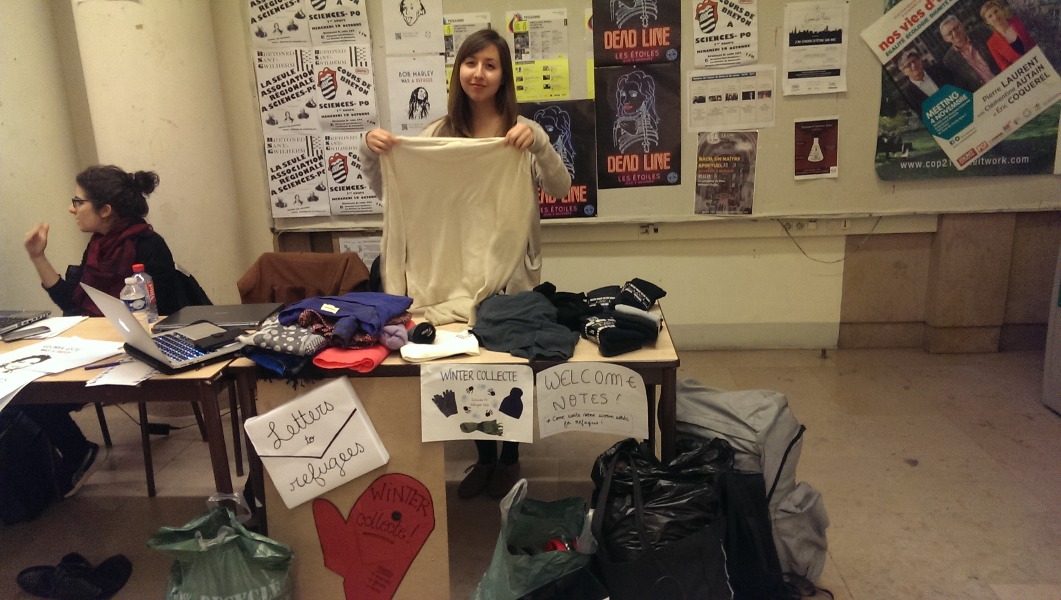 + Read More
--------Pour la version française, voir ci-dessous--------
Hello everyone!

Three weeks ago, we launched our fundraising campaign and are absolutely amazed by the fantastic support we received from all of you! Thank you so much for donating and helping us continue our work!

We really want you to know how much we appreciate your trust and generosity. Therefore, we thought we would share with you a little bit about where we've made our first purchases:

A week ago, after the evacuation of the Maison des Refugiés, some asylum seekers were left without shelter and gathered in front of the Hôtel de Ville, without food or water. We used €20.73 that night to buy fruits, snacks and juice to help them get through the night.

This same night, we met a group of young Afghans, who after their very long journey through Europe, had reached Paris only to find themselves forced to sleep along the highway, with neither support nor sustenance. They explained that their main priority was to learn French in order to facilitate their integration into a country they already call "home". Inspired by their desire to learn, we immediately organised daily and on-site French lessons. Some of our budget went towards printing various worksheets from alphabet tracing to French vocabulary lists. We also printed out legal aid booklets in Farsi and Pashto, as well as templates for the handwritten letters we'll be including in our Welcome Packs (which are coming soon!!). This brought our total printing budget to €40.30.

Although they had insisted on French acquisition being a priority, we decided to buy those necessities they were lacking and that we knew could not be donated, i.e. €264.75 worth of socks, male underwear and gloves.

Finally, over the last two weeks, we also spent €95.50 on shoes for those refugees that volunteers on the ground had noticed were still walking around in socks and flip-flops.

None of the above would have been possible without your help, and we hope you take as much pleasure in reading our stories from the ground as we do in living them each and every day. Should you have any questions or comments regarding the information provided above, please do not hesitate to contact us at refugeehelp@sciencespo.fr.

We would love for you to keep supporting our work and share our story with your friends and family. As we've always said, and will continue to say as winter approaches alarmingly fast, every donation counts!

-----------------------------------------------------------------

Bonjour à tous!

Nous avons lancé notre campagne de levée de fonds il y a maintenant trois semaines et nous sommes touchés par l'élan de solidarité émanant de vous tous ! Nous vous remercions infiniment pour tous vos dons, qui nous permettent ainsi de continuer notre travail – merci pour votre confiance et votre générosité qui ne cesse de nous surprendre !

Nous aimerions donc vous tenir informer sur comment nous utilisons vos dons afin de venir en aide aux réfugiés. Il y a une semaine, après l'évacuation de la Maison des Réfugiés, des demandeurs d'asiles ont été laissés au dépourvu, sans toit, sans rien. Ils se sont réunis devant le parvis de l'Hôtel de Ville, sans eau et sans nourriture. Nous avons dépensé €20.73 ce soir-là pour leur acheter des fruits, des choses à grignoter et du jus pour les aider à tenir jusqu'au matin.

Le même soir, nous avons rencontré un groupe d'afghans, qui, après un long périple à travers l'Europe, sont arrivés à Paris mais se trouvaient contraints à dormir à coté de l'autoroute, sans soutien, sans de victuailles, rien. Ils nous ont expliqué que leur priorité était l'apprentissage de la langue française afin de faciliter leur intégration dans un pays qu'ils désignent comme leur nouvelle maison. Inspirés par leur volonté d'apprendre, nous avons commencé à organiser dans la foulée des cours de français, dispensés tous les jours dans le camp.

Une partie de notre budget a financé l'impression de fiches de vocabulaire et d'autres exercices de français. Nous avons également imprimé des livrets sur l'aide juridique en Farsi et en Pashto, ainsi que des cartes à remplir à la main, que nous allons inclure dans nos « Welcome Packs » (qui arrivent très bientôt !)

Notre budget pour les couts d'impression s'élèvent donc à €40.30. Même si les réfugiés afghans ont insisté qu'ils voulaient qu'apprendre le français et n'avais besoin de rien à part des cours en français, nous avons décidé de leur acheter des chaussettes, des sous-vêtements et des gants, des besoins matériaux dont ils avaient besoin mais auxquels ils n'avaient pas accès. Notre budget total pour les accessoires d'hiver s'élève à €264.75.

Pendant les deux dernières semaines nous avons également dépensé €95.50 sur des chaussures pour les réfugiés qui marchaient toujours en chaussettes et tongs par ce temps froid.

Tout cela n'aurait jamais été possible sans vous et votre générosité. Nous espérons que les histoires que nous partageons vous plaisent, vous intéressent, et vous donnent une idée du travail qu'on effectue sur le terrain quotidiennement. Si vous avez des questions ou si vous avez besoin d'éclaircissement n'hésitez pas à nous contacter via notre adresse mail : refugeehelp@sciencespo.fr.

Nous comptons sur votre soutien et surtout partagez notre histoire à vos familles, à vos proches et à vos amis. L'hiver arrive à grands pas : il est donc important, plus que jamais, de ne pas lâcher la pression. Chaque don est précieux !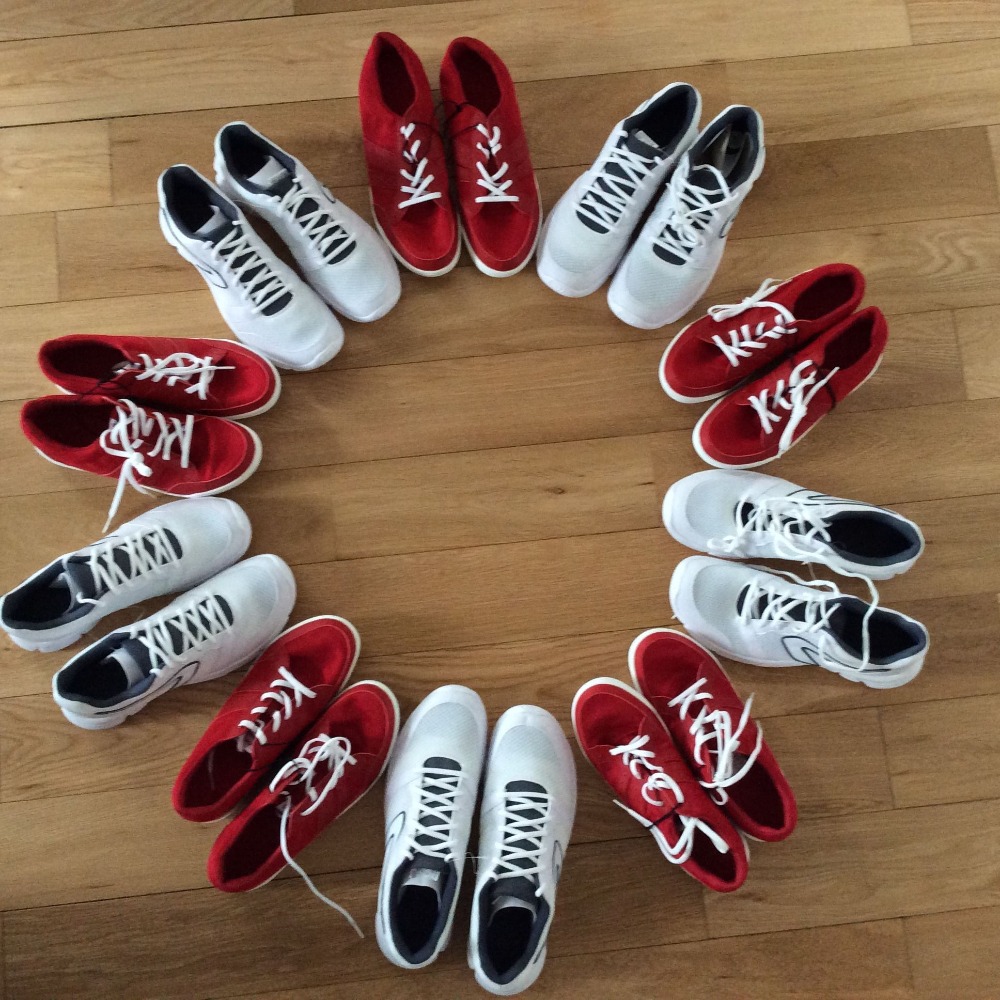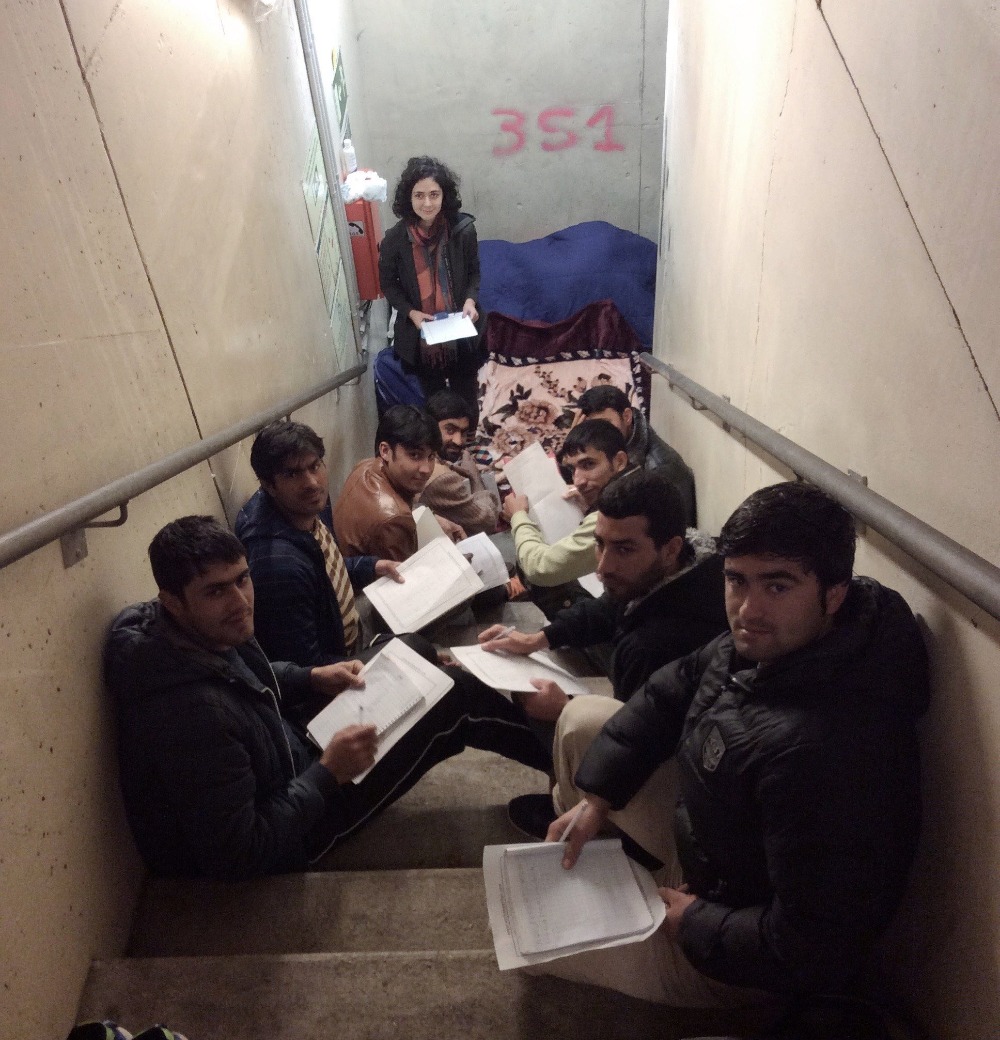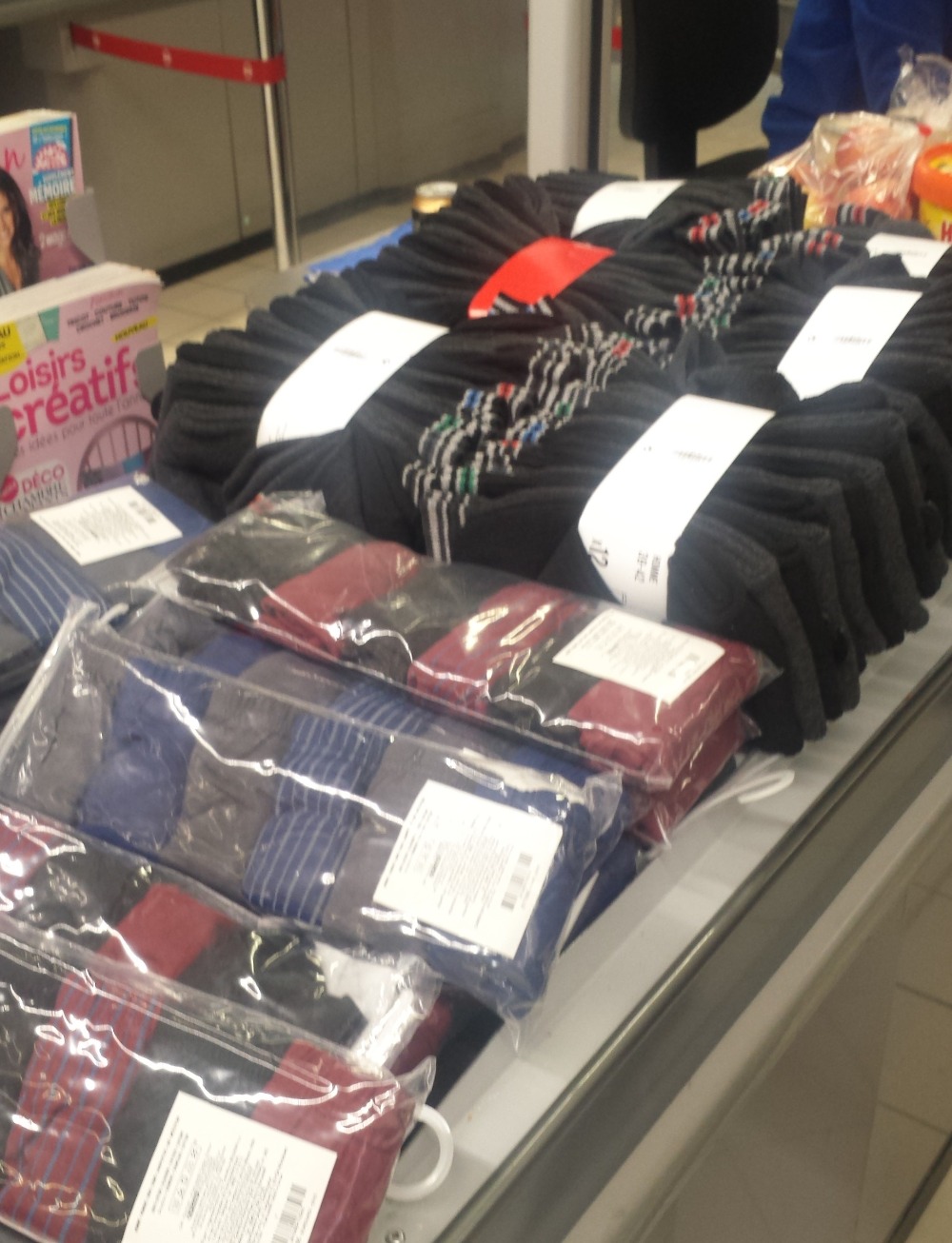 + Read More
Read a Previous Update