191
4
Rallying for Ryder!
$27,701
of $60,000 goal
Raised by
192
people in 1 month
Meet Ryder Hall! Ryder was born along with his twin brother (Colton) on Monday, May 6th. Much to the Hall Family's surprise - Ryder, unlike his twin brother, was born with a number of health complications that were not identified on any of the ultrasounds or prenatal tests.
Ryder's Medical Story
First, Ryder was born with facial paralysis on the right side. He can open and close his eyes, but the right side of his mouth is stuck in place. MRIs revealed the nerve controlling facial function on the right side is not visible. As he grows he'll likely need some reconstructive surgery in order to provide better functionality. However, the greater issue with this is that he has a much tougher time sucking and swallowing milk than a normal baby. Doctors and speech pathologists are helping to teach him how to breastfeed and drink from a bottle. They're limiting him to 10 Ml (about ⅓ of an ounce) fed by bottle to mitigate the chances of aspiration and the rest of his milk is given to him through a feeding tube.
Second, Ryder was born with intestines that didn't connect out to the end. Doctors have found a temporary solution to help him poop, but because the intestine ends about an inch before it should Ryder will need surgery in June to fix the problem for good.
Lastly, Ryder was born with an ear condition called Microtia where his right outer ear never fully formed. Ryder failed his hearing tests so some time in the near future he'll be fitted with hearing aids that will be critical for his development. Cochlear implants are more expensive than hearing aids and require life-long maintenance.
Meet the Hall Family!
I started this fund as a family friend to help support the Hall Family in their time of need. This family is one of the most loving and kind hearted families I have had the pleasure of working with professionally and getting to know personally for over a decade. They are always willing to help others, they are active in their church, and have always dedicated their own time to worthy causes including a mission trip to Uganda. The Hall family would never want to burden anyone with an ask which is why when Ryder's surprise health complications arose I knew we had to provide a platform for people to help this WONDERFUL family! The Hall parents have been spending nights in the hospital with the twin boys as their other two older kids (Everly and Jaxson) are being cared for at home by family members. I can't imagine the burden they feel every day as they try to navigate the health of Ryder while also worrying about his infant twin brother and their two older kids. We are raising this fund to specifically pay for Ryder's hearing implants and other medical costs including his surgery in June.
Your donation will help cover the following expenses and I know this family will be so grateful for the outpouring of love and support for them! If you can't provide a monetary donation please pray for Ryder on his road to recovery! Thank you so much!!!The Estimated Costs
Insurance companies typically cover some of the cost of a cochlear implant. The average costs
with
insurance:
$1,600 for the device
$100 for external pieces including a transmitter
$9,000 for a speech processor
$1,710 for three pre-surgery office visits
$1,985 for after surgery reprogramming which is necessary at least five times in the first year
Total Out of Pocket Cost Estimate = $14,395 (with insurance)
The implant then usually has to be replaced every 3-5 years which means Ryder will likely need 3-4 implants by the time he is 18 years old for a
total cost of $57,580 in anticipated out of pocket hearing expenses by the time he is going off to college
.
The need is great when you also consider the unknown cost of the physical therapy he will need for his partial facial paralysis, feeding tube expenses and surgeries to address his intestine. Any amount you can donate is appreciated and I know the family will be overwhelmed by your support!
Hugs to All and let's Rally for Ryder!!!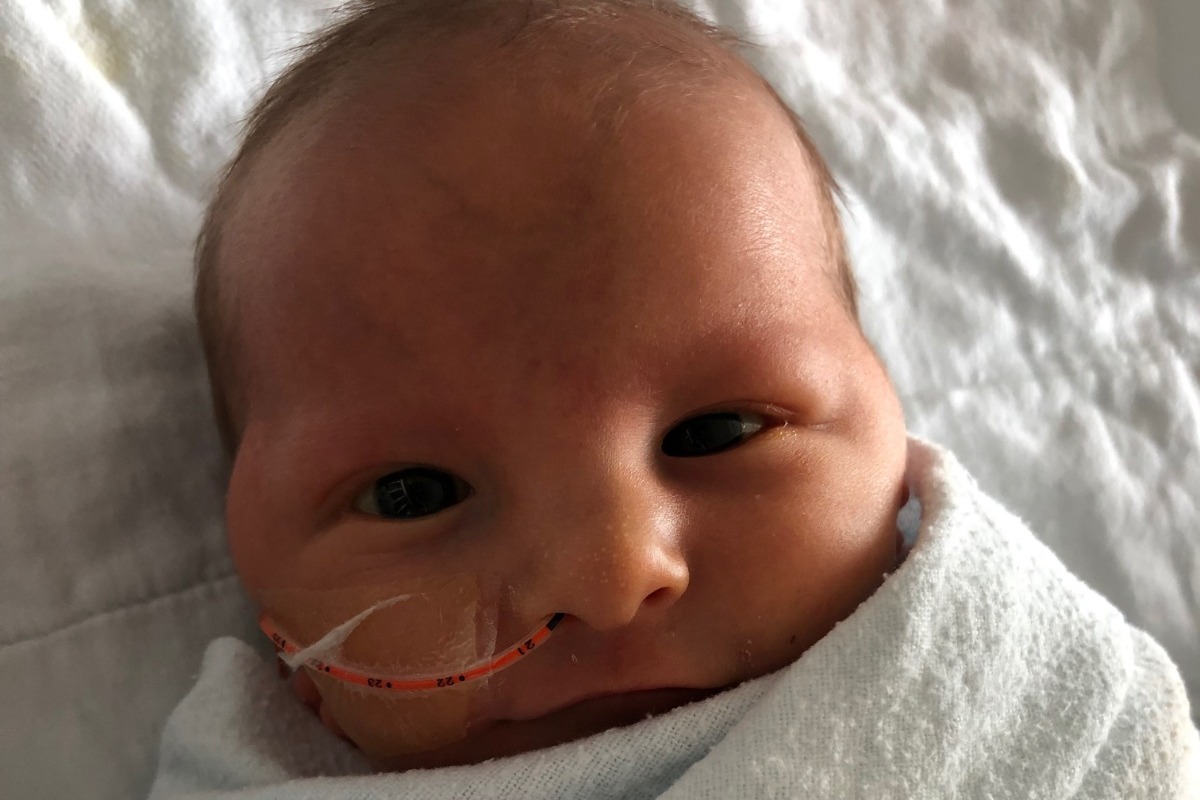 + Read More
Update 1
24 days ago
Share
Thank you so much for all the generosity, well wishes and support! Scott and Lauren (Ryder's dad and mom) wanted to share an update about Ryder... Please pray for this amazing family as they navigate the coming doctor visits and please continue to share their story on your social media and networks. Much Love! XXO

A Message From Ryder's Parents:
We were able to bring Ryder home on Friday the 17th after just under 2 weeks spent at Lurie in the NICU. The older kids are already infatuated with their brothers and have helped to give them lots of extra love after two long weeks.

It took a lot of education on our part in order to get Ryder home. We had to learn how to measure, insert and place his NG (nasogastric) tube, run his feeding pump and how to dilate his rectum (the only way he can poop) before we could take him home. He is currently getting fed every 3 hours via the feeding pump and then 3 times a day he is getting a bottle to practice his suck, swallow and breathe skills. We've slowly been upping his intake on the bottle and he is now up to 15ML or 3 teaspoons. It may not seem like much but we are happy with the slow steady upward progress. We have a plan in place with the doctor's at Lurie and Ryder's pediatrician to slowly up him to 20ML over the next week or so and also up his overall milk intake at each feeding so we can push him out to 4 hours apart for each feed (hoping to get some more sleep at night). Ryder's medical team has been amazing, and we feel so fortunate that we've been able to get him the multifaceted care he has and will continue to be receiving.

Ryder was 6 lbs 13 oz this week when he had his first visit to the pediatrician and he is now officially over his birth weight! Ryder will go back to the pediatrician mid next week in order to ensure he has continued to gain weight.

On Friday May, 24th Ryder will have the first of two pre-op appointments with the surgeon that is going to be performing surgery on his bottom. He'll have another appointment two weeks after and surgery is scheduled for Monday, June 24th assuming no setbacks and that all vitals stay normal!

On Friday, May 31st he has an appointment with the ENT specialist and Audiologist to talk about options with his hearing and to gain more information on what his needs will be in the short and long term. Through more testing we learned that Ryder has the ability to hear, but something is blocking the passage of sound from his middle ear to the inner ear that we need more insight into.

The following Monday, June 3rd he has an appointment with a plastic surgeon to start pulling together his plan for any reconstructive needs. The plastic surgeon we are meeting with is an international expert in Microtia ear reconstructive surgery among other special interests. We're hoping to learn more about the timeline for these surgeries as some of them will likely need to wait 5-10 years, but it will help us to build Ryder's plan!

We've been blown away by the support everyone has been providing for Ryder. No words can express how everyone has lifted us up over the last week through the kindness and generosity they have shown for us and for our little boy. We are so incredibly grateful!

Lots of love,
Lauren & Scott
+ Read More