Volunteering in Ghana
€1,775
of €2,500 goal
Raised by
43
people in 6 months
Ich gehe weltwärts! 

ich bin Stefanie Ritzrow und habe gerade mein Abitur beendet.
Ab September 2018 werde ich nun am entwicklungspolitischen Freiwilligendienst des BMZ (Bundesministerium für wirtschaftliche Zusammenarbeit und Entwicklung) teilnehmen und  9  Monate in Ghana verbringen .
Meine Motivation einen Freiwilligendienst im Ausland zu machen, ist es außerdem an den neuen Herausforderungen zu wachsen und Brücken zu bauen zwischen Kulturen, die sich sonst nur über Umwege kennenlernen. Ich bin der Auffassung, dass jeder noch so kleine Schritt in die richtige Richtung ein Schritt für die Zukunft ist, und man vorallem in den Köpfen der Menschen einen Perspektivwechsel erreichen muss. Deswegen möchte ich für mich lernen, mich tiefgehend auf Fremdes einzulassen, meine Selbstständigkeit und Sprache fördern, sowie meine interkulturellen Fähigkeiten stärken, um letztendlich auch wieder zurück in Deutschland, etwas beitragen und verändern zu können.
Bezev - meine Entsendeorganisation in Deutschland
"Behinderung und Entwicklungszusammenarbeit e.V." ist ein Verein, der sich für die gesellschaftliche Integration beeinträchtigter Menschen, sowohl auf nationaler als auch auf internationaler Ebene einsetzt. So betreibt bezev zum Beispiel politische Lobbyarbeit für die Rechte Beeinträchtigter aber auch verschiedene Arten von Aufklärungsarbeit in Bildungseinrichtungen. Zudem entsendet bezev jährlich ca. 20 Freiwillige - mit und ohne Beeinträchtigung - für einen Auslandsfreiwilligendienst mit dem Schwerpunkt Inklusion. Womit mir eine großartige Chance geboten wird! Denn aufgrund meiner eigenen körperlichen Beeinträchtigung (Glasknochenkrankheit) und der damit verbundenen Angewiesenheit auf meinen Rollstuhl, war es für mich zu Beginn nicht leicht eine Organisation für einen Auslandsfreiwilligendienst zu finden. Ich habe ich mich aber bereits beim Auswahlgespräch schon sehr gut aufgehoben gefühlt.
"Supporting people with disability to support themselves!"
Der Großteil der Menschen mit Behinderung lebt in Ländern des globalen Südens ("Entwicklungsländern"), da Armut und Behinderung leider sehr eng miteinander verknüpft sind. 
Ich werde also bei unserer Partnerorganisation "
VOICE GHANA
" - einer Selbstvertretungsorganisation für Menschen mit Behinderungen -  Inklusionsarbeit leisten.
Dieses Thema liegt mir aufgrund meiner eigenen Behinderung natürlich auch persönlich am Herzen, da es mir hier in Deutschland mit meiner Erkrankung vergleichsweise richtig gut geht. Und generell werden Menschen mit Beeinträchtigungen nur äußerst selten in Programme der Entwicklungshilfe miteinbezogen - so bleiben sie also wieder ständig außen vor.
Umso schöner ist es, dass ich jetzt einen Beitrag zur Verbesserung der Lebensbedingungen von Betroffenen und deren Familien beitragen kann. Ich werde in einer lokalen Grundschule arbeiten und dort die Inklusion von Kindern mit Behinderungen aktiv fördern, aber auch Aufgaben im Büro von Voice Ghana erledigen und viel Organisatorisches abarbeiten. Hin und wieder werde ich gemeinsam mit meiner Mitfreiwilligen auch in der Feldarbeit dabei sein und Vorträge halten, Umfragen machen, an Konferenzen teilnehmen und aber auch über HIV und andere gesundheitliche Aspekte aufklären.  Insbesondere im ländlichen Bereich in den Dörfern.
Damit ist es möglich hoffentlich bald für viele Meilensteine in der Inklusion Ghana´s zu sorgen. Es geht hierbei vorallem um Verständnis und Toleranz der Gesellschaft, Integration in den Arbeitsmarkt, Gesundheits- und Hilfmittelversorgung und vieles mehr was eine glückliche Teilhabe der Betroffenen am Leben möglich macht.
Organisationen wie Voice Ghana schenken vielen Menschen Hoffnung und Zuversicht, räumen Barrieren und bieten wahre Chancen! 
Das "weltwärts"- Programm wird vom BMZ gefördert und die Kosten werden zu 75% übernommen
(somit steht weltwärts als Alleinstellungsmerkmal unter vielen anderen Auslandsdiensten, auch jungen Menschen aus finanziell schwächeren Kreisen zur Verfügung!)
Jedoch liegt es an uns Freiwilligen selbst, die restlichen 25% mit Hilfe eines Förderkreises beizutragen.
Dies beträgt etwas mehr als
2.500€
. 
Neben den Reisekosten, sowie Unterkunft, Verpflegung, Mehrbedarfsdeckungen und Versicherungen werden wir Freiwilligen zudem in zwei Seminaren vor; einem während; und in einem nach dem Auslandsjahr intensiv und vorallem nachhaltig vorbereitet. Außerdem können wir im Einsatzland für unsere eigenen Projekte Gelder beantragen, sobald unser Eigenanteil gedeckt wurde und im besten Fall sogar mehr Geld vorhanden ist. 
Ohne die Deckung des Eigenanteils wird das Programm nicht dauerhaft bestehen und kleine Organisationen wie bezev nicht langfristig Freiwillige entsenden können!
Es lohnt sich wirklich Projekte und Programme dieser Art zu unterstützen! Sie bringen uns weiter und wir alle werden etwas davon haben.
Da leider auch dazu noch viele Nebenkosten wie zum Beispiel Impfungen, Tropenkleidung und Malariaprophylaxe auf uns zukommen, welche von den Kassen nur selten übernommen werden, würde ich mich sehr freuen, wenn der ein oder andere Lust hat mich auch hierbei zu unterstützen. :)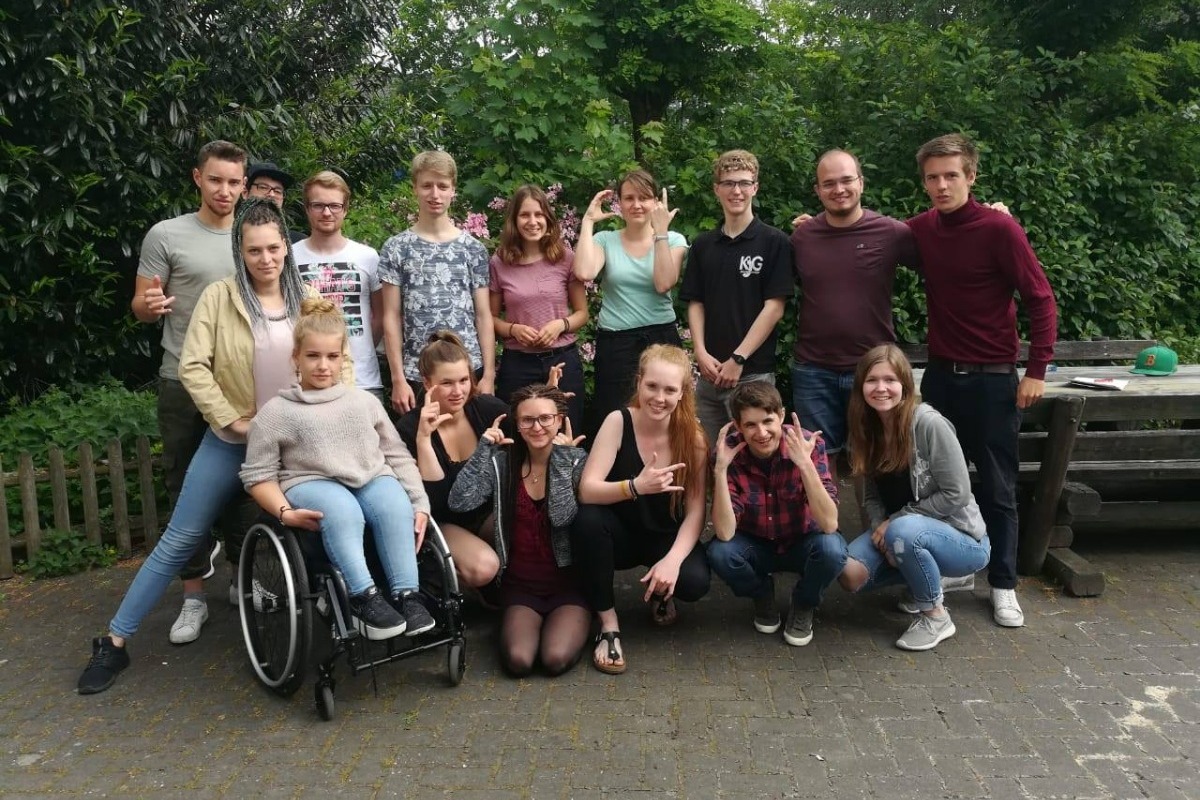 Gerne kann man mich auf meinem Blog verfolgen:
ritzroads.wordpress.com
Grüße gehen raus,
Stefanie
I am going abroad!
I´m Stefanie Ritzrow and have just finished my high school diploma. From September 2018 I will be participating in the BMZ (Federal Ministry for Economic Cooperation and Development) volunteer service for development policy and will spend 9 months in Ghana. My motivation to do a volunteer service abroad is also to grow and build bridges between cultures that otherwise only get to know each other through detours. I am of the opinion that every step, however small, in the right direction is a step for the future, and that a change of perspective must be achieved, especiallyin people's minds. Therefore I would like to learn for myself to get deeply involved with foreign things, to promote my independence and language, as well as to strengthen my intercultural abilities, in order to be able to contribute and change something in the end also back in Germany.
Bezev - my sending organisation in Germany
"Behinderung und Entwicklungszusammenarbeit e. V."
is an association, which works for the social integration of handicapped people in development, both on national and on international level. Bezev, for example, lobbies politically for the rights of people with disabilities, but also carries out various types of educational work in educational institutions. In addition, bezev annually sends about 20 volunteers - with and without disabilities- for a voluntary service abroad with a focus on inclusion. This gives me a great opportunity! Because of my own physical impairment (Brittle Bone Disease) and the associated dependence on my wheelchair, it was not easy for me to find an organization for a volunteerservice abroad at the beginning. However, I already felt very well taken care of during the selection interview.
"Supporting people with disabilityto support themselves!"; 
The majority of people with disabilitieslive in countries of the global South ("developing countries";), as poverty and disability are unfortunately very closely linked. So I will be doing inclusion work for
our partnerorganisation "VOICE GHANA"
; - a self-representative organisation for people with disabilities. This topic is of course also quiet close to myself because of my own disability, as I am doing comparatively well with my illness here in Germany. And in general, people with disabilities are rarely involved in development aid programmes, so they are constantly left out. Therefore it is all the more wonderful that I can now contribute to improving the living conditions of those affected and their families. I will work in a local primaryschool and actively promote the inclusion of children with mental disabilities, but I will also work in the office of Voice Ghana and do a lot of organizational work. From time to time, together with my fellow volunteers, we will also take part in fieldwork and give lectures, take part in conferences and surveys, and also inform about HIV and other health aspects. This will hopefully make it possible to achieve many milestones in the inclusion ofGhana´s soon. Organisations like Voice Ghana give hope and confidence to many people, remove barriers and offer real opportunities!
The "weltwärts"; programme is sponsored by the BMZ and 75% of the costs are covered (so weltwärts is available to young people from financially weaker backgrounds as an unique selling point among many other foreign services). However, it is up to us volunteers to contribute the remaining 25% with the help of a support group, which amounts to slightly more than €2,500.
In addition to travel expenses, accommodation, meals, additional needs and insurance, me as a volunteer get also prepared  intensively during 4 seminars: two beforehand, one during my time abroad and one after that period. All in all , this provides a well supervising program for us to be aware and do sustainbly.
In addition, we can apply for funds for our own projectsin the country of assignment as soon as our own contribution has been covered.. Without the coverage of the own contribution the program will not exist permanently and small organizations like bezev will not be able to send volunteers in the long run! It is really worth while to support projects and programs of this kind!
They will help us to get ahead and we will all benefit from it. Unfortunately we also have to face many additional costs such as vaccinations, tropical clothing and malaria prophylaxis, which are seldom covered by the health insurance funds, so I would be very happy if one or the other of you would also like to support me in this.
To be continued:
ritzroads.wordpress.com
+ Read More