Financial Aid Thulo Syabru, Rasuwa
$46,670
of $50k goal
Raised by
351
people in 23 months
Summary:
7 trekkers who took refuge for 5 days in a popular village within the Langtang National Park, Nepal, are fundraising money to donate directly to the villagers to help them reconstruct their village, which was completly destroyed by the earthquake on April 25th, 2015.

Our story
When the earthquake struck around noon, some of us were in tea houses in Thulo Syabru, whereas others were hiking in the surrounding area.
It took us several seconds to realize that the rumbling was neither wind nor a thunderstorm, but grew stronger and stronger, shaking all the buildings. Being thrown left and right against chairs and tables, we stumbled out of the already collapsing house, walls crashing down around us.

Luckily, everyone made it out of the two teahouses unhurt. For the next few hours we waited outside together with the local family, jumping up at any sign of small tremors or large aftershocks, even fearing the ridge we were standing on might start to slide down the mountainside.

When the biggest tremors were over and the time between aftershocks grew longer, trekkers from all directions  started to gather in Thulo Syabru, a relatively large village.

More than 25 trekkers  took refuge  in the popular trekking village of Thulo Syabru in the Langtang National Park , Nepal. While awaiting rescue, local families openheartedly provided us shelter (refugee tents) and food until we were able to leave the region.

Thulo Syabru was devastated by the earthquake. Virtually all structures in this relatively large village of approximately 100-150 houses, were either completely destroyed or structurally compromised, forcing the residents to completely start over.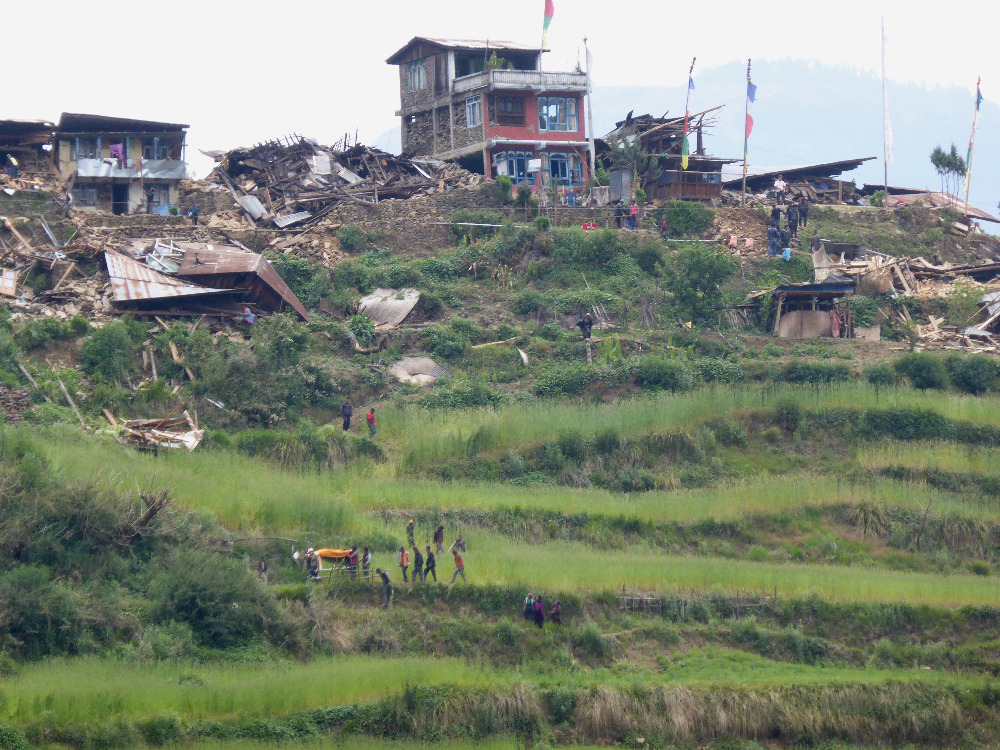 Until the buildings are repaired or rebuilt, the villagers will have to live in these simple tents out on their terrace fields. With monsoon season around the corner, it is imperative that they begin to work towards a more sustainable solution.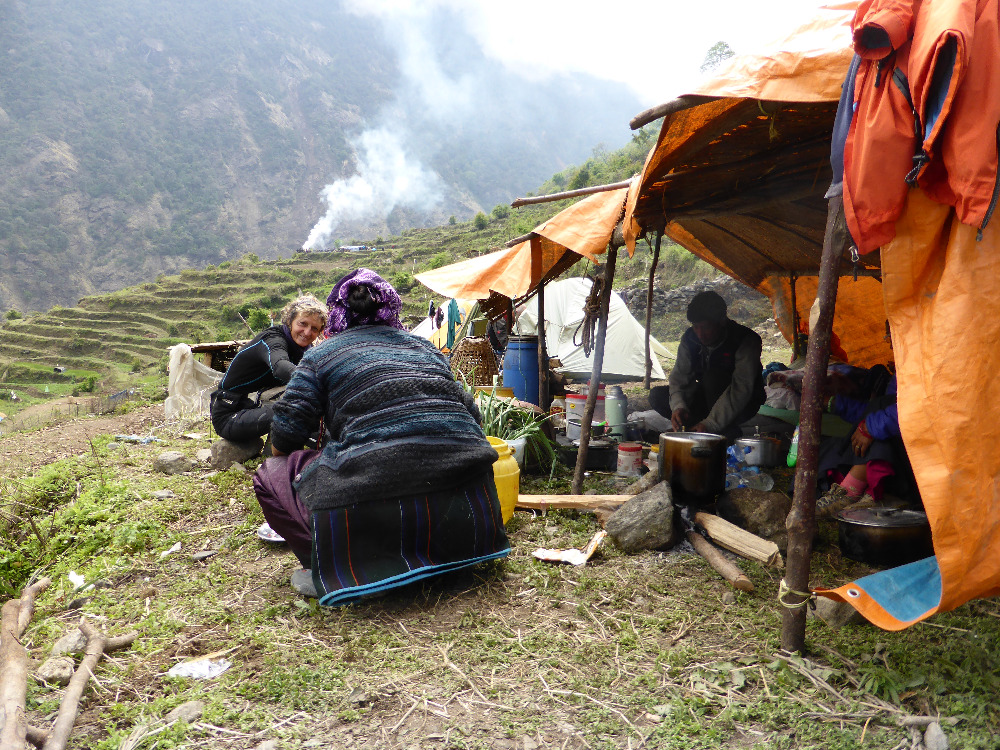 Although many organizations have been providing timely emergency relief to those living in close proximity to the Kathmandu valley, rural areas , many of which were hit the hardest, have not received sufficient aid.


Moreover, even after emergency crews arrive to deliver supplies and basic necessities, a longer term strategy will need to be considered, given that their homes, businesses, and livelihoods have been destroyed. Tourism, of which many depend on for their earnings, will not be returning for awhile. Important decisions will have to be made regarding the future of the community.

This campaign, led by 7 trekkers (see names and nationalities below), is designed to provide one time financial assistance directly to the villagers, providing them the means to substantially improve their lives as they see fit. It is our hope that when deciding on their future, this money will provide them more options, many of which wouldn't otherwise be there.


Who will get the money?
While waiting to be rescued by helicopter, we held multiple meetings with villagers discussing how best we could support them after we return home.  The overwhelming majority agreed that direct financial assistance would be the preferable solution.

To ensure the plan would be effective, fair, and transparent, we had them create a diverse 5 member committee comprised of previously existing leaders from the village, who are given the task of overseeing the money for projects and/or investments.

Further, we had the 5 member committee choose 1 resident (Karma Renjen Lama), who will act as a trusted liaison between us (organizers) and them (villagers), working on the logistics of transferring money from Canada to the village leaders.

What will the money go to?
This will be decided by the 5 member committee following extensive discussions with their community. In principle, we have no objections regarding how the money is spent, granted the decisions are made fairly and democratically. 

To hold the committee accountable, we have taken the contact information from as many locals as possible to ensure that virtually everyone is aware of the campaign, how much money has been collected, and the status of the funds.

We are confident that the measures we have taken reasonably address concerns regarding accountability.

Notes:

1) Given that we have decided to donate directly to the villagers as opposed to a registered charitable organization, tax receipts will NOT be available.

2) To assist with relief efforts in Nepal, GoFundMe  will be donating its 5% donation fee to AmeriCares . There is still a 2.9% processing fee.
To avoid or minimize transaction fees, there are a few options for Canadians.
a) Offline cash donations - Give money to one of the organizers and they can then directly deposit it to the campaign account and manually add your donation to the website.
b) Email transfer (e-transfer) - For $1.50 you can send money through your online banking platform directly to  sam.caldbick@gmail.com. To do so, you must have this set up or register for this option with any Canadian bank.

c) Direct bank to bank transfer - If you bank with TD, you can go to the bank and have them transfer the money directly to the campaign account.  If you bank with a different Canadian institution, bring cash to a TD branch and have them deposit it to the campaign account. For both options, you must request the campaign bank account from Sam Caldbick.
3) Many people have asked what can be purchased with $50,000. To give you some context, specifically for the village we are fundraising for, here is an approximation of costs in Canadian dollars:
 Simple village house = $6,000
 Guest House (tourism business) = $20,000
 School = $30-40,000 (apparently it only needs repair  ($8,000)
 Farming tools (per family) = $121
 Rice (50kg bag) = $42
4)Updates regarding the collection and distribution of donated funds will be posted on the website periodically.

This campaign is led by the following trekkers, who, while waiting to be rescued, were greatly assisted by the villagers:

Canada: Sam Caldbick, Cody Walter, Dana Engler, Shaun Engler

Germany: Benjamin Fürst, Christina Fürst, Sandra Schröter





+ Read More
Update 2
Posted by Sam Caldbick
21 months ago
Share
Donations end this Wednesday!

While we are in the process of transferring money to the committee, we will leave the campaign website open for donations until this Wednesday at midnight. After that, the site will remain open for updates only.

We have successfully completed 'test' transactions from both Canada and Germany and it is our hope to have all the money transferred to the committee by the end of this week.

Once the transactions and distribution of funds are completed, all those who have donated to the campaign will have access to our accounting and proof of distribution documents. More concluding information regarding the breakdown of the funds and the village will be found on this website..

Thank you again and stay tuned.
+ Read More
Update 1
Posted by Sam Caldbick
22 months ago
Share
The campaign has been running for just over a month, having already raised over $40,000 Canadian dollars. Thank you to all donors for generously supporting the village of Thulo Syabru (TS).

Although very little assistance had initially reached TS following the earthquake, over time some small NGOs, grassroots organizations, the Nepalese Government, and individuals have generously donated food, tents, medical supplies, battery chargers, temporary latrines, and other necessities.

Because all villagers' homes were destroyed by the earthquake, they are still living in tents, only now they have divided into smaller family size groups. They are still in the process of retrieving things from their homes, parsing through the rubble to see what all can be salvaged. Many are also back to farming the fields. Monsoon rains will be arriving any day now and it is unlikely that any significant construction will be initiated until the fall. As of late, constructing temporary latrines and monitoring the water supply has been an important activity. Recently many villagers were reporting gastric related ailments, perhaps as a result of cross contamination.

A meeting was held June 2nd by the 5 committee members to discuss their plans for using the donated money. The committee agreed through consensus (see pictures) to allocate some money towards public projects (specifics still to be confirmed) and the remaining majority of the funds to be distributed equally to the residents of TS.

The next steps for both the fundraising organizers and the committee members are:

1) To complete the village census through unanimous agreement to ensure all households will receive their share of the funds.

2) To decide specifically which community projects will receive funds and to provide the fundraising organizers an agreed upon cost estimate.

3) To finalize the process of transferring money from Canada/Germany to Kathmandu and then to TS. We will soon decide on this process based on a reasonable balance between 2 factors: 1) cost effectiveness 2) security and responsibility. The money will be transferred in many small allotments as opposed to one large sum. Considering we have been emphasizing transparency as a key goal to the success of our campaign, we will be making transaction/banking documents available to both the people of TS and the donor community.

Thank you again for supporting the village of Thulo Syafru. Stay tuned for more updates and let us know if you have any questions.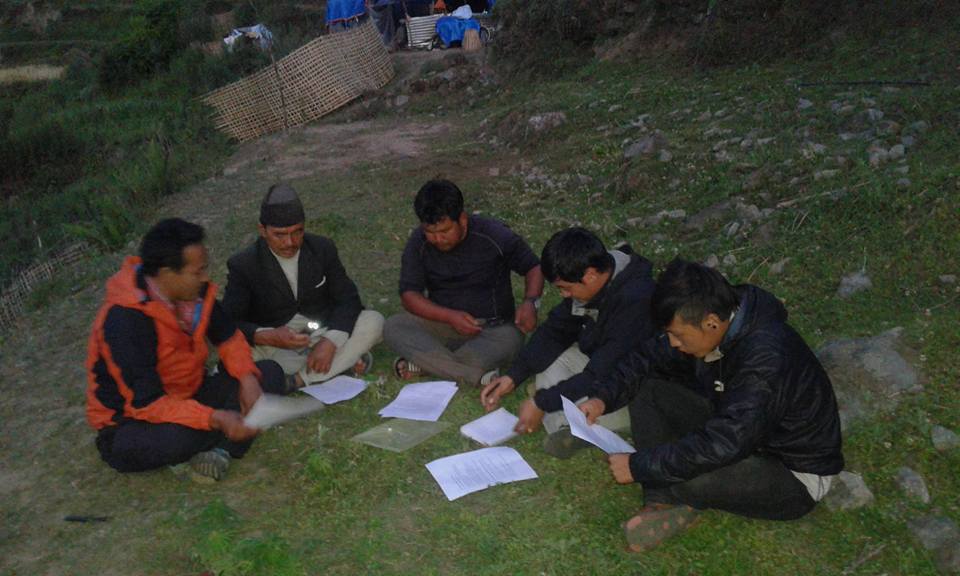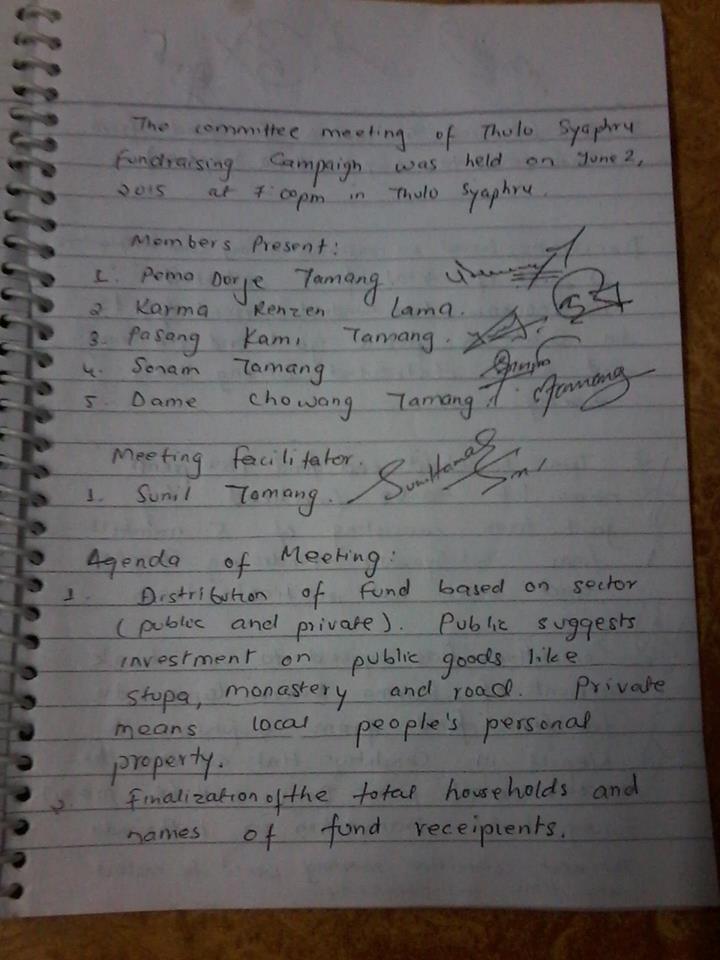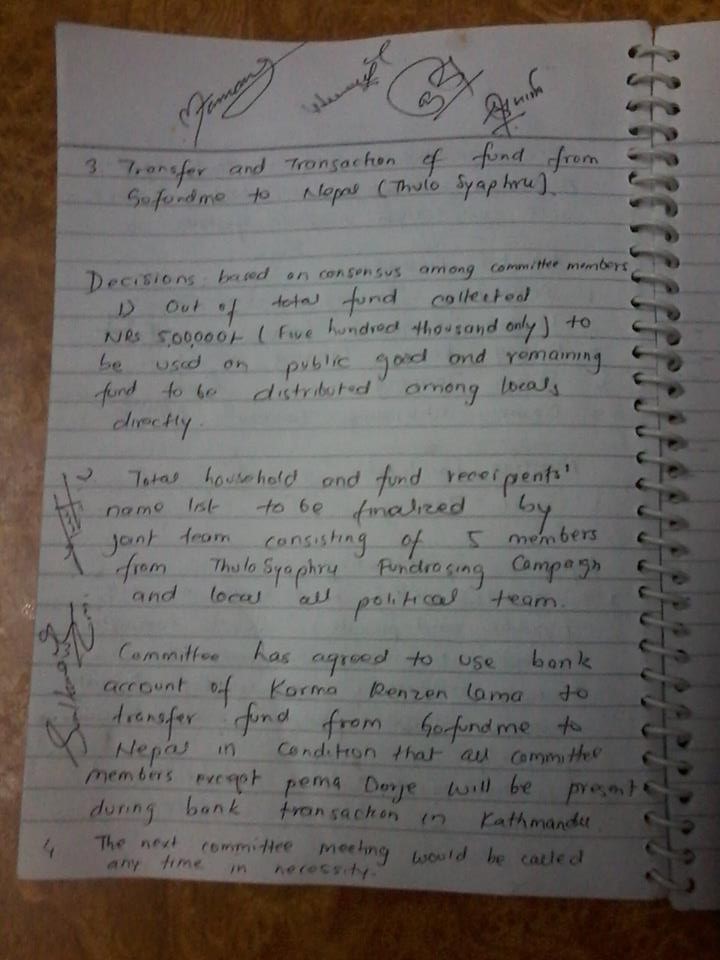 + Read More
Read a Previous Update