Stand up against RestrainTheJudges
$8,740
of $10k goal
Raised by
267
people in 24 months
On May 5th 2015 Ferman was driving on Telegraph Rd. in Dearborn Heights, MI when I had caught a glimpse of the billboard claiming that "Homosexuality is a behavior" and (is) "Not a civil right". The billboard rotates between different ethnicities claiming that the people in the LGBT community are different from others because of their sexual orientation.
WDIV Click on Detroit interview! 5/7/15'
http://www.clickondetroit.com/news/antigay-billboards-cause-controversy/32874608
WXYZ Action news live interview! 5/11/15'
https://www.youtube.com/watch?v=DRDQWorORv4&feature=youtu.be
The group advertising on the billboard is:
http://restrainthejudges.com/
and they seek to raise money solely to convey a message to the Supreme Court that equality and gay marriage won't be tolerated by their supporters. They also claim to represent that their mission is to"...restrain federal judges and the Supreme Court from undermining marriage any further!"
The picture that had been taken was uploaded to Facebook where it quickly went viral and is currently being shared all across the United States. Creating conversation on whether or not this really is acceptable.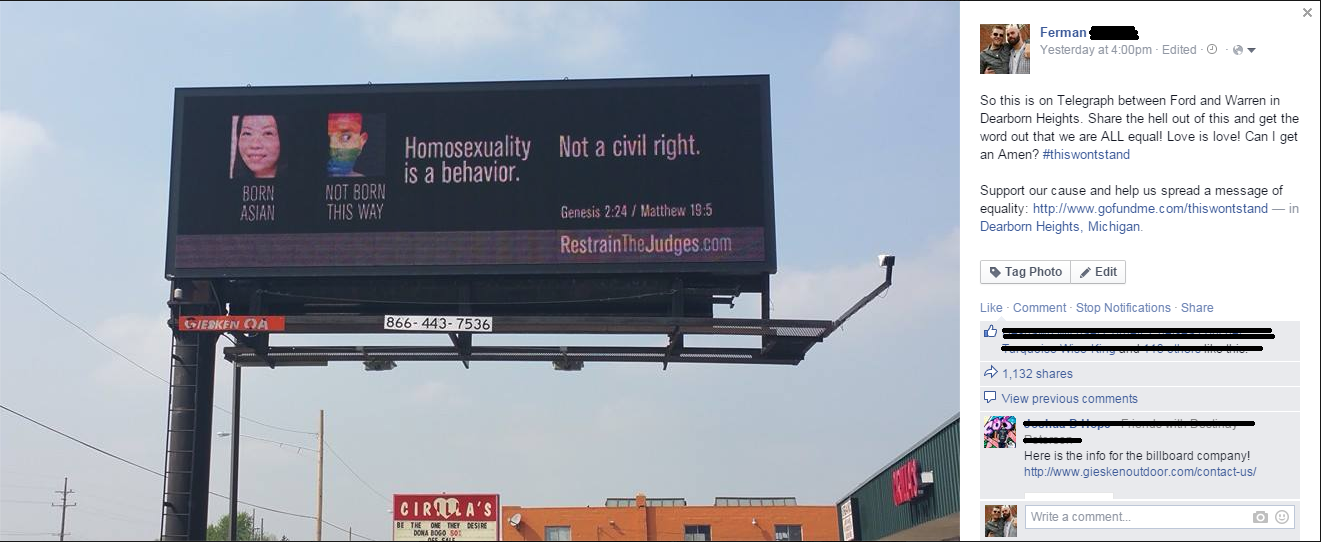 We are ALL entitled to free speech which is one of the founding values this country was created on.
We propose to purchase space on the billboards that this group have decided to advertise on in the Metro Detroit area. The purpose of the billboards will be to show everyone that we are all equal and are not separable due to our ethnicity or sexual orientation, but that we are all human and seek equal treatment for everyone in our land.
The money you raise will be put toward purchasing advertising space on the billboards and if there is any remaining money it will be donated to local organizations defending equality.
Please let us know if you have any questions and more details will follow as we receive more information!
Love is love, we're all humans and we all deserve to be treated equally. #thiswontstand
Newspaper Articles:
Press & Guide 5/8/2015:
http://www.pressandguide.com/articles/2015/05/08/news/doc554ccceb768fb651807248.txt
Pride Source 5/8/2015:
http://www.pridesource.com/article.html?article=71396
Salon 5/8/2015:
http://www.salon.com/2015/05/08/being_gay_is_not_a_behavior_just_how_offensive_can_these_anti_lgbt_billboards_get/
Huffington Post 5/8/2015:
http://www.huffingtonpost.com/brian-stone/freedom-to-discriminate-m_b_7244212.html
Raw Story 5/8/2015:
http://www.rawstory.com/2015/05/conservatives-insist-billboards-against-same-sex-marriage-have-nothing-to-do-with-the-gay-community/
WWMT 5/9/2015:
http://www.wwmt.com/news/features/top-stories/stories/Billboard-raises-controversy-in-lead-up-to-Supreme-Court-decision-on-same-sex-marriage-128895.shtml#.VVJG5vl4qUk
The Oakland Press 5/9/2015:
http://www.theoaklandpress.com/general-news/20150508/uber-driver-raises-money-for-new-billboard-after-attack-on-gay-marriage
Winipeg Sun 5/9/2015:
http://www.winnipegsun.com/2015/05/09/gay-marriage-billboards-turning-heads-in-us
Gayapolis 5/9/2015:
http://www.gayapolis.com/news/artdisplay-issues.php?artid=34553
TakePart 5/9/2015:
http://www.takepart.com/article/2015/05/09/anti-gay-billboards-michigan
Dailymail 5/9/2015:
http://www.dailymail.co.uk/news/article-3075254/Anti-gay-marriage-billboard-striking-nerve-Michigan.html
Kent County Star 5/10/2015:
http://kentcountystar.com/blog/2015/05/10/counter-billboard-campaign-launched-in-response-to-anti-gay-rights-billboards/
San Diego Gay & Lesbian News 5/11/2015:
http://www.sdgln.com/news/2015/05/11/michigan-wants-respond-anti-gay-billboard-your-help#sthash.sKCSgf2m.dpbs
Pink News 5/12/2015:
https://www.pinknews.co.uk/2015/05/12/locals-fight-back-at-not-born-this-way-billboard/
+ Read More