32
7
Sonoma County "Nuns" Fire Survivors
$3,429
of $10,000 goal
Raised by
32
people in 17 months
Hello,
We're raising funds for those in Kenwood who lost their homes and are displaced by the Tubbs Fire in Sonoma County. We'll be bringing up supplies and using a portion of the funds to pay for a generator and other tools required for sifting through the rubble. We know of 10+ families in our community who have lost it all too. We need generators, gas cans, gas, extension cords, tools, BBQs, propane tanks, clothing, shoes, boots, tents, cots, blankets, coffee makers, food, water, etc. There's a full list of goods needed below.
We are also considering donating a portion of the funds to the beautiful State Parks in the area that have been destroyed by the fires.
Here's our personal story:
On Monday, October 9, we lost our family home in Kenwood, CA to the Nuns Fire, which has devasted much of the town and surrounding county. The photo above is our beautiful home going to heaven. R.I.P. house.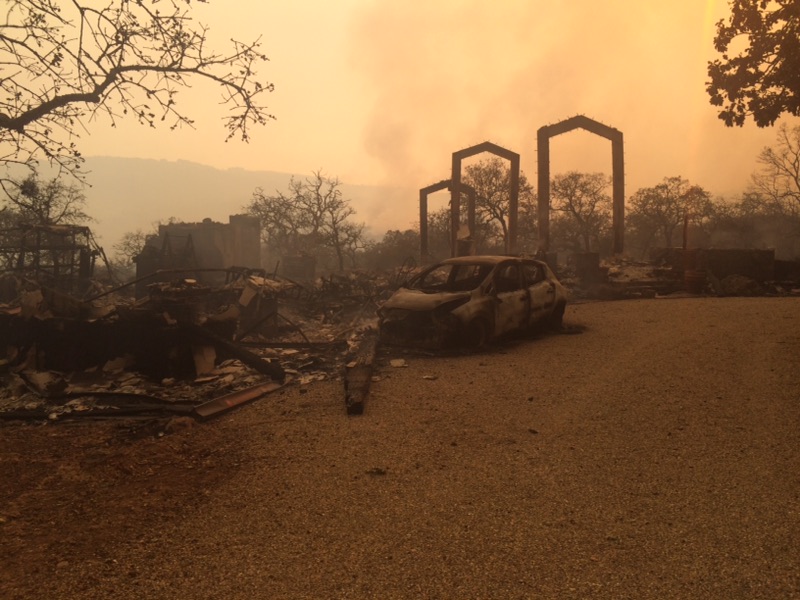 Around midnight, we got a phone call from the neighbor to evacuate their home in Kenwood, CA. Devin saw a Facebook post regarding the fire at 12:14am and called the house line immediately. No answer. Called again. No answer. Called Gary's cell. No answer. Called Steph's cell and finally got an answer. They were already out of bed and on the road with the pets driving away from the flames that could be seen everywhere. As we write this message, we're just thankful and full of gratitude we got out with the shirts on our back and our pets. A special thanks to our neighbors Joan, Peter and Toni who alerted my parents.
Later that day, we learned that our house burned down to the ground sometime after the escape. An old family friend, Dennis, from Gary's college years and our neighbor, managed to get up there and snap the pictures seen above. He sent them around 1pm. It's surreal to think this happened so fast .
From the images, it looks like there's nothing left except three support beams and Gary's tractor (not pictured). It's hard to imagine that all our pictures, family heirlooms, prized possessions and most of our childhood belongings are all gone. Most importantly though, we are together and will start rebuilding soon. Everything can be replaced, but people cannot.  Our family is strong and we will only grow stronger.

Sadly, we won't be able to return to our home for the holidays and reminisce on simpler times.  What will we do? Where will we be celebrating? So many unknowns in life, but this is a huge uncertainty. Where will we live for now? How long until insurance kicks in so we can start rebuilding? We're busy figuring it all out.
Rest assured, we will rebuild our dream home that we designed and built with our blood, sweat and tears. As many of you who came to Savor Sonomal last year, the house was never completed until recently.  In 2016, we finally decided make a push to finish it before Gary retired in March of 2017 from Far Niente, which we're so happy is still standing. We've had many memories created there and the good times will continue. For now though, we have to figure out where we will live and return to some type of normalcy. 
As luck would have it, we had a vacation planned and we're together with Devin in San Diego making the most of the situation. The hotel we're at has been so kind and supportive. The front desk gifted us some wine and even paid for our dinner the first night.  It's nice to be here right now and we're eager to get back north.  Once the roads are open, we'll make our way back north and assess the damages. Special thanks to Nick at Inn at the Park for his generosity and big heart. He's exactly what we needed right now and look forward to helping each other as he has family in Fairfield area, which is burning too.
In the meantime, we're organizing a relief mission to supply our surrounding community and other survivors with various items to help them get by. We're currently pursuing U-Haul and other companies to donate transporation. It seems to be tricky and we'll pay for it if needed. Here's a list of items that we believe will benefit those with nothing left:
1. Underwear
2. Socks
3. T-Shirts
4. Shoes & Boots
5. Hats
6. Jackets Sweaters
7. Sweaters
8. Pants
9. Food
10. Water
11. Camping Gear
12. Tooth Brushes & Paste
13. Deodorant
14. Shampoo & Towels
15. Razor/Shaving Cream
16. Toilet Paper
17. Food
18. Water
19. Gloves
20. Sheets
21. Blankets
22. Respirators
23. Shovels/ Rakes/Metal Detectors
24. Tents
25. Cots
26. Air Pads
27. Pillows
28. Books
29. Games
30. Propane Stoves & Tanks
31. Generators
32. Portable Shower Systems
To see the areas affected and still on fire, check out this map and you'll see much assistance is needed:
https://firemap.sdsc.edu/
Winter is soon approaching and it will be wet and cold. If you would like to meet in person and drop off supplies, Devin will be back in Los Angeles on Wednesday. We've already got a large load of clothing thanks to our cousin and his wife, Kevin & Sandy, who are doing their good work at AMTC in Texas. Please contact Devin via Facebook or text message to coordinate. Thank you to everyone who has reached out and given so much already.  If you have any ideas on how to make this situation easier, let us know.  Many Blessings.
The Macs
+ Read More