The Keep - The Official Audio Drama
£5,200
of £8,000 goal
Raised by
62
people in 42 months
What is The Keep?

In 1981 author
F Paul Wilson
released his novel
The Keep
. The Keep tells the story of a platoon of German soldiers during WWII occupying a small fortress in the Romanian mountains. Unknown to them, they have released an ancient evil from deep within its walls, the only few who may be able to solve the mystery and stop the slaughter of the soldiers are a crippled Jewish professor, his daughter and a mysterious stranger.
In 1983 Paramount Pictures attempted to bring the book to life as a film, directed by Michael Mann. The movie strayed very far away from Paul's novel, leaving audience members confused and disappointed.
We aim to bring Paul's novel to life in the form of an audio drama and keep it faithful to its source material. Moving forward with both the license and Paul's blessing we will deliver a full cast adaptation that will excite and engage fans of the novel and newcomers alike.
This project is fully endorsed and supported by the author, F Paul Wilson.
We at Three Storms Productions are huge fans of the novel. We have dreamed of bringing the definitive version to life for almost a decade. Originally contacting Paramount Pictures to inquire about the rights, Dan wrote a spec script. This was the basis for the audio script, which Dan recorded with his friends at college.
After Everybodyelse Productions commissioned Dan to write the script for the second episode in the Osiris series, Dan contacted F Paul Wilson directly and a license was agreed.
Why an audio drama?

The film rights remain with Paramount and so the next logical step for us was an audio drama. Unlike an audiobook, an audio drama has no narrator, it is essentially cinema for the ears, the images coming from your own imagination. With the production being created by fans, for fans, we only want to do the novel justice and bring to life the powerful, terrifying and wonderful story that F Paul Wilson has given us.
Only with your help and through your generosity can we achieve our goal.
We are
Three Storms Productions
, a production team made up of three friends with a love for story telling over multiple mediums. Meeting at college and forming a solid friendship, 
Dan
, 
Mark
and
Grant
have created short films together and worked individually on multiple projects.
As mentioned before, Dan, wrote the second episode of
Osiris
, entitled
Osirian Enemy
, which is due for release this year. Dan's favorite novel is The Keep and after seeing the Michael Mann film, wanted to know more about the novel it was based on, this was the genesis of what would be a dream that is almost 10 years in the making. Danwill be adapting the novel with the intention of it being 2 disc release.
Mark Ruthven
met Dan at school and has worked with him on the series of internet short films. When not working on The Keep, Mark is busying himself by adapting the works of H P Lovecraft, in the hopes of producing them as audio drama.
Grant Charlesworth
met Dan and Mark at college and is writing an adaptation of M R James' ghost story, 'A Warning to the Curious' with the aim to produce it a short film. Grant won an award for directing the short film, Platform 13.
Our Director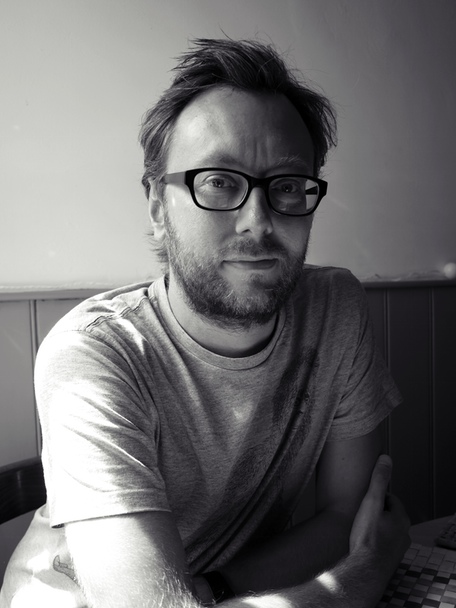 Simon Barnard - Director
We are incredibly lucky to be joined by Simon Barnard. Simon owns
Bafflegab Studios
, a UK based studio who have produced the audio drama series 'The Scarifyers', starring
David Warner
and
Terry Molloy
. They have also produced the original series Vince Cosmos, thePeter Cushing Sherlock Holmes series and worked alongside Hammer Studios for their audio series, Hammer Chillers. This year, Simon and his team, won
Best Audiobook
at the
New York Radio Awards
. Finally, Bafflegab Productions have licensed the rights to produce an audio drama of the cult TV series,
Robin of Sherwood
. Working from an unused script, they are reuniting the original cast including Jason Connery and Ray Winston.
http://www.bafflegab.co.uk/
Cast

Unfortunately we can't announce any cast members at the moment due to potential scheduling difficulties, once contracts are signed we will announce them straight away. Please trust us when we say we have some fantastic actors in mind, some we have already spoken to, and have taken a great deal into consideration, to ensure that each character is represented correctly.
 We have a total goal of £8000
We have already bought the license as we wished this to be in place as we started funding.
Our goal will cover all parts of our production, including rewards.
£6000 2 day recording sessions with Actors/Director and artist fees
£1000 2 disc CD manufacture
£1000 Sound design and mixing
Risks and challenges
Projects such as this rely on the fans, this project is a true labor of love and without your support we couldn't make it.
We have a good start in that we hold the license to make it and the authors full blessing and support.
Issues that may arise will be due to production delays but we have a dedicated and highly professional team behind the project who will work tirelessly to deliver the ultimate experience for fans and newcomers alike.
+ Read More
Be the first to leave a comment on this campaign.