A Better Life for Bella
$295
of $2,500 goal
Raised by
13
people in 43 months
Bella was abandoned by her owner about 4 years ago at a cattle farm. She was turned out with a stud and has had numerous foals, 2 of which were still with her and still nursing at approximately 1 and 2 years of age when we found them. The 2 fillies are in better condition (still not good), but at the mothers expense. Feeding her 2 foals has depleted her body of important nutrients to be able to support herself. She has not had vet or farrier work since arriving on the property nor have her foals since they were born. The foals have had little contact with people. Although they are very friendly and inquisitive, they were not even halter broke.
I met her on 4/26 and nearly cried at her condition. Her feet will take 8-12 months to correct  and she was a walking skeleton under all the winter hair. The vet came on 4/27 to draw blood for coggins test (highly contagious equine disease) and full blood analysis to check kidneys, liver and other functions. Bella and her foals were successfully removed from the property once clean test results came back on 4/30.
The vet had given her a body condition of 3. She is severely malnourished and in a significant amount of pain due to her feet.  She is anemic, has low liver enzymes and has melanoma under her tail, and behind and under her jawbone. The vet does not believe they are cancerous and there are treatments that can be done to reduce them but they are not always effective.
During the initial vet exam, a lip tattoo was also discovered.  After some research, we've found that she is a 16 year old registered Thoroughbred named Sweet Pocket.  The records prove that she foaled in Ohio, never raced, and was sold at the Texas Fasig-Tipton sale in 2001.  
Due to the confirmation (general body structure) of her backside, Bella defecates on her vuvla resulting in a constant infection.  This is not uncommon in Thoroughbred horses.  There is a procedure that can be done that would extend the opening of her anus past the vulva to prevent these infections from occuring.  
Bella has a long road to recovery but we are confident she can make a full recovery.
We are asking for assistance in her care and treatment to get her back to being a happy, healthy horse.  Anything you can offer would be a tremendous help to this poor girl!   Below is a list of medical treatment she has received and upcoming appointments as well as recurring costs in her care. 
We are happy to accept any of the following non-cash donations as well!  The following items have been approved and/or recommended by the vet:
     -Nutrena SafeChoice Senior Feed
     -Manna Pro Rice Bran
     -Red Cell Supplement (to help the anemia)
     - ProBios (powder form) to assist her digestive system
Bella's Bills thus far:
     -4/27: Initial vet exam including blood draw for      
       coggins and full blood analysis..................................$209
     -4/27: General care supplies including brushes, halter,       fly spray, medicated shampoo.......................................$90
     -5/7: First farrier visit.........................................................$30
     -5/13: Fecal Examination to check for internal  
       parasites   (came back clean).........................................$25
     -5/14: (1) Bag Nutrena SafeChoice Senior Feed..$20
     -5/15: Vet appointment to have teeth floated and                 ultrasound to ensure she is not pregnant.............$225
     -5/17: (1) Bag Manna Pro Pelleted Rice Bran to aid in         her weight gain and (1) powder form ProBios to aid    
      digestive system...................................................................$60
Upcoming Appointments:
     5/28: Vet appointment for annual vaccinations,        
     estimated to be between $250 - $300
     ***We hope to schedule an appointment for X-rays      
           within the next month to check for ringbone or
           founder.  It is approximately $40 per shot and 2-4
           shots needed per foot.  This will determine the  
           existance of ringbone (osteoarthritis) and/or if she
           has foundered in the past.***
Recurring Expenses (not including the cost of board which we are not asking for assistance on)
     -Nutrena SafeChoice Senior feed: Senior feed is    
       recommend for rehabilitating starved horses as it      
       provides higher amounts of protein with controlled    
       startches and carbs.  As her daily ration increases, it
       is expected she will need (1) bag a week, $20
     -MannaPro Pelleted Rice Bran: This aids in her weight        gain and is easy on the stomach with controlled      
       startches and carbs.  (1) 40lb bag every 20 days $36
     -Farrier (Trim hooves): Every 4-6 weeks $30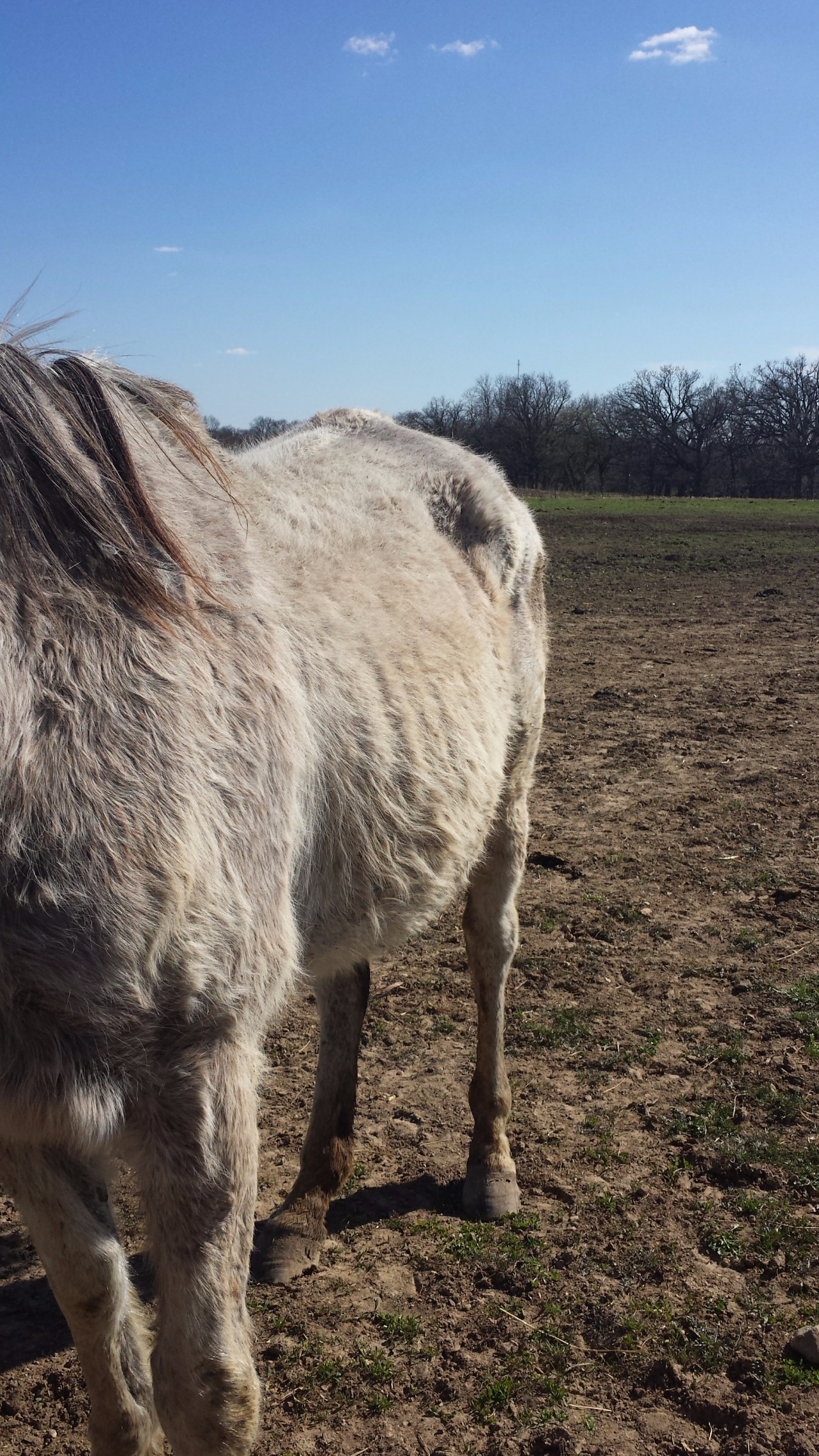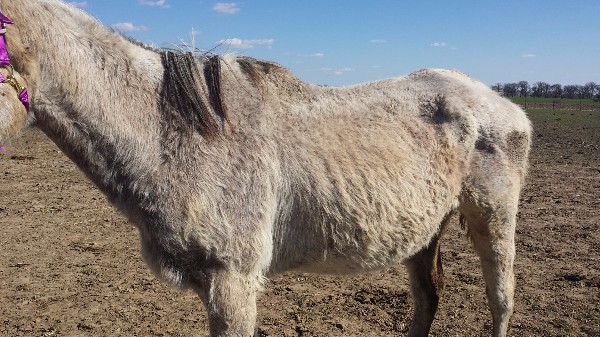 + Read More
Be the first to leave a comment on this campaign.