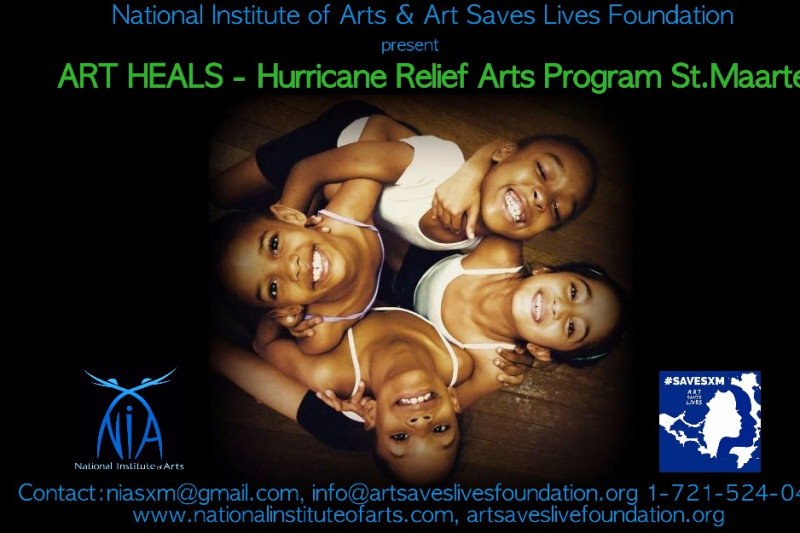 16
6
ART HEALS SXM Hurricane Relief
$1,570
of $10,000 goal
Raised by
17
people in 19 months
On September 6, the island of St. Maarten was struck by the cataclysmic hurricane IRMA that has devastated the island of St. Maarten and several others, throughout the Caribbean.
Over 17thousand people have been evacuated off the Island of St. Maarten. and the Red Cross has estimated over 14,000 homes have have been destroyed and classified unlivable.
The National Institute of Arts-NIA a nonprofit inter-disciplinary arts education center too has sustained some damages. Both to the building and members of staff are amongst those that have lost homes.
The evacuation of St. Maarten, including 6 arts teachers from NIA has brought this vital institution to a complete halt. All regularly scheduled classes including Gymnastic are at a complete stand still until further notice.
In spite of this devastation we know for sure that the arts and NIA provide a vital service to the community. We know that the arts bring healing to the mind body and soul.
As such NIA has started a new program entitled ART HEALS Hurricane Relief Arts Program to reach out to the rest of our community and use the arts to bring alleviation from the stresses and trauma brought on by the passing of the hurricane and its aftermath.
Too many families are without roofs over their heads, damaged walls and debris abound on the island. ART HEALS is offered daily at no charge to the participants. This service will assist parents to begin their rebuilding process knowing that their children are in a safe and nurturing space with dedicated and committed teachers.
Participants will among others have the opportunity to meet with psychologist and get information on how to recognize and avoid post-traumatic stress syndrome brought on by the conditions post the hurricane
The program you will support brings yoga, EFT tapping, storytelling, drama, dance, drumming to provide the participants with creative expressive means to give voice to their inner land scape and find relief from the devastation that surrounds them.
Working collaboratively with Nicole de Weever of ART SAVES LIVES Foundation, directors Clara Reyes & Arlene Halley  of National Institute of Arts -NIA  are committed to offering classes free of charge to the St.Maarten community during this reconstruction, recovery and rebuilding time  on St.Maarten
Please take this opportunity to give of your heart in order to support rebuilding & healing offered by creative arts on the island. While builders use bricks, cement & steel to restructure, we the artists use art & expression to rebuild body minds and spirit. 
Please support National Institute of Arts and Art Saves Lives as they work together to bring healing to St. Maarten
We know that the arts are truly the vehicle to bring about healing and these children and their parents can really benefit from our program. 
JOIN US!!
http://www.nationalinstituteofarts.com
+ Read More