31
12
Help Me, Help others!
kr98,064
of kr80,000 goal
Raised by
197
people in 11 months
OBS!
För personer som är bosatta i Sverige, går det bra att Swisha till +4670 213 96 07 för att stötta barnen i Mgahinga Primary School. Jag kommer registrera din donation inom 24h till denna sida. Detta är fördelaktigt då hela beloppet går oavkortat till barnen i byn, om ni väljer att donera via hemsidan så går en del av din donation till gofundme.com.
Svensk version, vänligen se längre ner.

English version 

I will be traveling to Uganda between January 6 and March 30, 2018, to volunteer in Mgahinga. Mgahinga is a small village (6 560 ft. above sea level) near Kisoro district in Southwestern Uganda. I will mainly assist with Physical Education & English lessons at the primary school. As well as teaching, my ultimate goal is to be there for the children of the village and do whatever I can to support them. The school that I will be at is called Mgahinga Community Primary School. This small village school as about 120 students who are active as of today.
The people in the village were severely affected when the Mgahinga Gorilla National Park was founded in 1991. You might have heard or seen the movie "Gorillas in the Mist," which is about this area. Large parts of the indigenous population were forced to move, and in connection with the move, lost much of their agricultural land that they otherwise feed on. This has resulted in a housing shortage, poverty, and starvation that prevails in today's situation.
In a country perspective, Uganda is now the largest refugee-hosting nation in Africa with over 1 million refugees.
Why am I doing this?
In the majority of my life, I have made choices that primarily favored myself and my immediate surroundings. Today, we live in a materialistic world, but I know that is not the way of life for everyone. Materialistic things can bring happiness briefly, but three things that bring everlasting happiness to the world are love, respect, and time. Growing up, I was never short of these things.
After some reflection, a desire to give love, show respect, and share my time with the people, and mainly youth of a third-world country came to my heart. By paying it forward to the people of Mgahinga I will be able to fill the void that I have been feeling in my life. With this opportunity, I will be filled with pleasure knowing that I am helping complete strangers, who were not privileged as much as I was growing up.
My goal is also to influence others to do something similar, doesn't have to be this extreme, you could start by sharing this site!
There
are five classrooms which looks like this. Funds will go to finish these classrooms with floor, walls and blackboard with furniture.
Where will my donation go? 
Please see updates!
I'm not trying to raise money to make this trip possible. I have already paid my own expenses for this opportunity. You have my word that your donations will go without any deductions and 100% accounted for humans who really, truly need it.
My planned purchases at this stage are primarily basic goods like pharmaceuticals, clothing, and food. School materials and soccer balls will also be purchased for pupils at the school. This is something that will be clarified once I reach Uganda and Mgahinga and can then pinpoint their biggest needs. The result of the fundraiser will reflect what we can achieve with the money. If there turns out to be a lot of interest to donate, we will be able to purchase something big! The sky is the limit! At the bottom of this page, I have compiled a ladder of what we can accomplish together. Commitment and passion can make up for pretty much anything!
Any donation, no matter how big or small will have a huge impact on all 120 children at the school!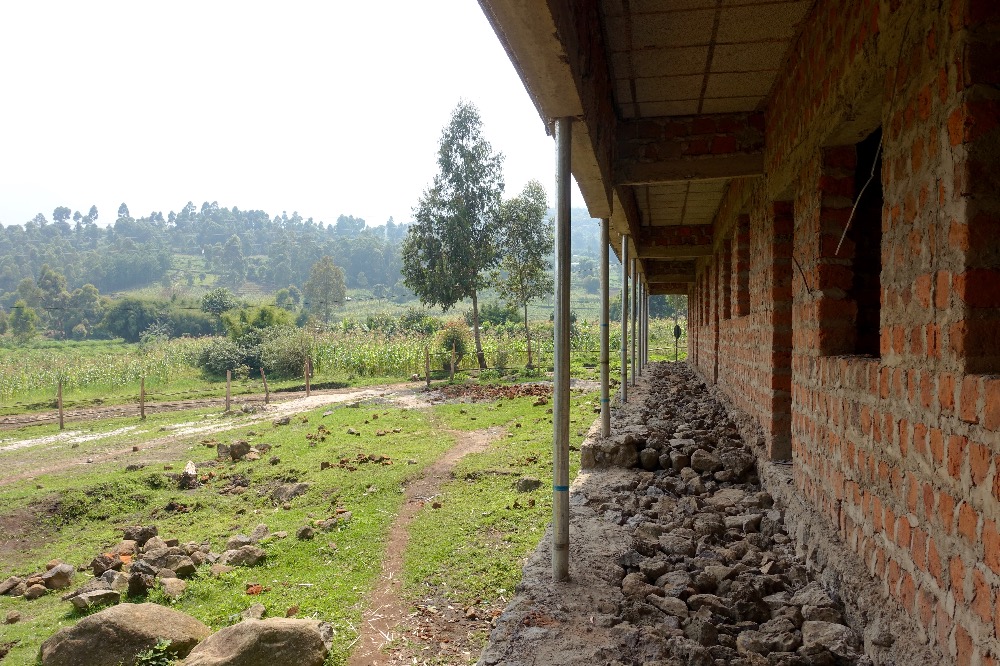 Funds
will also go to finish this veranda with floor and fence.
If my story alone was not enough to make you want to donate, please still consider donating purely because I will be spending 12 weeks using a bucket to wash and a hole in the ground for a toilet.
To join me on this adventure I would love for you to follow
"sweganda"
on Instagram. This will also be a platform for you to directly see how your donation(s) came into use, and the impact it had on many people's lives. During my time in Uganda, I'll be posting frequent updates so you can see the change!
Addition!
To give you donors something back for your support I will be adding a ladder of two levels for SEK donated. If you reach assigned target, I will make sure to execute below.
500 SEK / approx. 60 USD
- I will send you either a
video or letter from a student
of Mgahinga Primary School. So please specify what you wish and correct adress the letter should be sent to.
1000 SEK / approx 125 USD
-
Memorial Wall Donation
, I will put up your name on the memorial wall of the school. So you will always be a part of Mgahinga Primary School.
Of Course any donation no matter how small or big will make a difference and have a huge impact on the children of Mgahinga.
Their old school with kitchen to the right.
To find out more about MCDO and the community I will be working with please see
www.mcdou.org
Someone great once wrote,
"Be the change you wish to see in the world."
And with your help, we BOTH can make that happen.


Prislista / Price list
KR / USD
10 KR / 1 USD - 
You can buy
one loaf of bread
15 KR / 2 USD -
You can
feed eighty children
 at Mgahinga Community Primary School a portion of posho

25 KR / 3 USD -
You can buy 
100 pencils
25 KR / 3 USD -
You can buy
18L water
35 KR / 4 USD -
You can buy 
50 pens
50 KR / 5 USD -
You can buy 
2kg of salt 
60 KR / 7 USD -
You can
give a child emergency medical treatment
70 KR / 8 USD -
You can buy
10kg of beans
85 KR / 10 USD -
You can buy
10kg of rice
100 KR / 12 USD - 
You can buy
one soccer ball
150 KR / 16 USD -
You can buy over 
100 books
180 KR / 20 USD -
You can buy 
30 bars of soap
225 KR / 25 USD -
You can buy
80 pairs of socks
for the children at Mgahinga Community Primary School 
225 KR / 25 USD -
You can buy
one school desk
1000 KR / 120 USD -
 You can buy
150 quick tests for Malaria
25 000 KR / 3000 USD -
 We can build an
entire playground


Pictures below are from the old classrooms with school motto.
Svensk Version
Jag kommer mellan den 6 januari & 30 mars 2018 infinna mig i Uganda för att volontärarbeta i Mgahinga en liten by nära Kisoro i sydvästra delen av Uganda. Jag kommer främst hjälpa till med Idrott & Engelska lektioner på skolan men framförallt finnas där för barnen och finnas där som stöd för dom. Läs fritidslärare. Skolan heter Mgahinga Community Primary School och omfamnar idag ca 120 elever.
Människorna i byn blev hårt drabbade när nationalparken Mgahinga Gorilla National Park grundades 1991. Ni filmfantaster kanske har sett filmen "De dimhöjda bergens gorillor", den är inspelad i det området. Stora delar av urbefolkningen tvingades flytta och förlorade i samband med detta mycket av sin jordbruksmark som de annars livnär sig på. Det har resulterat i bostadsbrist, fattigdom & svält som råder ännu i dagens läge. 
Varför gör jag det här?
Jag har genom åren varit det där barnet med extremt stort "ha begär" som alltid haft den längsta och dyraste önskelistan till jul. Då jag alltid haft en del försäljning i mig fick jag ofta min vilja igenom i slutändan. En bortskämd skitunge kanske andra vill beskriva det som. Än idag lever jag i en väldigt materialiskt värld med dyra teknikprylar och saker som jag egentligen inte behöver. För att addera på ovan så har jag i majoriteten av mitt 27 åriga liv gjort val/ handlingar som i första hand gynnat mig själv & min närmsta omgivning.  
Visst mina föräldrar kanske uppfyllde lite för många materiella önskningar men det är inte i närheten av all kärlek, respekt och tid jag fått av dem. De tre värdeorden vill jag nu ge vidare till barnen i Mgahinga.
Efter mycket reflektion & filosoferande så har en vilja om att hjälpa någon annan än mig själv brutit sig fram. Lusten av att hjälpa någon annan, någon jag aldrig träffat förut. Min förhoppning är även att påverka andra att göra något liknande, kanske inte lika extremt men att göra något. En början kan vara att dela denna länk.
Vad kommer min donation gå till? Se uppdatering.
Vill tydliggöra att jag inte försöker samla ihop pengar för att göra denna resa möjlig. Jag har redan betalat alla mina egna kostnader.
Ni har mitt ord på att era donationer kommer gå i sin helhet, oavkortat, utan avdrag till människor som verkligen behöver det.
Jag är där för att hjälpa dem och vill även ni hjälpa till så kommer vi ha möjligheten att göra det i större utsträckning.
Mina planerade inköp är i förstahand basvaror som
läkemedel, kläder & mat
. Även skolmaterial & fotbollar kommer att köpas in till barnen. Detta är en punkt som kommer bli mer uppenbar när jag kommer fram till Uganda och Kisoro. Resultatet av insamlingen kommer spegla vad vi kan göra av pengarna. Visar det sig att det finns ett stort intresse så kanske vi kan bygga en lekpark eller renovera deras skola. Ovan finner ni en lista på vad vi tillsammans kan uppnå.
Jag har skapat ett separat konto enbart för donationspengar som är kopplat till både Swish & GoFundMe.
Vill du Swisha gör du det till +4670 213 96 07
Jag har i anknytning med denna resa hört av mig till olika företag om de vill hjälpa till och svaren har varit över all förväntan. Hittills har AIK, DIF och Ricoh Sverige AB valt att hoppa på tåget.
Vill ni läsa mer om organisationen & byn, kan ni göra det på
www.mcdou.org
Har ni andra idéer eller vill komma i kontakt med mig gör ni det enklast via WhatsApp på tfn nr +256 773 808898 
Om ni fortfarande inte finner någon anledning att donera så tycker jag att ni kan överväga det enbart för att jag kommer bo utan el, duscha med hjälp av en hink och gå på toaletten i ett hål i marken i tre månader.
Jag skapat
instagram kontot "Sweganda"
.
Det kommer användas som en platform för er att följa mig under resans gång och vart era donationer kommer gå.
Det var allt för nu, mer uppdateringar kommer framöver.
+ Read More