swampline9
$4,946
of $10,000 goal
Raised by
81
people in 70 months
[Support #SwampLine9, a blockade and occupation that has shut down construction at the Enbridge Westover terminal. Enbridge Pipelines want to reverse the flow of a 40 year old pipeline for the purposes of transporting tar sands heavy crude oil and diluted bitumen - a corrosive and experimental tar sands product - at higher temperatures and higher pressures, across Southern Ontario and into Quebec.]
UPDATE: Police raid arrests 20 blockaders at 7am on June 26th. All released on charges - Indigenous blockader charged with B&E + Tresspassing, 4 who were locked down charged with Mischief Under $5000 + Failure to Leave Premises (Disobey Court Order) after refusing to leave after receiving (2nd) injunction (Enbridge misprinted their own address in the first). 15 others charged with Tresspassing.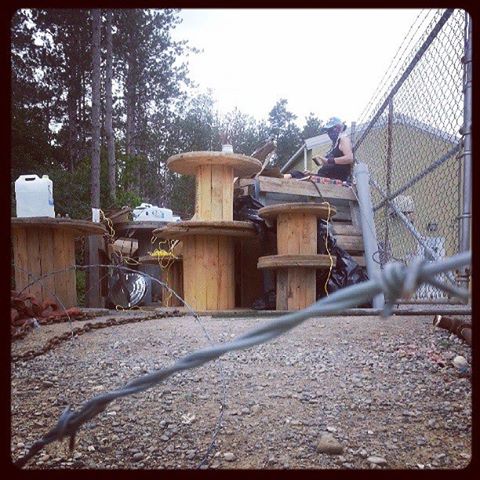 Please share! Due to criminal charges and tresspassing fines from this action we would love your support for legal costs!!
Swamp Line 9 Blockade - Enbridge Westover Terminal Shut Down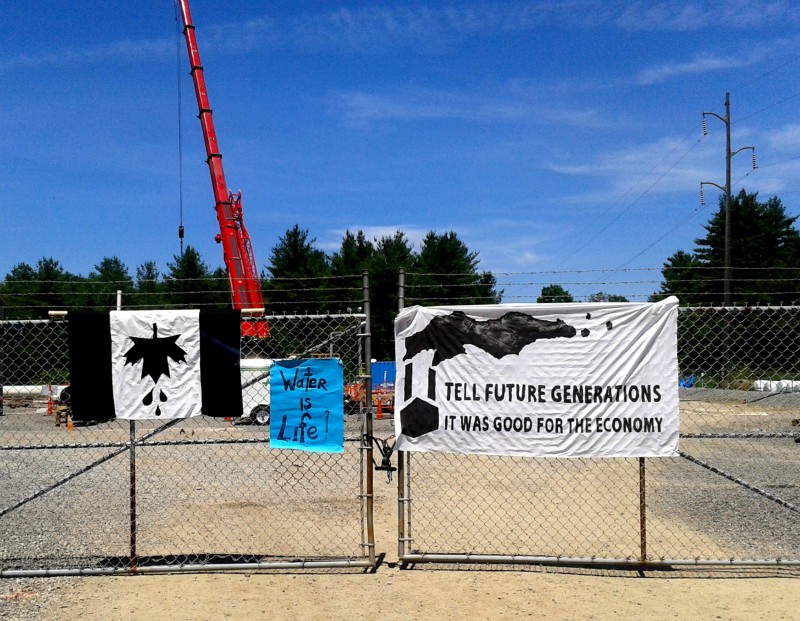 The #swampline9 crew SHUT DOWN the Westover Terminal with a 7 day occupation, halting further construction as Enbridge attempts to reverse the flow of the Line 9 pipeline.
With an average oil spill of every 5 days - including the most recent 750 barrels
recently
in Alberta - it is vitally important that we take action against corporate irresponsibility and the destruction of the living world.
Please support in any way you can - all contributions are deeply valued. These funds will largely be used for legal costs for the #Swamp Line 9 blockaders.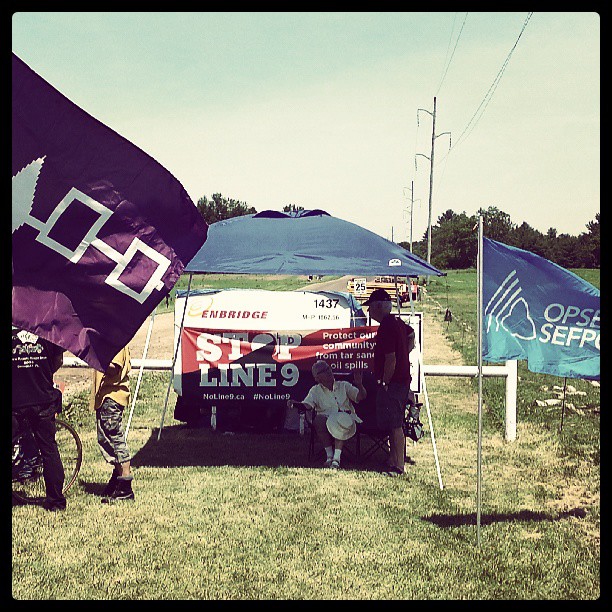 support from Six Nations of the Grand River community members, OPSEU SEFPO, and others like Council of Canadians, Greenpeace and local Hamilton-Westover residents
About - June 20th, 2013

As this statement is released, we are digging in and occupying Enbridge's North Westover Pump Station in the Beverly Swamp. We have done this to stop construction in preparation for the reversal of their Line 9 Pipeline to carry toxic diluted bitumen from the Alberta Tar Sands through our communities and watersheds, likely for export.

For the past year, we have organized in our communities across Southern Ontario to raise awareness of Enbridge's plan to reverse Line 9. Increased awareness quickly lead to concern and to a desire from our communities to at the very least make our voices heard about our opposition to this project. What we found was a rigged game, where the political party most indebted to the oil industry had taken spectacular measures to remove the usual environmental oversights from Line 9 and other pipeline projects. The Line 9 reversal is, from the perspective of the powerful, a foregone conclusion and they have insultingly offered only the most meaningless opportunities for public engagement.

Of course, we understand that even if there had been a full Environmental Assessment, this project would still be going ahead. If anything, the federal government simply had the good courtesy to be honest that they just don't give a shit what anyone thinks. Although we have few illusions about process, it is very much the case that the removal of the usual process is what has lead to this exceptional step of occupying a construction site. Deprived of all other options for dissent, the move to direct action to stop this reversal is obvious to even the most law-abiding of people. Perhaps we should thank the federal government for removing the usual sham of participation to make it clear that there is no pipeline debate "" there is just a pipeline fight.

We are establishing a camp on Enbridge property in the middle of the Beverly Swamp, the largest remaining forested wetland in Southern Ontario. The health of this wetland is crucial to the health of the Spencer Creek, which feeds Cootes Paradise, the beautiful marshland that forms the western end of Lake Ontario. Protecting the water is vitally important "" once water is poisoned, it can't be undone.

This is also stolen Indigenous land and is the traditional territory of the Chonnonton people as well as of the Mississagi Anishinabec and the Onondawaga Haudenosaunee. This pipeline crosses the territories of dozens of Indigenous nations along its route, including the Six Nations of the Grand River who have taken an inspiring lead in building resistance to Line 9. "The whole thing about Line 9 is that it's going through our territory and Enbride hasn't consulted us or talked to us at all," said Missy Elliot of Six Nations. "What's best for the land is what's best for our people. We have to protect the land - this isn't just a side project for us, we have to protect our future. It's our responsibility."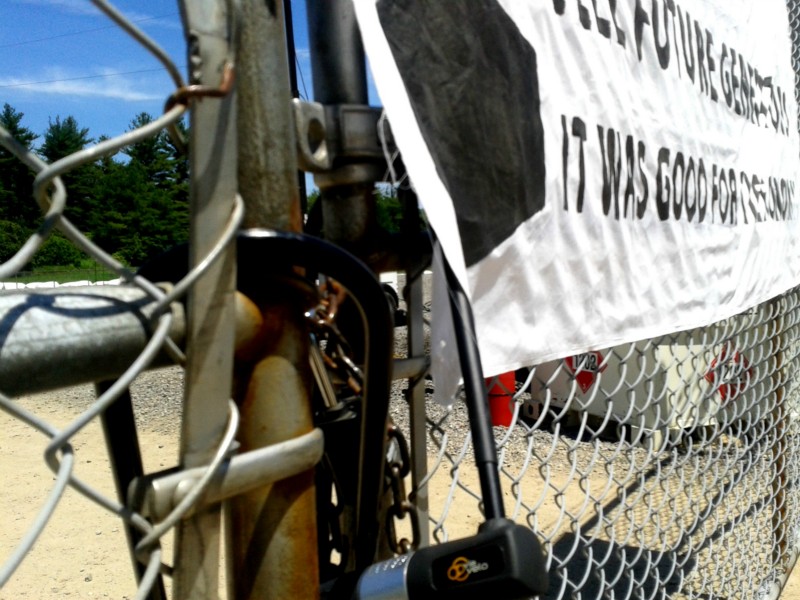 If you want to support us, drop by the site! We will be maintaining an info point at the mouth of the North Westover driveway, on Concession 6 W just west of Westover Rd, in Flamborough. We welcome any donations of food, camping supplies, money, or whatever you think would be useful. We also encourage you to come join us, whether just for a few hours or for a few days. We are calling for our supporters to rally in the public park across the street from us on Concession 6 at 11am tomorrow morning, that's Friday June 21, to show support for the occupation and to call for the Line 9 reversal to be cancelled.

Swamping Enbridge at every turn,

-Hamilton Line 9

for more updates:
swampline9.tumblr.com/
twitter.com/swampline9
facebook.com/SwampLine9
+ Read More
Update 2
70 months ago
Share
Thank you everyone!! Please share with your friends and networks! 5 of our blockaders are facing criminal chargers - your support will go a long way! We know another world is possible - we just need to make it happen!
+ Read More
Update 1
70 months ago
Share
THANK YOU EVERYONE!!!! The support and solidarity is so amazing and heart touching! This kind of support helps to inspire us all knowing that when we take risks we are not alone!! Today has been a big day - starting with police raids at 7am and ending with nonassociations and criminal charges. Please forward this to your contacts as well will need the support for legal costs!! The battle is not lost and we will never surrender!!!
+ Read More
Read a Previous Update
Be the first to leave a comment on this campaign.