Susie for Bernie DNC Delegate
$2,500
of $2,500 goal
Raised by
71
people in 34 months
My name is Susie, and I am a Bernie Sanders' National Delegate to the Democratic National Convention (DNC) in Philadelphia in July.  I will be proudly  representing Indiana's First Congressional District.  
Ever since Sen. Sanders announced that he would be running for President of the United States, I promised that I would do all that I possibly could to see to it that he would be elected as the Democratic Party Nominee and ultimately as President.  It has been a long journey.   This campaign has rocked the political establishment.  And that's all because of the countless volunteers and small financial contributions from concerned American citizens across the country who recognize that Sen. Sanders is a once in a lifetime presidential candidate.
 
Since the financial crisis of 2008, most Americans have realized that our financial system is rigged in favor of the corporate elites at the expense of the average American.   In addition, we have been at war for the past 14 years in the Middle East, and we have yet to come close to being able to extricate ourselves from this endless quagmire.    We need  bold, creative, and moral leadership to take us forward into a more positive future filled with hope and resilience.   Sen. Sanders has spent his life fighting for the underdogs of the world.  Now its time for us to fight for him.   And frankly, the status quo has got to go!!
I have been following Sen. Sanders since the financial crisis of 2007-2008.  Although he had been in politics  long before that, this is when I really started listening to what he had to say.  And thus far, I have always heard him speak the truth.  This is a politician of great personal integrity and moral conviction.  He speaks truth to power and he stands up for what is right.  And most importantly, he cannot be bought.   When he announced that he would be running for President of the United States,   I vowed that I would do all that I could to see to it that he would win.   Being able to attend  the DNC would be a major part of fulfilling my promise. 
It's been wonderful to work with so many great volunteers in a unified effort to change the political landscape of the country.   When I had a chance to see Sen. Sanders speak in Summit, IL. at Argo High School, the positive energy of the crowd was electrifying.  And to see Sen. Sanders in person was truly inspirational.  This man understands the zeitgeist of our times, the plight of the people, and has the fortitude and vision to move our country forward in the most positive direction possible for all of us, not just the power elites. 
I have volunteered in three states:  Iowa, New York, and Indiana.   In Iowa, I drove a group of volunteers to Dubuque, Iowa prior to the all-imporatant Iowa caucuses.  I spent four intense days canvassing and phonebanking.   With all our efforts, we essentially tied.  This set us up for a great victory in New Hampshire.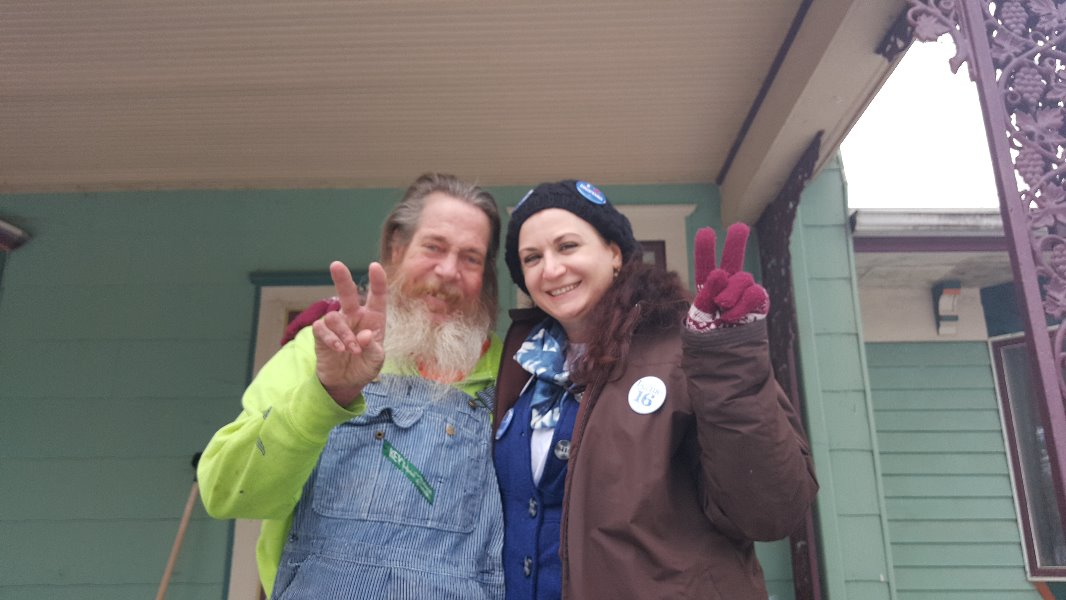 Secondly, I volunteered in New York City.  I lived in New York City for over five years.  I returned to my old neighborhood on the Upper Westside in Manhattan for a couple of days prior to the New York primary.   I canvassed, and manned sidewalk tables with brochures and polling information.    Needless to say, I was disappointed with the results of this closed primary.  But I couldn't let that bring me down since my state's primary was up next.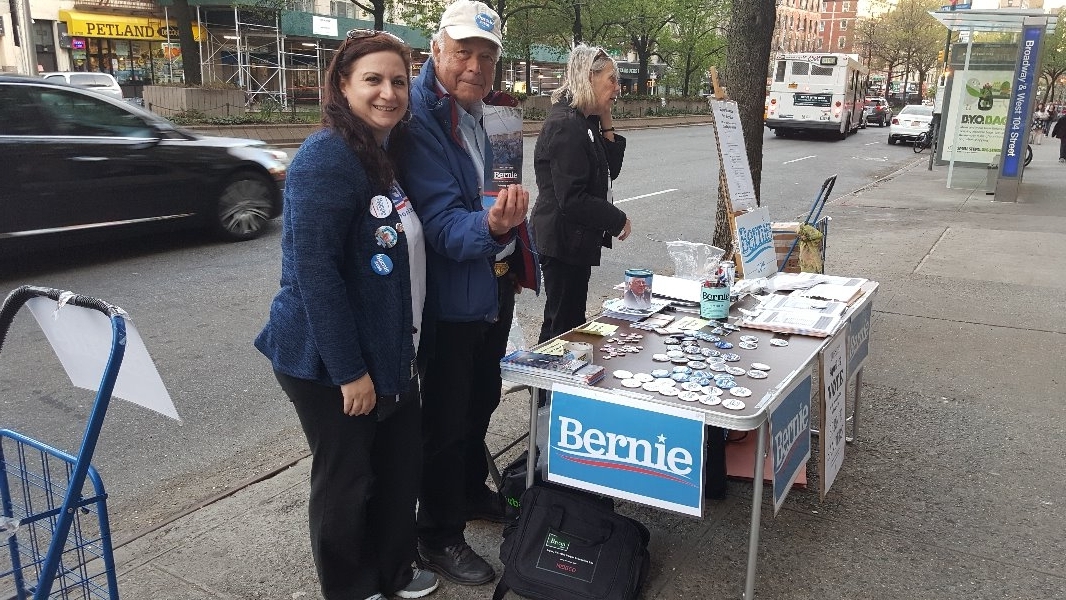 Lastly, I volunteered extensively in my beloved home state of Indiana.   I attending several barnstorm events prior to getting our very own field office.  Once we got our field office, I both phonebanked and canvassed as much as I could.   I also did voter registration.   In addition, I met personally with my Congressman  to urge him to use his superdelegate vote to support Sen. Sanders.   I also met with the regional director for my Democratic U.S. Senator for the same purpose.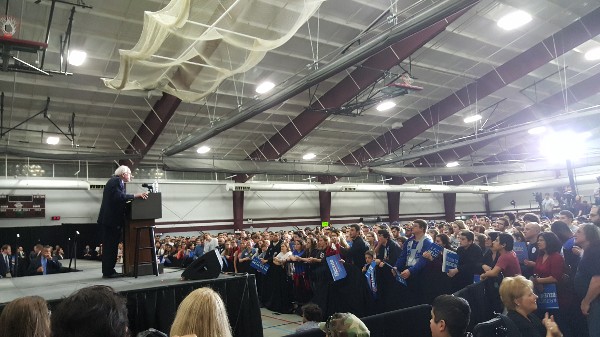 Happily, through the vast volunteer efforts of thousands of Hoosier Sanders' supporters, we were able to win the state of Indiana.  This win was crucial victory  as it kept Sen. Sanders in the nomination hunt all the way until the very end.    For once, Indiana made a pivotal difference in national politics. 
Unfortunately, the cost of attending the Democratic National convention is extremely and suprisingly expensive.  It would certainly be a financial hardship for me to attend.  That is why I am  asking for sponsorship from my fellow Sanders supporters.    I would greatly appreciate any financial assistance that anyone would be able to provide.  
It is an honor to be able to represent my fellow Sanders' supporters not only from the Indiana's First Congressional District,  but also from across Indiana and the USA.     This nomination process is not over contrary to what the mainstream media would like everyone to believe.  We still have a chance to win the nomination!!  And I certainly intend on supporting Sen. Sanders  in everyway possible at the DNC.   I am firmly and resolutely committed to our candidate.  
I sincerely appreciate any help anyone can give, no matter how small the amount.  As we all know, small donations are the engine that has driven our campaign this far.   Your support would  be a great blessing!
Thank you so much!!
In Solidarity,
Susie
+ Read More
I'm sharing your fundraiser while also asking if you could share mine. I'm trying to finish my final year of college. I'm a B student focusing in the field of forensics; www.gofundme(DOT)com/kaelasfinalyear
+ Read More
Hi Susie. I tweeted your fundraiser, I have no spare $ currently but hope it helps get you closer to goal. Thank you for your hard work and commitment! #AlwaysSanders #StillSanders
+ Read More