Locally-Led Disaster Relief Project
$750
of $2,000 goal
Raised by
11
people in 25 months
The house pictured above has been flooded for three weeks and the water will not drain out. The elderly lady who lives here is forced to walk around her house in the 2 feet of water. She and her two kids have nowhere else to go to live. (Photo: Olivia Zeydler)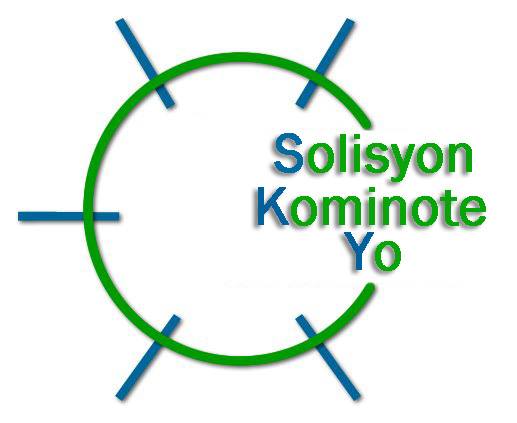 Community Solutions / Soliciones Comunitarias (Kreyòl anba, Versiòn en español Sigue)
Solisyon Kominote Yo (SolKomYo) is a trusted Haitian social enterprise that has been providing essential services and goods to the northeast department of Haiti since 2012. To date, the organization has impacted over 40,000 Haitians and generated over US $1,200,000 in savings and local earnings.  
After hearing the extent of destruction that was faced after Hurricane Matthew in the southwest of the country, SolKomYo is committed to supporting a locally-led recovery program to assist the sustainable development of the affected region.
While emergency relief efforts are often short-term and do not invest in the local economy, SolKomYo hopes to use its expertise as a local community development organization to identify the long-term needs of the region and respond accordingly, helping to build resilience within the communities affected. 
We will conduct this in three stages and all funding will be divided into these areas:
1.    
Short-term (40%)
- Delivery priority items, make contact with local organizations and community groups to understand the long-term needs of the region
2.    
Medium-Term (30%)
- Develop relationships to better understand needs and identify which SolKomYo Programs would benefit the community (for example agriculture development, access to finance, entrepreneurial training to distribute essential technologies)
3.    
Long-Term (30%)
-  Begin implementing SolKomYo programs via a local partnership
SolKomYo will visit the southwest next week to deliver emergency goods and make observations about the long-term needs of the area. With the funds donated, we will collect the following priority items to deliver to th region: 
-       First Aid Kits
-       Aquatabs Water Purification Tablets
-       Soap
-       Toothpaste & Toothbrushes
-       Sanitary Pads
-       Toilet Paper
-       Rice
-       Beans
-       Clothes
-       Shoes
We would like to reach out to ask for a donation of any amount to support a sustainable recovery program to the region affected by Hurricane Matthew, and avoid the negative consequences witnessed in Haiti after the earthquake relief. We guarantee that all donations will go directly to this cause. We will be publishing updates detailing the results of the visit and how the funds are used. 
For more information about Solisyon Kominote Yo and our ongoing projects, please visit our website: 
https://solkomyo.org/
Thank you!
N'ap avanse! ("Let's Advance!") – Common saying in Haitian Creole to indicate: Let's move forward! 
-----------------------------------------------------------------------
Nan Kreyòl

Solisyon Kominote Yo (SolKomYo) se yon òganizasyon ki ap ofwi sevis yo e pwodwi yo bay depatman nòdès la depwi 2012. Li sipòte plis pase 40,000 benefisye e sa bay  $1, 200,000 nan travay yo.
Aprè ke nou tande epi wè nan televizyon tout destriksyon ke Siklòn Ouragan Mathiew fè  nan Sid  peyi Dayiti, ekip SolKomYo pral komanse yon pwosesis dirab pou ede retablisman nan Kominote ki afekte yo.  
Tankou nou konnen ke ede pou ijens kapab se kout-tem e pa envesti nan kominote yo pou long-tem, SolKomYo vle kontribye pou yon pwosesis ak konfiyans e dirab pou moun ki viktim yo. SolKomYo panse ke sa ap tre enpòtan ke nou pote solidaritè pandan tann sa a e ede yo avek eksperyans nou: developman lokal. Nou planifye pou fe travay nan zon sa a pou nou  wè kòman  chanjman ka fèt  nan zon sa a e pou ede retablisman a long tèm.
Nou pral komanse li nan 3 etap e tout fon yo pral distribye konsa:
1.    
Kout- Tèm (40%)
– Fè yon vizit nan zon yo semèn pwochen pou viv plis sou situasyon an e pote  kèk pwowdi ki an ijans.
2.    
Mwayen-Tèm (30%)
– Nou pral Konstwi relasyon ak Asosyasyon,Òganizayon e Enstitisyon nan zòn yo pou nou rive idantifye  bezwen ki genyen yo e inkli kek pwoje developman nou nan zon sidwès, pa egzanp nan finansye, agrikilti, e antreprenarya.
3.    
Long- Tèm (30%)
- Komanse yo avek yon oganizasyon lokal. Sa kapab sipòte rekiperasyon a long tèm pou popilasyan an e ede nou pou konstriksyon dirab nan kominote yo.
Pou vizit ke nou pral fe pou Kout-Tem, nou te deside ansamn priyorite yo ke nou pral prann:
-           "Kit Ijans"
-           AquaTab pou purifye dlo
-           Savon
-           dantifris ak bwòs dan
-           Kotex
-           Papye ijyèn
-           Rad
-           soulye
-           Diri
-           Pwa
-           Ak lòt
Nou vle mande tout zanmi Nasyonal kou Entènasyonal ede nou pou nou kapab bay sipò nou nan  retablisman ak developman nan zòn ki afekte yo ak siklòn Matthew. Nou kapab e nou  pwomet nou ke patisipasyon ou  pral ale direkteman nan zòn  ki afete yo. Nap toujoun pibliye yon rapo apre vizit nou, pou pataje tou rezilta yo e tou koman nou te itiliz fon yo.
Si nou vle konnen plis enfòmasyon sou oganizasyon nou oswa pwoje nou, ou kapab fè yon vizit isit
https://solkomyo.org/
 o ekri nou sou Facebook.
Mesi!
N'ap avanse!
----------------------------------------------------------------------
En Español

Solisyon Kominote Yo (SolKomYo) es una organización haitiana de confianza que están dando  servicios y los productos esenciales en el departamento de nordeste de Haití desde 2012. Hasta esta fecha, ya hemos impactado más de 40,000 haitianos y generado más de $1, 200,000 en los ahorros y en los ingresos locales.
Después que  escuchamos ver por Televisión las noticias de todas las destrucciones que hizo el huracán Mathew, el equipo de Solkom yo estamos determinados para asistir el sudoeste de Haití.
A veces, el apoyo después de un desastre puede venir solo para al corto plazo y el no se invierte en la economía local. SolKomYo ha decidido para usar su conocimiento en desarrollo sostenible local para apoyar la recuperación a largo plazo en las comunidades que fueron afectados por el huracán.
Queremos hacerlos en tres etapas y los fondos distribuirán como así:
1.
Corto Plazo (40%)
- Entregar productos de emergencias, y contactar las asociaciones, organizaciones  e instituciones en comunidades locales para comprender las necesidades a largo plazo
2.  
Medio Plazo (30%)
– Crear relaciones con asociaciones, organizaciones  e instituciones para entender mejor las necesidades e identificar cuáles de nuestros programas podría beneficiar la comunidad (por ejemplo, acceso de finanza, agricultura, y espíritu empresarial, para construir resistencia en las comunidades)
3.
Largo Plazo (30%)
– Empezar con la  implementación de los programas con una organización local
SolKomYo va a visitar el suroeste la próxima semana para entregar productos emergencias y hacer observaciones sobre las necesidades. Identificamos los siguientes elementos de una prioridad:
-           Kit para los primeros auxilios
-           "Aquatab" para purificar el agua
-           Jabón
-           Pasta dental y cepillo de dientes
-           toallas sanitarias
-           Papel del baño
-           Ropa
-           Zapatos
-           Arroz
-           Frijoles
Queremos pedir a amigos/as Nacionales y Internacionales   ayuda para apoyar un programa de recuperación sostenible para la zona que ha afectado del huracán Matthew, y para evitar las consecuencias negativas que pasaron después del ayuda de terremoto en Haití. Nosotros les prometemos que todos los fondos van directo a esta causa y vamos a publicar un reporte después de la primera visita para compartir los resultados y como utilizamos los fondos.
Para más información sobre Solisyon Kominote Yo y nuestros proyectos, por favor visita nuestro sitio:
https://solkomyo.org/
¡Muchas Gracias!
"N'ap Avanse" (¡Adelante!) – Una frase haitiana que significa: ¡Sigue adelante!
+ Read More
Be the first to leave a comment on this campaign.