Representing Rural Oregon in Philly
$3,276
of $4,000 goal
Raised by
71
people in 32 months
Solea Kabakov, Oregon Delegate for Bernie Sanders!
Peace activist and single mother of four, Solea lives and works in the small town of The Dalles located in the Columbia River Gorge National Scenic Area east of Portland, Oregon.
It is an honor to have been elected to represent Eastern Oregon in Philadelphia.  Our district was awarded one female delegate pledged to Bernie Sanders and it is a priveledge to take the voices of the people of Oregon all the way to the convention floor! 
Recent article on Solea in The Dalles Chronicle: http://www.thedalleschronicle.com/news/2016/jun/17/dedicated-bernie/ I'll be blogging from
Philly; http://unwonted.net
I have pledged my vote to Bernie Sanders because I believe he has tapped into a frequency which resonates within us all, in our hearts, it is LOVE.  We love our families, we love our neighbors, we love our brothers and sisters around the globe.  We love the animals, the natural beauty and power of planet Earth and its many forces which give us life.  Bernie Sanders has reminded us that when we come together WE HAVE POWER.  We can indeed put an end to endless war and make peace a priority.  We can move away from all forms of violence including institutional racism, poverty and economic inequality.  We can move away from fossil fuels and toward clean sustainable energy.  Move away from big money corruption in government and into a fair system by and for the people.  Solea began volunteering with the Bernie Sanders Campaign early on and has knocked on many hundreds of doors in her small town and inspired others to join the cause along the way.  She was an official Sanders Campaign observer of ballot processing/counting during the recent Oregon state primary.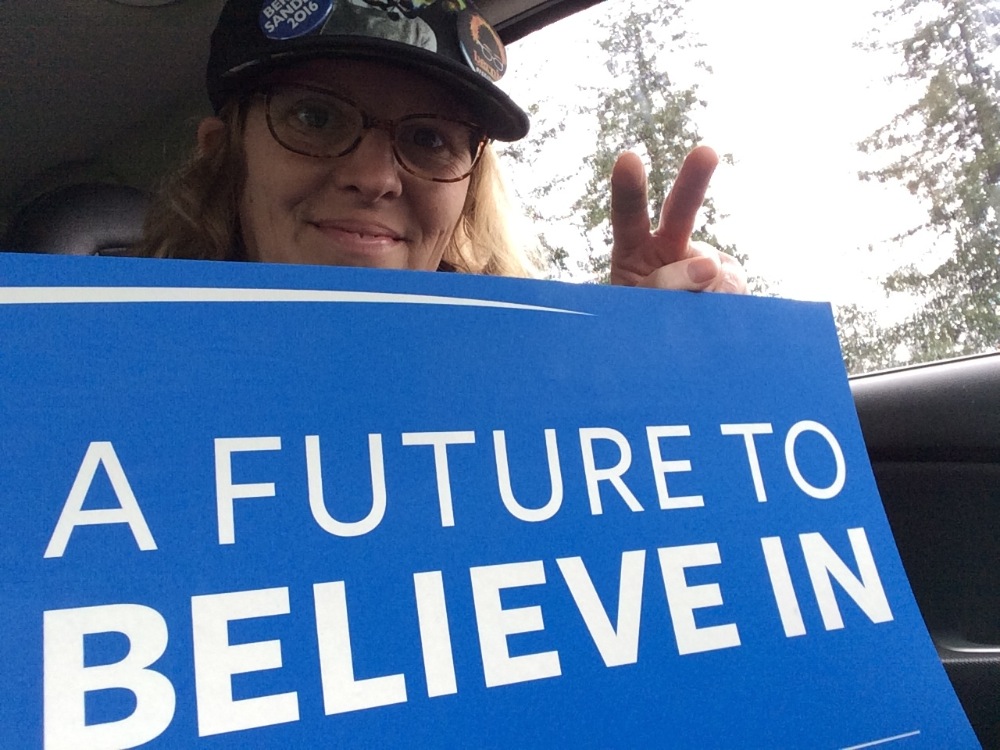 Currently a member of Democracy Spring Oregon committed to getting big money out of politics, her actions began in early childhood.  Raised by socially conscious progressive parents she was exposed to movements for change at an early age.   As a toddler her family marched with Cesar Chavez for farm worker's rights pushing her along in a stroller.  In adolescence she participated in many actions addressing social, economic and environmental issues  including the Nevada Desert Experience with Father Berrigan and Carl Sagan at Los Alamos protesting the nuclear arms race and above ground testing and No War for Oil Desert Storm protests in Los Angeles.  As a young adult Solea participated in the WTO "Battle in Seattle" and was a witness to and victim of police violence when engaging in peaceful protest.  More recently she's been protesting ongoing wars in the Middle East.  Current local issues she's raising her voice against include:*Calling for a moratorium on oil and coal trains running through the Columbia River Gorge.*Working to shut down Amerities toxic manufacturing facility in her small town of The Dalles, please see link below: http://www.kgw.com/news/investigations/toxic-air-found-in-the-dalles-despite-permit-from-deq/128717185 

Support Solea's delegacy to the Democratic National Convention.  

In honor of our hero, Bernie Sanders, donations of $27 are welcome and appreciated!! 


+ Read More
i also wanted to let you know if you give me a couple weeks to build up, my boyfriends the one who supports us because i can not work but soon i may be getting ssi anyway i want to give back and i dont see it being it a problem just give me till i can get a prepaid card hes picky bout his credit card and online and that extra few i can put on her for you but i see ur in a bind also. i am more than willing. god bless i hope the best
+ Read More
In honor of Hillary's selection of a centrist hack for VP, I'm making a contribution to your fund. Hope you make it to Philly in time for the Main Event!
+ Read More