Serving Hope
$1,876
of $20,000 goal
Raised by
27
people in 4 months
          Serving Hope
  Giving relief to the nunneries in Zanskar, Himalayas
 Gaden Relief Projects
has been helping Buddhist nuns in Zanskar, India since 1991.  We are a small volunteer-based NGO with low operating costs; over 95% of funds reach the poor and needy directly.
The Zanskar Nunnery Project
: We support 9 nunneries spread across 7000 sq. km of the most isolated of all Himalayan valleys, the Zanskar Valley.  This is a semi-desert valley with an elevation of 3500 metres above sea level and is one of the coldest inhabited places in the world. It is connected to rest of India only by a single lane road in deplorable condition and due to extreme weather is only open 7 months of the year.  The Zanskar Valley's isolation applies to technology as well. For better and for worse, cellular reception is unreliable and internet connection remains unavailable. The harsh climate, remote topography and limited amenities prove difficult for many to know or see the nun's plight first hand.
Our Goal
: In the past, Gaden Relief Projects has provided modest support to the Zanskar Nunneries. This year, with your help, we would like to increase our support due to a recent rise in admittance to the Nunneries with some girls as young as 4 years old. Besides religious reasons, local villagers send their daughters to a Nunnery simply because they do not have the resources to raise them. The Nunnery population has been growing but its sources of support are diminishing.  Annual funds from the only other funding NGO, were not sent to half of the Nunneries last year.
In the Fall of 2018, a Gaden Relief Projects Representative visited and assessed each of the 9 Buddhist Nunneries (report here
https://gadenrelief.org/october-2018-visit/
). It was observed that while the 'wants' of the nuns are small; they live in a great state of 'need' as basic necessities for daily survival are lacking.
Your generosity and help are greatly needed. A donation to the Zanskar Nunneries benefits beyond helping just the nuns. Together we will invest in humanity by making a difference to the lives of girls and women who are seeking enlightenment for themselves and all living beings.
9 Zanskar Nunneries: home to 185 nuns (age: 4-88 yrs., 73 are young girls)
With your kind support we could meet our funding goals and provide nuns with much needed assistance and relief.
Most critical areas of need
: food, clothing, healthcare, education, adequate housing-heat, water, lighting
·        Transportation: $5 CAD pays for travel to local health clinic
·        Food: $20 CAD provides food for a single nun for ONE MONTH
·        Heat: $50 CAD pays for a small smokeless stove
·        Clothing: $100 CAD provides clothing, shoes and personal hygiene products for a single nun for ONE YEAR
Main Areas of Need
:
Infrastructure and Daily Needs: Some Nunneries can access electricity for only a few hours a day, and are equipped with water delivery and storage system, and a greenhouse.  Other Nunneries have only the bare minimum for their daily living; a basic residential cell with no communal kitchen (e.g. water is fetched from the ice in winter). Nuns of Manda, Rizhing, and Bya are living in particularly dire conditions; they suffer from a lack of food and heat sources as well as a shortage of practical goods such as shoes and clothing.
Your donation could provide essentials for daily life:
·        solar panels and lanterns
·        water storage and delivery system
·        smokeless stoves
·        blankets, mattresses, carpets and tables
·        first-aid items
·        plastic for greenhouses
·        tree seedlings and seeds
·        school supplies
We feel so much love from giving, and we hope you will join us in giving cheerfully and freely. Your donation will go directly into the hands of the Zanskar Nuns, impacting their lives in a significant way.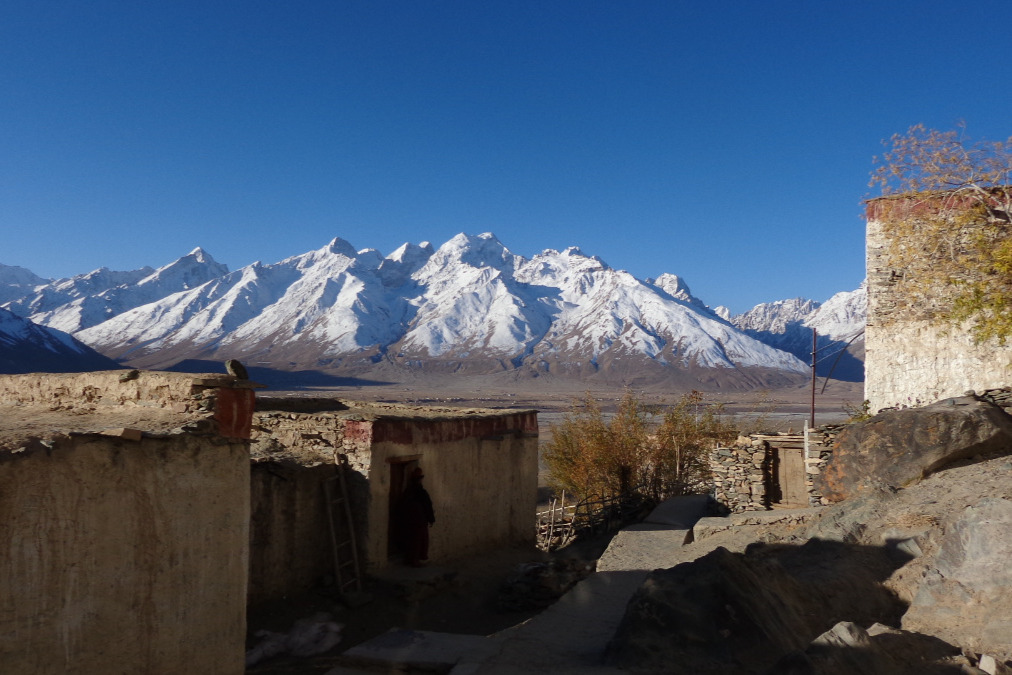 Housing
: The nuns have built most of the facilities from their own labor.
Restoration and repair are vitally needed to maintain old buildings as well new buildings are required for classrooms, residential cells, meditation cells, kitchens, and outdoor toilets.
In particular Karsha Nunnery requires a residential school at the cost of CAD $12,000.  Currently schools with young nuns are conducted in cramped conditions and elderly nuns share personal cells with 1-2 girls.
Healthcare
: In the absence of adequate healthcare facilities, people in Zanskar are dependent upon the system of Tibetan medicine known as Amchi. This system is not sufficient when it comes to serious disease or emergency treatment. Hospitals are free but at quite a physical distance in Leh, a 2-day trip by car when the road is accessible and only by helicopter in the winter.
Your donation could provide for essential:
·        Financial aid for travel expenses to see a doctor or receive medical treatment, accommodation, and the partial cost of drugs in the case of serious health problems
o   Even small contributions make a difference! A Buddhist community in Toronto managed to support an 9-yr. old young nun who urgently required brain surgery in Delhi (please see story here:
https://buddhaweekly.com/lightning-fast-compassion-group-of-students-inpired-by-h-e-zasep-rinpoche-come-to-the-aid-of-a-young-nun-in-india-requiring-neurosurgery/
)
Gender Issues
: Historically, Zanskar nuns are within a gendered hierarchy and struggle for women's equality and empowerment. Local communities give more support and respect to monks leaving nunneries little to no means of local support.
Gaden Relief Projects are proud to have the opportunity to raise funds for women who serve people and Buddhism and wear the burgundy robes of love and compassion.
Your donation could be a unique catalyst for change.
Access to Education
: 8 of 9 Nunneries do not have access to proper Buddhist education, in fact many nuns remain illiterate. The Nunneries wish to arrange for visiting teachers from the large monasteries in South India during the milder months.  Your contribution could fulfill a deep wish of the nuns to receive a qualified teacher in order to further their studies in Buddhism which they will continue lifelong. The studies would  empower them to progress along the path to enlightenment for the benefit of all living beings.
·        Visiting teacher's salary and travel expenses: $2000 CAD per Nunnery per season
In conclusion,
We endeavor to support the Zanskar nuns without imposing an agenda, give direction or dictate which activities to prioritise. All projects at local Nunneries are carried out with local technology, skills, and materials.
We feel a sense of duty and privilege to provide relief support to the Zangskar nuns.
Thank you for contributing to the daily life of nuns in the beautiful Zangskar Valley.
We wish to invest in the power of human empathy leading to collective action and create social change.
The nuns receive our gifts with an open heart and fervently pray for peace and happiness of the world. 
To learn more or see updates on Gaden Relief Projects please visit our website:
https://gadenrelief.org/
For questions about the project and/or information about volunteering or donations in-kind please feel free to contact us.
Donations can also be given in tribute or in memory. We are affiliated with Canada Helps
https://www.canadahelps.org/en/charities/gaden-relief-projects/.
  Gaden Relief Projects is a Canadian Registered charity, and all charitable donations will be given a tax receipt.
Thank you
+ Read More