Save the North Field! Legal and campaign fund
$10,280
of $10,000 goal
Raised by
100
people in 2 months
voir le texte en français plus bas


Why are we raising funds?
 Our community is taking the City of Montreal to court. We are raising funds to cover the costs associated with this legal case.  Our lawyer, (and fellow ball player), Nick Dodd is working on a pro-bono basis, which has significantly reduced the cost and made it possible for us to pursue the case. However, the other expenses associated with the case are not covered, and we will only be able to go through with the lawsuit if we raise enough funds to cover these costs. The court case seeks to have a judge quash the City's decision to destroy the North field, and order the City to restore the North field. 
Why are we fighting to save the North Field? 
 The North Field brings together an incredible cross-section of Montreal, and represents a rare example of a truly socially integrated space. We are culturally, linguistically and socio-economically diverse, from all walks of life, and inter-generational. 
The softball field at the corner of Mont-Royal and Esplanade is an historic field established in 1897. It has always been used for softball and baseball play, free of charge. Its accessibility has been one of the keys in making it home to a community that is unique in its diversity. It was a bastion of cultural heritage that should never have been taken away.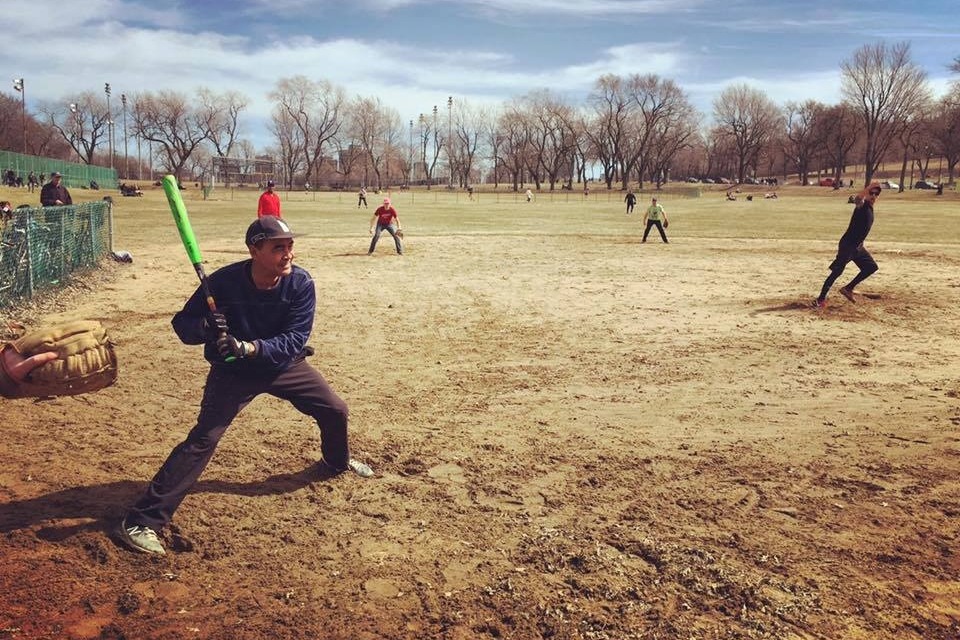 Why was the North field taken away?
It's not clear. The City says it was dangerous and there wasn't enough space, but there is no convincing evidence of this. Our own research has debunked the various justifications that have been provided by the elected officials and bureaucrats who are responsible for the decision.  To read our full dossier, please see our community submission to the city "
Jeanne-Mance Park: a proposal to restore the North Field
 "
Our concerns : 
Why are Montrealers being ignored by the administration they elected? 
•
Integrity:
 We received a written and signed promise from the City in 2017 that the North Field would be returned to us following the renovations to the adjacent tennis courts. This promise was broken in May 2018 when - 5 days after informing us of their plans - the City bulldozed the field. 
•
Transparency:
The City acted hastily to destroy the field, without having consulted any of its users. Since the outcry in the wake of the field's destruction, the City has announced consultations that will touch on the use of the space, after demolishing the field. Action first, consultations later is becoming a pattern with this administration. 
•
Accountability:
The reasoning and evidence being presented by the City to justify destroying the field on safety grounds is flimsy and unconvincing. A report cited by officials as the primary evidence that the field was unsafe not only doesn't actually arrive at this conclusion, but it is procedurally flawed. 
•
Gentrification:
The North Field was one of the few truly accessible (free) sports installations that still existed in the Plateau. This made for a community with members from all backgrounds and walks of life. Removing the field and displacing the community entrenches the gentrification and homogenization of the neighbourhood. 
What does our legal case address?


The lawsuit focuses on four grounds to dispute the cities decision to destroy the field:
•    The failure of the City to acquire a permit from the Quebec Ministry of Culture as required by the Cultural Heritage Act, for the alteration of provincial heritage sites such as the Site patrimonial du Mont-Royal, which includes Jeanne-Mance Park.
•    The weakness of the City's cited argument that safety, liability and limited space were the main reasons for the destruction of the North Field.
•    The City's broken promise to community members (that the field would be preserved) without any consultation or opportunity for input from the community.
•  The failure of the City to seek the written opinion of the Conseil du patrimoine de Montréal regarding the demolition of the North Field prior to carrying out the work, as it was obliged to do by its own regulations
What do we want? 
The North Field never should have been destroyed, and we are committed to seeing this special place reinstated.
Scroll to the bottom for social media links, fund management details and further reading
------------------------------------------------------------------------------------------------------------------------------
Pourquoi levons-nous des fonds?
Notre communauté poursuit la Ville de Montréal en justice. Nous collectons des fonds pour couvrir les coûts liés à cette affaire judiciaire. Nick Dodd, notre avocat (et coéquipier de balle-molle), travaille bénévolement. Cela permet de réduire considérablement les coûts et de nous permettre de poursuivre les démarches. Toutefois, certaines autres dépenses associées aux procédures juridiques ne sont pas couvertes et nous ne pourrons continuer les démarches si nous ne collectons suffisamment de fonds pour couvrir ces frais de justice. Par notre pourvoi en contrôle judiciaire, nous demandons à un juge d'annuler la décision de la Ville de détruire le Terrain nord et d'ordonner à la Ville de restaurer le terrain.
Pourquoi nous battons-nous pour sauver le Terrain nord?
La communauté qui joue traditionnellement au Terrain nord est diverse de plusieurs façons : Nous sommes diversifiés sur les plans culturels et linguistiques, nous rassemblons des individus de tous les profils socioéconomiques et nous formons un groupe intergénérationnel.
Le terrain de balle-molle au coin du Mont-Royal et de l'Esplanade (appelé Terrain nord) est un terrain historique créé en 1897. Toujours utilisé gratuitement pour la balle-molle et le baseball, son accessibilité a permis l'émergence d'une communauté diversifiée tout à fait unique. C'est un bastion du patrimoine culturel montréalais qui n'aurait jamais dû être enlevé.
Pourquoi le Terrain Nord at-il été retiré?
Ce n'est pas clair. La Ville affirme que ce terrain était dangereux, mais il n'y a jusqu'ici aucune preuve convaincante pour le prouver. Nos recherches ont démystifié chacune des diverses justifications données par les élus et les fonctionnaires responsables de la décision. Pour lire notre dossier complet, veuillez consulter notre soumission de la communauté à la Ville "
Le parc Jeanne-Mance : Une proposition pour la restauration du Terrain nord
 ".
Nos préoccupations:
Pourquoi les Montréalais sont-ils ignorés par l'administration qu'ils ont élue?
•   
Intégrité
: Nous avons reçu une promesse écrite et signée de la part de la Ville en 2017, à savoir que le Terrain nord nous serait retourné après les rénovations des terrains de tennis adjacents. Cette promesse a été rompue en mai 2018 lorsque - 5 jours après nous avoir informés de ses projets - la Ville a détruit le terrain au bulldozer.
•   
Transparence
: La Ville a agi à la hâte pour détruire le terrain, sans avoir consulté préalablement ses utilisateurs. Depuis le tollé suscité par la destruction du terrain, la Ville a annoncé des consultations publiques qui porteront sur l'utilisation future de l'espace. Agir avant de consulter est en train de devenir un modèle de fonctionnement de cette administration.
•   
Reddition de comptes
: Le raisonnement et les preuves présentés par la Ville pour justifier la destruction du terrain sont fragiles et peu convaincants. Un rapport cité par les autorités comme étant la principale preuve que le terrain était dangereux ne parvient non seulement pas à cette conclusion, mais il est entaché de vices de procédure.
•   
Embourgeoisement
: Le Terrain nord était l'une des rares installations sportives (gratuites) réellement accessibles qui existent encore dans le Plateau. C'est ce qui a contribué à l'émergence d'une communauté composée de membres de tous horizons. La destruction du terrain et le déplacement de la communauté favorisent l'embourgeoisement et l'homogénéisation du quartier.
Qu'aborde notre cas juridique?
L'action en justice repose sur quatre arguments remettant en question la décision prise par la Ville:
•   Défaut de la Ville d'acquérir le permis du Ministère de la culture du Québec requis selon la Loi sur le patrimoine culturel pour la modification de sites patrimoniaux provinciaux tel que le Site patrimonial du Mont-Royal, qui inclue le parc Jeanne-Mance.
•   Les craintes mal fondées en matière sécurité, de responsabilité et d'espace citées par la Ville comme arguments pour la destruction du terrain.
•   La promesse rompue par la ville envers les membres de la communauté – selon laquelle le terrain serait restauré après les travaux, sans aucune consultation et sans donner la chance à la communauté de s'exprimer à ce sujet.
•  L'omission de la Ville de demander l'opinion écrite du Conseil du patrimoine de Montréal concernant la démolition du Terrain Nord avant la réalisation des travaux, comme elle était obligée de le faire de par ses propres règlements
Que voulons-nous?
Le Terrain nord n'aurait jamais dû être détruit et nous nous mobilisons pour que cet espace unique soit restauré.
---------------------------------------------------------------------------------------------------------------------------------
Social Media / Médias sociaux 
Facebook :
Save / Sauvons la Balle-Molle au Parc Jeanne Mance 
Instagram:
Parc Jeanne Mance Softball
Twitter:
@savejmpsoftball
Sign our petition / Signez la pétition:
Sauvons la Balle-Molle au Parc Jeanne Mance / Save JMP Softball #savethenorthfield
Details of fund management / Détails sur la gestion des fonds
:
Fundraising Agreement: How funds will be managed , dispensed and refunded
Accord de collecte de fonds : Comment les fonds seront gérés, distribués et remboursés
Further Reading / Lecture complémentaire
Our full dossier outlining who we are and all the steps we have taken in our campaign, submitted to City and Borough officials / Dossier complet soumis à la Ville par la communauté de balle-molle du parc Jeanne-Mance pour la restauration du Terrain nord, présentant notre communauté et détaillant nos arguments :
Jeanne-Mance Park: a proposal to restore the North Field
(EN)
Le parc Jeanne-Mance : Une proposition pour la restauration du Terrain nord
  (FR)
Opinion:
Jeanne-Mance Park decision threatens more than softball The culture that has evolved at Jeanne-Mance Park's North Field is a radically inclusive environment where newcomers are made to feel welcome.
KATHRYN JEZER-MORTON, SPECIAL TO MONTREAL GAZETTE
Mise à jour : 5 juin 2018
Media links / Références médias
Community Testimonial / Témoignages de la communauté
+ Read More