Help Keep Women's Health Clinic Open
$14,689
of $12,000 goal
Raised by
109
people in 65 months
Help keep a non-profit women's health clinic that provides critical services to indigenous and low-income women and families in Jalisco, Mexico, open for another year. Funding is ending for vital programs!12,000 US Dollars will keep the clinic running for one full year. Please read on to find out more about these programs and how you can make a difference.About Me :: I believe in "Activism through Everyday Choice"
I'm Sheila from Vermont, USA, and I decided to
simplify my lifestyle and to bicycle around the world
with my partner, in large part, to create a life better aligned with my values - a life that would allow me to focus my energy on local and global issues that are important to me. I don't have much money to give to organizations whose missions I believe in but I am able to offer my time and skills to help them meet their goals. By volunteering my services as I travel I learn more about the local culture, about the community's struggles and their accomplishments, and I gain friendships that last a lifetime. I am currently traveling through and volunteering in Mexico.
Me cycling through Baja California, Mexico.
My Original Volunteer Project :: The Health Center
This year, for International Women's Day and in honor of all the women around the world that help to empower others, I decided to volunteer my time to a local women's health clinic.
The non-profit clinic I am volunteering with, 
Centro de Desarrollo Jocotepec
 (CEDEJO), located in Ajijic, Jalisco, Mexico, has provided care to indigenous and low-income women and families in the area for over 30 years. Twice a week CEDEJO offers pap smears and breast examinations, as well as family planning counseling, to one of the poorest and most vulnerable barrios in Jalisco through a program CEDEJO manages and administors in their clinic space located in the Tepehua Community Center in Chapala. In addition, CEDEJO's Ajijic-based clinic accepts clients three days a week and leads educational programs through a variety of community organizations, schools and forums.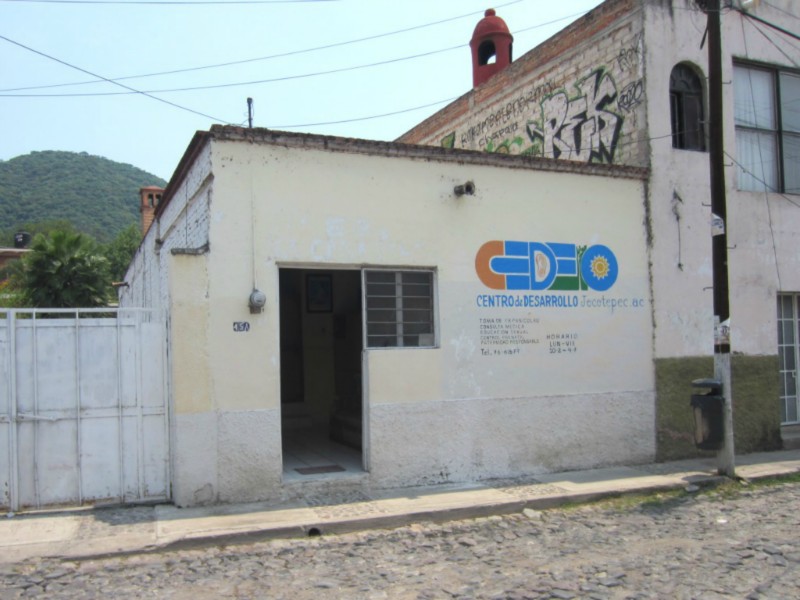 CEDEJO's headquarters and office in Ajijic, Jalisco, Mexcio.
After meeting with the Director of CEDEJO I realized I could best help by increasing CEDEJO's visibility online and updating their informational material. This is what I've been working on:>
Designing
a new Website
for CEDEJO
>
Implementing an
online donation function
 on their website
>
Training staff on how to update/maintain the website
>
Designing an updated Informational Pamphlet for CEDEJO (to replace their original from 1986)
>
Designing new Logos and Headers for CEDEJO
>
Visiting the CEDEJO clinics & workshops during business hours to
take photographs
 for the new website and pamphlet (my partner, Kai, helped with this)
>
Editing & providing
all photos
 to CEDEJO for future use
>
Creating
a Facebook Page
for CEDEJO
>
Creating a
Twitter Account
for CEDEJO
I'm happy to report that most (1/2014 NOW ALL) of the items above have been accomplished. The photos have been taken, the website is live and we're in the final stages of editing the pamphlet and getting the online donation function working.
However, while spending time working on this project I came to realize that CEDEJO is in danger of losing funding for some of it's most critical programs - programs that many women and families depend upon.THE NEED IS URGENT
There used to be three women's health clinics around Lake Chapala, run by the amazing director and registered nurse,
Sylvia Flores
, but over the years, grants and funding have slowly dried up and forced the doors of two to close. Today, only the one clinic in Ajijic remains open, despite the fact that there is an extreme need for CEDEJO's services. In addition, the funding that supports the free services (pap smears, exams, pre-natal care, family planning counseling) that the staff and volunteers of CEDEJO provide two days a week through a space provided to them by the Tepehua Community Center is ending at the end of August 2013.
These programs are critical to keeping the girls and women of Jalisco healthy and safe.
Sylvia Flores greeting women lined up to receive services at the clinic she provides twice a week in a space provided by the Tepehua Community Center.
WHY DO WE NEED TO KEEP CEDEJO CLINIC OPEN?Cervical and breast cancer are the leading causes of death among women from ages 35 to 60 in Chapala, Jalisco. CEDEJO
 is working to prevent these diseases, as well as other diseases, from affecting women through early detection and treatment programs.
Because of poverty and/or lack of education and/or failure of government assistance programs, many women cannot afford to see a nurse or doctor for a routine gynecological exam or prenatal care.
In 2012, CEDEJO's free clinical program at the Tephua Community Center space performed 350 pap smears. 280 of the women had to be treated for STDs. Of the 350 breast exams performed, 30 women were referred to Guadalajara for mammograms.
Jalisco has the highest rates of violence against women in Mexico, with 60% of women having experienced violence by the hands of their partner.
In 2012, 780 women attended counseling sessions or workshops about combating domestic violence and family planning. CEDEJO offers presentations, workshops and lectures through schools and other organizations in which the following topics are discussed: sexuality,STDs, prenatal care and childbirth, family planning, risks of teen pregnancy, hygiene and health and women's empowerment.
Meeting with clients in CEDEJO's free clinic at the TCC: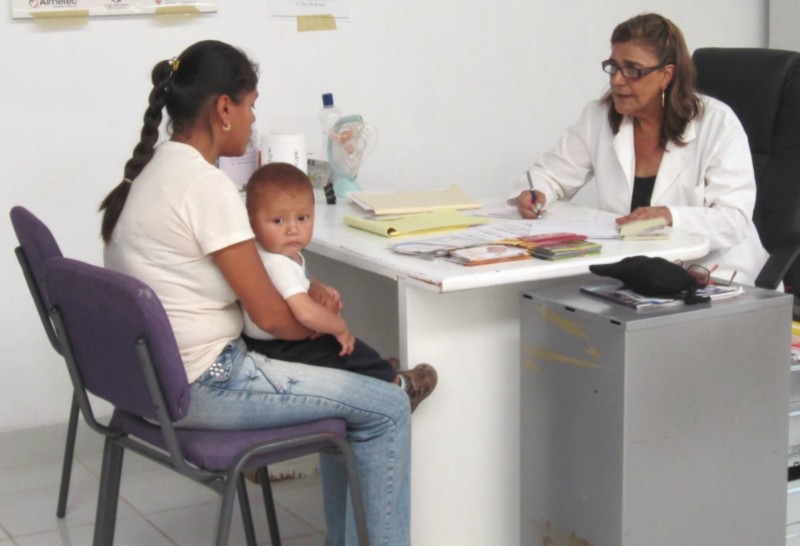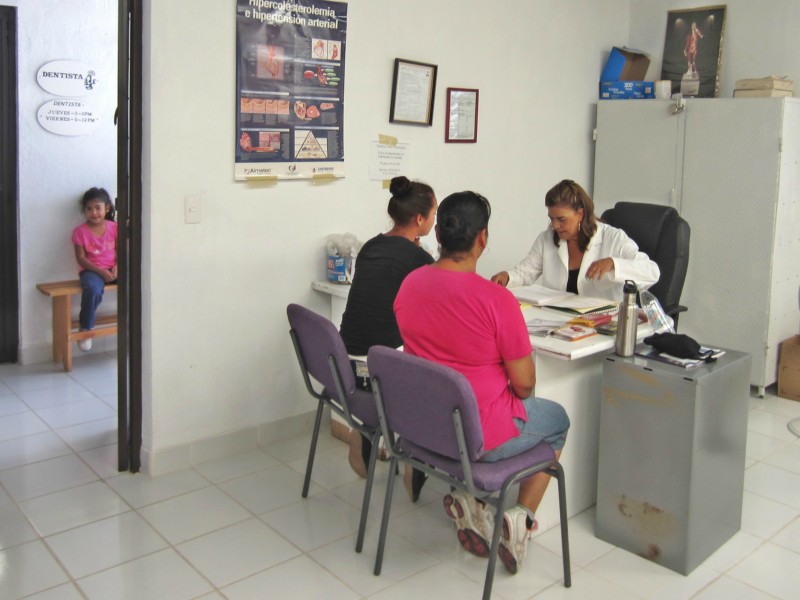 Exam Rooms at the clinic in the TCC space: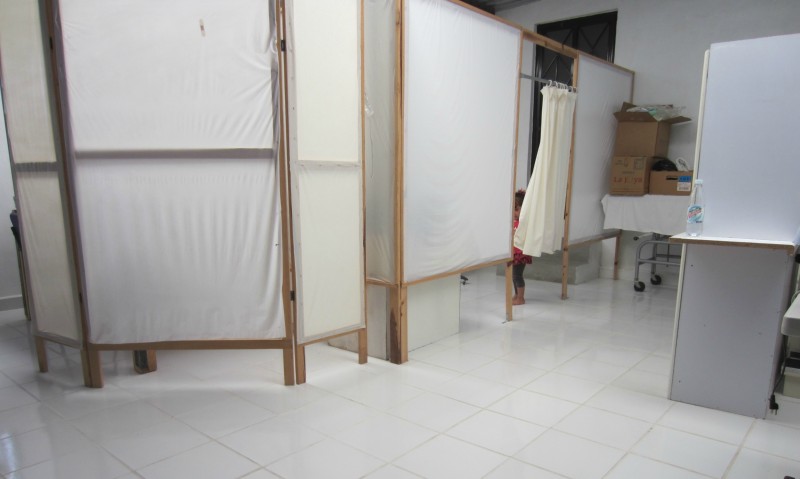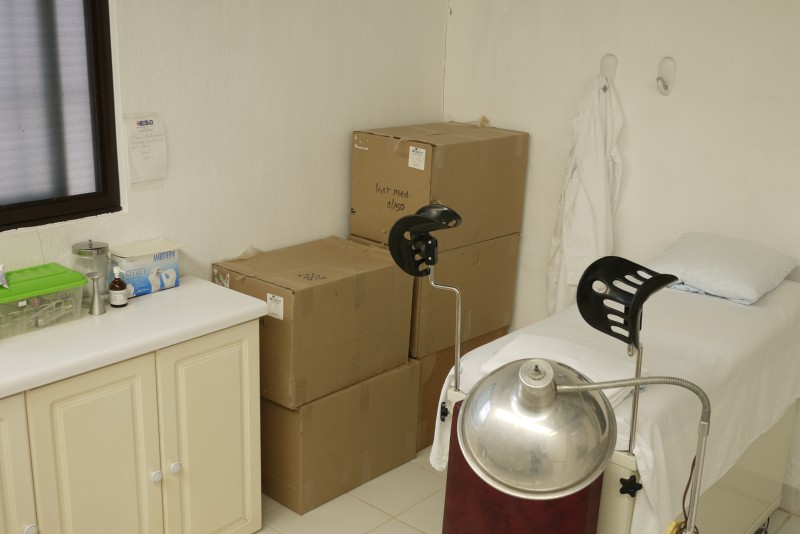 MY FUNDRAISING GOAL
My goal is to help keep the doors of CEDEJO's clinics open to women and families of this community who deserve access to these vital health care services.
WHAT THE FUNDS WILL BE USED FORFunds raised will go toward covering the bare minimum needed to keep the clinics open,
which include the following:
**pap kits for 1200-1400 women for one year
**lab fees for processing pap tests for one year
**transporting pap tests from Chapala/Ajijic to Gaudalajara lab 2 times a month, every month, for one year
**operating costs to keep clinics open at the very least 2 days a week, every week, for one year
**transportation costs (via car pool or bus) of unpaid nursing staff and/or volunteers to the CEDEJO free clinic, 2 times a week, every week, for one year
**replacing or replenishing additional medical supplies needed to perform pap smears (i.e. patient examination gowns, sterilization equipment)
**coverage of numerous workshops to youth and women's groups in Ajijic and Chapala (family planning, STDs, women's empowerment)
**printing of newly designed informational pamphlets used in clinics and workshops (replaces the current pamphlet used which was last updated/printed in 1986)
Funds raised above the $12000 needed for the clinic costs for one year will go toward CEDEJO's "Women, Power & Life" project of 2013/2014
, in which CEDEJO's Director will guide four local women in expanding CEDEJO's workshop programs. The women will attend the "National Congress of Sexology and Sexual Education FEMESS 2013" conference to receive specialized training on leading workshops that help empower women and young girls, to educate them about their reproductive rights and their right to live free of violence and to promote gender equality. The first pilot workshops for this program are tentatively scheduled to take place in a space provided by the Tepehua Community Center in early 2014. CEDEJO hopes to raise funding in the future to be able to expand their workshop program to community centers in San Cristobal, San Juan Cosala, Chapala, and Ajijic.
HOW YOU CAN HELP
I hope that others will see the value of CEDEJO's clinics and the services it offers and that you will find it in your heart to do one or more of the following:
GIVE A DONATION.
Match what I've donated in volunteer time and energy to the clinic in pesos or dollars and cents. Donate what you would normally spend on a co-pay to visit your gynecologist or your doctor. Make a memorial donation in the name of someone you've lost to breast or cervical cancer. ***PLEASE NOTE:: LOCALS CAN GIVE DONATIONS DIRECTLY TO THE CLINIC, TO ME OR DEPOSIT DONATIONS IN TO THE CEDEJO BANK ACCOUNT TO AVOID THE ONLINE PROCESSING FEES. SEE
CEDEJO'S WEBSITE FOR MORE INFORMATION
.
CHALLENGE EACH OTHER. NEIGHBORS, CO-WORKERS, BUSINESSES, CIVIC GROUPS, CHURCHES, or OTHER ORGANIZATIONS in the Lake Chapala area or around the world ::
Consider donating 13,000 pesos or more (~$1000 US or more) to this fundraising effort and then challenge another organization or group to match your donation. By pooling our limited resources, we can make a huge difference without putting undue stress on one particular funding source.
SPREAD THE WORD. SHARE THIS PAGE WITH FAMILY & FRIENDS. Even if you're unable to give a donation, p
lease share this page on Facebook, Twitter, via email or by word of mouth. This makes a HUGE DIFFERENCE to the success of this fundraising campaign.
THANK YOU FOR TAKING THE TIME TO REVIEW THIS FUNDRAISING PAGE! 
*****PLEASE NOTE*****
There is a 5% fee taken out of your donation amount to cover the Go Fund Me administrative costs of processing your online payment. Please consider covering this cost when you make your donation (every little bit helps).
All Donations go directly to the non-profit organization, the
Centro de Desarrollo Jocotepec
 (CEDEJO), to provide services as outlined.
+ Read More