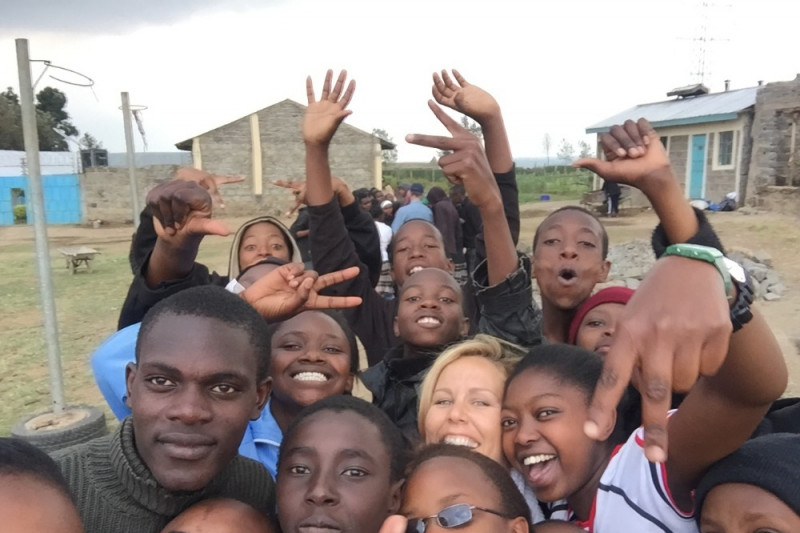 8
8
A New Dining Hall in Naivasha
$2,050
of $7,000 goal
Raised by
20
people in 6 months
Grace Race Friends (old friends and new friends!),
We know you are busy, but hope you can take a few minutes to read about how you can get involved in our fantastic 2018 fund-raiser for kids in Kenya! Last year you came together as a community and helped us to raise nearly $7000 to build a new kitchen at the One27 Academy in Naivasha Kenya - see our
2017 GoFundMe page
. For those who are new to this community:
Naivasha
is a medium-sized town about 100 km from Nairobi, in the heart of the beautiful Rift Valley. In 2016, you teamed up with us to raise $17,400 to expand the classrooms at the Academy. Much of this was done through our
2016 GoFundMe campaign
. In previous years going back to 2004, through the Grace Race annual 5-mile road race and 5K walk, local participants and donors raised over $200,000 to buy the 5-acre plot of land, install a well and other infrastructure, and construct all of the buildings making up the Academy. Its grand opening took place in January 2013 and it quickly grew from that point. To learn more about our history and view photos and videos from past trips and Grace Race events visit our
Grace Race Fund home page .
The school is now home to 180 boys and girls who board there and receive secondary school education (equivalent to high school in the United States), and has a dedicated and well-trained teaching and administrative staff to attend to the needs of the children. Many of the students are orphans, supported through Grace Community Church's
ONEChild Kenya child sponsor program
. See the ONEChild Kenya site to learn more or register as an orphan sponsor.
The students in Naivasha and the staff there are so grateful for what you have given them; you have brightened their lives in a very tangible way. You are part of a community that is helping boys and girls in Naivasha, Kenya "one step at a time" to receive education and job skills that will help them to be successful adults. The Grace Race Fund and its local partner
Grace Community Church of Chelmsford
have a solid and unique partnership with Bishop Kimemia and his team in Naivasha. This is a relationship that goes back over 17 years. Bishop Kimemia's long-standing vision for providing vocational training on site is one that we expect with continued investment in the partnership will soon be fulfilled. Once this program is up and running, students who have graduated from the One27 Academy secondary school can opt to take vocational training classes right at the Academy instead of going to college. Vocational classes will include welding, auto mechanics, computers/IT, tailoring, carpentry, agriculture, and more. This is a great alternative for the students that are less academically inclined, as the vocational training gives them a much better chance of landing jobs in Kenya than they'd otherwise have without this specific training.
We hope this year you will consider helping us again - or helping us for your first time - in yet another "virtual" harambee.
Harambee
is the Swahili word for the well-known Kenyan tradition of "all pulling together" as a community to accomplish a goal, and is the official motto of Kenya. Our harambee focus this year is raising money to finish construction of the dining hall, which is part of the same new building that houses the kitchen you contributed to last year. Additional funds are needed to build/install the metal roof for the building and finish off the walls and windows. You can see the building in the first photograph below, taken by the team that visited Naivasha in the summer of 2017. The original kitchen appears at the far left of the picture. Some small incremental progress has been made since that trip (seen in the subsequent photos from Bishop Kimemia, showing some other angles on the construction site) but we'll need your help to get it completed so the students and staff can eat their meals there. Currently they are still using the original dining space built to accommodate only about half the current population at the One27 Academy. (In other words, their current facility is extremely crowded and cramped!). Without a roof on the new space it really can't be used consistently, and especially not during the rainy season.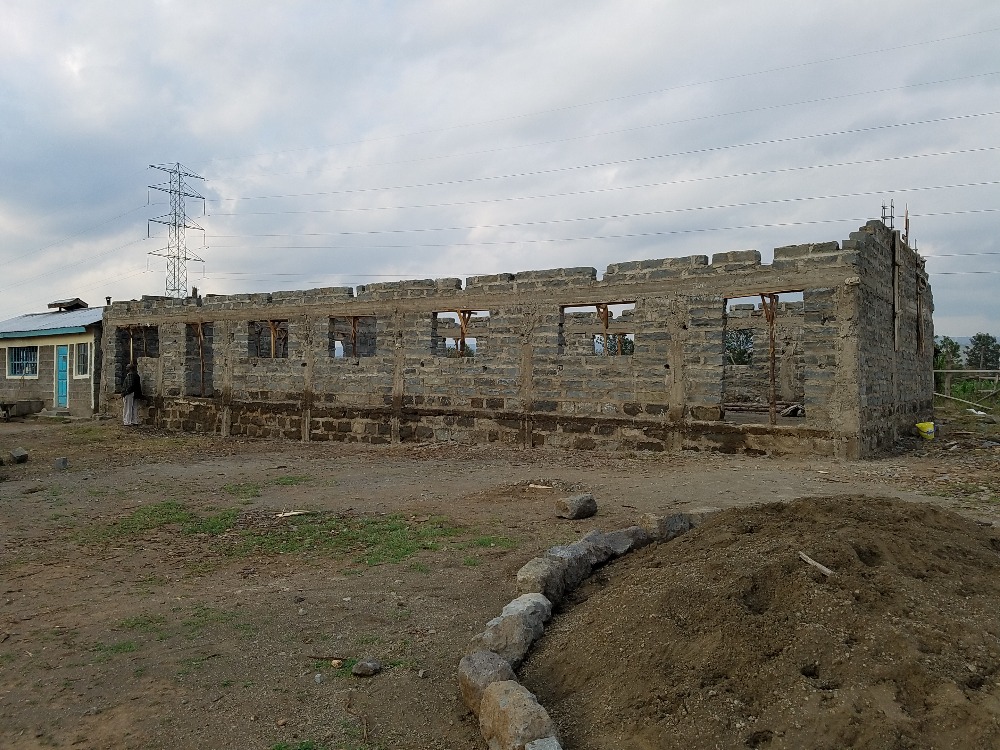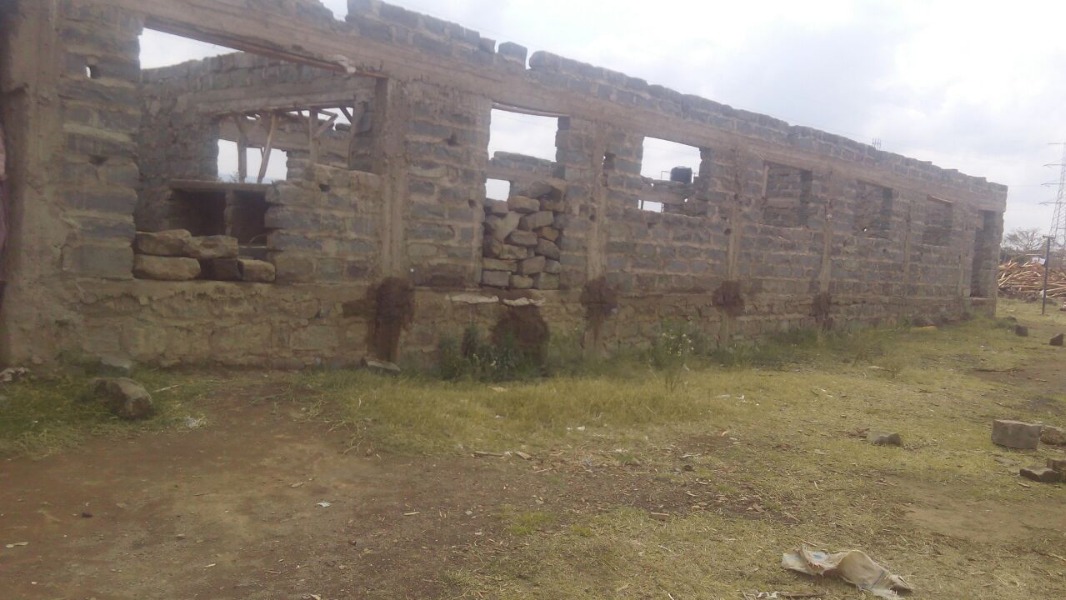 As you think about pitching in to help these students, please remember that even a small donation of $30-$50 will be a blessing, and every dollar moves us closer toward reaching our goal. You might be surprised by how much can be purchased with a dollar in Kenya! If you have friends or family members that might want to be a part of this project, please do forward them the link to this GoFundMe campaign.
All donations are tax-deductible, as the Grace Race Fund Inc. is a registered 501(c)3 non-profit organization (EIN 35-2322508). It is also a qualified charitable organization for matching gifts programs that many employers offer, so if you work for a company that has such a program, please ask them about it. The Grace Race Fund is also active in its local community. We plan to have teams of runners and walkers participating in road races this summer in the Boston/Lowell vicinity to bring some team spirit to our fund-raising. If you like to run or walk, you are welcome to join. You can form your own team or join ours. This helps us to raise even more money, as each runner/walker asks her/his friend, coworkers, neighbors, or family to be sponsors. All ages and abilities are encouraged to take part in the fun! Please contact me if you are interested - john@gracerace.org
.
Thank you for reading and for your thoughtful consideration of this opportunity to help Kenyan kids in very visible and practical ways. We appreciate you!
Sincerely,
John Feehrer, for the Grace Race Fund team
(John, Kenny, Diane, Gretchen, Diane, Nancy, Alfonso)
+ Read More