Motel Possible Renovation Project
$545
of $2,500 goal
Raised by
11
people in 38 months
What is the Motel Possible?

The Motel Possible, turned Atwood Inn motel, is a mom & pop motel rehabilitation project in Northern Michigan.

Our mission is to transform this once-vacant motel property into an affordable and sustainable lodging alternative in Northern Michigan. We are guided by a respect for nature, a sense of place, and a desire to leave our little corner of Antrim County and the world at least as nice as we found it. We are committed to repurposing, making do, re-using, and recycling, and to sharing our hospitality and love for this place with others.

Your contribution will help us continue renovating the buildings and property and to finish transforming the Motel Possible into the Atwood Inn, a charming and viable mom & pop motel business.


Who we are:

We are Dave and Patty Hill. Dave has been in the building trades since his teens, first working for his Dad's plumbing business, and eventually for himself as  a home builder and remodeler. I have worked for a number of successful small businesses over the course of my almost 40 year career and have held diverse titles including customer service representative, inside sales rep, business manager, office manager, fruitstand girl, baker, shipping clerk, innkeeper, social media marketer, and most recently, waitress. We have been married almost 28 years and still like spending our time together. We have one grown and beautiful (inside and out) daughter, Lexi. We share our home with one pug dog, Abbie, and one previously stray cat, Number Two.

What we're doing:

Due to many mistakes and a few misfortunes, we found ourselves at a crossroads in mid-2014, starting completely over financially as well as looking for a new place to call home. We looked at several options, but kept coming back to the old Fairway Motel/Bavarian Inn property in Atwood. The buildings and grounds needed lots of loving and work, but it had a good foundation and tremendous potential for restoration and growth. It was a match made in heaven! So we got each other a motel for our 27th wedding anniversary present.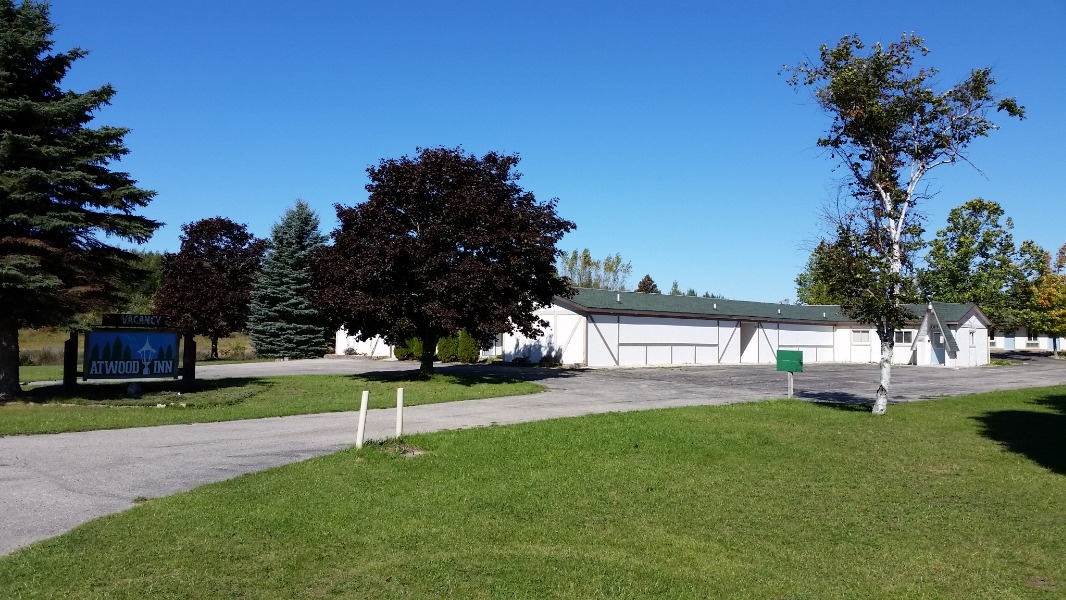 Since then, we have been bringing the 6+ acre property back to life. With a shoestring budget and a lot of help from friends and family, we spent the spring and summer of 2015 scrapping and scraping and cleaning and painting. It took every last minute and dime we had to get it done, but we are proud to have met our commitment to re-open and furnish the rooms in time for a full house of guests this past Labor Day weekend. 

With your help, we will:

Complete the next phase of building and grounds improvements, including exterior and door painting and landscaping.

Increase our inventory of bedding, office supplies, and amenities for the 2016 season and beyond.

Update the guest rooms, including flooring and bathroom upgrades.

Promote the Atwood Inn motel by networking with local businesses and organizations. We are working with activity planners and area chambers of commerce on promotions and events for 2016.

Implement an online booking system and establish a greater presence on the Internet.
Our immediate goal is to survive the lean winter months and be ready to come out swinging for the spring and summer season!

We aren't asking for something for nothing. We are happy to offer future and discounted hospitality in exchange for your contribution, and to keep working our own butts off to make this happen.  We have said we will do whatever it takes to make this a success, and we will.

Why does this mean so much to us?

We have dreamed forever of working together and rebuilding something for ourselves and our family. This is not just a business or a piece of property to us. It is our home and our life. We have everything into it.

Thank you.


We have been blown away by the goodwill we've received from our family, friends, and community. It's a pretty heady feeling, knowing that so many people are genuinely pulling for us.


For every contribution, whether it be helping on one of our work bee days, finding that little something we just have to have for the motel, or giving of yourself financially, we are so very thankful.

Please follow along with our project journal at MotelPossible.com .
+ Read More
Be the first to leave a comment on this campaign.