Keep plastic out of the Ocean
CHF245
of CHF120,000 goal
Raised by
7
people in 11 months
Each year between 8 and 12 million metric tons of plastic waste ends up in our ocean and more than half of this pollution comes from only 10 rivers! These numbers are set to triple in the next decade.

CLEANFORGOODfoundation's goal is to clean the worlds rivers from plastic waste, stopping the pollution at the source before it can reach our ocean and becomes irretrievable.Upon reaching the ocean 90% of it sinks or breaks up into smaller and smaller pieces, killing wildlife, poisoning our food and drinking water.
Once stopped and collected at the base of the rivers
our objective is to transform this plastic back into energy
(oil, gas & electricity) using our partners patented technology -
commergyseramatgroup.pl
 - making it possible to transform all types of plastic back into energy. Instead of throwing this "energy source" out into nature, landfill or simply burning it we can now reuse its power and bring energy and job opportunities to local communities and save our water and natural environment. This technology is easy to transport and install due to the fact that each transformation unit is in a 40ft container.
Help us fund our first mission - MISSION 1.0
To accomplish this we must go step by step.
Our first mission will lead us to determine the best spot to install our first sponsored transformation unit
.
This is why we are organising a crowdfunding campaign and searching for funds to accomplish
Mission 1.0
which
consists in the documentation, research and sampling of 3 rivers and 1 island
across the globe.  To better understand this crisis we will meet with local communities, authorities and organisations to see what is being done to stop this pollution and present our solution.
Mission 1.0
will take us to
the Citarum river in Indonesia, the Niger river in Nigeria, the Amazon river in Brazil and Bali in Indonesia
. Each area is specifically chosen according to the local waste management problems and amount of plastic pollution entering into our oceans.
At each location
we will collect 1 ton of plastic waste
and send the sample to our partners hub in Poland for testing,
this will help to optimise our first sponsored unit
.  We will then be able to decide where
this first unit
will be installed to start cleaning up our mess.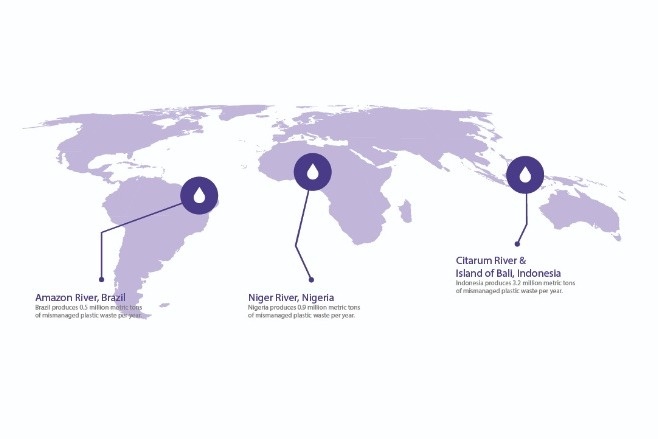 Our solution is a profitable way to address the crisis by applying our technological solution which makes commercial sense for all those involved, this gives us a real chance to solving this global challenge quickly and on a truly sustainable basis.
By doing so we can save our water from further destruction, create energy and job opportunities for local communities, spread awareness to future generations, preserve our natural environment and save human and animal lives.
Help us to leave a clean and healthy planet for future generations, we only have one home.
We are all responsible for this destruction, whether we like it or not, and must act together for change. If we do nothing today, tomorrow nothing will change.


Your help will be
the change! We and the planet thank you :)

All donations are injected into the active development of the foundation.CLEANFORGOOD FOUNDATION
www.cleanforgood.pl
KRS / NATIONAL COURT REGISTER : 0000720369
LODZ, POLAND
for any questions please do not hesitate to contact -
Michael Bogucki
Founder
Ask me anything.
Facebook
Instagram
LinkedIn
+ Read More
Update 2
3 months ago
Share
Project Saint Helena

The Cleanforgood Foundation had the opportunity to go and visit the remote island of Saint Helena situated in the South Atlantic Ocean. A Volcanic tropical island, located 4000 km from Rio and 1950 km from South Western Africa. It's home to around 4500 people and Jonathan, the oldest living tortoise known to man who is 187 years old. Saint Helena is a beautiful Island of 122 km2 with wonderful landscapes and surrounded by a beautiful ocean.

Being in the center of the South Atlantic Gyre, the island recieves daily doses of plastic waste on both accessible and less accesible beaches. With the local organisations - the Saint Helena National Trust and the Environmental Management Division, who aim to preserve Saint Helena's environmental and cultural heritage - we were able to visit Sandy Bay Beach and document the scope of this incoming plastic pollution. We spent a few hours picking up broken down pieces of plastics, micro plastics and even nurdles from a spill that happened in Durban in 2017.

As you may have already heard or witnessed, these plastics poison and kill wildlife, such as turtles, birds, fish and other marine creatures, which we end up eating. In 2016, research was done on drinking water and it was discovered that our bottled water is contaminated by micro plastics. Everything is connected and plastic doesn't just disappear. It either sinks, breaks up or finishes in our food and drinking water. It travels great distances as it was proven to us by a plastic medicine bottle from Japan, found on the beach, more than 15'000 km away from its place of production.

The island is dependant on the import of goods such as fuel, food and other necessary goods for human life to thrive. Much of these goods are packaged in plastic. The islands current way of dealing with the waste generated on the island is landfill. The waste management on the island digs 9 meter deep wholes that they fill up with public waste on a daily basis. One hole has a life span of 8 to 12 months. Each day 2 to 3 dump trucks collect and dispose of upto 6 tons of waste. A quick calculation gave us an average of 1.35 kg of waste created daily per person. This is just general waste, let's not forget waste oil, cooking oil, tyres, electrical compliances, bio waste etc. All of which can be transformed into energy using our partners technology. Saint Helena's landfill has around 8 years of dumping space left to use.

The goal of our visit was to research the problem, discuss our solution and come to a conclusion on how we can collaborate in helping the island become greener and more environmentaly friendly. By using our solution we would create a circular economy. By tranforming waste into fuel :

- Less fuel could be imported and certainly less would be burnt in the importation process.
- By digging up the waste from the landfill and transforming it would extend the life span of the landfill thus leaving more space for waste storage.
- Less contamination would leak into the ground aswell as less or no methane let out into the atmosphere.

We are currently preparing a full proposal on ideas, which will help the Island in becoming fully self sustainable and environmentally friendly. By transforming waste into energy we create job opportunities and economical stability which will only strengthen the island and its inhabitants all while being a beacon by showing what can be achieved with our solution.

Saint Helena's goal is to become totally green and environmentally friendly by 2021, our idea is to help them achieve that goal and we are confident we can obtain it before 2021

We kindly thank Ryan Belgrove from Enterprise St. Helena for the help in organising our stay and meetings on the island.

Names and borders don't stop pollution from travelling, everything is connected, we are one planet, we are a whole, something thrown away in one place can finish its journey in a totally different part of the world or even in your plate.
+ Read More
Update 1
8 months ago
Share
Visiting our partners and their hub in Poland.
+ Read More
Read a Previous Update