6
10
Lake Pickett Lawsuit Appeal
$217
of $20,000 goal
Raised by
6
people in 2 months
The purpose of this fundraiser is to raise money for a lawsuit against Orange County, FL.  Orange County citizens scraped together their money and sued Orange County for Urban Sprawl in the environmentally sensitive Econ River Basin AND WE WON! The County and the developers filed an appeal to Governor Rick Scott and his cabinet.  The Developers hired a high power lobbyist firm, Brian Ballard, and had the JUDGE'S DECISION overturned by Rick Scott and his cabinet.

The people did not quit! We filed suit in the FL Appellant Court.  The County is doing everything possible to get the case dismissed! One of the developer's investors even began contacting the people offering to buy us out - 5 of us said "NO WAY!" 

Since 2013, we have been fighting Orange County, FL over a mega development that the County approved to be built in Rural East Orange County. The proposed building site is in the Econ River Basin. This area is home to critically protected species & fauna as well as the FL black bear. The area is environmentally sensitive. The Army Corps of Engineers, Sierra Club, 1000 Friends of Florida, expert UCF researchers, Save Orange County, Inc., League of Women Voters, and all state and local politicians representing this area have SPOKEN AGAINST the proposed development.  

We NEED MONEY to stay in this political/legal fight! PLEASE donate $2, $5, $10 whatever you can to help us.  Little donations add up and we need to tell the county that the people's voices that stand up for community and environment MATTER! We will not quit if you help us stay in the game! PLEASE DONATE!
+ Read More
Update 1
1 month ago
Share
After the appalling , disgraceful, politically motivated decision made by Rick Scott, and all of his cabinet, to overturn the Administrative Law Judge in our EPIC WIN against the Developers and the County, we finally filed our appeal. Soon after the appeal was filed developers filed motions to dismiss the case stating that we did not have standing and they wanted more time to answer our response to their motion's. WE WON AGAIN!! The judges denied the developers motions. Now it is on to the appeal itself where we will WIN again. We really need the community to continue to support us all the way till this is completely done. This is so important because it will affect the entire state of Florida not just Orange County. Currently Seminole County is also finding their self in the same fight that Orange County is finding it self in. This Text Amendment was put together by the Big land owners and their developers and then approved by the county commissioners . This will affect development moving forward in the entire state of Florida. It is so very important that we stand firm together as petitioners and community and make sure that it's done right this time and that our local politicians understand that we are watching the decisions that they make on our behalf. Please help us with a small donation. $2 from everyone WILL make a difference. We have two bill that we have already received that need to be paid.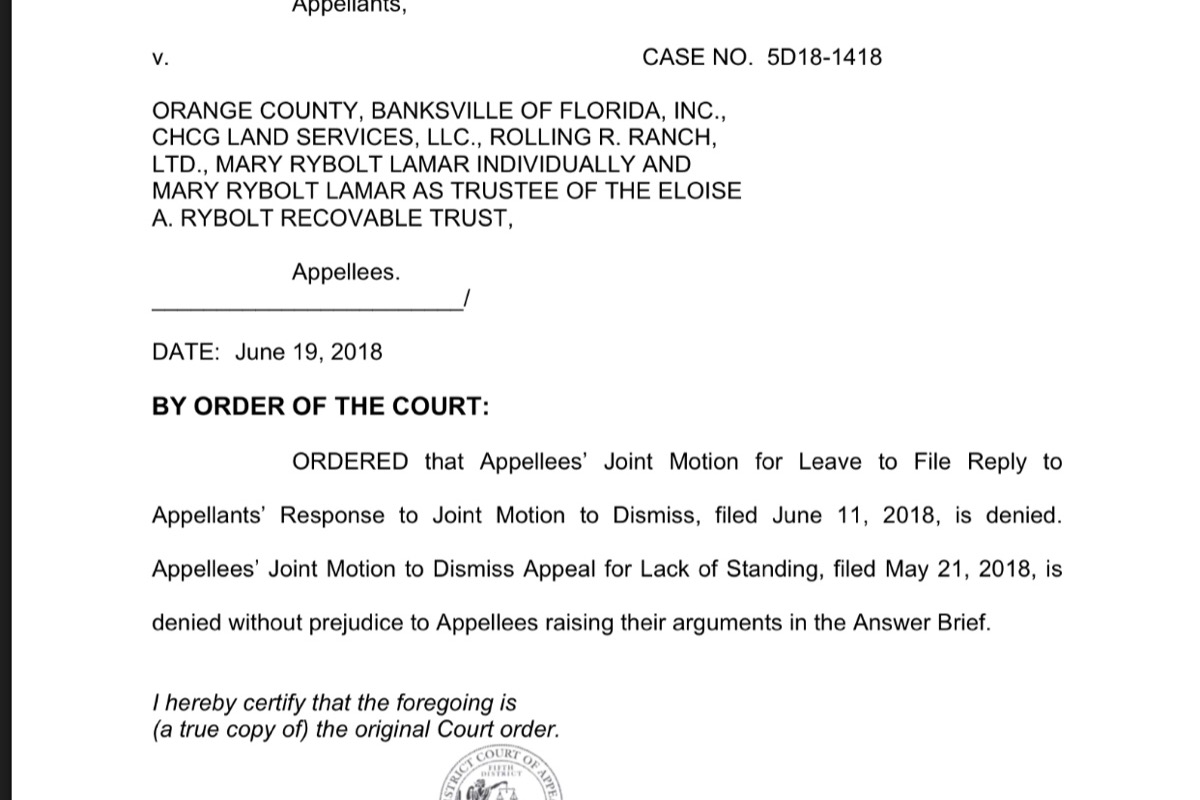 + Read More