Kendal's SAS Abroad Travel Fund
$1,760
of $10,000 goal
Raised by
17
people in 29 months
http://www.semesteratsea.org/voyages/spring-2017/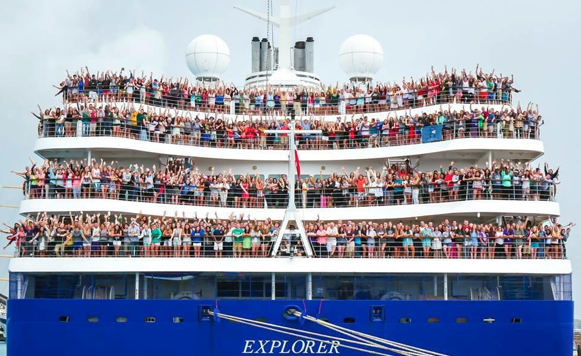 Help me to win a $10,000 scholarship
#GFMScholarship with the description below!

Are you a student? Know someone who could use help with tuition? We're excited to announce that we're giving $10,000 scholarships to 10 students across the country! Start a GoFundMe campaign for tuition and raise money from at least 10 unique donors by 12pm PDT on 9/28 to qualify.*



Second times a charm!
Hello world, my name is Kendal Kelber and I am currently a second semester Junior at The University of Tampa.  On my way to earning a bacholors degree in the field of Makreting, what better way to practice my future career then market myself!  It's been 6 whole years since I have been dreaming of this opportuinty,
Semester at Sea The Around the World Tour
, with it this close I can barely sit in my 4 hour night classes everyday.  Working a full time job and taking on 18 credits is a piece of cake, right?  
111 days. 12 countries.  This is a program that introduces students to a whole new world, literally.
Itinerary: Hawaii, United States, Japan, China, Việt Nam, Myanmar (Burma), India, Mauritius, South Africa, Ghana, Morocco, Germany 

Undergrad students are given the opportunity for a global study that is life changing. I chose my college and career path solely to make this dream of traveling the world attainable. The idea of spending
four months
on a cruise ship, sailing the
Seven Seas
, meeting new people and truly understanding the parts of the World we are so sheltered from has consumed my whole heart. This is no longer just a desire but a necessity and soon to be a reality. When people ask me why Semester at Sea out of all the Abroad Programs at my school, I decided to sit down and really put some thought into it.
There are a number of obvious reasons like 
1. gaining an improved understanding of the world
2.greater awareness of cultural difference
3.improved self-confidence and autonomy
4.improved flexibility and understanding of multiple perspectives
5.better understanding of my own culture
6.greater acceptance of others and their own opinionsand
7. the ability to live in close community
...but for me it is so much more than that.  Traveling abroad and witnessing the
real life
hardships people face
every single day
will not only make me a better person, but will help me to appreciate the little things in life that really matter, which so many people are blind to.
Let's rewind for a second, to this time one year ago- I rememeber it like it was yesterday.  I was applying for my visas to China, Japan and Ghana , getting my malaria shots for South Africa, and saving every penny I possibly could for Semester at Sea 2016.  The voyage quickly approached and I was packing up my dorm room and flying back to NJ before I knew it, until it felt like my entire  world came crashing down.  On December 18th, 2015 I recieved an email from my abroad advisor stating, "You are no longer eligable to study abroad, have a nice day."  WHAT!  Two weeks before I was scheduled to depart on an adventure of a lifetime?  No housing, no classes, no money and no refund.  I had failed, let myself but even worse my family down.  All I could do was stare the harsh relaity that was mine straight in the face and accept the worst, I wasn't going abroad.  
Okay, now let's fast foward to February.  It had been nearly a month of watching people post pictures of the journey that was to be mine.  Pictures from Hawaii and China popping up every minute was a devestating blow every time I looked on social media.  I had lost all the money towards the program and could not get it back unless being readmitted to Semester at Sea, which I swore I would never think about again.  I sucked up my pride and boy did it hurt.  I decided to reapply.  I never thought I could face this fear of rejection again, but here I am, doing it and doing it well. 
Present day- I sit here wiriting my story after being reaccepted to the program and doing this stressful process all over again, but hey I'm here and I almost made it.  Faliure is inevitable sometimes, but how you bounce back from a tragedy is what matters most.  I learned that I am stong, stronger then I ever thought I could be.  But the quality I am most proud of is my determination, I failed and am willing to fail again.  In the end, what is meant to be is meant to be and I just hope that my hard work pays off this time.  
Please support me to fund the trip of a lifetime.  
$10,000
is my estimated expenses for an entire semester traveling the world and affording taking 15 credits along the way.  Help to make my dream of traveling the world on
Semester at Sea 2017
come true!
+ Read More
Be the first to leave a comment on this campaign.