156
13
Chabad Virgin Islands IRMA Relief
$17,860
of $100,000 goal
Raised by
160
people in 23 months
The US Virgin Islands took a direct hit from hurricane Irma, sustaining catastrophic damage. Telephone poles, rooftops, and debris were flung around like tumbleweeds. In short, the Island is reeling from the utter devastation and destruction of its fragile infrastructure.
My brother Asher and his wife Henya are Chabad Shluchim on the Island. Their family sheltered in a hospital building during the storm. Thankfully they are physically ok. The National Guard has been deployed.
They have been busy comforting and providing relief on the Island. They chose to stay so they could aid their community. Many people are still missing and they are helping families locate loved ones.
They haven't been thinking about the significant expenses they will incur from repairing damage, eventual evacuation of their children (the Island airport is destroyed), much needed supplies, the assistance they are providing, and etc.
I set up this page to help fundraise for these anticipated and un-anticipated expenses.
Their presence is a source of tremendous comfort for people who have lost their homes and livelihood, and they could really use your help in continuing their vital mission.
http://www.jewishvirginislands.com/templates/articlecco_cdo/aid/3781703
http://www.jewishvirginislands.com/templates/photogallery_cdo/aid/3011110
Please help if you can! And share!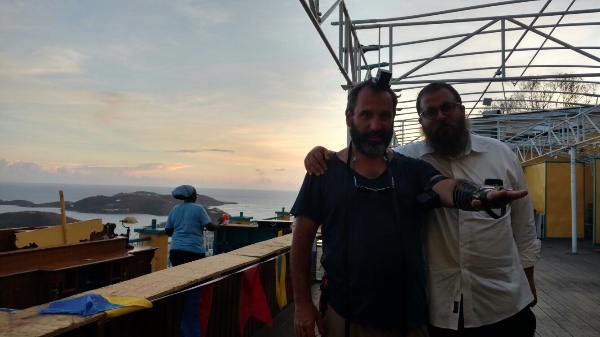 + Read More
Update 2
23 months ago
Share
Update from Asher and Henya:
Dear Supporter,
We cannot express enough how thankful and grateful we are for the support and encouragement we continue to receive during these difficult days.
We are working day by day with the natural setbacks and inherent challenges of the current situation. Your encouragement serves as emotional and spiritual "fuel" to power our determination and resilience to do what we can for our beloved island community.
Thank you!
Aside from dealing with the paralysis of two flat tires, yesterday brought some great news. United airlines kindly agreed to fly in much of the Houston container of supplies to help the Chabad relief efforts. It has arrived in Puerto Rico and is in transit to the island. We've also secured an additional pallet of meals, bringing the total to 2400 MRE meals, pallets of water, more generators, tarps and other vital supplies.
The generators, chainsaws etc. arrived yesterday from Puerto Rico! We are hoping to have one of our student Rabbi's scour PR again for more generators next week!
The torrential rains yesterday were a major challenge for all those who have not yet been able to cover their roofs... and those who have other forms of damage to their homes.
A group of incredible volunteers in FL arranged for a few pallets of supplies to be flown into PR arriving today as well! Costco and other local stores donated some of the supplies.
Longer term the same group in Florida is putting together a 40 ft container (possibly 2) to be shipped down next week.
And perhaps the most exciting and vital of all... We have located a supplier of 400 generators of various sizes, and are in communication with a few extraordinarily generous people and organizations to either sponsor or subsidize them on a first come first serve basis for the island community. Please G-d, all falls in place, they will be shipped from the main land early next week.
During the evening we drove to various homes to drop off generators. The sheer joy and relief we encountered of being able to have a few running fans, refrigeration and water is indescribable.
It is difficult to express the eerie feeling of driving through the roads on our way back. The deafening silence of the curfew and the quieter darkness that is almost palpable on the roads.
We remain strong and hopeful. We get through this bigger and better. The flowers will yet bud.
Let us know if we can be of help in ANY way.
Please join us for Shabbos Services tomorrow at 1pm. We can all use the spiritual nourishment and community camaraderie.
Due tocurfew we are working hard to ensure that the community will have special permission to come out wednesday night for Rosh Hashana Dinner. We are scheduling full holiday dinners and services. Details to follow after shabbos.
Please cosider partnering with us. May the good deeds made possible through you be your reward and may you and yours be blessed with a happy, healthy, and sweet new year!
https://www.gofundme.com/irma-disaster-recovery-chabad-vi
Latest news coverage:
http://nypost.com/2017/09/14/irma-damage-in-virgin-islands-a-humanitarian-crisis-survivor/
http://www.chabad.org/news/article_cdo/aid/3788136/jewish/Emergency-Airlift-from-Houston-Flotilla-from-Puerto-Rico-Deliver-Aid-to-St-Thomas.htm
Wishing you a dry and peaceful shabbos!
With love and gratitude,
Asher & Henya
+ Read More
Update 1
23 months ago
Share
B"H
Dear Friends,
Henya and I want to thank you from the bottom of our hearts for the outpouring of support and encouragement you have showered us with over these trying last few days. Each message and contribution from our friends and loved ones has buoyed our efforts and made much easier these toughest of times.
First of all, we are, thank G-d, well, if somewhat taxed, in body but not in spirit.
Cell phone service is still extremely spotty and in some areas completely out, but even so we've received messages from so many of you inquiring about the overall state of affairs on the ground of the island home we love and visit.
It's not pretty.
The landscape in some places is so scarred from fallen trees and damaged structures as to be almost unrecognizable. While the national guard and good neighborhood citizens have cleared main roads, there is still a lot of dangerous debris and critical cleaning that needs to be done. Many people are occupied with securing the most basic of human needs – shelter, food, and safety. Food refrigeration, cell phone charging, water pumps, laundry, toilet etc. Are a challenge for those without generators. There is a new found appreciation for the "luxury" of a simple shower.
A large percentage of the local police officers have suffered extensive damage to their homes and are pre-occupied. The national guard and the US Marine Corp are deployed to establish order and prevent looting, robberies etc.
Water is scarce. Other provisions are also running low. We've received texts and calls from dear friends letting us know that they are subsisting on their last bits of food.
Through all of this, we are doing our best to assist, provide, comfort, and be there for everyone all the time!
It is so heartwarming and special to see the utter selflessness and generous spirit displayed by our community, our neighboring islands, and caring individuals on the mainland. Just yesterday 25 vessels, organized by members of our Chabad community, traveled back and forth from Puerto Rico to St Thomas in addition to other private boats and coast guard cutters which are filled with aid and supplies furnished by the government and citizens of Puerto Rico, and return with evacuees.
We are coordinating with our friends in the Chabad community of Houston, Texas, just recovering from a natural disaster of their own, to ship a 40-foot container of provisions and much needed aid supplies including generators, diapers, baby formula, batteries and etc.
The way people have responded to this catastrophic challenge is astounding and has moved us deeply. Thank you to all of you in the community who have volunteered to help. Special shout out to Danny and Angelica Charak, true angels who have spent the last few days tirelessly coordinating plane and boat trips from Puerto Rico! Thank you John Attias and Elana Harthman! Thank you Gary Manning, Benji Schwartz and the list goes on...
A student Rabbi spent the day scouring Puerto Rico for generators and we've succeeded in locating stock which will arrive this afternoon in STT along with chain saws and other vital food & supplies particularly for the elderly. Thank you Adam Israel for transporting it on your boat!
There is a lot more to share and I will do that as best I can. For now, it's time to leave one of the 3 open WiFi spots that were set up on island and head out East.
Friends, we will need to lean on you heavily in the coming weeks and months, and we hope you can be of help. Please share with your friends and family or anyone else who might find the heart to join us in this cause. Every bit counts!
We will use the funds to finish collecting and shipping the aforementioned 40 ft container with over 1,000 MREs, generators, and other basic necessities. We will continue to assist the community here in any way possible, and provide for the upcoming high holiday and sukkot season.
For those of you reading this on island: Come hurricane or fire but Shabbat lunch will be at our place, usual time. Please join us!
Consider helping us out over here.
https://www.gofundme.com/irma-disaster-recovery-chabad-vi
Thank you for your participation in these vital efforts!
Enjoy this article about some of our relief work. Here Not Only When The Sun is Shining!
http://www.chabad.org/news/article_cdo/aid/3783830/jewish/Virgin-Islands-Rabbi-Here-Not-Only-When-the-Sun-Is-Shining.htm
With deep gratitude and much appreciation,
Asher & Henya
+ Read More
Read a Previous Update