73
24
Mira and Danil need your help
€51,674
of €56,120 goal
Raised by
78
people in 13 months
Looking at this photo, it's hard to believe that these children are seriously ill...
Meet Mira and Daniil, a sister and a brother.
Mira was born with a congenital pathology of urinary tract. Mira is 6 now, she loves and is pretty good at signing, dancing and drawing. Her favorite toys are Rainbow Dashand and Pinkie Pie from «My Little Pony». Mira is an outgoing and caring little girl, and her smile can bring light to a gloomiest day. When you look at her, it is hard to believe that since her fourth month she has been living a hospital life, filled with surgeries, drips, numerous medical procedures and endless pain and suffering. So far, she has spent most of her life in hospitals instead of being with her family.
After nine disappointing urinary tract surgeries in Ukraine, which did not help Mira but ruined her kidneys instead, the local doctors gave up on her and the family had to ask for help the experts abroad. Luckily, they succeeded to find a wonderful medical clinic in Spain specializing in urinary tract pathologies, and in November 2015 Dr.Rodo operated Mira's urinary bladder. Since then, she lives with an indwelling catheter in her bladder and has to visit the clinic for annual check-ups. The next one is due June 2018. Medical expenses for the check-up amount to EUR 6 214.
In the meantime, in December 2017 Mira had an acute abdominal pain attack and was urgently admitted to the Kiev regional children hospital "Okhmatdet".Five months the doctors there tried to establish an exact diagnosis and eventually recommend removing Mira's right kidney because of its irreversible failure. Due to lack of funds for having this surgery in Spain, the family reluctantly agreed that Mira to be operated on by the local doctors.
14.05.2018 Mira's right kidney was removed. The current functionality of the remaining one is just about 65 % and is deteriorating. Right now, the girl has a Stage 2 of Chronic Renal Failure and, unfortunately, there is an apparent danger of that Stage becoming Stage 3, then Stage 4, etc. At Stage 5, Mira will be able to continue living only on dialysis and she will be waiting for, we do not know for how long, for a kidney transplant...
Yet, despite these tremendous miseriesin her life, Mira bravely stands painful medical procedures, smiles and stays positive. She also dreams of having a pet, a kitty or puppy, that she could play with and care of, but so far it is just impossible.
All these years, Mira feels love and support of her older brother Danil, 15. When he was 9, Danil was diagnosed with an osteogenic sarcoma in his left upper thigh. Danil went through a lot during the next two years, firstly had surgery to remove the tumor, after that he had two more surgeries for removing metastatic tumors in his lungs, then an endoprosthesis replacement surgery was made on his leg, he also underwent over twenty chemo courses.
Yes, Danil had a lot of pain to suffer, but that unfortunately was not enough. The problem with his leg still prevents Danil from living a normal life. Before that, he used to be a passionate football player, also was seriously into judo and even won a few medals at local competitions. Being friendly, cheerful and curious, he was and continues to be one of the best students at school and the best friend forever for his mates. 
Unfortunately, all the aspects of Danil's everyday life (schooling, socializing,  sharing time with friends) are heavily hindered by his current condition.  It is holding him back from  normal childhood and from the sport activities he loves so much. But Danil  is not among those who surrender. Last August he took part in  the 6th Onko-Olimpiada hosted in Warsaw (Poland) and dedicated to children who cancer survivors. Danil won two medals there: the bronze one in swimming and the gold one in table tennis.  Also Danil is FC Barcelona fan. Unable now to play football by himself he longs to play their home stadium someday and get  an autograph of Lionel Messi.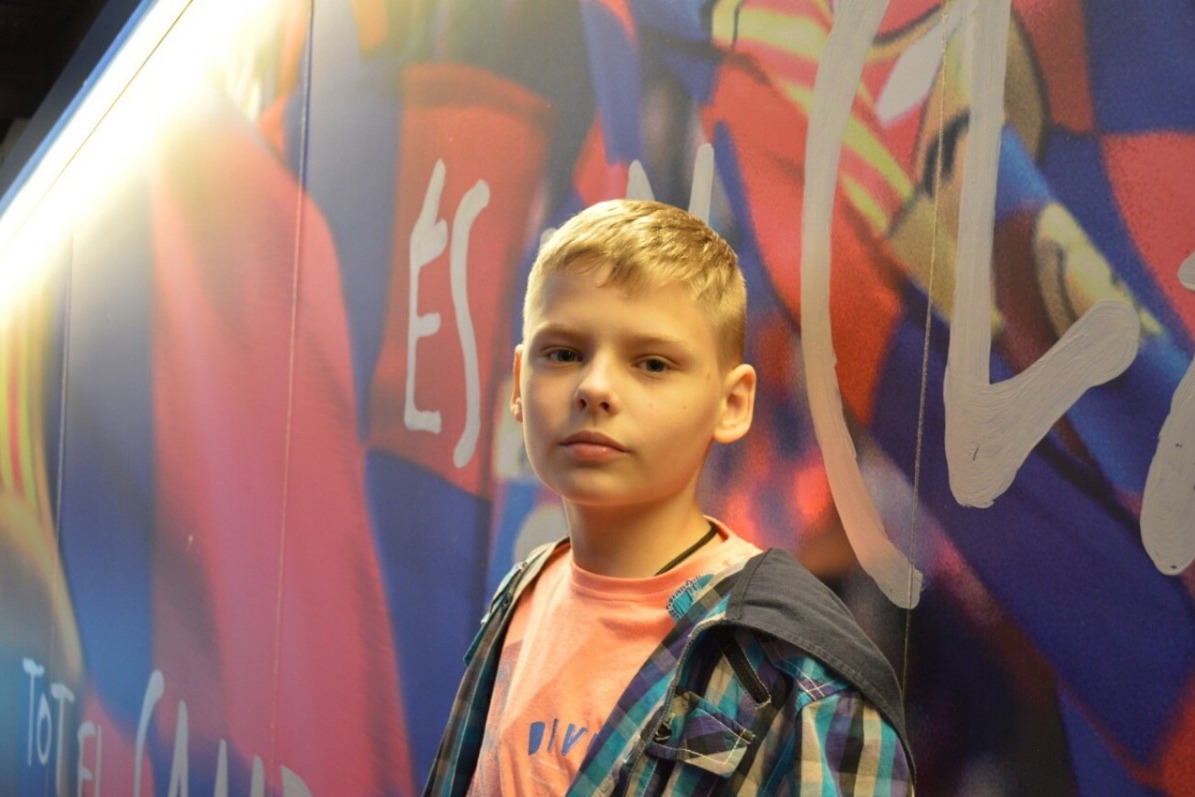 In June 2017,  Danil underwent in Ukraine one more surgery and  had a brand new MUTARS Xpand prosthesis installed instead of the previous outdated one. The money for the  prosthesis had been raised with help of great amount of supporters.  Unfortunately, this  MUTARS prosthesis has broken down recently. It's highly likely the prosthesis was initially installed improperly by Ukrainian doctors, but there is no hope that they will make up for it.  What is more, there is a severe issue with a fistula on Daniil's bad leg caused by staphylococcus bacteria, a very common phenomenon in prosthetics.  As a result, it has been a year since the prosthesis' installation, but Danil is still unable to walk without a pair of crutches. 
Recently, the family approached the Center of Corrective & Reconstructive Limb Surgery Munich (ZEM-Germany). They are professionals  who know everything about the type of prosthesis Daniil has, its installation and maintenance. Doctor R. Baumgart from  ZEM-Germany recommended the following treatment plan:
Removal of the MUTARS Xpand prosthesis, debridement and cleaning of the whole exposed area and stabilization with an arthrodesis and a spacer.
Revision surgery, if infection not to be eradicated after the first step.
Implantation of a new MUTARS BioXpand II prosthesis. 
In the meantime, the family urgently need money for Mira's next check-up in Spain and for her regular medical care plan (for catheters, medications, medical procedures required etc). 
All savings of Mira and Danil's parents are on the brink of exhaustion as they fight simultaneously for health and life of their both children. Oksana (Mum) devotes all her time to children, Aleksey (Dad) has a job and works diligently to support them financially, but his salary is not enough to sustain the medical expenses.   The parents will be grateful for any help in collecting the funds. If you have even a tiny opportunity to help them, please do it!   
We are launching this campaign to help Sirota family raise money for the following expenses:
- for Mira's annual medical check-up at Sant Joan de Deu Medical Clinic (Spain) and for her regular medical care plan;
- for medical expenses for Daniil's treatment plan in ZEM- Germany Clinic;
- for relevant travel, accommodation and administrative expenses.
All savings of Mira's parents are on the brink of exhaustion as they forced to fight simultaneously for health and life of their both children. Oksana (Mum) devotes all her time to children, Aleksey (Dad) has a job and works diligently to support them financially, but his salary is not enough to sustain the medical expenses. All donations are welcome. Please spread this over your Facebook and Twitter friends.
Thank you from the bottom of my heart.
Facebook help-page: 
https://www.facebook.com/HelpDanyaMira/
+ Read More