Keep MX Women's Health Clinic Open
$10,700
of $12,000 goal
Raised by
62
people in 47 months
Help keep CEDEJO (Centro de Desarrollo Jocotepec, A.C. ), a non-profit women's clinic that provides reproductive health & family planning services to indigenous and low-income women and girls in Jalisco, Mexico, open for another year.  Individual donations are currently CEDEJO's primary source of funding.A minimum of 12,000 US Dollars (~165,000 Pesos) will keep the clinic running for one full year, from January through December 2015. Please read on to find out more about CEDEJO's programs and how you can make a difference.Who started this campaign? 
I'm
Sheila
 from Vermont, USA.   I've been bicycling around the world with my partner since 2011, in large part, to create a life better aligned with my values (in other words, a life of simplicity and one that would allow me to focus my energy on local and global issues that are important to me). I don't have much money to give to organizations whose missions I believe in but I am able to offer my time and skills to help them meet their goals. I am currently traveling through Mexico and I have been volunteering with CEDEJO since early 2013. 
(Me cycling through Baja, MX.) 
ABOUT CEDEJOCentro de Desarrollo Jocotepec
 (CEDEJO), A.C., located in Ajijic, Jalisco, Mexico, has provided care to indigenous and low-income women and families in the area for over 30 years.
(CEDEJO's headquarters in Ajijic)
Twice a week CEDEJO travels to Chapala, offering free pap smears, breast examinations, birth control and family planning counseling to the Tepehua community, one of the poorest barrios in Jalisco. 
(CEDEJO Director Sylvia Flores greeting women lined up to receive services at the Tepehua clinic.)
Another two days of the week CEDEJO travels to vulnerable communities around Lake Chapala via their mobile health unit. By travelling directly to low-income communities, CEDEJO is better able to reach women and girls that otherwise would not seek out or be able to afford services. 
For the rest of the week, CEDEJO's headquarters and clinic in Ajijic accepts clients by appointment.  
In addition to providing the above services, CEDEJO also leads educational programs and presentations through a variety of community organizations, schools and forums.  In 2013-2014 CEDEJO successfully completed an all-volunteer-run pilot project ('
Mujeres, Poder y Vida' – 'Women, Power and Life
') which provided over 60 sessions of comprehensive women's empowerment workshops to the women and girls of the Tepehua community.  
LOOKING BACK on 2013-2014
In March 2013, in dedication of International Women's Day and after meeting with the Director of CEDEJO, I volunteered to increase CEDEJO's visibility online and update their informational material. As a part of that plan I needed to get updated graphics so I visited their clinic in Tepehua to take photographs of their work.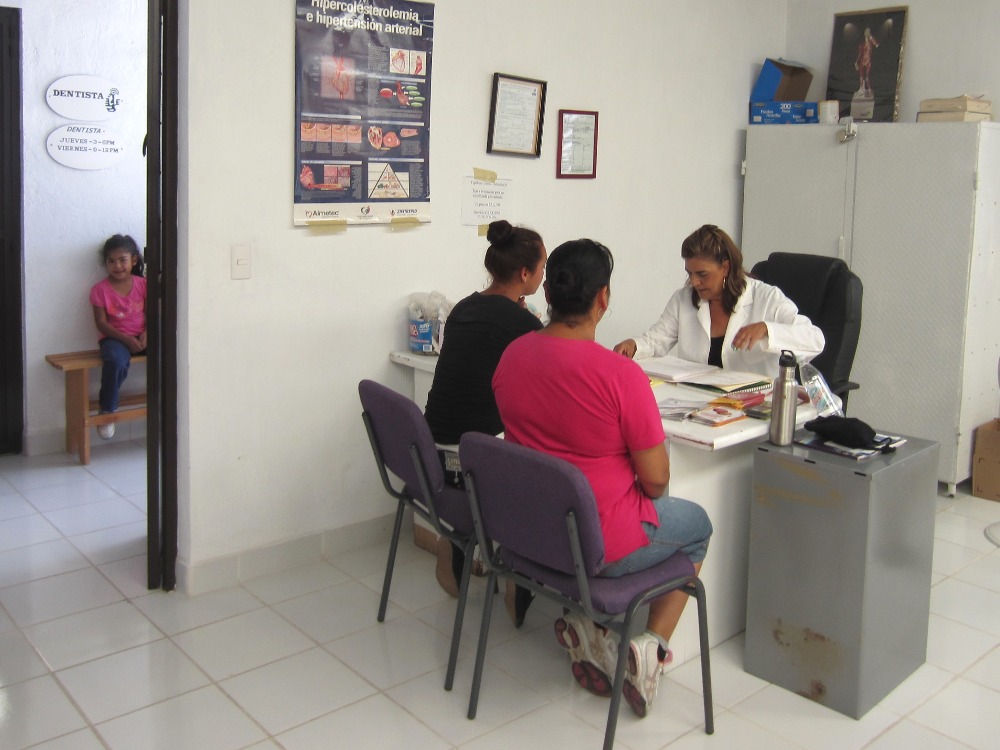 (Director Sylvia Flores meeting with clients)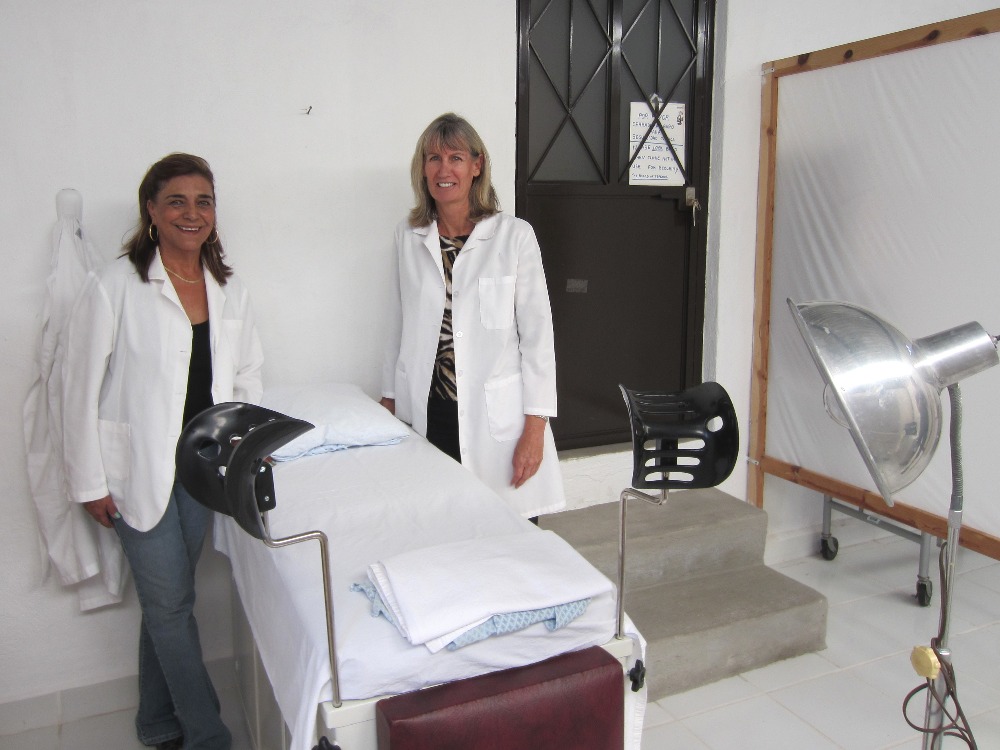 (Director Flores & Volunteer in exam room of clinic.)
During that visit I discovered that CEDEJO's future was in jeopardy.  The little funding they were receiving from an international civic organization was going to end in only two months due to new changes in organizational funding rules.  And although CEDEJO had received various forms of government and international financial support in its past, world-wide political and financial changes of the last decade had resulted in the disappearance of those valuable funding sources. 
Unless funding was secured, the clinic would be forced to close its doors in September 2013.  
After seeing the women and girls line up to receive services from the clinic and realizing how valuable CEDEJO was to the local community, I decided to attempt to raise the funds to keep it open for another year. In August 2013 I began
a campaign on Go Fund Me
 with a goal of raising $12,000 USD (~165,000 pesos) in 12 months. 
Seventeen months later, through the generosity of world-wide donors, we had raised over $13,000 USD (~178,000 pesos) which allowed the clinic to remain open through December 2014.
As we enter 2015, I am celebrating CEDEJO's successes of the past year.  
In addition to raising funds to keep the clinic open for the last year, CEDEJO also realized the following progress:
·      A 
new website
 , which includes a blog to keep people updated as well as on online donation function
·        A 
new informational pamphlet for CEDEJO's educational programs
which replaced their old one from 1986
·        
New and updated photos of CEDEJO's clinics, workshops and programs
(& setting up their FLICKR account).
·        
Creation of a CEDEJO Facebook Page
·        
Creation of a CEDEJO Twitter Account
·        
Press coverage
 which helped spread the word about the clinic's need for funding
As a result of CEDEJO's extensive outreach, new connections were made in 2014.
For example, CEDEJO's Director and volunteers met with representatives of the CRED Foundation of the UK while they were visiting Mexico in 2014. These meetings led to
a partnership with the CRED Foundation which will begin in late 2015.  
This partnership will potentially facilitate CEDEJO's fundraising efforts.
CEDEJO also met with visiting representatives from Horizons, a Canadian based non-profit organization committed to promoting social justice and people-centered development in Central America and Mexico.  Horizons and CEDEJO are currently exploring possible partnership opportunities for 2015 and beyond.
In addition, CEDEJO spent many months of 2014 meeting with numerous officials and applying for a variety of Mexican government grant programs.  CEDEJO hopes these efforts will result in some fruitful outcomes in 2015.
However, CEDEJO's CURRENT NEED is CRITICAL
Although CEDEJO's volunteers have been working hard to secure more funding from other sources, these efforts have not yet produced any new long-term funding opportunites. 
CEDEJO is currently being kept open through the generosity of individual donors, like you.WHY DO WE NEED TO KEEP CEDEJO CLINIC OPEN?Cervical and breast cancer are the leading causes of death among women from ages 35 to 60 in Chapala, Jalisco.
CEDEJO is working to prevent these diseases, as well as other diseases, from affecting women through early detection and treatment programs.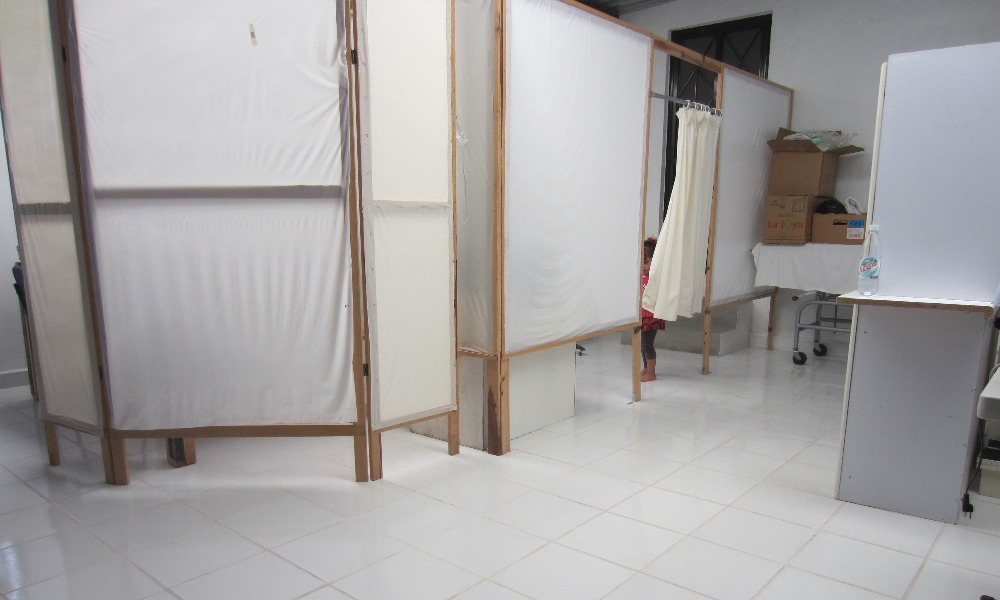 (Exam Rooms in clinic serving Tepehua Community)
Because of poverty and/or lack of education and/or failure of government assistance programs, many women cannot afford to see a nurse or doctor for a routine gynecological exam or prenatal care.  
CEDEJO helps change this paradigm by educating women and girls about their options.  CEDEJO also travels TO the communities that need services the most and has been working in the area for over 30 years, so the communities trust, respect and respond to them.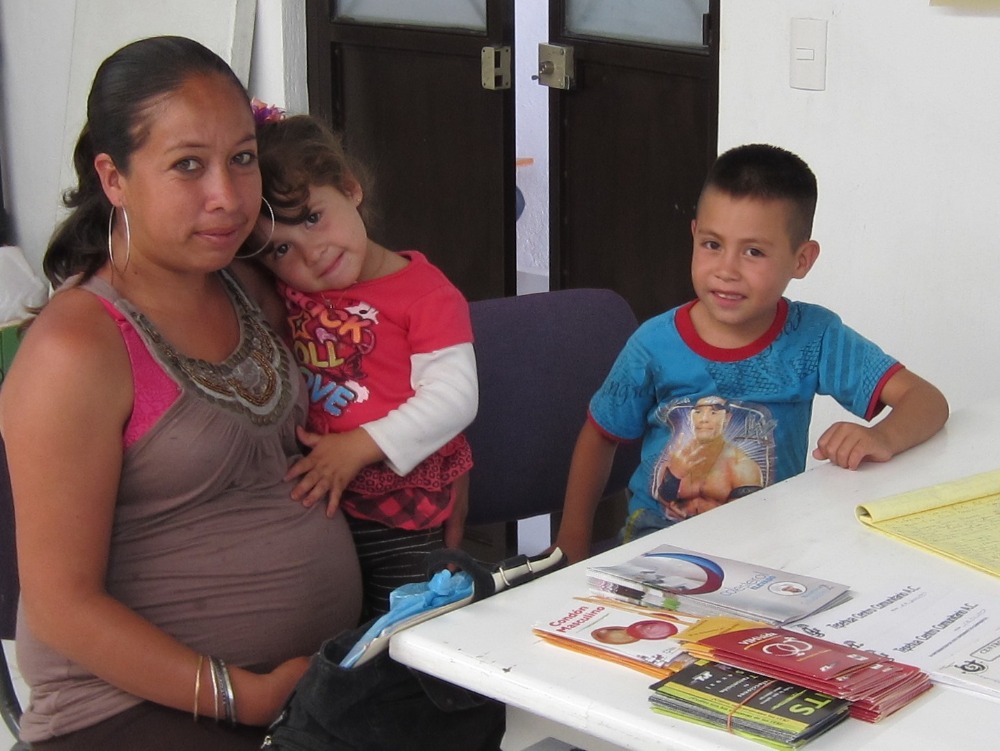 (Women often can't travel far and/or cannot leave their children to gain access to services. CEDEJO travels to their communities in order to provide them service.)
Jalisco has the highest rates of violence against women in Mexico, with 60% of women having experienced violence by the hands of their partner.
CEDEJO offers presentations, workshops and lectures through schools and other organizations in which the following topics are discussed: women's empowerment, domestic violence, gender equality, STDs, prenatal care and childbirth, family planning, risks of teen pregnancy, and hygiene and health.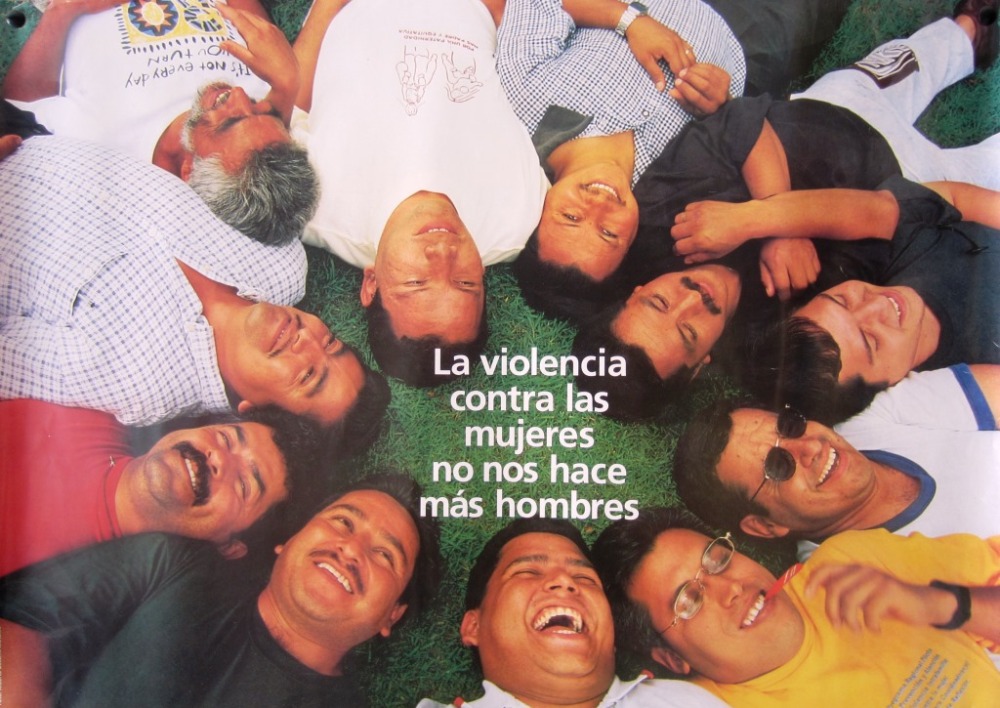 ("Violence against women does not make you more of a man." CEDEJO's workshops help empower women & men in order to stop the cycle of violence.)
WHAT THE FUNDS WILL BE USED FORFunds raised will go toward covering the following:
**pap kits for 1200-1400 women for one year
**lab fees for processing pap tests for one year
**transporting pap tests from Chapala/Ajijic to Guadalajara lab 2 times a month, every month, for one year
**operating costs to keep clinics open at the very least 4 days a week, every week, for one year (i.e. phone, electric, internet)
**transportation costs (via car pool or bus or mobile van) of unpaid nursing staff and/or volunteers to the CEDEJO free clinics, 4 times a week, every week, for one year
**replacing or replenishing additional medical supplies needed to perform pap smears (i.e. patient examination gowns, sterilization equipment)
**coverage of numerous workshops for youth and women's groups in Ajijic and Chapala (family planning, STDs, women's empowerment)
Funds raised above the $12000 needed for the clinic costs for 2015 will go toward expanding CEDEJO's workshops and educational programs and/or toward 2016 expenses. 
HOW YOU CAN HELP 
I hope that others will see the value of CEDEJO's clinics and the services it offers and that you will find it in your heart to do one or more of the following:
GIVE A DONATION. Donate via this campaign page or via CEDEJO's website . 
Donate what you would normally spend on a co-pay to visit your gynecologist or your doctor. Make a memorial donation in the name of someone you've lost to breast or cervical cancer.
CHALLENGE EACH OTHER. Neighbors, co-workers, business or civic groups, churches or other organizations in the Lake Chapala area or around the world :: Consider donating 14,000 pesos or more (~$1000 US or more) to this fundraising effort and then challenge another organization or group to match your donation.
By pooling our limited resources, we can make a huge difference without putting undue stress on one particular funding source.
SPREAD THE WORD.  Share this page with family & friends. 
Even if you're unable to give a donation, please share this page on Facebook, Twitter, via email or by word of mouth. This makes a HUGE DIFFERENCE to the success of this fundraising campaign. 
VOLUNTEERCheck out CEDEJO's volunteer opportunites .  
THANK YOU FOR TAKING THE TIME TO REVIEW THIS FUNDRAISING PAGE! *****PLEASE NOTE*****
8% of your donation is automatically taken by Go Fund Me/We Pay programs to cover the administrative costs of processing your online payment. Please consider covering this cost when you make your donation (every little bit helps).  If you're a local donor you can avoid the fees altogether by dropping your donation off to me, to the clinic or depositing it directly in to the clinic's bank account (see CEDEJO website for more info).
All Donations go directly to the non-profit organization, the Centro de Desarrollo Jocotepec (CEDEJO) , to provide services as outlined.
+ Read More