Thanking those who saved my life!!
$2,486
of $12,971 goal
Raised by
56
people in 28 months
I am Russell Erickson, a guy in the Atlanta area, who is the survivor of an attack that occured on October 30, 2016.
That Saturday night, I nearly lost my life.  I was beaten  with broken posts from my 4 poster bed for over an hour.  Somehow, with eyes swollen shut and bleeding, I got outside. Eventually, a neighbor with hot flashes opened the window and heard me calling for help.  She then woke others in the house to witness what was happening, and called 911!  The man would beat and kick me unconscious, then go in and rob the home, and return to do it again. Thank God for ladies who get hot flashes!!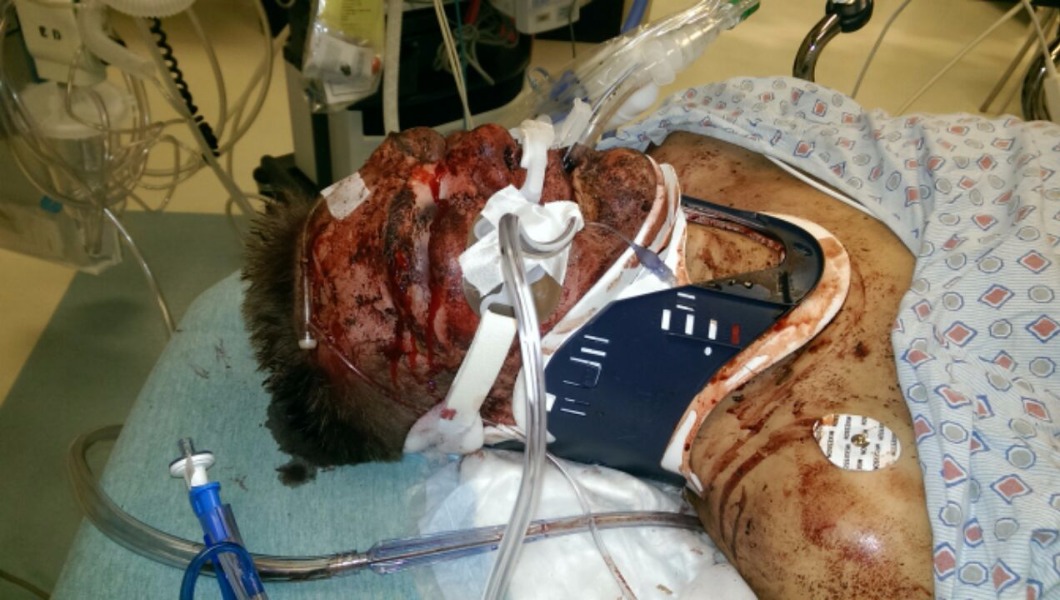 When the ambulance and police arrived, they saw a huge amount of blood and brought in the K-9 Unit.  The dog got the scent and tracked the perpetrator to the back of the property and took the man down.  He was found with my car and house key in his pocket.  He wasn't planning on the Awesome K-9 Unit that night!!!
https://goo.gl/photos/AZJ739tLXbGS35yg9
https://goo.gl/photos/G7fxpaWEcxwpeGg28
I spent the next 7 days in the Trama ICU at Grady Hospital in Atlanta.  I had two broken orbitals (eye sockets) a broken nose, lots of staples in my head and a bleeding brain, along with other broken bones and many lacerations.  I was on Life Support for 4 days.  After surgery and 9 days in the hospital for some recovery, I was released for further out patient rehabilitation.  

www.wsbtv.com/news/local/dekalb-county/man.../469639903


I want nothing for myself.  However, I would love to be able to raise the funds to give back to those who saved my life!!  I just don't have the strength to provide a meal in gratitude for the family across the street who called it in.  I would also like to provide a years supply of the best dog food I can get for the K-9 that caught the man that night!  Due to the violence of the crime, there was also damage to the home: a destroyed door, walls smashed in, a broken bed, blood cleanup and repainting.  My parents came to my side from Colorado.  They are 71 and 77 years old, and should never have to be put through such an ordeal!  Their emergency travel, hotel and rental car costs are $2291.  I would love to help offset their expense.   My sister came out from Colorado, and with the help of my best friend, Darius, they cleaned up the mess and all the blood!! What a team!!  Finally, there is the AMAZING team of Emory Doctors that were in charge at Grady the night I came in!!  I would love to give the doctors and nurses who nurtured me back to life a little extra for Christmas!  The Doctors, Nurses, and Support Team loved me and did their best that I may recover and live a full life again!  And, Yes,  Atlanta CANNOT Live without GRADY!!!

http://www.fox5atlanta.com/news/219284726-story




I forgive the man who did this to me, so that I can live life with a clear conscience.  However, justice must be served!  I will leave his punishment up to the authorities.  Apparently, he was out on parole and was wanted in several other areas for the same kind of behavior.
Any money above the ammount requested will be distributed with those who saved my life, I will not take a dime for anything.  Giving back to those who helped me is emotionally healing.

In reading this over again, I feel that I don't give credit enough to the Clarkston Police, Dekalb County K-9 unit and Detectives that worked my case.  A special thanks to Officer Rowser who was the first on the scene that night.  Later, he had the courtsey to stop by and see how I was doing.  That's why I LOVE our community! It's just the simple things that go such a long way!!  Also, there was James McKinney.  It was his voice that was speaking with me when I was laying on the ground, couldn't see and was going in and out of conscienceness.  It was a huge comfort to see him once I got out of the hospital, and hear his voice again!! You have no idea how reassuring your voice was James!  There was the K-9, Indie, and his handler, Officer Larsen.  What a professional team!!!  Upon arriving on the scene, Officer Larsen thought it was a homicide by the ammount of blood present. (I was already in the ambulance headed to the hospital.)  But Indie got a scent and tracked down the offender in 6 minutes!!  There's a reason this dog deserves dog food for the next year!!! Great Job Team!!  There's the background support that is essential to mention also.  Major Fore and Chief of Police Conroy of Dekalb County as well as the City Manager of Clarkston, Kieth Barker, who arranged that I could meet the Police Dog, Indie, and thank the Awesome people that helped me that night!!  One of the most influencial leaders on the team is Detective J Elliott!!  He visited with me the day I had the breathing tube removed.  He calmed all my fears and reassured me that the offender was locked up and wouldn't get out any time soon.  All of our conversations were so professional and helpful, that I have found in J Elliot a friend for the rest of my life.  If you could understand how hard this team worked on my behalf, and got the facts right, when I was laying there on Life Support, you may have a deeper love for the Men in Blue who protect us and keep our communities safe!  I learned later that there was an officer posted at my home all night until 10am the next morning!! They took an interest and care in the situation that I cant explain, but am grateful for!


Please help me make this holiday season a bit brighter and help me share the love in my heart for those who stood by, cared, and nurtured me back to life.  I would not be here if it wasn't for my wonderful neighbors, the most Awesome Police Dog, my family and friends, along with all the Professionals that had a part in my recovery. Because of the Love and Care of each of these individuals, I have the chance to dream and live once more!!!  I have an AMAZING Bright Future, Thanks to those who saved my life on October 30,2016!!!
 
Let's be powerful in bringing Blessings out of a very hard situation!

12/02/16
Today I got to see a few of the ICU Nurses and my Social Worker at Grady who mean so much to me for bringing me back from the brink!



12/03/16
Thank You to a Very Special crowd of people who showed up today to help do a yard cleanup!!  I had let the back of the property go to a natural setting, but will now be maintaining it, thanks to everyone's help today!

Here are some pictures of my Awesome 3M Coworkers, and some friends from a local church, and folks from right here in the Clarkston Neighborhood.



Thanks to Misti and Tom Dill for organizing this and pulling off such a big fun day!!





+ Read More