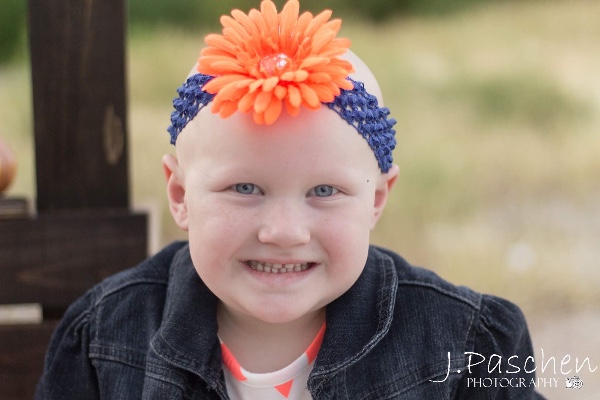 27
7
Help Acelyn Get Her First Wig
$690
of $650 goal
Raised by
23
people in 11 months
My name is Destiny, I'm a college student and a mom of 3 amazing girls. Needless to say, we do struggle financially in these factors alone.
This GoFundMe is for my sweet 4 year old girl, Acelyn.
In July of 2016, we began to notice a circlular patch on Acelyn's right temple. Her pretty blonde hair was slowly disappearing. As a mother, I immediately thought the worst. I began to panic.
We took her to her pediatrician, and they did not have any suggestions or answers for us. They did some routine bloodwork, that lead us to no clues.
Our pediatrician sent us to a dermatologist. The dermatologist said that it's something called Alopecia Areata, an auto-immune disease that attacks the hair follicles.
For a child, then only three, there are not many options for treatment. They can do steroid injections when she gets older, which only works for some alopecia sufferers. Taking immune suppressants is an option, but again doesn't always work, and not worth the risk of her contracting something much more serious.
Flash forward to a little over a year later, and her disease has progressed to Alopecia Universalis. She has absolutely no hair, anywhere on her body. She has no eyelashes or no eyebrows, as well as her head.
Every morning, as I get her and her older sister ready for school, Acelyn asks to have her hair done as well. I proceed to brush her head, and braid her imaginary hair. Acelyn often asks when her hair will come back. She asks if she eats her vegetables, "will it come back?"
I had decided to wait until she showed interest in a wig, because I did not want her to think that she needed one. Now that she's been bald for awhile, and is in preschool, it affects her every day. She's saddened by it daily. Adults and children both ask her, almost every time we're in public, "What happened to your hair?"
So, she has specifically been asking me for a wig. I believe that a nice, high quality wig will help her confidence. I would love to be able to buy her a wig that will last her a long time.
Unfortunately, going through organizations such as Wigs4Kids, Beautiful Lengths, the National Alopecia Areata Foundation, etc for a free wig is a lengthy process, which often ends up with a wig that the organization chooses for you. They can take months and require doctors visits, and we unfortunately are uninsured at the moment.
Please find it in your hearts to help us buy a beautiful wig for our beautiful Acelyn. Thank you so much for reading, and for considering a donation. Our appreciation is endless.
+ Read More
Update 2
11 months ago
Share
I've decided to up the goal to $650, because GoFundMe takes $50 out of the $600. I just want to be absolutely certain that we'll have enough. Thank you again to everyone!
+ Read More
Update 1
11 months ago
Share
We've reached our goal! I'm so amazed and happy. Thank you so much everyone! It looks like the route we'll be taking is to have a custom wig made for her by a local wig maker. Making a wig is quite a process, so it may take a couple months. Please stay tuned to follow Acelyn's story! I'll be updating you all on her steps in this journey.
+ Read More
Read a Previous Update