Emergency Psychological First Aid
$6,826
of $12,400 goal
Raised by
36
people in 45 months
PREVENTING PTSD

Artists 4 Israel's Healing Arts Kits are the only opportunity to slow or prevent the onset of new cases of PTSD in Israeli children suffering from rocket and other terrorist attacks.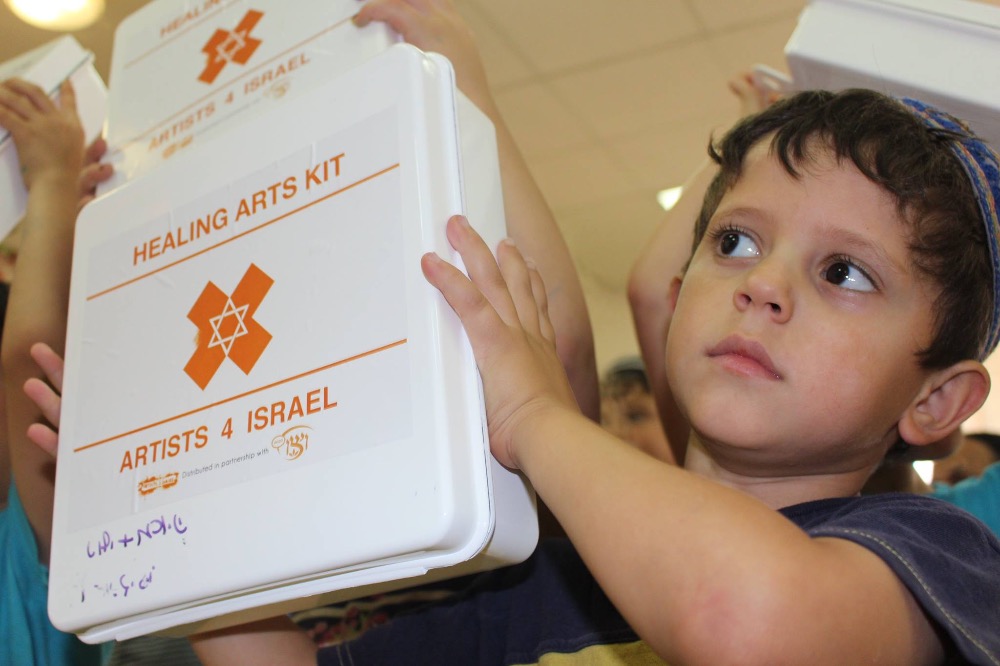 The Healing Arts Kits were created by a team of psychiatrists, emergency first responders, art therapists, artists, teachers and parents and are delivered to kids immediately in need. Developed for their healing and therapeutic effects, the items in the kits appear to the children as simply an opportunity for play.



Operation Protective Edge:

An Emergency, War Time Version of the Healing Arts Kits were delivered during the middle of Operation Protective Edge by art therapists and muralists who went to the border kibbutzim of Sa'ad, Alumim and Nachal Oz to distribute them in the schools and bomb shelters of the community.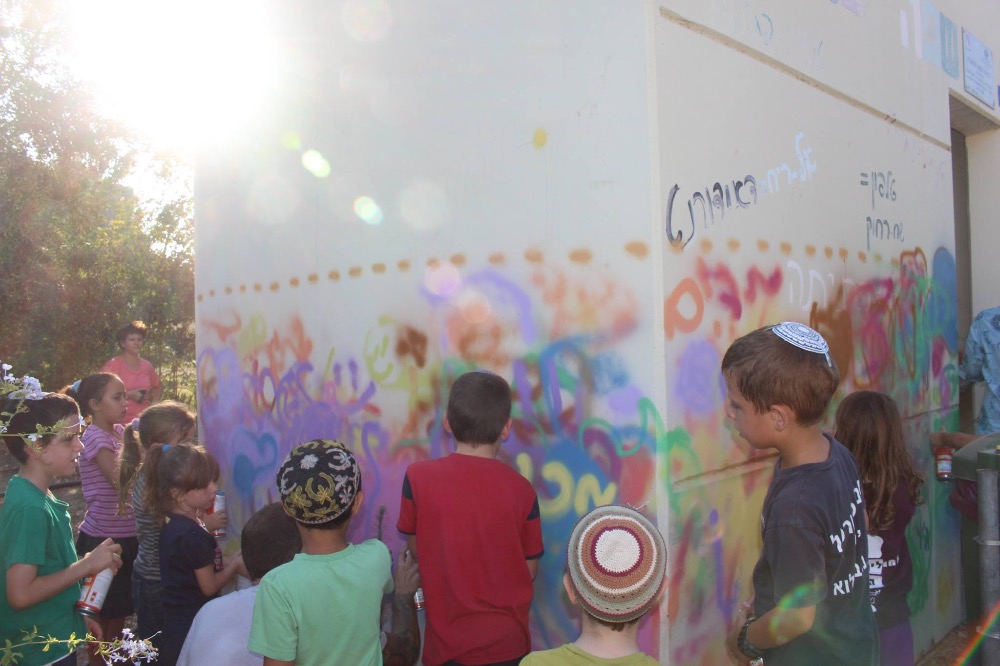 After the War:

In the communities who did not receive these kits until a week after the fighting, they still worked to ease the trauma.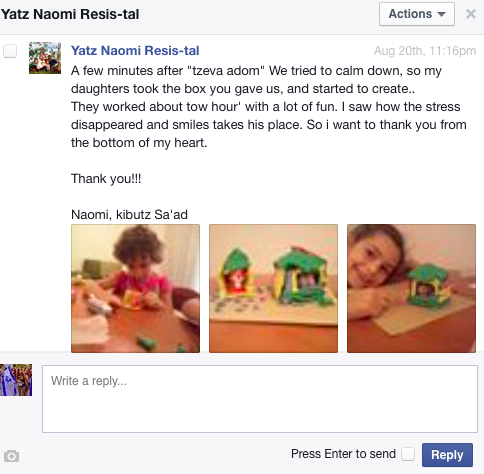 Artists 4 Israel has partnered with the Women's International Zionist Organization (WIZO) to bring 600 of these kits to their day care centers and youth villages for at risk kids.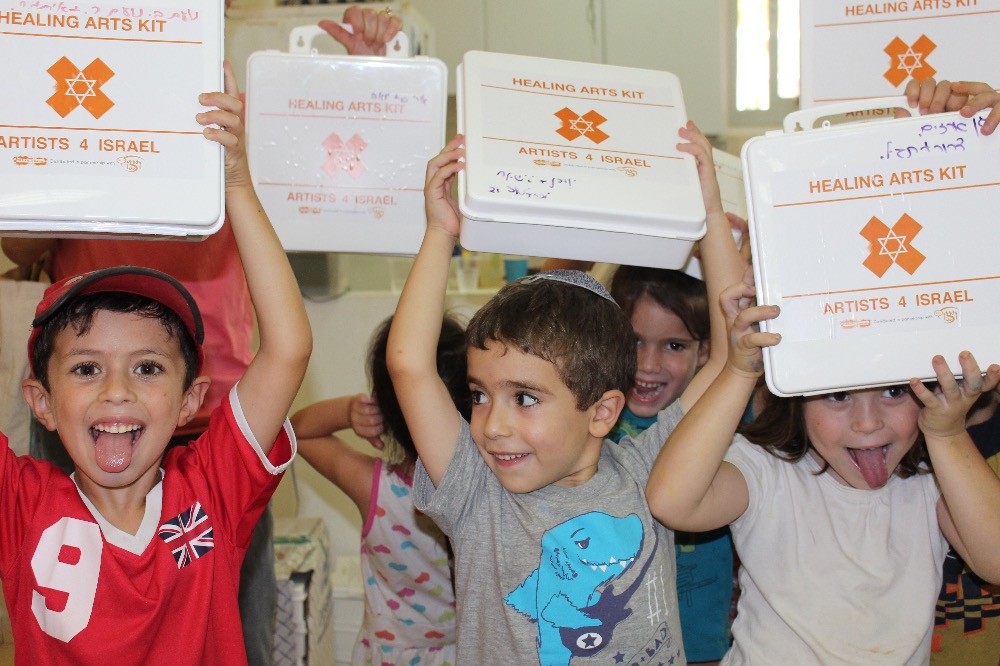 Advocacy: 

Beyond helping children, our work has served as a form of Hasbarah for Israel, appearing in multiple publications, including a report on Al Jazeera about our people's unwavering strength.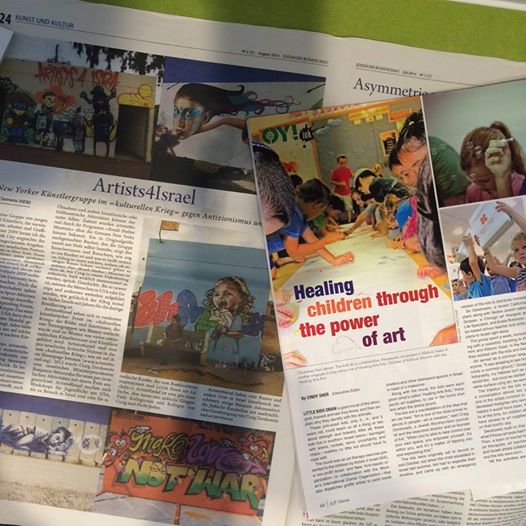 Current Events:

After the Har Nof massacre, Rabbi Aryeh Kupinsky's family requested 5 kits for his nieces and nephews. 


They have also found use here at home where we have used them in art therapy programs for Eric Garner's family and, just recently, policemen harmed by the murder of two of their two colleagues.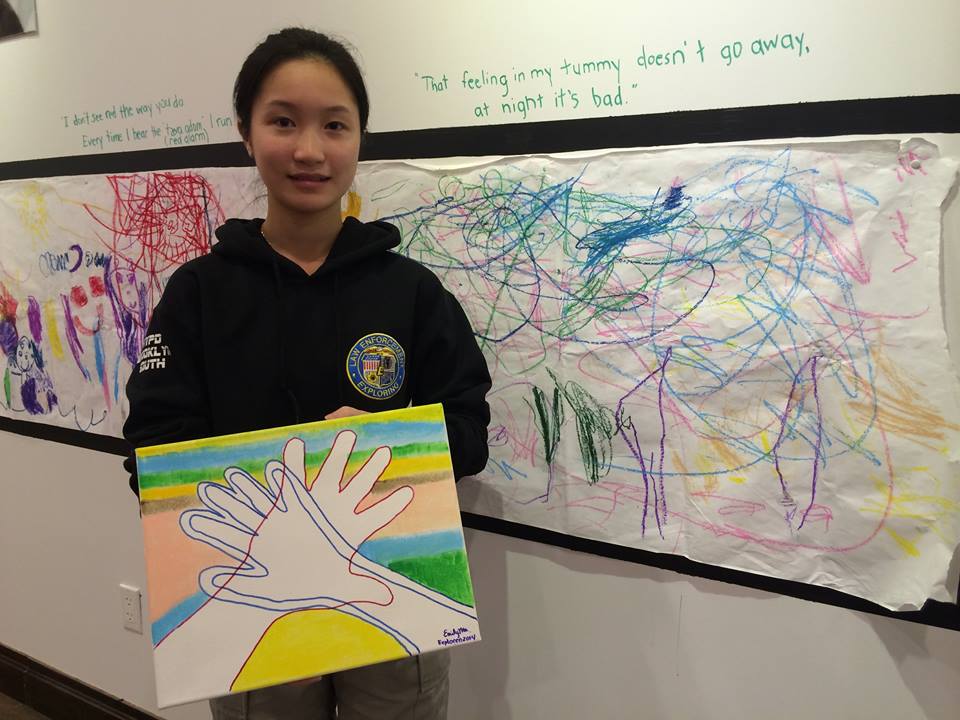 Connecting American Children to Israel:

Each kit is personalized by children in the United States with a message for their Israeli peers.



And the Israeli children respond with their own thanks in the form of art created during therapy sessions.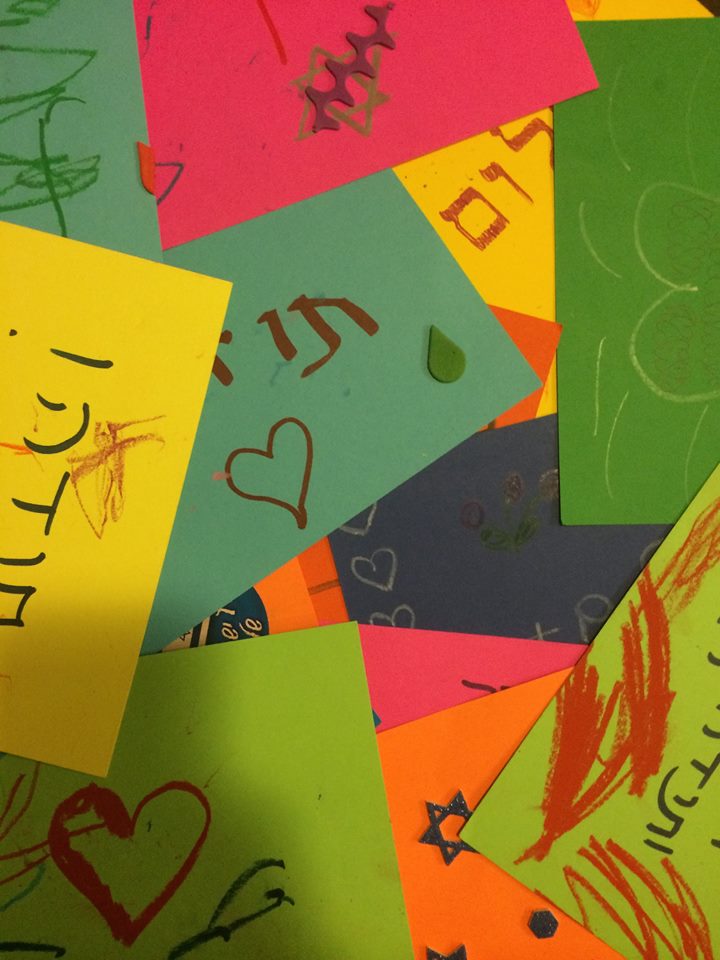 Our ultimate goal is 1,000 Healing Arts Kits. 

Each Healing Arts Kit costs $40

Thank you for your support.



                   Artists 4 Israel is a 501(c)3 organization
                                  Tax ID: 80-04-15734
                All gifts are tax deductible and appreciated 

                                           Artists 4 Israel
                                     www.artists4israel.org
                                   info@artists4israel.org
                   Executive Director: Craig Dershowitz
                                            718-757-8738
                                 craig@artists4israel.org



מניעת הפרעות פוסט טראומתיות בילדי ישראל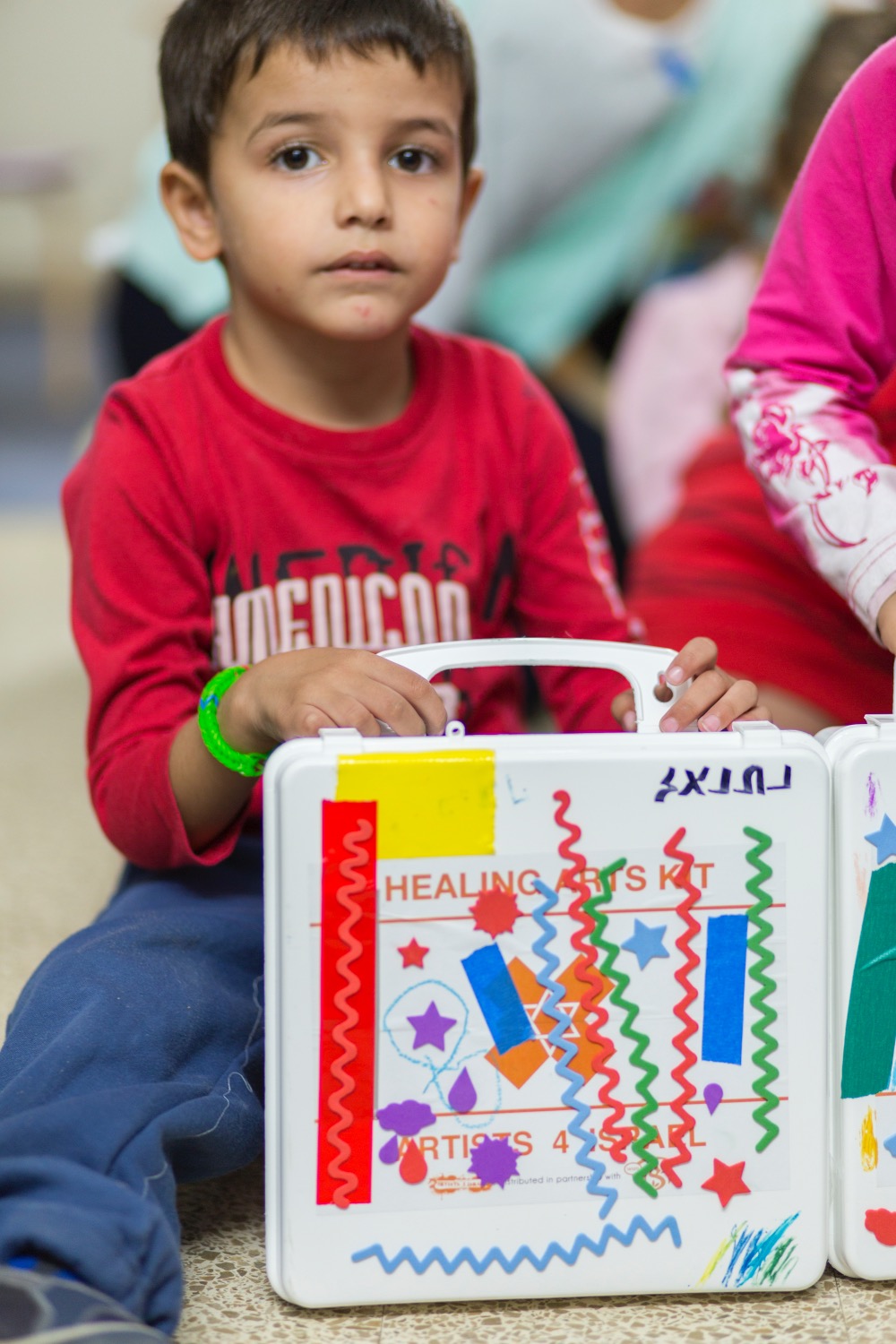 ריפוי הצלקות הבלתי נראות

הערכות לריפוי באומנות של Artists4Israel הן ההזדמנות היחידה להאט או למנוע הופעת סממנים של הפרעה פוסט טראומתית בילדי ישראל הסובלים מירי רקטות ומפיגועי הטרור

הערכה לריפוי באומנות עוצבה ע"י צוות מסור של פרמדיקים, כבאים, מגישי עזרה ראשונה, פסיכיאטרים, מטפלים באומנות, אמנים, מורים והורים בכדי לספק כלי אומנות טיפוליים נגישים, אשר יצרו הסחת דעת חיובית ומנגנוני התמודדות לילדי ישראל במצבי סכנה. עבור הילדים, הערכה נראית לא יותר מאשר הזדמנות למשחק.

מבצע צוק איתן

במהלך מבצע צוק איתן חולקו ערכות חירום לריפוי באומנות, הערכות המיוחדות פותחו במיוחד לזמני מלחמה. מטפלים באומנות, אמני גרפיטי ואמני רחוב הגיעו לישובי עוטף עזה; סעד, אלומים ונחל עוז בכדי לחלק את הערכות בין בתי הספר והמקלטים השונים בקהילה.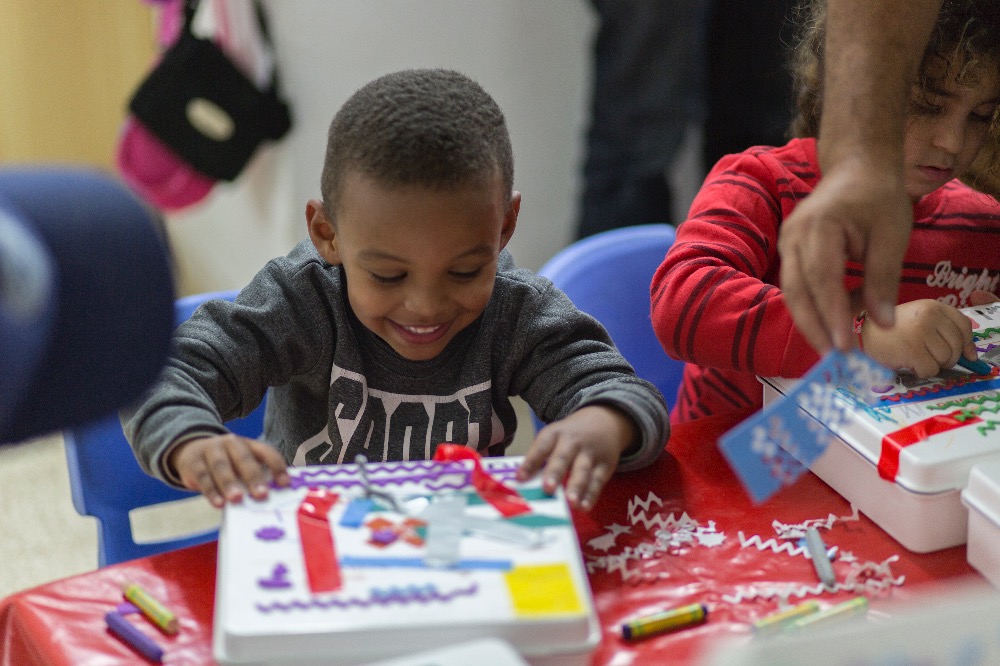 לאחר הלחימה

מספר קהילות ביושבי עוטף עזה קיבלו את ערכות החירום רק כשבוע לאחר תום הלחימה, השתמשו בהן להקל ולסייע בתהליך ההתמודדות עם הטראומה.

Artists4Israel נמצאים בשיתוף פעולה עם ויצו (WIZO - תנועת ציונית בינלאומית של נשים), וביחד חילקו 600 ערכות לריפוי באומנות במעונות היום ובמרכזים לילדים בסיכון שברשות ויצו.

מעבר לסיוע לילדים, עבודתנו משרתת אותנו גם במערך ההסברה למען ישראל; פרסומים שונים בעיתונות הכתובה ואף כתבה בחדשות אלג'זירה מדברים על חוזקם הבלתי מעורער של אנשי ישראל.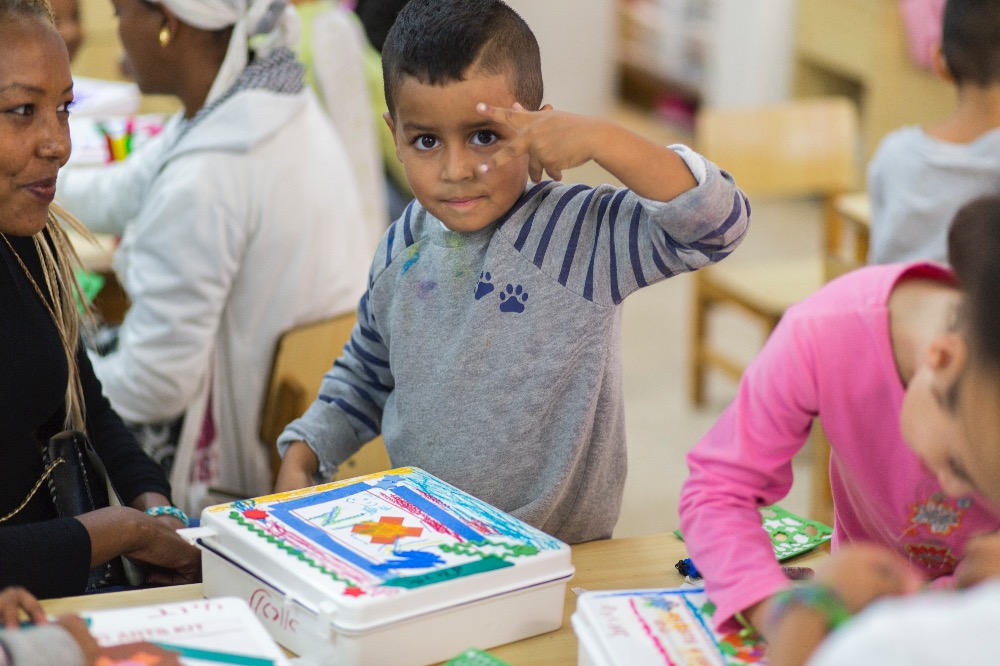 לאחרונה:

לאחר הטבח בהר נוף ב-18 לנובמבר 2014, משפחתו של הרב אריה קפינסקי  ביקשה מאיתנו חמישה ערכות לאחיינים והאחייניות שלו.

הערכות מצאו שימוש גם אצלנו בארה"ב, כאשר הסתייענו בהן במהלך ההתמודדות של משפחתו של אריק גרנר ע"י טיפול באומנות, ולאחרונה גם לקבוצה משוטרי העיר ניו יורק אשר התמודדו עם רציחתם של שניים מחבריהם.

חיבור בין ילדים אמריקאים לישראל

כל ערכה מותאמת אישית ע"י ילדים בארצות הרית עם מסר לחבריהם הישראלים.

וילדי ישראל מגיבים בתודה משלהם דרך יצירות שנוצרו במהלך הפגישות הטיפוליות איתנו.

המטרה הסופית שלנו היא להגיע ל-1,000 ערכות לריפוי באומנות

העלות של כל ערכה לריפוי באומנות היא $40

אנו מודים לך על תמיכתך.

Artists 4 Israel הוא 501(c)(3)
ארגון ללא מתרות רווח
Tax ID: 80-04-15734

כל התרומות מוכרות לצרכי מס.

Artists 4 Israel
info@artists4israel.org
www.artists4israel.org

מנכ"ל: קרייג דרשוויץ
craig@artists4israel.org
0747602142
+ Read More
Be the first to leave a comment on this campaign.